We don't need to hop on an airplane at one of our two area airports, because DFW already has everything needed to plan the perfect vacation and create memories with our loved ones. The DFW Metroplex is home to many local fun spots, which means we have fun and excitement waiting for us right in our own backyard! We've compiled 5 Awesome DFW Staycation Ideas with Kids. We just know you'll love these.
Looking for more local destinations? Be sure to read our list of 25+ Fun and Frugal Things To Do In Dallas.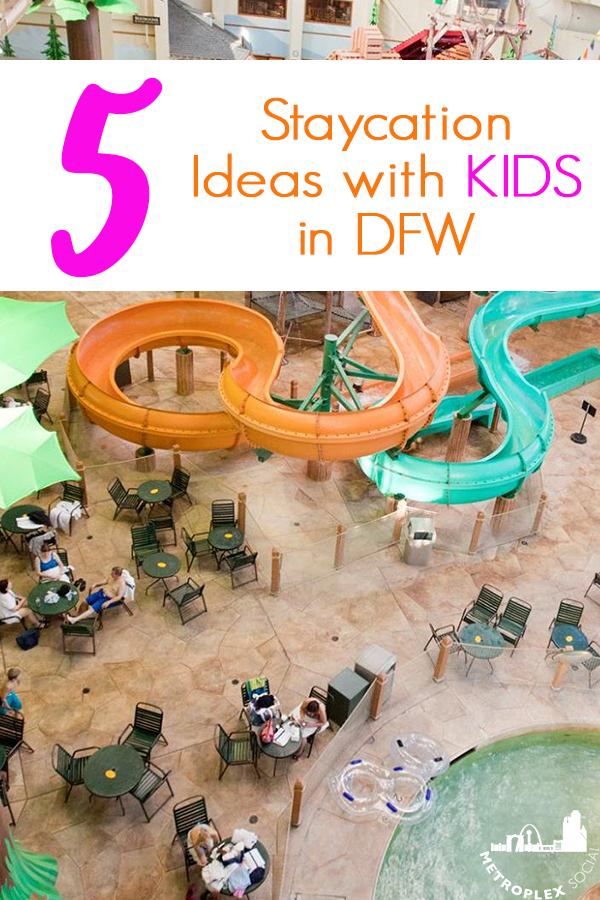 Kids and grown-ups are going to find somewhere they love on this local staycation roundup. We've got a little something for everyone–history buffs and fun fanatics alike. Now lets get this staycation started with 5 Awesome DFW Staycation Ideas with Kids:
5 Awesome DFW Staycation Ideas with Kids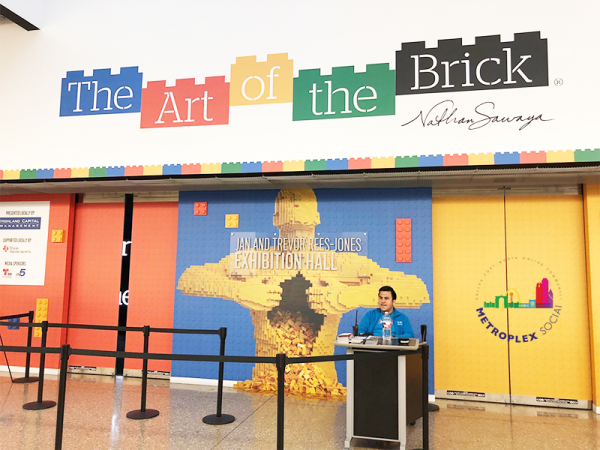 1. Tour of Downtown Dallas, Dealey Plaza, JFK Memorial, Sixth Floor Museum, Old Red Museum, Pioneer Plaza
JFK Memorial – Erected in 1970, the memorial dedicated to President John Fitzgerald Kennedy was proposed by a local judge to be built two days after the president was assassinated here in Dallas. It is located just one block from Dealey Plaza.
Cost: Free
Sixth Floor Museum – The top two floors of the old Texas School Book Depository is now home to The Sixth Floor Museum which chronicles the life, assassination, and continuing legacy of President John F. Kennedy.
Cost: Adults $18, Seniors $16, Youth $14, Child 0-5 Free or $5 with audio guide More info: jfk.org
Old Red Museum – Completed in 1892 and comprised mostly of red sandstone with marble accents. It is the former Old Red Courthouse. The museum now tells the local history of the area and has plenty of artifacts for visitors and locals to see.
Cost: Children under age 3 Free, General Admission $10, see all pricing info at Old Red Museum.
Pioneer Plaza – See a cattle drive headed towards the heart of downtown Dallas! Visitors will enjoy creating memories with these larger-than-life metal sculptures. Nearby is the Pioneer Park Cemetery which features the Confederate War Memorial.
Cost: Free
2. Perot Museum of Science and Nature
Perot Museum of Science and Nature – From the fossil record to the expanding universe, your family will have a blast learning about the many different fields of science and technology. Expand your family's experience beyond our exhibit halls with the addition of a 3D film or a traveling exhibition. With 11 state-of-the-art permanent exhibit halls to explore, there's no shortage of amaze-your-brain moments waiting to spark student interest in STEM subjects and careers.
Cost: Non-Members general admission starts at $13; Members general admission starts at $7. Discount or Free tickets available for eligible military and first responders, partner museum members, and educators. $1 admission for eligible members receiving Medicaid, CHIP, SNAP and TANF benefits, WIC, SSI, SSDI, etc. Click here for Details on Perot Museum tickets.
3. Fort Worth Zoo, Log Cabin Village, Water Gardens
Fort Worth Zoo – There's always an adventure waiting for you at the Fort Worth Zoo! Check out the fun, educational activities we have in store for you. More nature. More wildlife.
Cost: ages 0-2 Free, Children $12, Adults $16; Wednesdays are HALF-PRICE. Click Here for Tickets. Parking is $5.
Log Cabin Village – In the 1950s, the Village was a project of the Pioneer Texas Heritage Committee and members of the Tarrant County Historical Society. Members of these organizations realized that log structures, which were prevalent in the 1800s, were rapidly vanishing from the Texas landscape – and a portion of Texas history was vanishing with them.
Six log houses, dating back to the mid 1800s, were selected from the North Texas region, moved to the present site, and restored in the 1950s to early 1960s. The Village was then donated to the City of Fort Worth, and it opened to the public in 1966.
Today, each of the historic structures, furnished with authentic artifacts, provides a vivid look at life in the nineteenth century North Texas frontier. Each log house displays different aspects of pioneer life. The exhibits include a water-powered gristmill, a one-room schoolhouse, a blacksmith shop, an herb garden, and several log home settings. Historical interpreters, who are City of Fort Worth staff and volunteers, depict the lifestyle of the people who lived and settled the area in the mid to late 1800s.
Cost: $5 general admission, $4.50 per person if in a group of 10 or more. Click Here for info about Log Cabin Village in Fort Worth.
Fort Worth Water Gardens – The Fort Worth Water Gardens is a beautiful and refreshing oasis adjacent to the Fort Worth Convention Center. Designed by Philip Johnson, the Fort Worth Water Gardens is an architectural and engineering marvel to be enjoyed any time of the year. Visitors can experience a variety of water features as they wander through this relaxing urban park.
Cost: Free
4. Six Flags, Hurricane Harbor
Six Flags Over Texas – Home to the biggest thrills in Texas! Six Flags Over Texas is a 212-acre theme park located in Arlington, Texas, east of Fort Worth and about 15 miles west of Dallas. It was the first Six Flags Theme Park.
Cost: Ticket info
Hurricane Harbor – North Texas' largest water park features 50 acres of rides & slides & a 1-million-gallon wave pool.
Cost: Ticket info
5. Great Wolf Lodge and Grapevine Vintage Railroad
Great Wolf Lodge – Great Wolf Lodge is North America's largest family of indoor water park resorts and the ultimate destination for your next family getaway. Built for families, designed for maximum fun. Everything for a family getaway under one roof.
Cost: Varies throughout the year. Check their website.
Grapevine Vintage Railroad – The Grapevine Vintage Railroad – located in the heart of Historic Downtown Grapevine – offers a unique experience on authentic 1920's Victorian coaches. The Grapevine Vintage Railroad offers more than just standard train rides; throughout the year discover many different special events including the adult-only Jazz Wine Trains or the annual family favorite North Pole Express®, presented by Great Wolf Lodge.
Cost: Starting at $10. Find ticketing info here.
Summary
We showed 5 Staycation Ideas in Dallas Fort Worth. Is there a place you like but we missed? Tell us in the comments.