Be sure to grab our handy round up of 15 Frugal and FREE Kid-Friendly Museums in Dallas Fort Worth HERE.
Nothing says "Good Morning!" quite like fried and frosted dough which is why we made this roundup of the Top 10 BEST Donut Shops in DFW. Everybody seems to have their favorite when it comes to local doughnut places in the metroplex. Every town or city seems to have just that perfect one spot that locals love. So, set your alarm clocks because some of these places you're gonna have to get their early if you want any at all.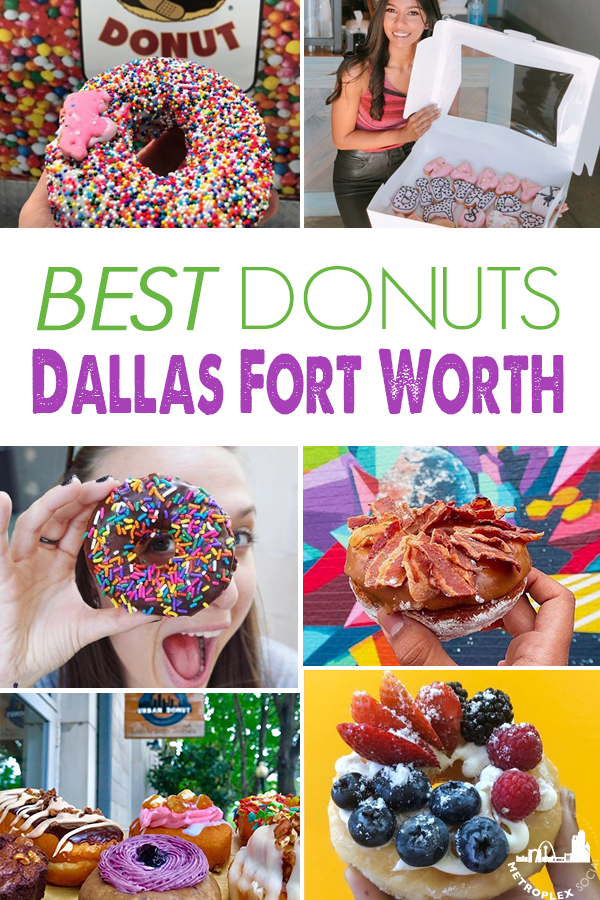 We find that one of the best ways to discover new and exciting places in DFW is to ask our readers (we can't eat 20 dozens donuts…or can we?). Some of y'all are very opinionated. I had to laugh when someone recommended a particular location for a local chain of donut shops and was quickly rebuked by another reader. Look, I get it–sometimes it really is just that one location that seems to fry and bake and fill and frost with extra love.
Now hand me a napkin and a glass of milk, because I'm about to go to town on these Top 10 BEST Donut Shops in DFW: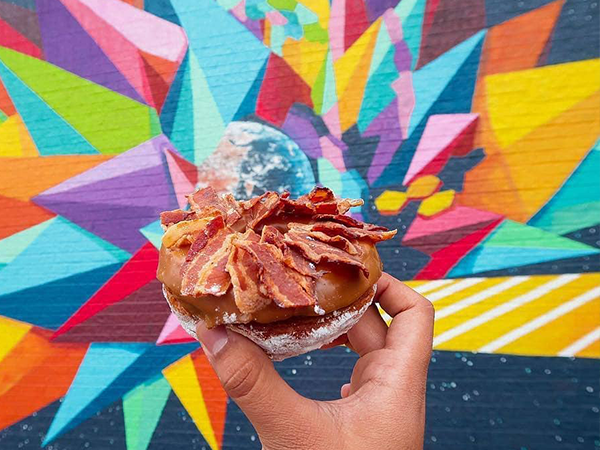 Top 10 BEST Donut Shops in DFW
1. Urban Donut – Dallas


Holy Moly! Clearly, this is not your everyday typical donut joint.
Urban Donut has created a unique donut experience. You can personalize your donut just the way you like at their "Design Your Own Donut" Bar.
Jennifer says: "I saw this place last night while cruising by on the trolley. I have been saying for years that Uptown needs a donut shop and one finally appeared!! So of course I had to get over there as soon as I woke up at the crack of noon. It has been open 5 weeks today. These are fancy donuts. These are designer donuts. These are design your own fancy, designer donut!! They have very cute names that the locals will , but what they will more is the dough. The cake donuts are not dry and crumbly, but rather they are like a dense cake! The flavor combos are interesting and tasty. The PB&J was my favorite. The frosting was a peanut butter delight. I also had the Highland Park, which tasted like a cake Samoa. I also tried the Sugar N Spice, I wouldn't get it again, but it wasn't bad. I would just prefer another combo with the lemon. I will be back for the Reunion Tower and Turtle Creek. AND they have ice cream donut sandwiches. While I was there, they were also working on a donut for Hurricane Harvey from which sales they will donate to the cause. Good donuts and they give back. Two thumbs up! If you aren't already rushing there now, did I mention they are open until 3am on Fri & Sat."
2. Sara's Donut Story – Flower Mound

Sara's Donut Story is a dream come true for owner, Faith Sara Ko, who has been dreaming about opening a bakery since she was a teen. Making donuts brings her and locals in the Flower Mound, TX area so much joy and happiness. If you ask someone in the "Flowerplex" where their favorite donut shop is located, they'll answer 9.8/10 times "Sara's Donut Story."
Watch Foodie Friday DFW's video of Sara's Donut Story below:
3. FunkyTown Donuts – Fort Worth
View this post on Instagram
FunkyTown Donuts is a Fort Worth family-owned bakery that makes handcrafted donuts. FunkyTown's goal is to "put a Funky twist on the traditional doughnut and give that good old southern charm." They make as much as they can from scratch, not mixes, and they are also involved in the local community.
There are a variety of donuts offered daily including yeast and cake donuts, with a rotating list of seasonal glazes. FunkyTown Donuts also offers gluten free and vegan options on Wednesday and Sunday.
What a great place to take your family and friends!
4. Max's Donut Shop – Allen

Where else to take out of town guests? Max's Donut Shop.
Kim says: "My cousins have recommended this place several times and we finally went a few weeks ago. I've been back and today will be my 4th time. Never had a better doughnut. There are not enough words to describe it. I knew when the line was about 20 people long that I would love this place."
We've heard they are even better when stuffed with ice cream.
Let me know.
5. Hurts Donut – Frisco
View this post on Instagram
Man, these guys take PRIDE in their OVER SIZED donuts! Hurts Donut makes 70 varieties on rotation daily and they were featured on BUZZFEED and Food Network magazine. We're talking delicious, melt-in-your-mouth soft donuts in so many creative varieties that you're gonna be thinking about these treats for the next year.
Located at 3288 W Main Street, in Frisco, TX.
6. The Donut Kitchen – McKinney
View this post on Instagram
The Donut Kitchen located in McKinney, TX has a little of everything…and what I love the most is that not only do they serve mouth-watering gourmet donuts, but they also have a variety of other light fare to choose from (which means you can first stuff your kids with breakfast dishes, soups, salads and sandwiches before letting them chow down on a donut).
7. Shipley's Donuts – Pantego
Not gonna lie, I had to look up Pantego to make sure it is located in the DFW metroplex…and it is!!
This is the multi-state chain that got included in this list where the specific location was mentioned to be better than all the other locations. Go try them out and let me know, please.
ADDRESS: 2524 W Park Row Dr, Pantego, TX
8. Jarams Donuts – Lakewood

View this post on Instagram
OMG Who put BACON on a donut? These guys did, that's who.
The secret ingredient?
Love.
Jarams Donuts in Dallas, TX call themselves Creative Donut Artists.
Chris says: "The speciality donuts are to die for here! The croissant donuts and funnel cake donuts are always delectable. You can also find very cute and creative seasonal donuts here.
Ps. The creme brulee donut is to die for."
9. Lone Star Donuts – Deep Ellum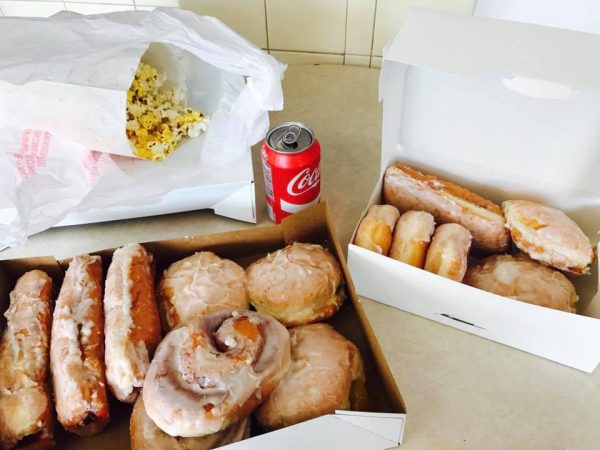 Since 1950 these have been locals' favorite donuts in Deep Ellum. And it's easy to see why.
Rob says: "Where do i start. i drive all the way from grand prairie to dallas (oak cliff) just to enjoy a lone star donut jellyroll. they always get it right. i can't wait for my next trip to purchase and devour a lone star jelly roll to add to my belly roll…."
10. Detour Donuts – Frisco
View this post on Instagram
View this post on Instagram
I am so glad someone recommended Detour Donuts in Frisco, TX!
This local, family-owned donut shop is serving up creative, yummy donuts in cute style. I seriously cannot get over their Instagram! Detour Donuts is serving up gourmet doughnuts, craft coffee, and baked goods everyday that are sure to put on a smile on your face and make your tummy happy.
Special note to the owner, Jinny, that Taylor recommended your donut shop to us!
Summary
There are so many choices when it comes to donuts in the metroplex that we're sure you're going to find the one (or two) that make your heart swoon. We know ours did. Did we miss a BEST Donut Shop in Dallas Fort Worth? What would you include?
Be sure to grab our handy round up of 15 Frugal and FREE Kid-Friendly Museums in Dallas Fort Worth HERE.