Looking for the best bike trails near you in DFW? No matter the time of the year, these are some of our favorite bicycle trails in the metroplex.
What's more Texan than riding a horse? Here's the best places to ride a horse in Dallas Fort Worth.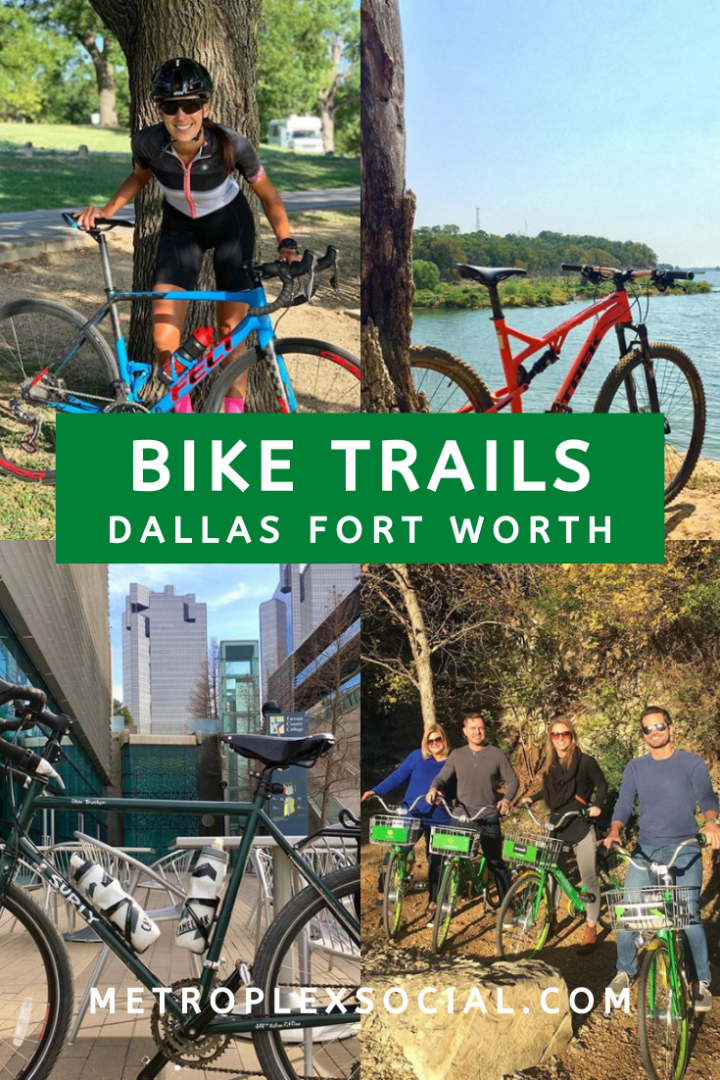 There's so many great places to ride a bicycle in Dallas Fort Worth. DFW has some of the most beautiful bike trails! Here's our Top Bike Trails in Dallas Fort Worth: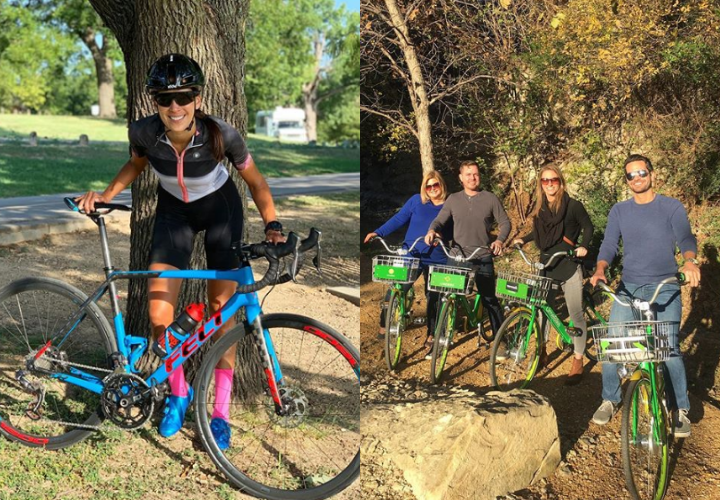 Best Bike Trails To Explore DFW This Year
Explore DFW at these top bike trails this year.
1. Katy Trail – Dallas, TX
Over a hundred years ago, the Katy Trail was once a railroad. In 2000, the abandoned railroad was converted into what is now one of the most popular trails in Dallas.
The trail is open from 5 am to midnight and it's a 3.5-mile-long trail. You'll find markers every 1/4 mile, so you always know how far you've gone.
So grab a bike, a buddy and get ready to ride through Uptown and Oak Lawn.
2. Northhaven Trail – Dallas, TX
Northaven Trail is a commuter and recreational bike and hike trail built and maintained by the Dallas Parks and Recreation Department. The trail runs from Central Expressway to Denton Drive with plans to connect to the White Rock Creek Trail on the east and Irving's Campion Trail on the west.
Friends of the Northaven Trail is a volunteer organization for the support, maintenance and beautification of the Northaven Trail. Enjoy miles of biking on this wildflower lined bike trail in DFW.
3. Arbor Hills Nature Preserve – Plano, TX
Arbor Hills Nature Preserve is a 200-acre park in Plano, TX. It has several amenities including: 3 miles of paved hiking trail, 3 miles of unpaved hiking trail, a 2.8 mile off-road bike trail, restrooms, a covered pavilion, and a playground. The pavilion can be reserved for special events.
4. North Shore Trail – Flower Mound, TX
North Shore Trail is one of the most popular hiking and biking trails in North Texas. The trail runs for 9 to 10 miles from Rockledge Park to Twin Coves Park on the north side of Lake Grapevine.
North Shore Trail offers up moderately difficult terrain and beautiful views from the lakes cliffs and shores. The trail is safe for both bicycle riders and hikers, but you should use caution as there are some rough points. We will show a video at the bottom of the page that displays some of the terrain.
You can start either in Rockledge Park, Twin Coves Park, or Murrell Park. All three parks have trail heads and designated parking for the trail. There is a fee to enter Rockledge Park, but you can get on the trail for free from Murrell Park and Twin Coves Park. At Twin Coves Park, there is a fee as well, but if you park right outside the gate you can enter North Shore Trail for FREE.
5. Trinity Trails – Fort Worth, TX
Discover over 70 miles of trails and 21 city parks on Trinity Trails Fort Worth, TX. Expect to find beautifully maintained trails, kayak launching spots, city skyline views, horse riding trails, geocaching, and walking and bike trails.
6. White Rock Lake Park Trail – Dallas, TX
White Rock Lake Trail is a 9.3 mile heavily trafficked loop trail located near Dallas, Texas that features a lake and is good for all skill levels. The trail offers a number of activity options and is accessible year-round.
7. Colleyville Nature Center Trail – Colleyville, TX
Colleyville Nature Center Trail is a 46-acre preserve with multi-use trails amid woods & ponds, plus a playground & a picnic pavilion. Colleyville Nature Center Trail is a 2.1 mile lightly trafficked loop trail located near Colleyville, Texas that features beautiful wild flowers and is good for all skill levels.
This riparian natural area, with a large creek, forested wetlands and 9 lakes, offers a unique opportunity to enjoy riparian habitats within an urban area an is accessible year-round.
What To See on the Trail
It acts as a buffer between Little Bear Creek and the surrounding residential areas. Visitors are first drawn to the ponds near the parking area. A short wooden pier allows for viewing Mallard Duck, geese, Barn Swallow, Purple Martin and Green Heron on the ponds.
An easily accessible paved trail leads into a densely wooded area near Little Bear Creek. From here unpaved nature trails loop around the area. Birds such as Carolina Chickadee, flycatchers and titmice are often seen.
A canopy of post oak, cottonwood, pecan and American elm shade the benches and picnic tables placed along the trails. The understory consists of cedar elm, red mulberry and sugar hackberry. The trails lead to 5 more interconnected lakes teeming with kingfishers, woodpeckers, flycatchers, hummingbirds, herons, egrets, ducks and owls. Northern Rough-winged Swallows swoop over the ponds picking insects off the surface. Raccoons, rabbits and armadillos can also be seen.
8. Denton Rail Trail (DCTA Trail)
The A-train Rail Trail runs alongside DCTA's commuter rail line and was designed to complement its surroundings and adjacent facilities. The 19-mile trail connects existing transit facilities with key destinations within DCTA's member cities – Denton, Lewisville and Highland Village.
Pedestrians and cyclists can enjoy a safe and fun travel experience on DCTA's A-train Rail that connects all five A-train stations from the Downtown Denton Transit Center (DDTC) all the way to the Hebron station in Lewisville. The A-train Rail Trail is a viable amenity for biking, walking, running and other exercise activities with beautiful, scenic views.
While traveling on the trail, you also have the option to take a break and ride DCTA's A-train for a different mode of transit to get to your destination.
9. Knob Hills Bike Trail (DORBA) – Flower Mound
Located outside Flower Mound near Roanoke TX is a bike trail that has climbs, drops, technical features, some flat land you can get some speed on or recover at a slower pace to be ready for the next technical section.
Running along Denton Creek, there are six loops that are daisy-chained together with marked bailouts at the end of each loop, in case you can't go the entire way. There are wooded areas, plenty of rock gardens, berms, jumps, a teeter-totter, skinny, and several drops and climbs.
The ride back to the trailhead is more of the same just more inland. You finish up with the "Goat Killer" climb that only about 5% make it up without walking. It's a great trail that will have you coming again and again to conquer it.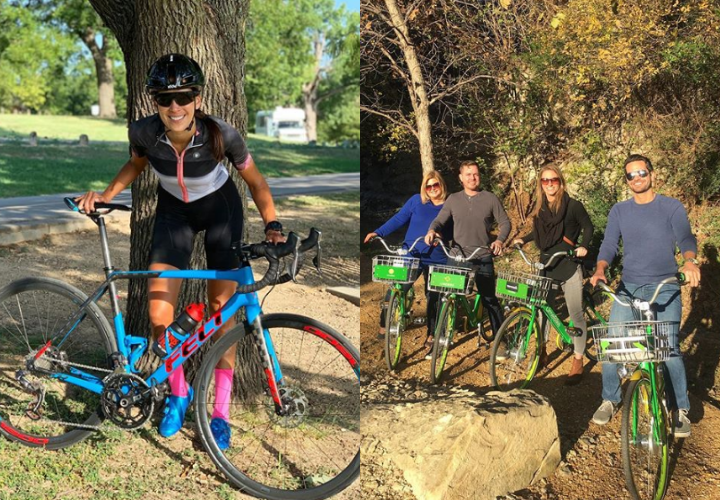 Best Bike Trails To Explore Dallas Fort Worth This Year
These are the best bike trails to explore Dallas Fort Worth this year.
Here's more places to explore near the metroplex:
Did we miss your favorite Dallas-area bike trail? Let us know in the comments below and be sure to follow and tag us on social media @metroplexsocial #discoverDFW!
Got a story? Submit it here for publishing consideration.