The Star in Frisco isn't just the Dallas Cowboys World Headquarters but it's also an ever-growing shopping center where you can dine, shop, rest and have a blast! Every time I visit The Star, there's always something new to do. There's plenty of parking and it's a family-friendly center. Dallas Cowboys fans and everyone else in between will feel right at home at The Star in Frisco!
Also check out This Hidden Croatian Village in McKinney Is Where To Shop Year Round.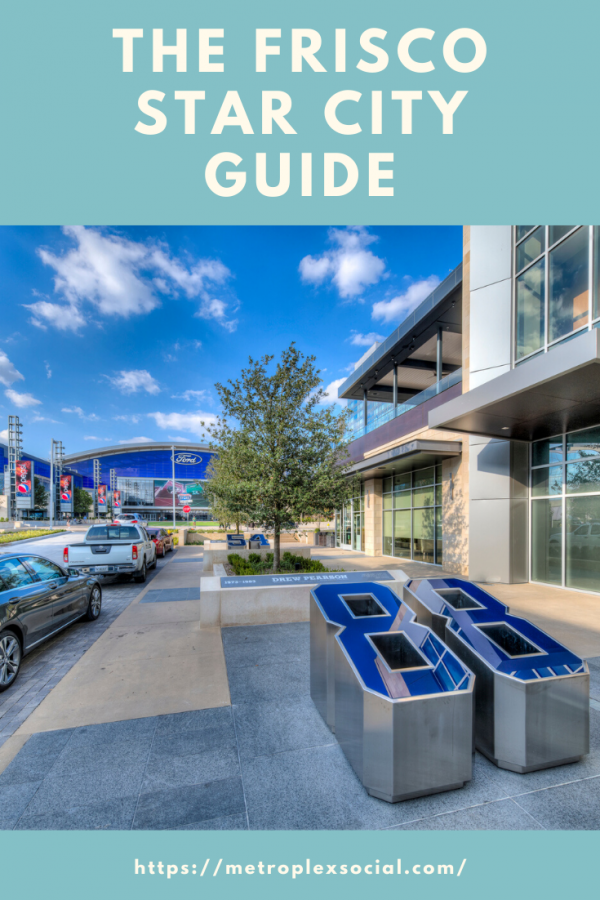 One of my favorite things about shopping centers is that even if there are tons of people there because the stores aren't closed up like a mall, it never feels overly crowded. I picked out my personal favorite places for shopping, relaxing and getting a bite to eat! Keep reading to discover all my favorite places at The Star in Frisco:
Best Places to Eat, Shop and Relax at The Star in Frisco
Discover the best places to eat, dine, shop, and relax at The Star in Frisco TX.
Where to Eat in Frisco TX
Tupelo Honey
Tupelo Honey is home to southern delicious. I've been to this restaurant a couple of times and there's always something new to try on the menu. When I first went, we had a bit of everything. First impressions are crucial when going to new places, and Tupelo Honey left a lasting one.
I've been there for dinner and brunch and I've been impressed with both menus. My favorite entree would be the ribeye, but what I always come back for is the chocolate peanut butter pie. It's heavenly.
Address: 6725 Winning Dr, Frisco, TX 75034
Cane Rosso
I've been to Cane Rosso a couple of different times for lunch, but it wasn't until I had brunch there that my love for this restaurant began. Coming from someone who doesn't always venture out to try something new like breakfast pizza, trust me… you'll love it! It's the perfect spot to brunch with friends or grab a delicious slice of pizza with the kiddos.
Address: 3685 The Star Blvd #200, Frisco, TX 75034
Dee Lincoln Prime
Feeling fancy? My husband and I went to Dee Lincoln for Valentine's Day this year and it's so worth it. Pricey and fancy, but it was one of the best steaks I have ever had. It's definitely a special occasion kind of spot, but you'll leave craving more. You won't leave hungry, but you'll definitely want to come back.
Address: 6670 Winning Dr #400, Frisco, TX 75034
Neighborhood Services – The Star in Frisco TX
Neighborhoorhood Services isn't your average American restaurant. The first time I went to NS, I visited the Dallas location with co-workers, I had the Prime Cheddar Burger with all its fixings. Although it's a popular restaurant, the layout doesn't feel overly crowded.
This restaurant is one of those I've been wanting to go back to, but since it's in Dallas, I don't usually make the treck down there but now there's one in Frisco and so much more accessible!
Address: 11 Cowboys Way, Frisco, TX 75034
Ascension – The Star in Frisco
Ascension was one of the first craft coffee shops I first went to and it's still one of my favorites. Not only do they serve delicious coffee and desserts but they have a delicious array of breakfast and lunch/dinner options. They've truly grown over the last couple of years. Drink recommendation: a flat white or mocha.
Address: 3625 The Star Blvd #300, Frisco, TX 75034
Heirloom Haul
Heirloom Haul is a new restaurant inside Flea Style and y'all! It's the cutest shop. If you're looking for yummy food and a great place to take pictures, Heirloom Haul is THE place. I had the Brittney Cobb and I've been craving it ever since. Grab your girlfriends and get order the tea service.
Address: 6765 Winning Dr Suite 830, Frisco, TX 75034
Where to Shop at The Star in Frisco TX
Blue Jean Baby
If you're searching for a boutique that's all about minimalism and a dash of farm girl living, Blue Jean Baby is the place for you. You'll not only find new pieces, but they also have vintage clothes and accessories.
Address: 6635 Cowboys Way Suite 110, Frisco, TX 75034
Flea Style
Flea Style is a one-of-a-kind shop. You can buy handmade and vintage goods. If you've ever wanted to go thrifting but didn't want to take the time to look through racks of clothing to find that one gem or go through a bunch of items at a Trade Days, Flea Style is the perfect place to go. They've curated a beautiful selection of clothing and it's not just a shop for women, you'll find kid's clothing and home decor as well.
Address: 6765 Winning Dr Suite 830, Frisco, TX 75034
Where to Stay and Relax in Frisco TX
The Omni Hotel – The Star in Frisco TX
The Omni Hotel in Frisco is right at the center of the Frisco Star. Luxurious is the best way to describe it. Their amenities include an onsite restaurant (Neighborhood Services), Cowboys Fit Training facility, Charlotte Jones Collection Luxury Boutique and so much more! It's the perfect location for a staycation.
Address: 11 Cowboys Way, Frisco, TX 75034
Hiatus Spa – The Star in Frisco
Hiatus Spa + Retreat is my favorite massage spot in the DFW. From the moment I walk in, the environment is so zen, the locker rooms are beautifully equipped with robes, sandals, a sauna, and showers. They're always filled with spa products to use before or after your service, then you're taken into a waiting area where the lights are dim and they have hot tea and water for you to enjoy.
Address: TBD – location will be opening in 2020
Best Places to Shop, Eat and Relax at The Star in Frisco TX
There's always something to do at The Star in Frisco TX. It's a great place for date night, an outing with the family, a fun shopping day with friends, or a team bonding location with co-workers.
What's your favorite spot? Tag us on social media @metroplexsocial #discoverDFW for more cool places to visit around Dallas Fort Worth!