Just in case you've been living under a rock, summer in Texas is hot! What you really need during our crazy summers in the metroplex is a great place to cool off. We love this awesome place to swim in DFW because it's so much more than just a lake. Grab your suit and sunscreen and come see why for yourself that you should make a trip to this hidden swimming hole called Burger's Lake in Fort Worth this summer!
Related: 75+ Splash Pads, Spraygrounds, and Water Parks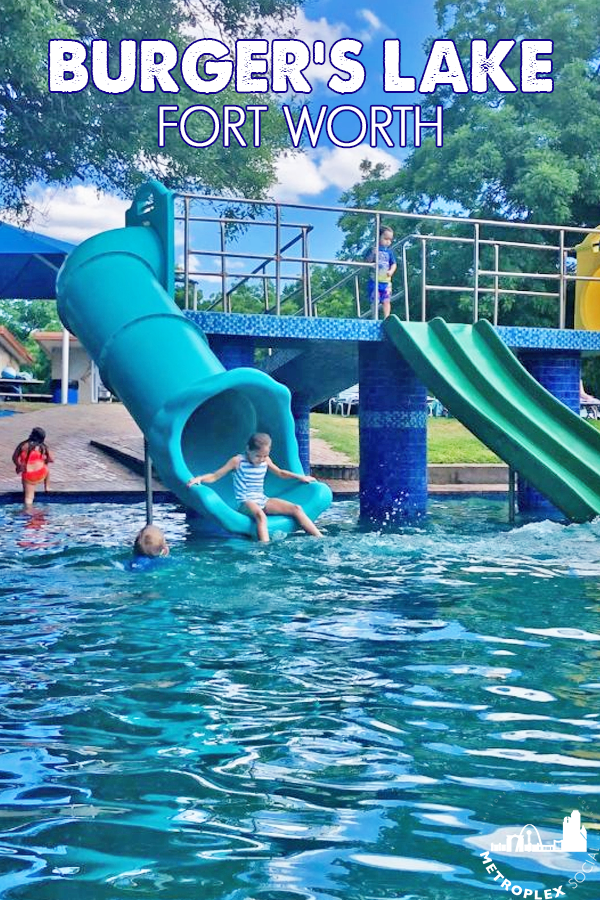 Burger's Lake is a really cool lake that you'll actually want to swim in here in North Texas. It's a sandy bottom lake that also happens to have a state of the art purification system. The water is filtered and chlorinated, making it clean and safe for swimming. You'll feel safe swimming in this Dallas Fort Worth area lake with your family because there's no unsafe bacteria or creatures in the water here! Here's Everything You Need to Know About Burger's Lake in Fort Worth:
DFW Top Swimming Hole – Burger's Lake in Fort Worth
Burger's Lake is a Secret Swimming Hole in the Heart of Fort Worth, Texas and I am so happy I found this place!! If you're headed over to this awesome lake in the metroplex, then here's a few things you need to know before you go.
What is allowed at Burger's Lake?
Burger's Lake meets the needs of families and large groups with a staff of certified life guards on duty at all times. Life jackets and flotation devices are allowed for children's safety. You can bring your own coolers and snacks, and there are plenty of charcoal grills around the lake. Or, you can purchase snacks and beverages from their cafe. Ice cream, snow cones, pizza, burgers, Frito pies, sodas, water, and more available for purchase.
What is NOT allowed at Burger's Lake?
Alcohol is strongly prohibited, so don't even try. Pets are also prohibited for the safety of park guests.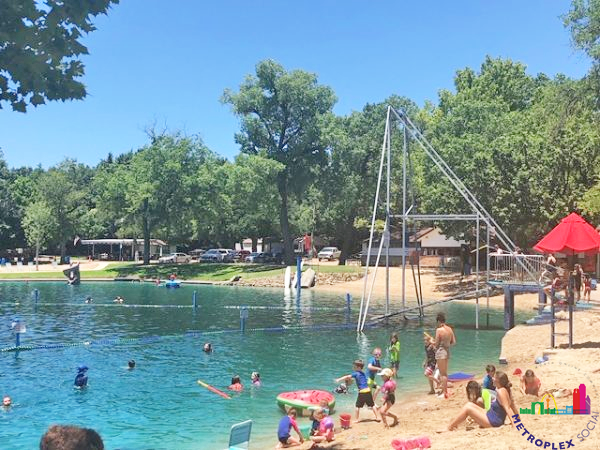 Features of Burger's Lake in Fort Worth, TX
This is Why you should make a trip to Burger's Lake in Fort Worth this summer…
Clean water
Life guards
2 Sandy beaches
Shady areas with tables and chairs
Multiple water slides
Trapeze over the water
6 Diving boards
Splash Park for little ones
Large bounce pad
Restrooms
Changing rooms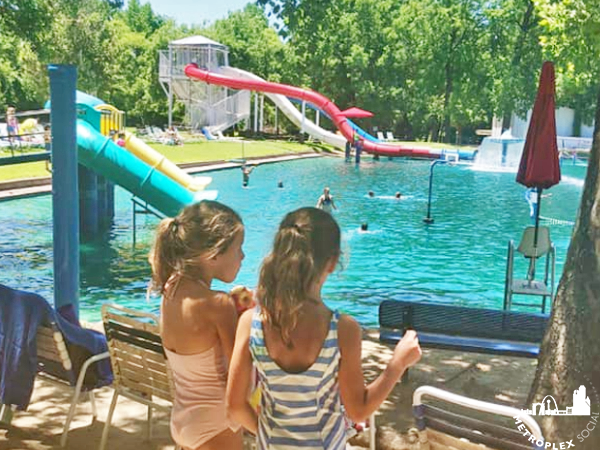 Here's a little secret…
In case you are wondering how the lake water is such a pretty shade of blue and green, they dye the water. But don't fret about it staining your swim suits. Not one person in our party had any stains in the four hours we were in the lake.
Cost: Admission into the park for 2019 is $15 per person, $5 for children 6 and under and children under 1 are FREE.
Hours: 9am-7pm daily from May 26th-September 3rd.
Where: Burger's Lake 1200 Meandering Road, Fort Worth, Texas 76114 (817) 737-3414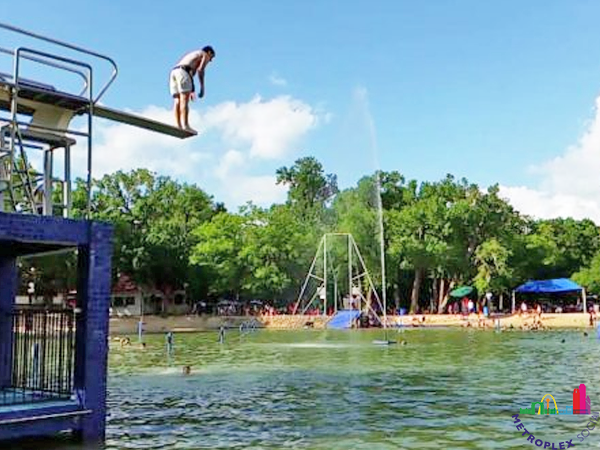 Summary
Burger's Lake in Fort Worth is a fun, family destination to beat the heat this summer! The park's many amenities make this lake stand out from all the rest.
Is there another lake destination in the DFW area that we should know about? Let us know in the comments below.