Great beer is best enjoyed around great company which is why we decided to list our Top Breweries in Dallas Fort Worth. Sit back, relax, and pour a good one while you share the good brews.
Continue to support local with these Top Farm to Table Restaurants in DFW.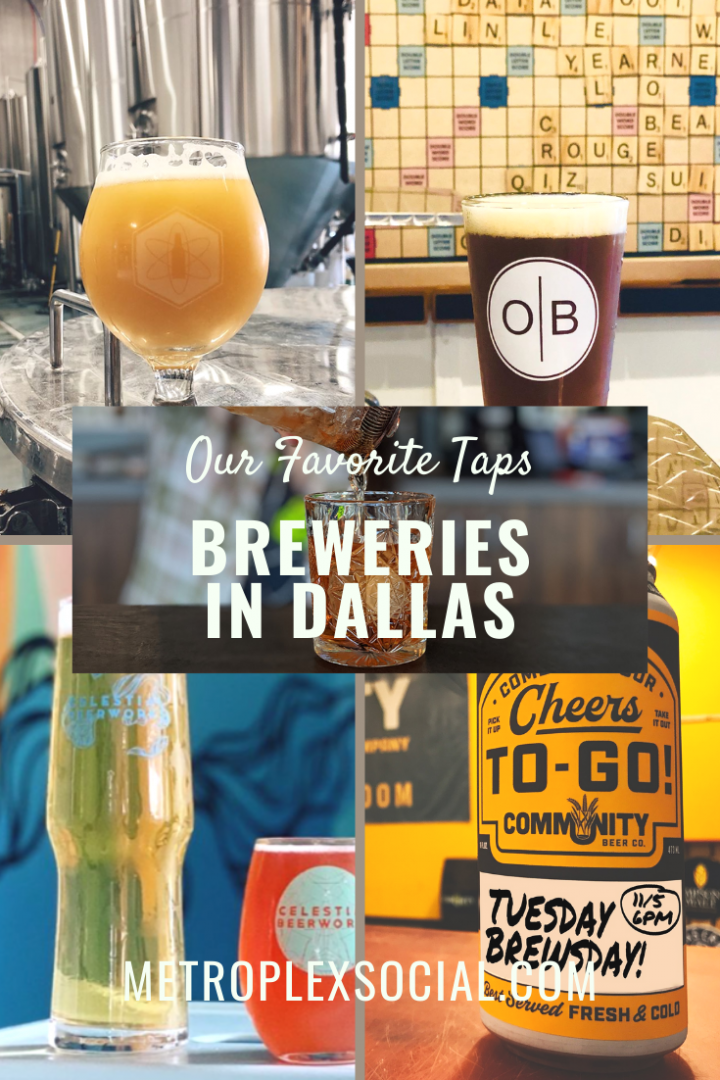 There's something for every beer lover in this list of 17 breweries in DFW. Brewery tours, beer tastings and flights, special events, and more await you and these Top Breweries in Dallas Fort Worth: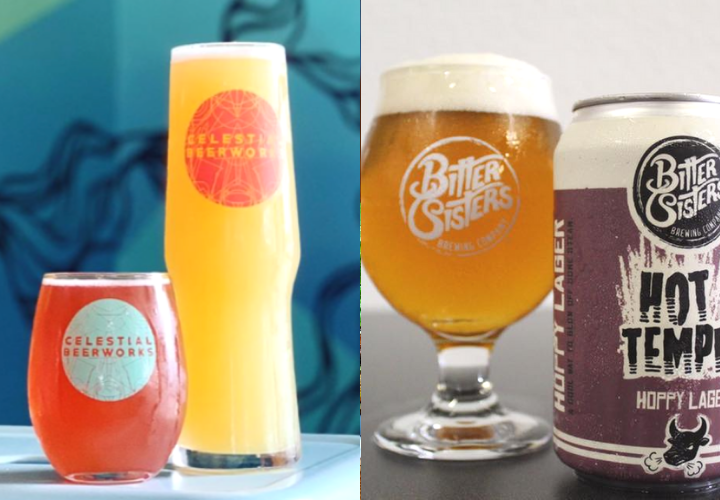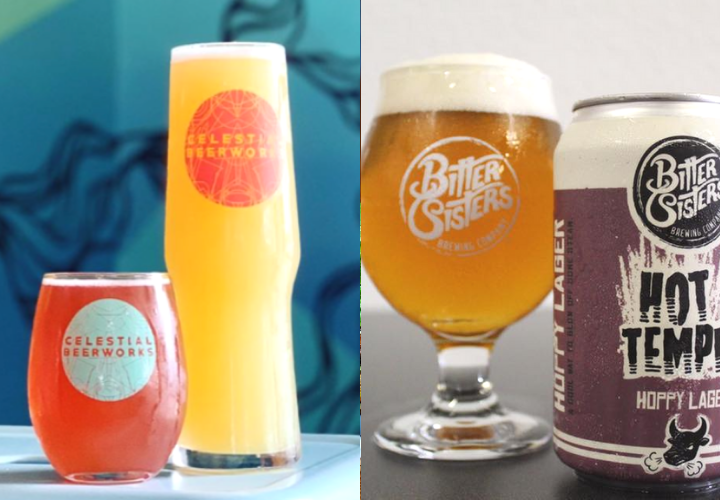 Our Favorite 19 Top Breweries in Dallas Fort Worth
Sit back, relax, and enjoy a cold one with friends at these top breweries in Dallas Fort Worth.
1. Union Bear Brewery – Plano
Lively, independent brewpub featuring a selection of beer brewed on-site, plus chef-driven pub fare.
Kick back and experience the indoor / outdoor space at The Boardwalk in Plano, TX for yourself, you're welcome here. OUR Beers. It's brewed here. It's drank here.
Address: 5880 TX-121 #101, Plano, TX 75024, (214) 297-2337, http://www.unionbear.com/
2. Armadillo Ale Works – Denton
If they can brew it, they will do it.
Every drop of Armadillo Ale Works beer is brewed on-site, housed in an old railway grain warehouse constructed in the early 1900's.
Their taproom and coffee shop offers an enormous spectrum of our creations in a relaxed environment with an indoor beer garden vibe.
In addition to their normal taproom shenanigans, they also host a plethora of special beer releases, rare tappings, live music, and all around fun brewery events.
Armadillo Ale Works also plays host various community events and even offer rentals for private parties.
From coffee to beer to sodas, if they can brew it, they will do it. So come on in for some liquid refreshment straight from the source!
Address: 221 South Bell Ave, Denton, TX 76201; armadilloaleworks.com
3. Deep Ellum Brewing Co – Dallas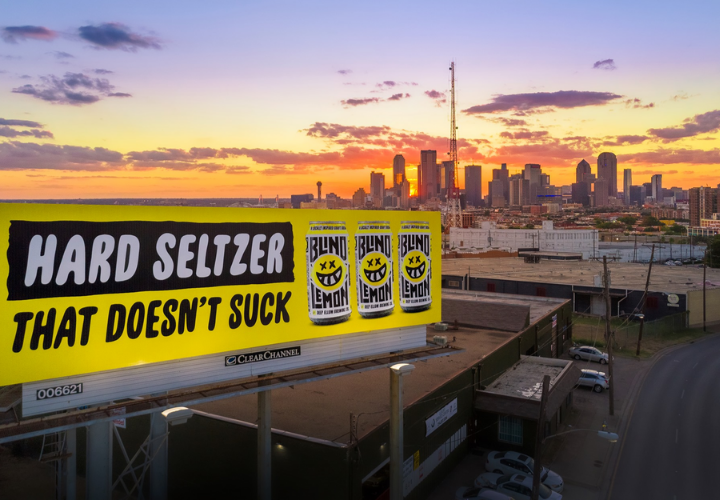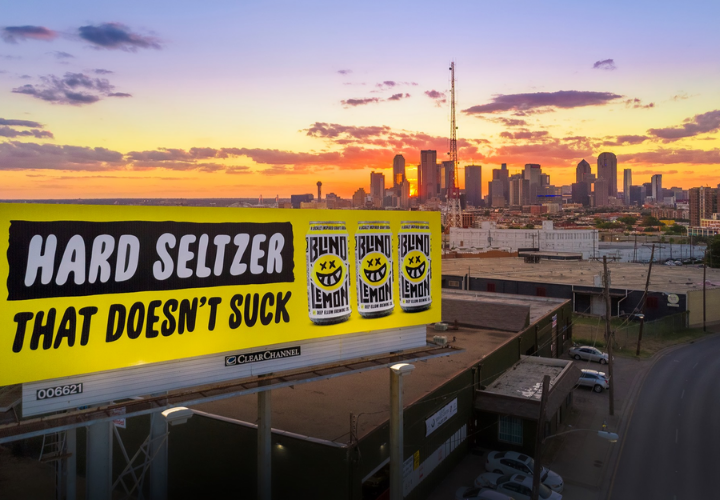 Sold their first keg on 11/11/11.
Proud to be the first craft brewery in Dallas, Deep Ellum Brewing Co. has become as well known for their innovative brewing and exceptional quality as they have for their healthy disdain for the status quo.
Just like their notorious neighborhood, they are BOLD, FEARLESS, and UNAPOLOGETIC. They haven't blended in since they opened their doors in 2011.
Deep Ellum Brewing Co. wants your help in annihilating bland corporate beer (clears throat), and sharing a little bit of the BIGGER, BOLDER BEER from Deep Ellum, Texas.
16 Beers In Their Dallas Brewery Tap Room!
"Damn tasty craft beers brewed right here in Deep Ellum. We carry sixteen beers in our taproom." Deep Ellum Brewing Co.
Address: 2823 ST. LOUIS STREETDALLAS, TX 75226; deepellumbrewing.com
4. Tupps Brewery McKinney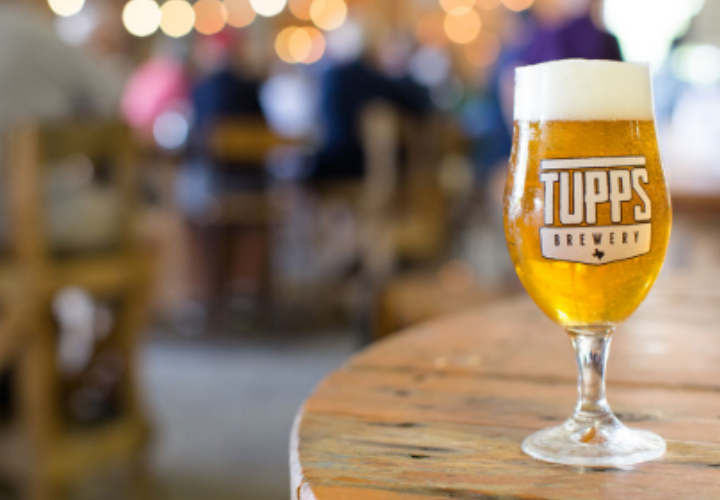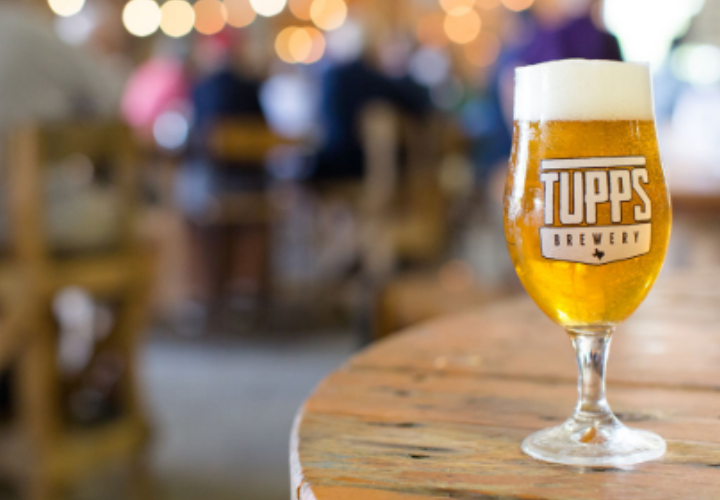 "We are proud to be in Texas, in the great city of McKinney and adjoined the historic Cotton Mill. When you visit, keep in mind that we want you to embrace the brewery, so put your feet on the tables, write your name on the wall and have a good ole time!" – Tupps Brewery
Beer is the perfect blend of Art and Science.
Tupps Brewery starts with the Art of beer – for this they use a big dose of creativity, validated with their eyes to judge the look, their noses to refine the smell, and then with their mouths to validate the taste.
Tradition is embraced here, but they'll also break the rules from time to time in order to create exciting new brews.
At Tupps, they believe beer is greatly enhanced when consumed in the company of close friends or random people who will soon be good friends.
This can be accomplished in the bars and pubs where you will find TUPPS beer, but you can also have this experience visiting their brewery.
Tupps has created an environment at this McKinney brewery that embraces the feel and the era of the historic Cotton Mill. When you visit Tupps, you will be immersed in the old Texas feel of the Cotton Mill and experience the past when things were slow and life was not as complicated.
Address: 721 Anderson St, McKinney, TX 75069; tuppsbrewery.com
5. On Tap – Arlington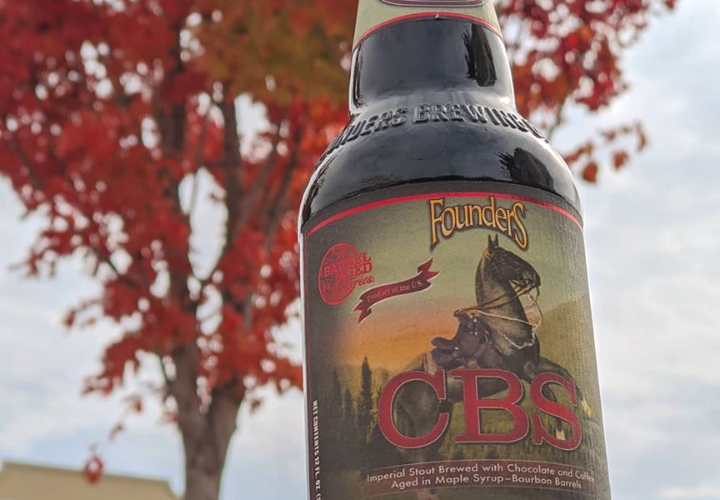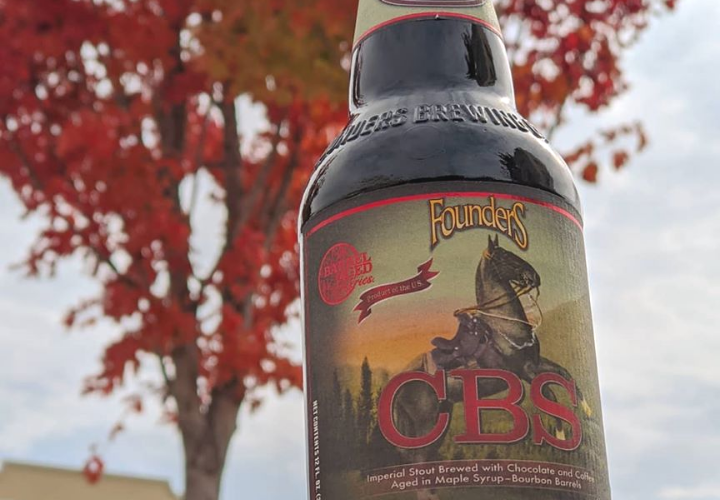 209 Unique Beers Offered!
On Tap is Arlington's premiere craft beer location. They have 50 rotating taps serving up Craft Beer, Wine, Cider, Mead, Cold Brew Coffee, Kombucha and Root Beer.
They never tap the same beer consecutively; so every time you come in, you're bound to find new offerings. They also clean all their taps every 2 weeks as On Tap strives to have the most unique and tasty offerings year round.
Enjoy a flight of four 5oz fills or a pint for on-site consumption. On Tap also offer growlers and crowlers (can growlers) to go.
On top of that, they have an eclectic selection of unique and hard-to-find packaged beers for off-site consumption.
Address: 200 N Mesquite St #105, Arlington, TX 76011; ontapdfw.com
6. Breaking Brew Meadery – Farmers Branch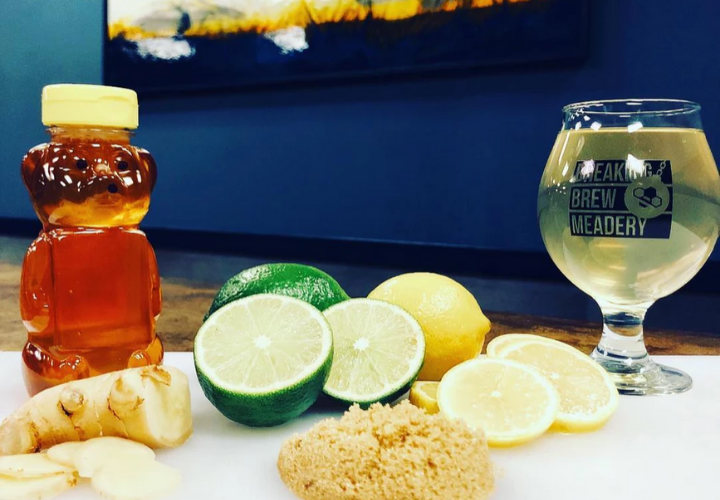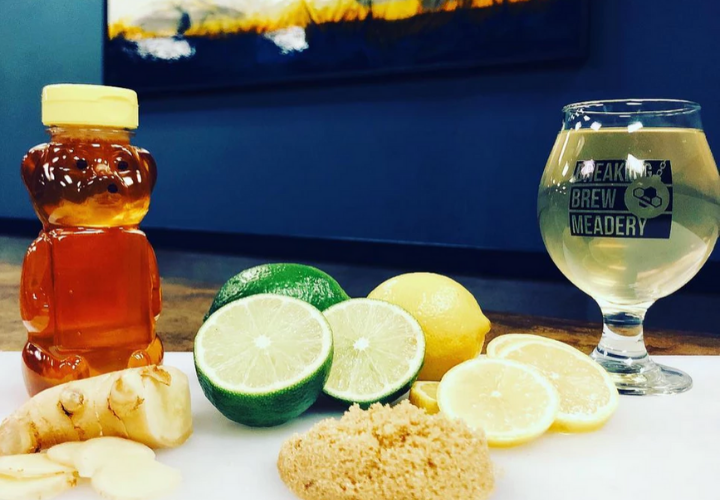 First Mead Taproom in North Texas
But first…what exactly is mead? Mead, one of the oldest alcoholic beverages, is fermented from honey which creates a gluten-free drink with a smooth, clean taste.
Breaking Brew Meadery serve on tap a rotating menu of chilled & lightly carbonated session meads (6-8% ABV) in a wide range of flavors.
YOU CAN ALSO CALL IT HONEY WINE
10 years ago, a family of home brewers wanted to do something different. After spending many of their nights and weekends crafting different beers and ciders, they discovered honey wine, or mead.
Combining their brewing techniques with mead was the perfect match, and after more time spent experimenting with the wide range of flavor combinations, they are now ready to share their creations.
The Gordon family welcomes you to Breaking Brew Meadery, the first mead tap room located in Dallas, Texas, for a new kind of brewery experience.
Try any of their mead (hrrmmm honey wine) currently on tap, and with several more flavors coming soon, each trip to the Meadery is sure to be different than the last.
Address: 14438 Midway Rd, Dallas, TX 75244; breakingbrewmeadery.com
7. Denton County Brewing Co. – Denton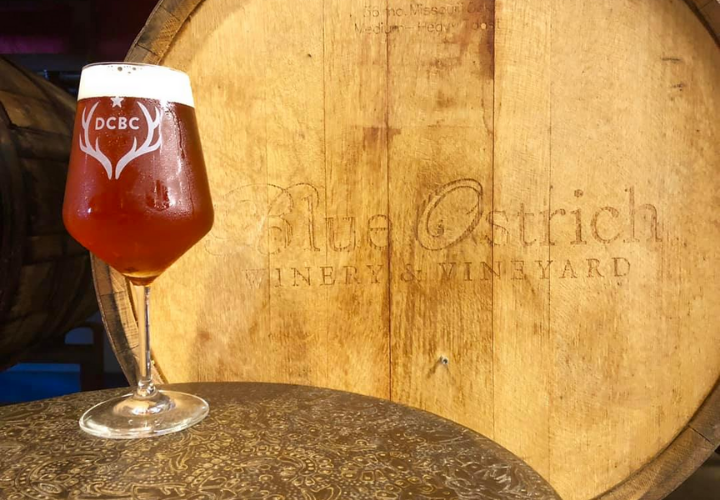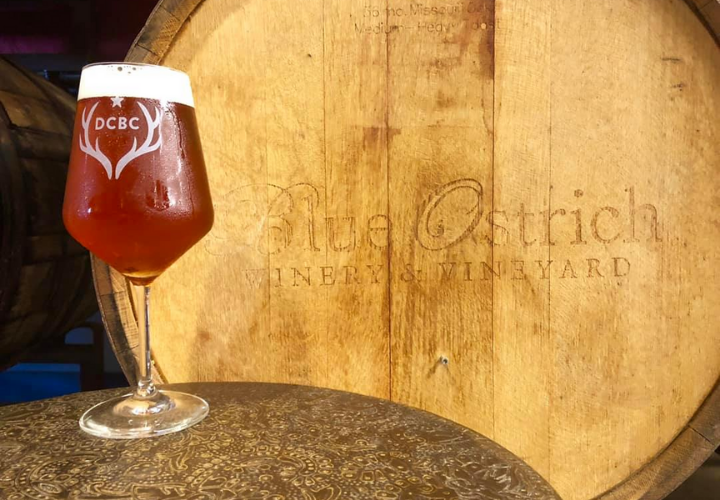 An Adult Playground!
Located in Downtown Denton, Denton County Brewing Co. is a brewery, pizza place, beer bar, and beer garden all in one.
DCBC is a locally owned, independent craft brewery. They serve beer born and brewed in Denton, Texas, alongside guest taps, wines, ciders, sake, and plenty of positive vibes.
Take your average craft beer bar and crank up the fun. Think of an adult playground; complete with board games, trivia nights, delicious appetizers, and the coolest bar staff in the game.
Address: 200 E McKinney St, Denton, TX 76201; dentoncbc.com
8. 3 Nations Brewery – Carrollton
If you've spent any amount of time on I-35 you can't help but see 3 Nations Brewery located in Historic Downtown Carrollton (right next to the silos).
GREAT BEER IS BEST ENJOYED AROUND GREAT COMPANY
Three Nations Brewing makes great beer by combining ancient European brewing traditions with American innovation.
A little bit of travelling helped them learn a little bit about how to make world class Belgian, English and German style beers.
Everyone starts a business doing what they do best, and this DFW brewery is no different.
Address: 1033 E Vandergriff Dr, Carrollton, TX 75006; https://3nationsbrewing.com/
9. Bitter Sisters Brewery – Addison
The family that brews together. . .
When Brewmaster Matt Ehinger married Courtney McHugh in 2001, he instantly became part of a large, tight-knit, fun loving family.
But as in all families, especially ones with a lot of sisters, it can sometimes be hard to keep the peace.
Matt quickly learned that the best way to make family gatherings run smoothly was to supply everyone with his home-brewed beer. The sisters, and the brothers, learned to be less 'bitter' with every sip of beer.
As the years went on, the family continued to grow, the beer continued to flow, and an idea was hatched for a family owned brewery utilizing everyone's different talents and skills.
Bitter Sisters Brewing Company was conceived during family birthday parties, holidays, and summer vacations together.
ONLY PRODUCTION BREWERY IN ADDISON, TX
The only production brewery in Addison, Texas, Bitter Sisters is an independent, family owned craft brewery with a passion for making great beer.
The family that brews together, has the most fun…Come by Bitter Sisters Brewery and experience a one of a kind Tour and Tasting.
Address: 15103 Surveyor Blvd, Addison, TX 75001; bittersistersbrewery.com
10. Four Bullets Brewery – Richardson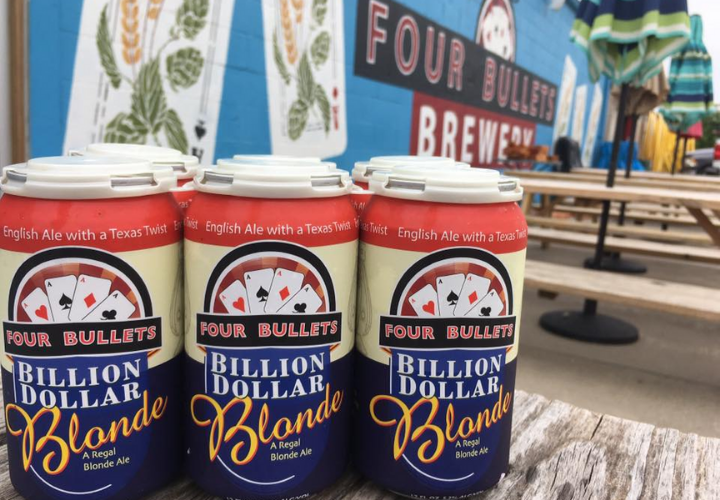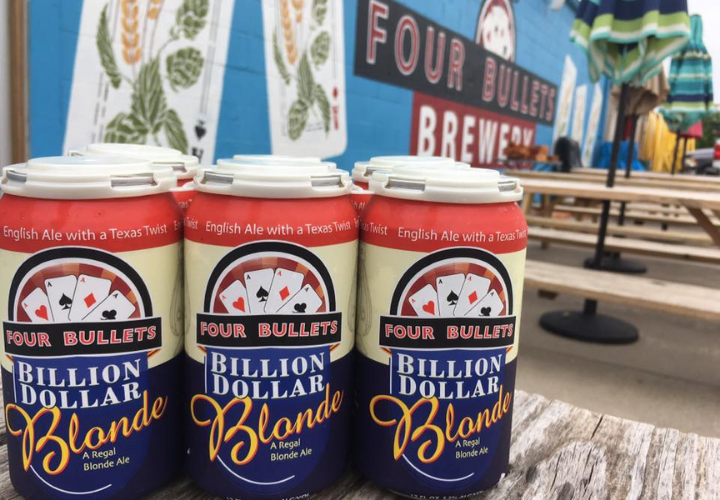 ENGLISH ALE WITH A TEXAS TWIST
Four Bullets Brewery started off as a home brew kit one Christmas. After realizing he needed help, Jeff called on his friend, Andrew, for help. Andrew had been homebrewing since the mid-1980s and brewed to satisfy his own taste which was mostly English style ales from his homeland.
That first beer together was a very simple can extract kit and although the beer was good, Jeff and Andrew knew they could do better.
Together, they quickly moved on to full grain brewing and became more ambitious with the beers they created. Over time, they decided to go bigger and designed their own brewing system which was a scaled down commercial system.
The beer was greatly improved using the new system, and, after a few years of brewing and developing recipes, Jeff and Andrew decided they should take their brewing skills to the next level – test the public and possibly go commercial.
The name of the brewery came one night while Jeff was playing poker and drinking one of their beers.
Jeff has been a poker fan for many years and mostly Texas Hold em' where the Ace is referred to as a bullet and he thought hey, what's better than Four Aces….?
So "Four Bullets" became the name for the brewery. All of Four Bullet Brewery beer names also come from a poker/casino theme.
Address: 640 N Interurban St, Richardson, Texas; fourbulletsbrewery.com
11. Manhattan Project Beer Company – Dallas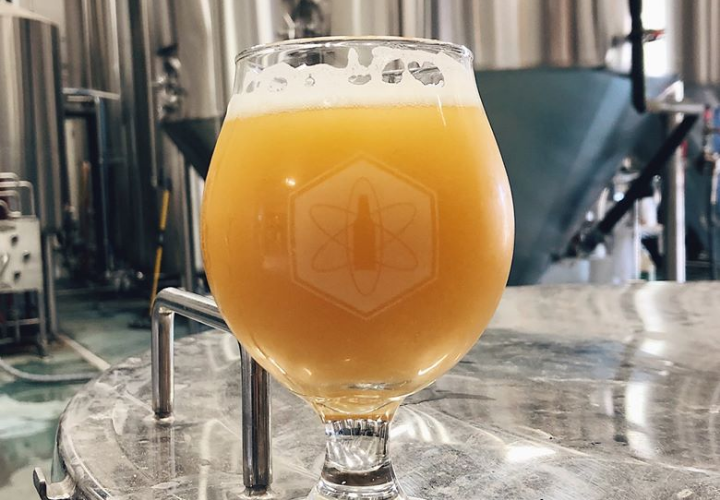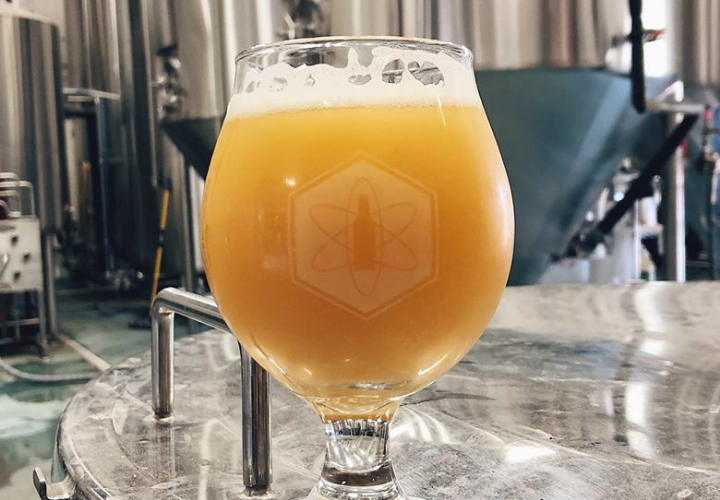 You'll never forget your first sip.
As with most craft beer businesses, Manhattan Project Beer Company began as a passionate hobby.
Although their love for craft beer precedes the formation of Manhattan Project, the group first came together in 2010 with a goal to design a ground up beer to meet certain specifications for a very important event, Karl and Misty Sanford's wedding.
During the 8-month design period, the group realized the unique synergy achieved by the combination of each person's particular skill.
Their common goal was to create a beer that would be appreciated by the designers, other craft beer drinkers, and those not yet exposed to beers beyond traditional American Lagers.
The project was a success. The beer started as an American Brown Ale and evolved into a Belgian Dark. Inception, as it is called, has a well-balanced Old World flavor that has gone on to win multiple awards.
Address: 2215 Sulphur St, Dallas, TX 75208; manhattanproject.beer
12. Peticolas Brewing Company – Dallas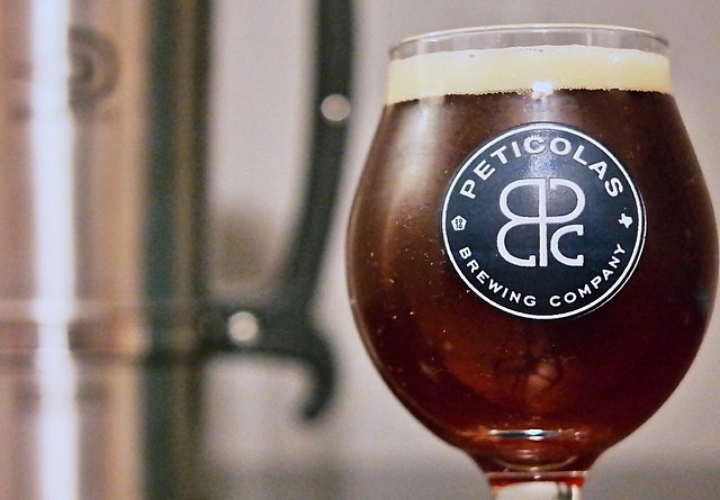 Peticolas Brewing Company, located in Dallas, is an honest, friendly, down-to-earth brewery delivering world class passion in a glass.
THE WILLIAM WALLACE OF CRAFT BEER
Michael Peticolas began his career as a lawyer, spending more than a decade in the field.
One of the most recognizable figures within the craft beer movement, Michael is advocating for expanding craft brewery rights across the great state of Texas.
From passing the bar to serving at one, this Dallas brewer knows beer is worth the fight.
With a free heart and the courage to follow it, he fought the city to permit the first breweries in modern-day Dallas. Now he's taking the fight to the Supreme Court.
For the first year, Michael was on his own, brewing 800 barrels of beer a year all by himself.
Michael is now co-chair of a legislative committee, which has been integral to changing Texas laws that have long hindered craft brewers.
Address: 1301 Pace St, Dallas, TX 75207; peticolasbrewing.com
13. Celestial Beer Works – Dallas Breweries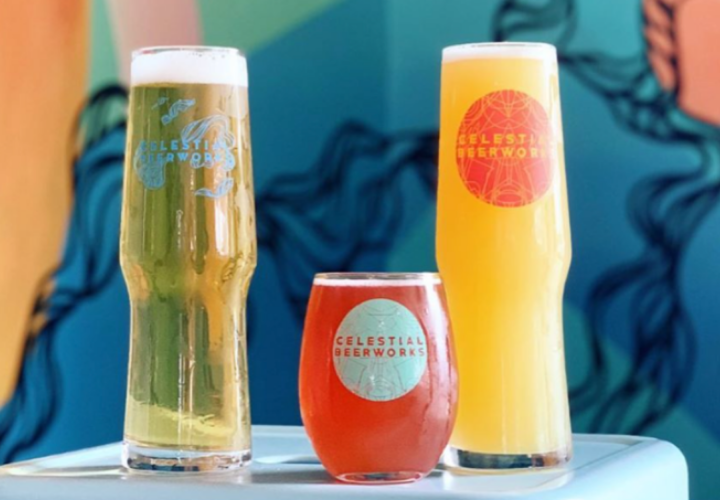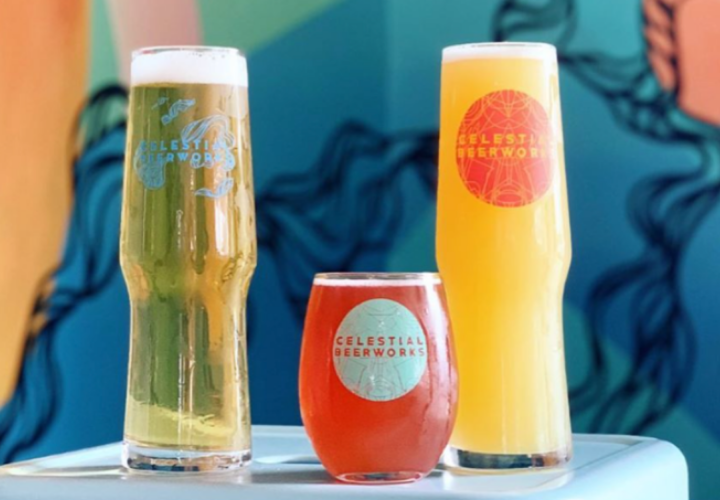 Celestial Beerworks believes that beer should be consumed in its freshest state. They have a heavy focus on the hop-forward, approachable, complex styles.
While they enjoy brewing all styles of beer, they do have a borderline unhealthy obsession with hops.
Celestial Beerworks vows to never serve a beer that does not adhere to the highest standards.
You will never taste a beer that does not manifest the brewer's exact intention. Essentially, they live by the mantra "haze for days."
Cheers, and drink galactically.
Address: 2530 Butler St, Dallas, TX 75235; celestialbeerworks.com
14. Pegasus City Brewery – Dallas Breweries
BEERS THAT ARE DRINKABLE AF
Pegasus City Brewery has been working on its craft since 2011, making a variety of brews that rewards their customers with perfectly balanced flavor, body, and finish.
To them the art of craft beer is not a flash in a pan, but in the ability to create full-flavored brews that you'll reach for time and time again.
Pegasus City brews the essentials – beers that are balanced, by design, with the curated flavors of the classics, and a modern aesthetic. Beers that are, and always will be, Drinkable AF.
Address: 2222 Vantage St, Dallas, TX 75207; pegasuscitybrewery.com
15. Braindead Brewing – Deep Ellum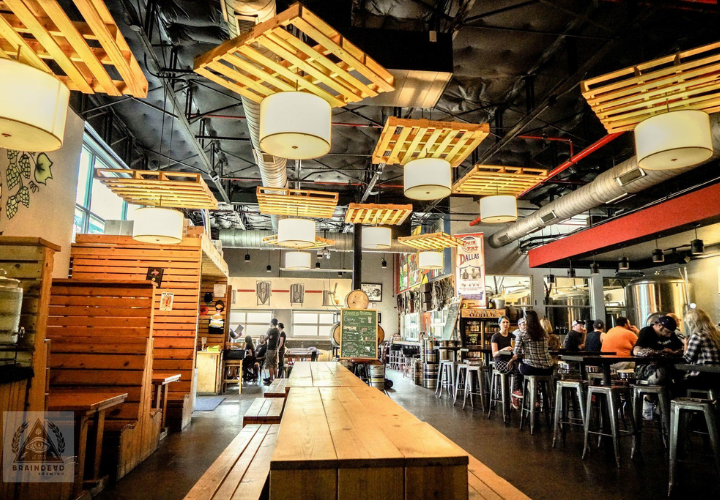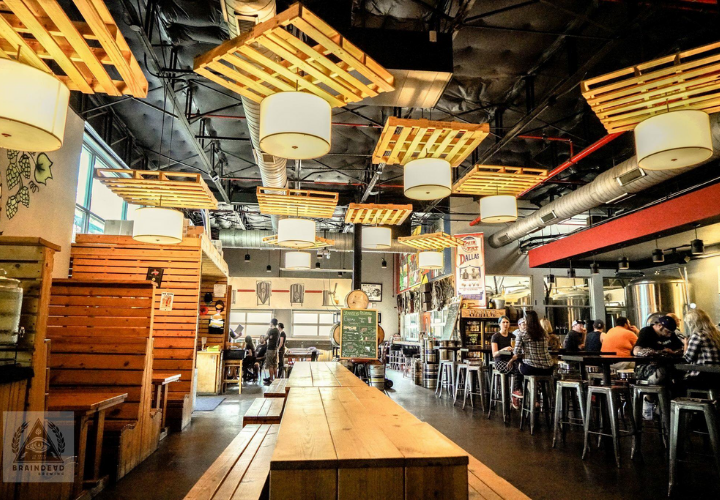 Braindead is like the hip hop duo Black Star… but instead of making awesome rap, they make great tap…and food.
Address: 2625 Main St, Dallas, TX 75226; braindeadbrewing.com
16. Community Beer Company – Dallas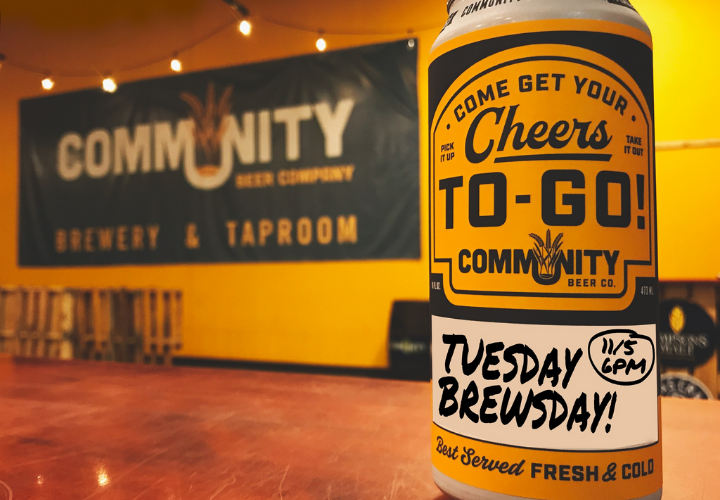 For centuries, beer has brought people together, transcending identity or class.
At Community, they believe that craft beer can be a integral part of influencing local culture and creating memorable experiences.
Community Beer Company is where people can gather to enjoy goo company and great beer together.
BEER FOR THE GREATER GOOD
Located in Central Dallas, on the edge of the Dallas Design District, Community has become a strong part of the North Texas community and a hub for a diverse lineup of events that support local artists, musicians, and charities.
Address: 1530 Inspiration Dr #200, Dallas, TX 75207; communitybeer.com
17. Outfit Brewing – Dallas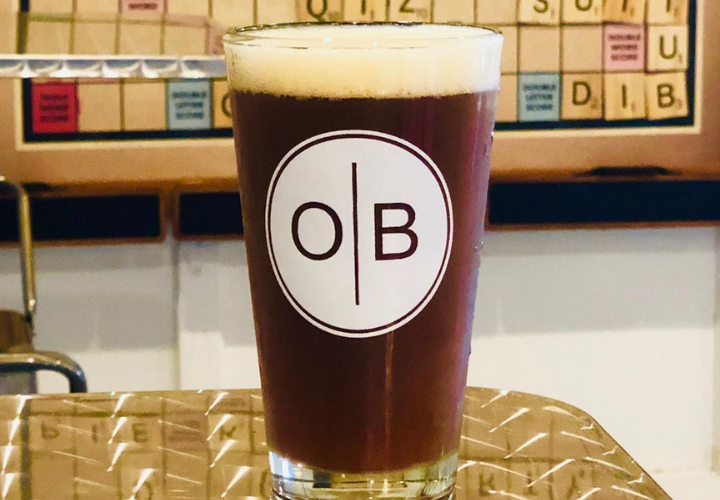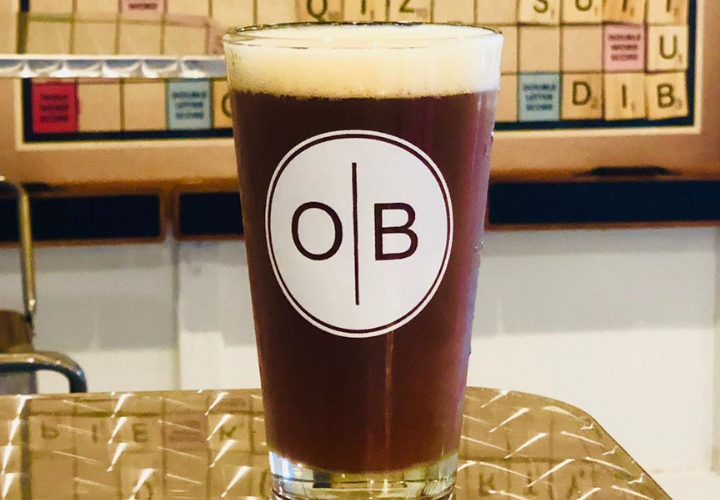 NOW, THAT THERE IS A GOOD OUTFIT
Outfit Brewing is a craft brewery and brew pub located in Dallas, Texas and owned by brothers Jordan Young and Mike Frazer.
Outfit Brewing opened its doors to the public in August of 2018. How did they get their name?
Jordan's grandfather used to refer to people's character as, "that there is a good outfit," hence the inspiration for the name of the brewery: Outfit Brewing.
Check them out and join 'em for a beer or two.
Address: 7135 John W. Carpenter Fwy, Dallas, TX 75247; https://www.outfitbrewing.com/
18. Small BrewPub – Oak Cliff
Small BrewPub is a neighborhood brewpub located in Oak Cliff, Texas.
Their approach is a little more old fashioned than most. . .it's very manual and hands-on and their taps are always changing so you're sure to always have plenty of options to intrigue and expand your palate.
They are not afraid to use wild yeast and bacteria when it is suitable and their barrel program is always fun and exciting.
Address: 333 W Jefferson Blvd, Dallas, TX 75208; smallbrewpub.com
19. Steam Theory Brewing Company – Trinity Groves, Dallas
Spacious brewpub with a steam punk vibe offering house beers & elevated American comfort food.
Experience their in house artisanal beers, full service bar with signature cocktails, wine, and true scratch kitchen.
Their award-winning brewmaster creates beers that rotate seasonally and compliment our American Brewpub Fare including Neapolitan pizza.
The decor inside is vintage industrial with a Steam Punk twist.
They even have a pooch friendly patio that has a lovely view of the Margaret Hunt Hill bridge in the re-invigorated Trinity Groves/West Dallas area.
Address: 340 Singleton Blvd #100, Dallas, TX 75212; steamtheorybrewing.com
Top 19 Breweries in Dallas Fort Worth
There's over 19 Top Breweries in Dallas Fort Worth with a style of beer to please everyone. Bring your friends, your love of beer, and enjoy a cold one (or two) this weekend in DFW.
Here's more places and things to do in Dallas Fort Worth:
Visiting any of these Top Breweries in Dallas Fort Worth? Be sure to follow and tag us on social media @metroplexsocial #discoverDFW.
Submit a story for publishing consideration.