I am so excited about Dallas Fort Worth's newest all-inclusive playground! Unlike a basic playground, which can be extremely limiting for children with special needs (try rolling a wheelchair around in wood chips), this new playground located in Fort Worth's Trinity Park is designed to accommodate both children with disabilities and typically developing children.
Now we will have another awesome place in DFW where kids with special needs can go down the same slide, with their able-bodied sibling or friend. Once I show you the pictures of this brand new park, you're gonna see why Dream Park is the New Fort Worth Playground Everyone is Talking About!
Looking for more inclusive playgrounds? Come found out Why Frisco's Hope Park is the BEST Playground in Collin County.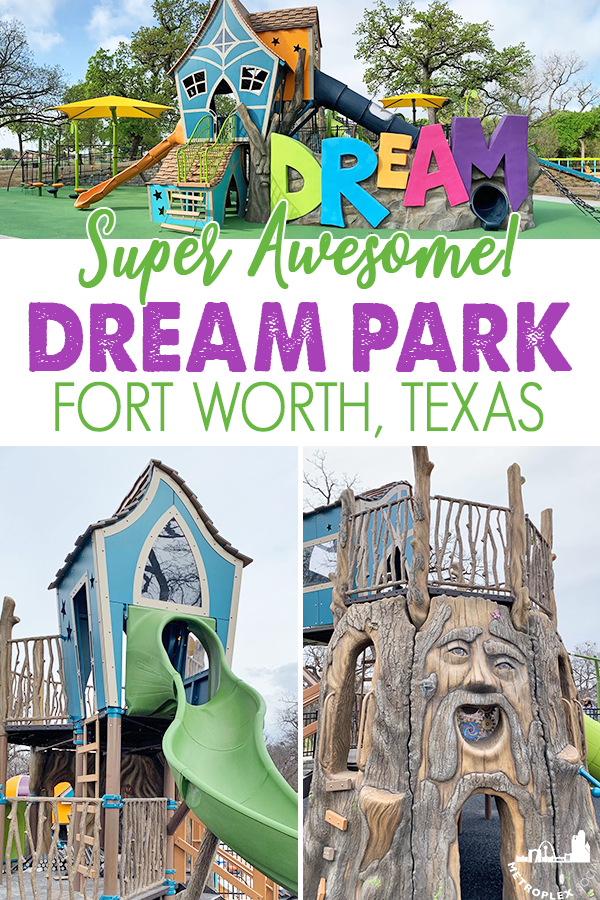 It started in 2013, when Rachel Churchill, while visiting her parents, took her son to a new playground in Port Washington, Wisconsin called Possibility Playground. Unbeknownst to Rachel, it was an inclusive playground (one that goes above ADA compliance) designed for children of ALL abilities. She had never heard of an inclusive playground before, but loved the idea. This local mom thought to herself, shouldn't all kids be able to play? It was that trip that inspired Rachel to build an inclusive playground in Fort Worth, TX.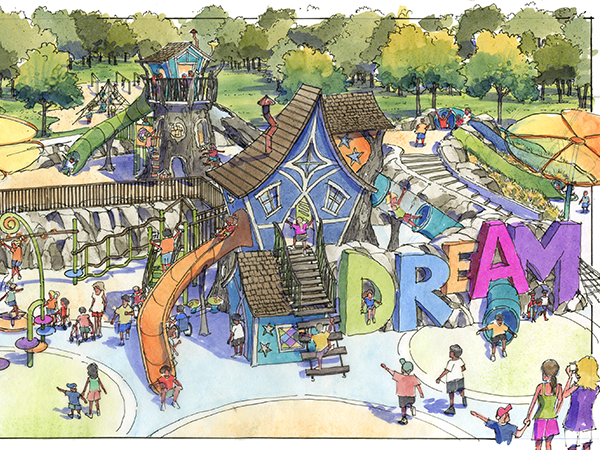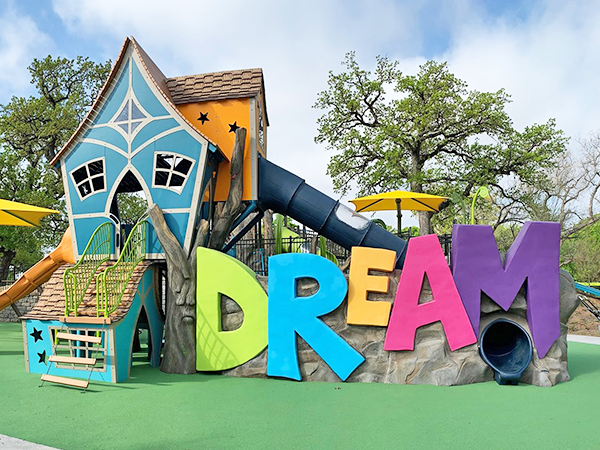 Dream Park All-Inclusive Playground in Fort Worth
What is Dream Park?
Dream Park is a playground designed to accommodate ALL children–a place where a child with special needs can go down the same slide, with their able-bodied sibling or friend. This playground is unlike any other in our community. It is a destination playground for families all over North Texas, as it's one of the largest inclusive playgrounds in the state of Texas.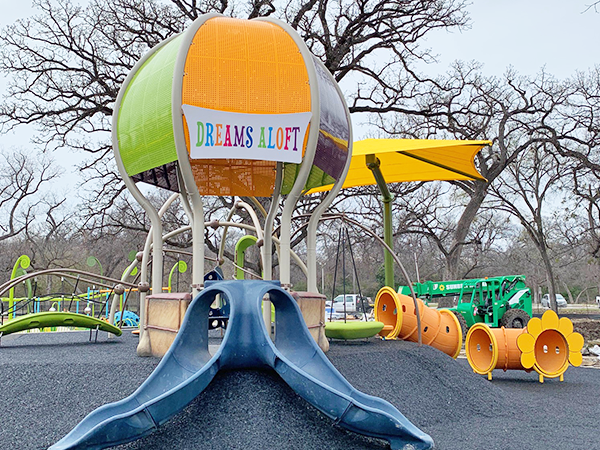 Why an Inclusive Playground?
Inclusive playgrounds, ones that go above ADA standards, are expensive and many cities simply cannot afford them. This means that usually it is private citizens and non-profit organizations who raise the money needed to build. The poured-in-place rubber surfacing alone can cost more than a "typical" prefabricated playground, yet, it is the features such as the smooth rubber surfacing that make play truly inclusive. Because disabilities go beyond physical limitations, Dream Park's design will meet the needs of children with mobility, sensory, and cognitive impairments.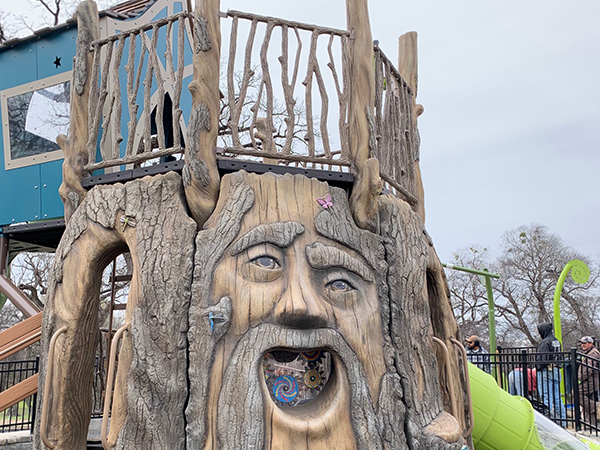 Dream Park Playground FUN Features
Rubber surface that allows easy access for wheelchairs and walkers
Swings with back support for children with low muscle tone
Roller slide, which provides kids sensory stimulation through the application of deep-muscle pressure from the steel rollers. These rollers will not affect cochlear implants
Sensory-rich environment including musical and parallel play elements
ZipKroozTM zipline with two bays, one with a disc seat and one with a molded bucket seat with lock-in-place harness, so children with limited core strength can participate
Ground-level elements, like the Sway Fun® glider with room for two wheelchairs, plus two large benches for other passengers
We-sawTM,a new take on a traditional seesaw, with a unique design and gentle rocking motion that invites kids and families of all ages and abilities to participate
OmniSpin® Spinner offers children of all abilities valuable vestibular sensory stimulation and encourages interactive play
Cozy Dome®, dome structures that provides a quiet space for over-stimulated kids
A new parking lot, handicap accessible parking and extra wide sidewalks
Over an acre of fenced play space to prevent children from leaving the area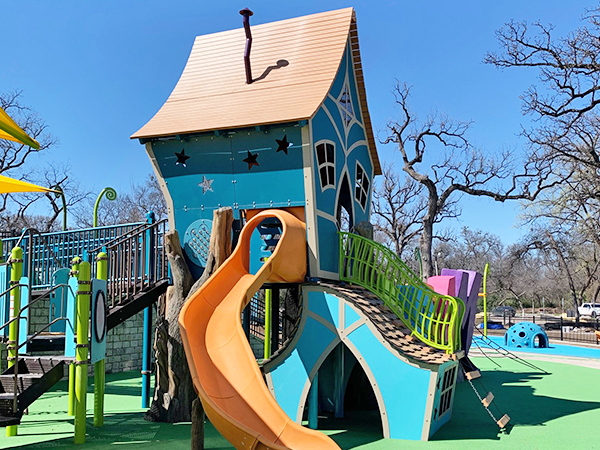 Dream Park Playground Location
Dream Park is in Fort Worth's Trinity Park, where the previous playground was located.
Address:



2401 S. University Dr




Fort Worth, Texas
Dream Park Playground will open on April 15th, 2019 and there is a ribbon cutting at noon.
For more information, visit dreamparkfw.org or facebook.com/dreamparkfw.
Summary
Be sure to sign up to get our free download of 15 Frugal and FREE Dallas Fort Worth Museums. Just enter your email and it'll be sent right to you.
Fort Worth's newest playground, Dream Park, is sure to be one of the FUNNEST places for kids of all abilities to play along side each other. Kids with special needs can play with their able-bodied sibling or friend. I hope you now see why Dream Park is the New Fort Worth Playground Everyone is Talking About!