Netflix just released The Highwaymen, a retelling of the story of Bonnie and Clyde's crime spree through North Texas and beyond. Being a local history enthusiast, this movie was on my Netflix-binge watch list from the time I saw the first preview. Starring Kevin Costner and Woody Harrelson as Texas Rangers Frank Hamer and Maney Gault, The Highwaymen is a story that feels Texan and left me fully captivated the entire length of the movie.
Although filmed in Louisiana (a fact I'm still trying to get over), most of the locations in the film are meant to be depicted right here in Texas, including the Dallas Fort Worth area. Which is what got me thinking in the first place about where Bonnie Parker and Clyde Barrow (and gang) spent their time here locally. This is our Complete Guide to Bonnie and Clyde in Dallas Fort Worth and North Texas.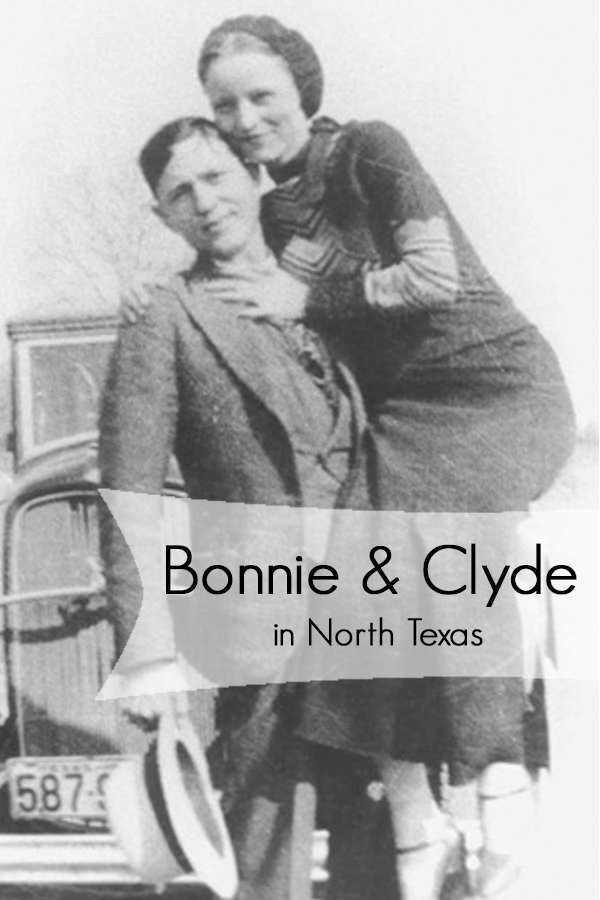 Netflix's Highwaymen: Bonnie and Clyde Movie
Clyde Barrow's life of crime began in 1929 when he and his brother, Buck, and a third man robbed the Motor Mark Garage just off Denton Square. Buck was wounded and captured after a car chase and shootout with local police, which resulted in a 5 year prison term in Eastham, TX. Only Clyde eluded police by hiding under a vacant house and hitchhiking back home to Dallas.
Two months later, Clyde Barrow's life changed when he met a waitress named Bonnie Parker. Bonnie only became aware of Clyde's criminal past when the "laws" caught up with him returned him back to Denton about the Motor Mark Garage heist. Prosecutors could not make the charges stick, so police transferred him to Waco where fingerprints linked him to several burglaries and car thefts. He was convicted and sentenced to two years on each count. In March 1930, using a gun smuggled to him by Bonnie Parker, Clyde escaped with two others from the McClellan County jail and his career as an outlaw began. This is where the plot of Netflix's The Highwaymen begins.
As the story goes, Texas Rangers Frank Hamer and Maney Gault were hired to take care of the Bonnie and Clyde problem. They eventually caught up with the pair in Louisiana, where they were killed in a shootout on May 23, 1934 in Louisiana.
As noted in the original Netflix movie, The Highwaymen, the story doesn't end there. Bonnie and Clyde's criminal life and subsequent deaths occurred during the public enemy era. When their bodies were returned to Dallas, over 20,000 people attended the funeral of Bonnie Parker, while 25,000 attended the funeral of Clyde Barrow. The pair are buried in separate cemeteries which I'll talk about in our Complete Guide to Bonnie and Clyde in Dallas Fort Worth and North Texas: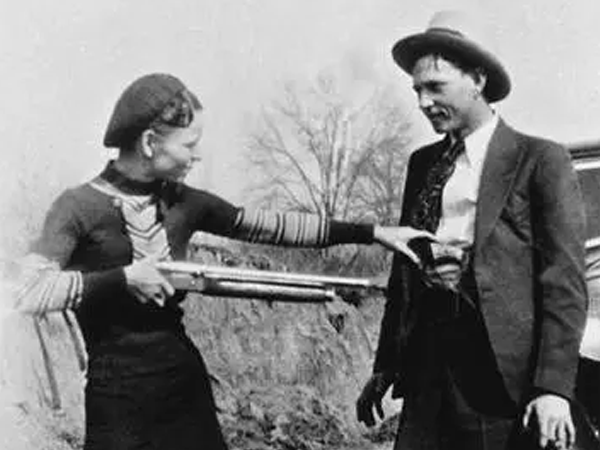 Complete Guide to Bonnie and Clyde in Dallas Fort Worth and North Texas
Denton
Denton Square – This is where Clyde Barrow's life of crime began in late 1929. Along with his brother, Buck, and a third man, the three burglarized The Motor Mark garage. Prosecutors could never get charges on Clyde to stick.
A few years later in 1932, Bonnie and Clyde's gang would abort a plan to rob two banks on the Square in Denton when they spot Texas Rangers staking out the area nearby.
Dallas
The area bounded by Interstate 30 on the south, the Trinity River on the east and north, and the Trinity River's West Fork on the west was then known as West Dallas, an industrial and poverty-stricken section west of Dallas, TX. At the time, the area known as West Dallas was unincorporated, and it was common for residents who resided there to have no running water and no sewer. A home was "what you made it," which could mean a tent or even on the ground under a wagon. This is where Clyde Barrow grew up and where he first met Bonnie Parker.
A filling station marks the spot where Clyde and his family lived. Clyde's father housed his family and business at the fueling station, and while the building still stands, there is no marker to tell you this is what you're looking at when you visit. Address is 1221 Singleton Boulevard.
Bonnie attended elementary school at Eagle Ford School, and years later her report card was found in the basement. Address is 1601 Chalk Hill Road.
Bonnie first met Clyde at Hargrave's Cafe when she waited on him. The cafe no longer exists, instead you'll find Evans Grinding Co., near Baylor University. Address is 3308 Swiss Circle.
Bonnie and Clyde are also both buried in Dallas. Keep reading for the details…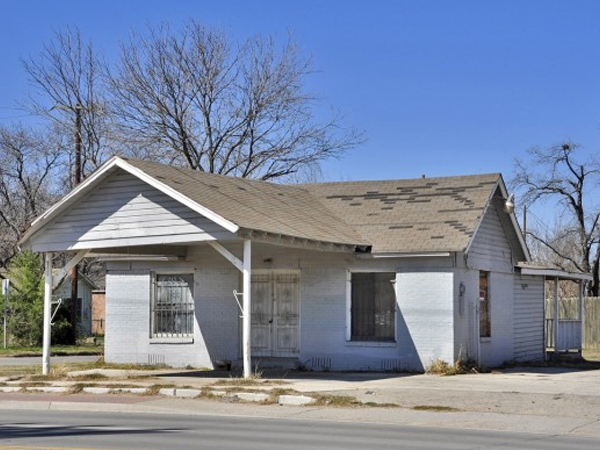 Lake Dallas, Pilot Point, Celina
Numerous hideouts in around the Lake Dallas, Pilot Point, and Celina areas, including wooded spots that the pair would stay when "the law" was actively chasing them. Rumored that Bonnie and Clyde buried sacks of money in wooded areas and the entire area is believed to be their stomping grounds. The bank robbery in the 1967 Hollywood film, Bonnie and Clyde, was filmed in downtown Pilot Point.
Irving
You won't find Sowers, TX on a map anymore, but it was once a rural community just west of Dallas, in Dallas County. Today, it would lie within the city limits of Irving, TX and only the cemetery still exists. On November 22, 1933, Bonnie and Clyde narrowly avoided arrest while trying to meet up with family members. Their hometown sheriff, Dallas' Smoot Schmid, and his squad lay in wait nearby. As Barrow drove up, he sensed a trap and drove past his family's car. It was at this moment that Schmid and his deputies opened fire with machine guns and a Browning automatic rifle. A bullet passed through the gang's car, striking the legs of both Barrow and Parker. They were able to escape.
Parker and Barrow were indicted the following week for the 1933 killing of Tarrant County Deputy Malcolm Davis. It was Parker's first warrant for murder.
Southlake and Grapevine
Grapevine Home Bank, currently a jewelry store in Grapevine, was robbed by two of Clyde's gang members in 1933. Police followed up their investigation of the robbery to a west Dallas home where Clyde killed Grapevine Sheriff, Malcolm Davis. Address is 404 S. Main Street.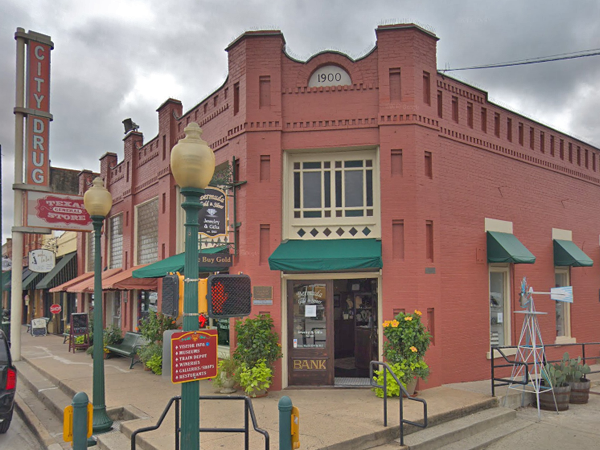 Easter Sunday 1934, Barrow and Henry Methvin killed two young highway patrolmen when they stopped to help what they thought were stranded drivers at the intersection of Route 114 and Dove Road near Grapevine, TX (now Southlake). This scene is depicted in the Netflix film, The Highwaymen, and is the crime that turned public opinion against Bonnie and Clyde. The Wheeler Murphy Monument honors the lives of the two patrolmen who lost their lives that day.
Although it is believed that Bonnie was asleep in the back of gang's vehicle when the shooting began, the Grapevine killings were told in exaggerated detail by all four Dallas daily papers, which affected public perception negatively. Highway Patrol boss L.G. Phares offered a $1,000 reward for "the dead bodies of the Grapevine slayers"—not their capture, just the bodies. Texas governor, Ma Ferguson, added another $500 reward for each of the two alleged killers.
Arlington
Arlington, TX was once well known for its gambling scene and it's where Bonnie and Clyde hid out to escape from the law. The site of one of those casinos and also speakeasy was Top O' Hill Terrace, located on what is now known as Arlington Baptist University, and is the location where the outlaws occasionally dined. Visitors can tour the campus at 3001 West Division.
View this post on Instagram
Fort Worth
Room 305 of the Stockyards Hotel is where Bonnie and Clyde once stayed. The pair liked this room because it had great lookout views on two major streets. Bonnie accidentally left one of her guns there, and it now is displayed on the wall of the 52 room hotel. The Stockyards Hotel is now located in the Stockyards National Historic District of Fort Worth. Address is 109 E. Exchange Avenue.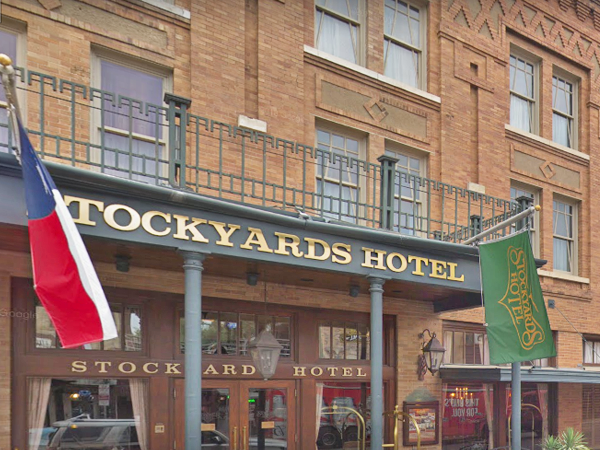 Death of Bonnie and Clyde
Barrow and Parker were killed on May 23, 1934, on a rural road deep in the piney woods of Bienville Parish, Louisiana. The couple were ambushed with the help of the father of one of the gang members. They were shot by a posse of four Texas officers, including legendary Texas Rangers Frank Hamer and B.M. "Maney" Gault, and two Louisiana officers. In the aftermath, 187 shots had been fired, with 43 officially to have riddled the bodies of Bonnie and Clyde.
Bonnie and Clyde wished to be buried side by side, but the Parker family would not allow it. More than 20,000 people attended Bonnie Parker's funeral.
Bonnie's family used the McKamy-Campbell Funeral Home, then located on Forest Avenue in Dallas. The deaths of Bonnie and Clyde sold 500,000 newspapers in Dallas alone. Bonnie was initially buried in Fishtrap Cemetery, however she was moved in 1945 to Crown Hill Cemetery in Dallas. Address is 9718 Webb Chapel Rd.
View this post on Instagram
Clyde's family used the Sparkman-Holtz-Brand Morticians, located in Downtown Dallas. He is buried in Western Heights Cemetery in Dallas, next to his brother, Marvin. Their shared stone reads, "Gone but not forgotten." This cemetery has a no trespassing sign and the gate is most always locked. Address is 1617 Fort Worth Avenue.
View this post on Instagram
The Belo Mansion, is the former home of Colonel Belo and is where approximately 20,000 people came to view Clyde's body. Colonel Belo is the founder of the Dallas Morning News. Address is 2101 Ross Avenue.
View this post on Instagram
Summary
The entire Dallas Fort Worth metroplex and North Texas is rich with history, and that includes ruthless outlaws Bonnie and Clyde. After research, I found the Netflix film, The Highwaymen, to be a near accurate retelling of Bonnie and Clyde. We hope you find our Dallas Guide to Bonnie and Clyde useful. What spots did we miss?