Teddy Bear Park in Dallas is a gorgeous park with views of a creek, intricate bridges, and fountains along the trails. Once you reach this scenic creek you almost forget you're in the suburbs of Dallas! The absolute best part is that you can hang out with stone teddy bears that are double your size!
Ready for another adventure? Check out the Perfect Spot For Hiking In DFW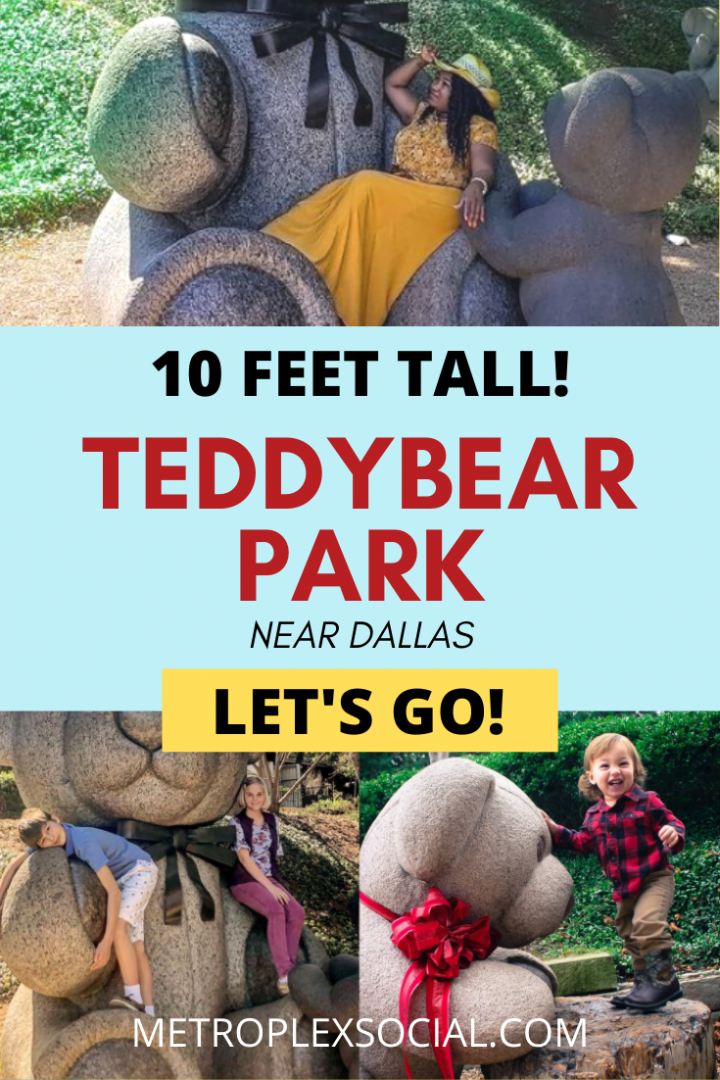 If you are looking for a the perfect spot for a picnic or your next family photo, look no further!
There are plenty of spots that you'll swoon over, whether you're taking a stroll or scoping out a new spot for family pics. Here is everything you need to know about this Teddy Bear Park In Dallas: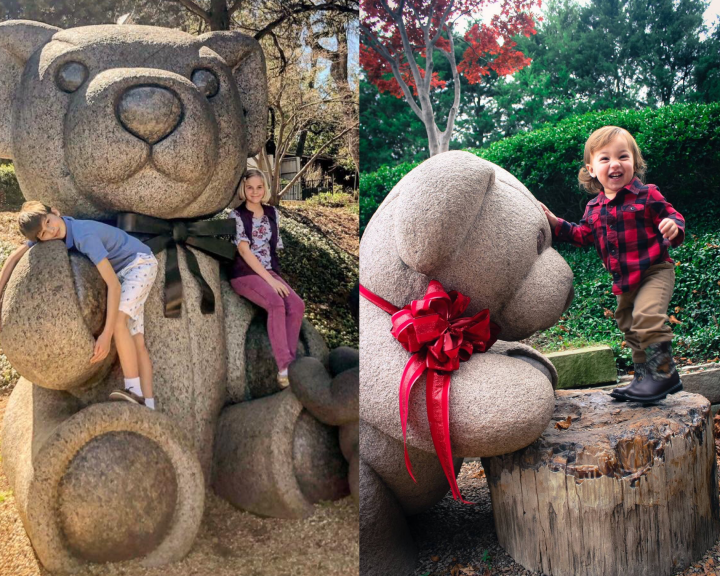 Teddy Bear Park In Dallas Is Perfect For Photos
Take photos with larger than life stone bears at this park in Dallas!
Lakeside Park – Highland Park In Dallas
Believe it or not, this well known park is actually named Lakeside Park! The popularity of it's famous teddy bear statue has basically renamed the park for locals all over DFW, but it's easier to find directions and information when using the name Lakeside Park.
While the entire 14 acre park is totally breathtaking and runs along Turtle Creek, the most popular spot is the enormous stone teddy bears! The neighborhood and area is a pleasure to drive through, and you'll be met with perfect landscaping all along Turtle Creek.
The pathways are lined with different decorative items like fountains, small waterfalls, and benches if you need a break. Don't forget to take in the views from the bridge right on top of the Turtle Creek Dam as you make your way to the famous teddy statues! You can always learn more about Lakeside Park at the Official Highland Park website.
Where is Teddy Bear Park In Dallas?
Lakeside Park is right in between Beverly Drive and Armstrong Parkway in Highland Park.The park is 100% free to visit and enjoy. Clean pathways and a gorgeous view await you.
Address: 4601 Lakeside Drive Highland Park, TX 75205
Where Are The Teddy Bears At Lakeside Park?
Some people overlook the statues when visiting, but just make sure you cross the bridge and they should be easy to spot! One of the bears stands at almost 10 feet, so you really can't miss him.
If you're still having a hard time, you can actually type in "Teddy Bears at Lakeside Park" into a GPS for a better idea.
Perfect For Photos And Special Occasions
On any day at Teddy Bear Park In Dallas you might see an engagement, a prom group, or even family photos being taken! It's popularity only speaks to how pretty the park truly is.
A special occasion is perfectly celebrated when you make a trip to Highland Park's best kept secret.
Lakeside Park Features
Various Scenic Views And Photo Ops
Paved Pathways For Biking Or Walking
Stone Teddy Bear Statues
Gorgeous Wooden Bridge
Plenty Of Parking
Teddy Bear Park In Dallas Is A Hidden Treasure!
Now that you know exactly how to get to these adorable statues in Highland park, what are you waiting for? Get ready for a brisk walk along Turtle Creek and to hang out with some adorable Teddy Bears when you visit!
Experience more in Dallas Fort Worth!
Do you know of any other parks in the metroplex that are perfect for photos? Tag us @metroplexsocial #discoverDFW in your recommendations!