The weather has finally cooled down here in the metroplex!! And, If your kids are anything like mine then they are ready to be outside until the sun goes down. Playgrounds are always a favorite go to spot, and we know there are plenty around the area. Here's a list of our favorite accessible and inclusive playgrounds, where children of all abilities can play side by side.
Related: Check out these 8 Indoor Play Areas in Dallas

All-inclusive playgrounds provide safe play opportunities for children of all ages and abilities. These types of playgrounds typically offer wheelchair accessibility, and areas for kids who deal with sensory overload to escape the playground commotion.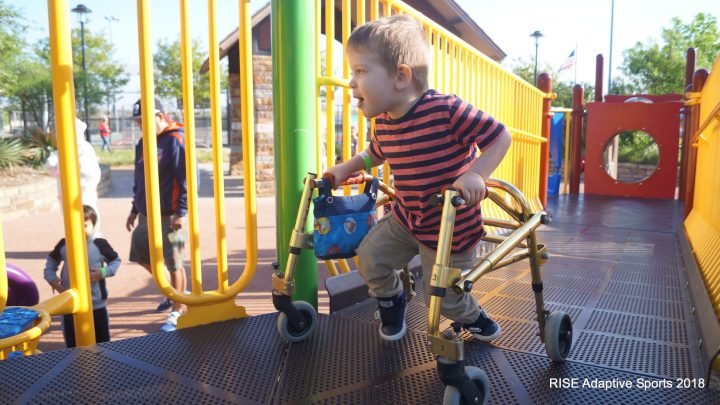 10 Accessible and All-Inclusive Playgrounds in DFW that are the FUNNEST EVER!
Families of special needs children in the metroplex, you don't have to look far to find a park or playground where they can feel comfortable. Check out our list below.
1. Hope Park – Frisco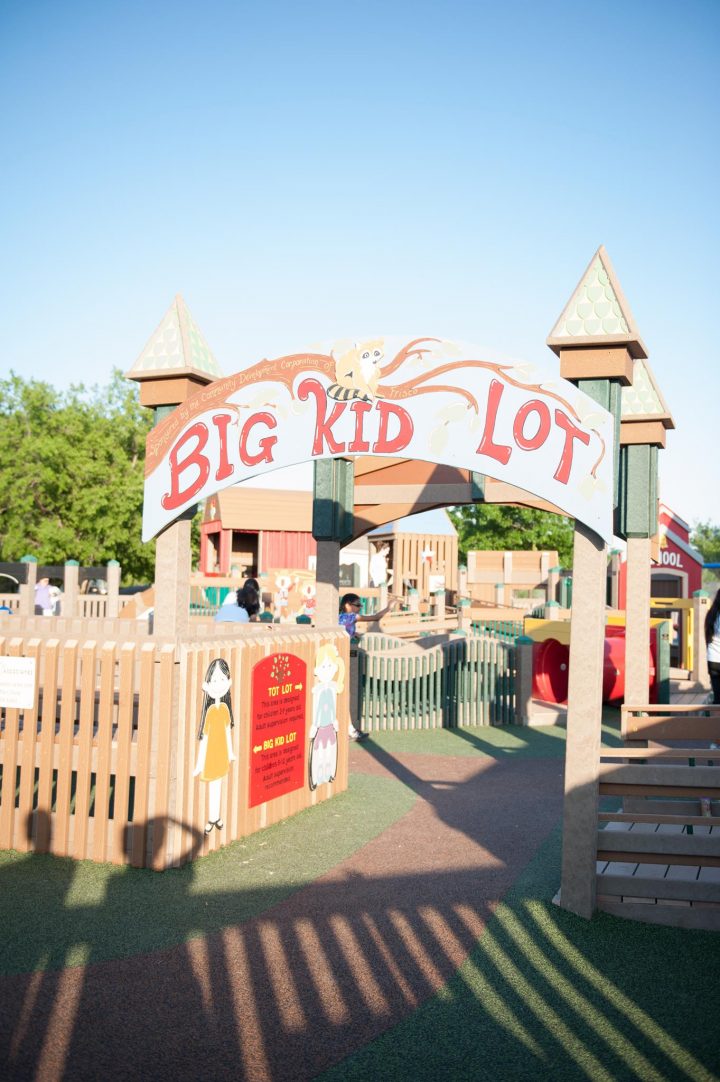 Built by a local volunteers, Hope Park in Frisco, TX is the perfect place to take kids where they can play alongside their peers in a safe and fun environment. We love Hope Park!
Click here to find out more about the Best Playground in Collin County
Address: 8000 McKinney Rd. Frisco
2. Jack Carter Park – Plano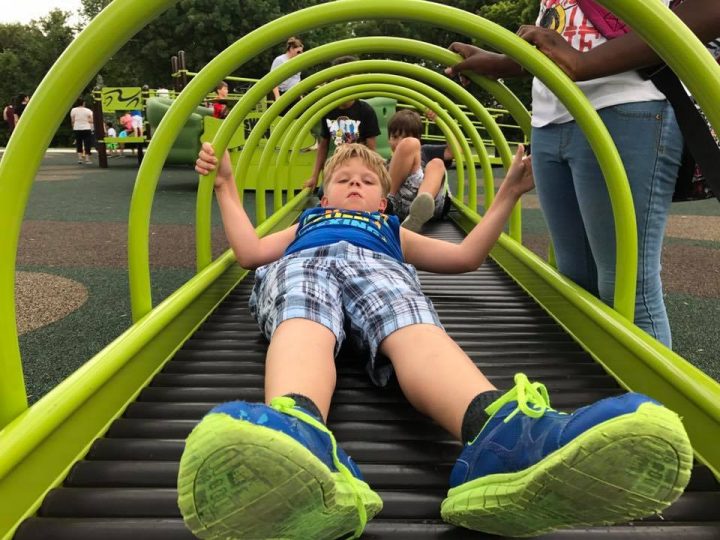 Jack Carter Park is a community park with an inclusive playground designed to allow children ages 2-12 of all abilities to play together and engage a range of movement, climbing, tactile, visual and auditory play equipment. Other park amenities are a pond, pavilion, picnic tables, sand volleyball, trails and restrooms. Parking is available.
Address: 2800 Maumelle Drive. Plano
3. Cottonwood Creek Park – Irving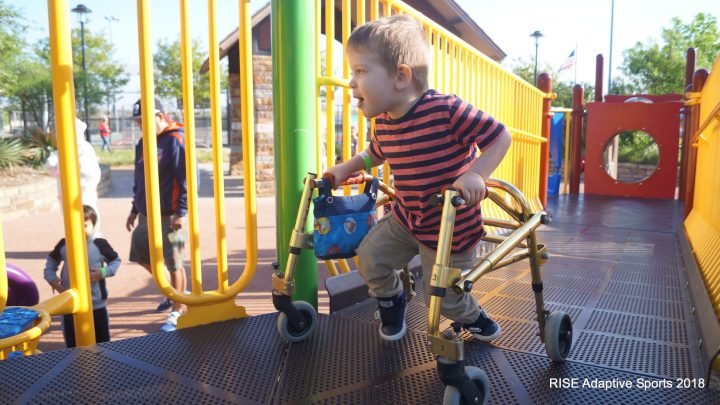 This accessible playground lets children of all abilities play together! Bring all the kids to Cottonwood Creek Park in Irving because it is perfect for birthday parties and other large gatherings as it includes a large pavilion, 25 picnic tables, lights, ample parking, water fountain, restrooms, grill, and electrical outlets. Nearby are baseball and soccer fields.
4051 N. Story Road Irving
4. Kids Kingdom – Rowlett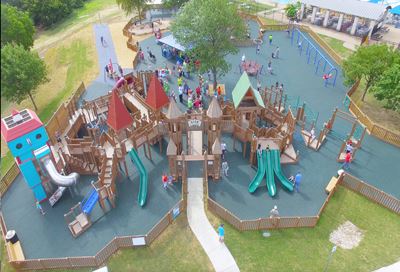 Kids Kingdom, located in Rowlett, is one of the coolest playgrounds in the metroplex, hands down! This community built playground has super fun features built in to it help children develop skills to enhance their growth physically, emotionally, mentally, and socially.
One of the key features of Kids Kingdom Playground is that it is accessible to all children regardless of their abilities. All children deserve an opportunity to play independently with their peers.
Inclusive playgrounds allow children of all abilities to play together to foster acceptance and friendships. 10% of children today have some sort of disability including cognitive, physical, learning, visual or hearing. This playground is designed with these children in mind, offering an opportunity to develop and enhance abilities through interactive outdoor play.
Address: 5300 Main Street, Rowlett, TX 75088
5. Casey's Clubhouse – Grapevine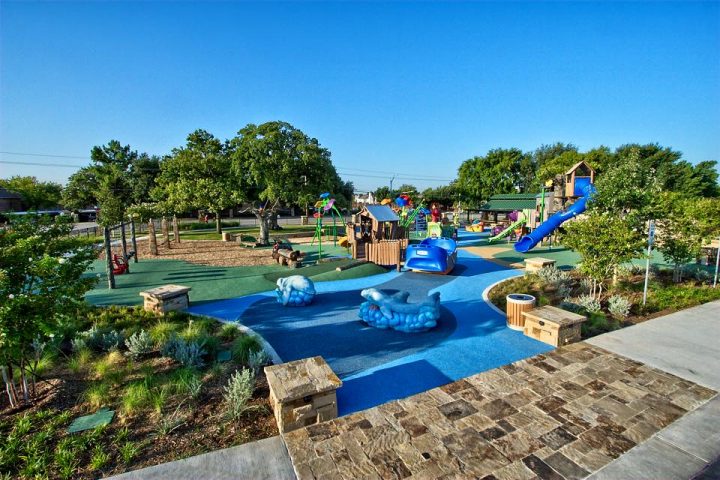 Casey's Clubhouse is a renovated playground that astonishes and delights even kids who are claiming to have aged out of swings and slides. A huge network of slides, bridges, tunnels, and gazebos stretches across the playground, which also features swings, an enormous tube slide shooting out from the clubhouse, magical machines with gears to move, a seated zipline, an astounding variety of climbing structures, and so much more.
In addition, it includes one of the best pools in Grapevine. It's hard to imagine exploring everything there is to see in just one visit, so plan on making this one a regular stop on your route and reserving a table or the pavilion for a big day in the future–once your child falls in love with it, he/she may very well hope to invite all his friends to join him there for cake the next time he gets a year older.
One of the best things about this Dove Park feature is that it's made for everyone to play–the clubhouse itself is fully accessible.
Address: 1509 Hood Ln., Grapevine TX, 76051
6. Dream Park – Fort Worth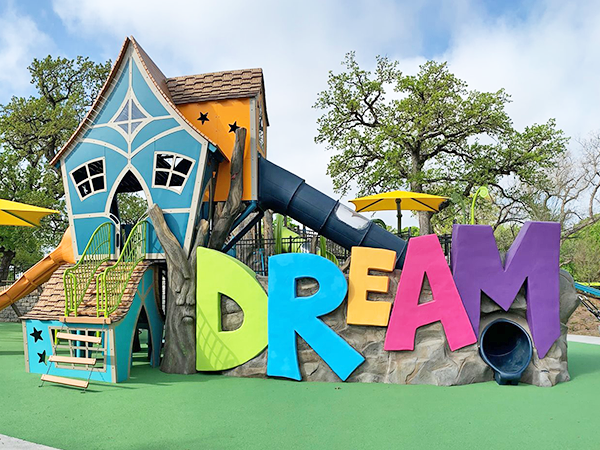 Dream Park is a playground designed to accommodate ALL children–a place where a child with special needs can go down the same slide, with their able-bodied sibling or friend. This playground is unlike any other in our community. It is a destination playground for families all over North Texas, as it's one of the largest inclusive playgrounds in the state of Texas.
Address: 2401 S. University Dr, Fort Worth, Texas
7. Patricia LeBlanc Park – Fort Worth
Fort Worth's 2nd inclusive playground is located at Patricia LeBlanc Park. A smaller playground, this park is perfect for kids who may get sensory overload from a larger crowd. This Tarrant County inclusive playground includes slides, swings, obstacles, and even xylophone's and bongos for the kids to play music on. Trees cover a lot of the area, and there are covered picnic tables as well.
Address: 6300 Granbury Cut Off St, Fort Worth
8. Flag Pole Hill Park – Dallas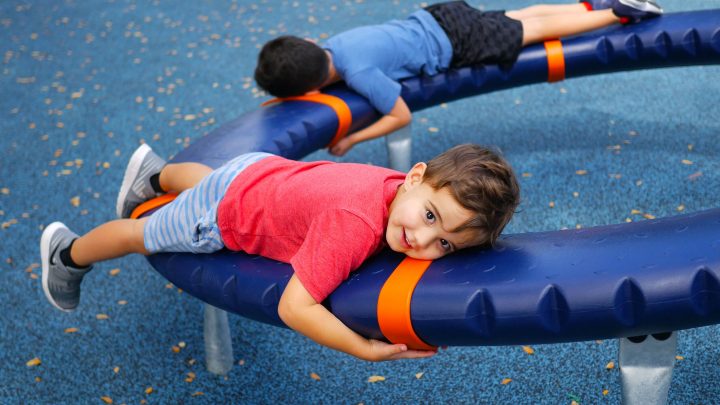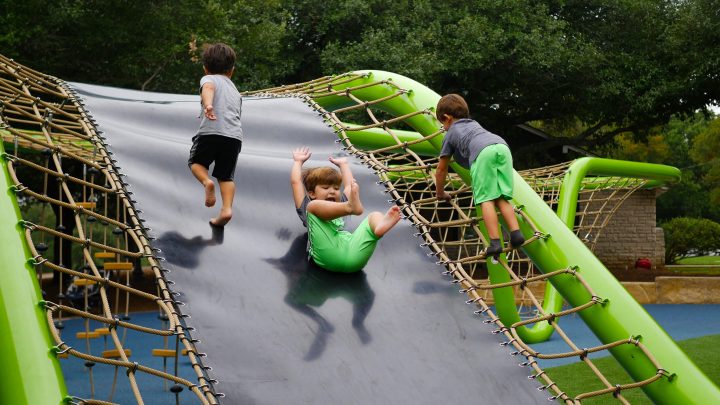 Established in 1929, Flag Pole Hill Park in Dallas is a 107.1 acres of FUN!
The playscape includes an element called a Boomerang, which is a large green climbing structure with nets and rope swings. Another feature, called the Supernova, allows children to spin, similar to a merry-go-round. The playground is designed to fun for a wide range of mobility levels. This all-inclusive playground is the first of its kind in Dallas!
Address: 8100 Doran Circle Dallas
9. ChildsPlay At Bachman Lake – Dallas
Child's Play at Bachman Lake Park is home to a PlayBooster® play structure. The compact structure is full of fun playground components including a SpyroSlide™, Tunnel Slide, Chain Ladder, and much more!
The playground design also includes swings to give children that high-flying feeling they crave. This playground offers lighthouse- and ship-themed play structures.
In addition to a theme, this playground was also designed to include children of all abilities. An extensive ramping system brings children using mobility devices to the center of the fun, and innovative products like the Sway Fun® glider encourage cooperative play.
Address: Lakefield Park Dallas
10. Mary Heads Carter Park – Carrollton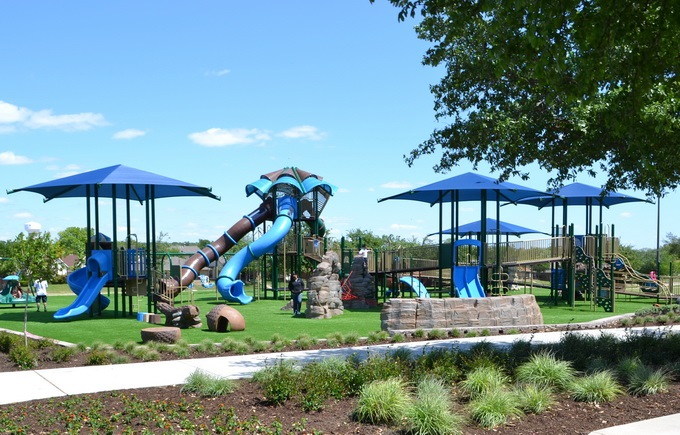 Mary Heads Carter Park "was designed for all ages in mind – including adults. The playground structure is strong, fluid, and full of surprises. I would call this the "mansion" of all playgrounds. Even when it is busy (weekends), there is plenty of space for everyone to play and run around. There are a couple of benches around, some auditorium-style seating, and plenty of grassy areas between there and the pond to set up a picnic. Can't wait to go back!" – Marchella Luke via Facebook
Address: 2320 Heads Ln, Carrollton, Texas 75006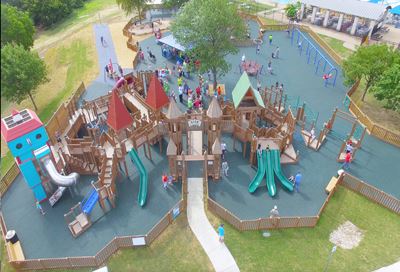 Funnest All Inclusive Playgrounds in Dallas Fort Worth
With so many playgrounds in the area it can be difficult to know which ones work best for your family. Hopefully this list of fun All-Inclusive Playgrounds in DFW will help you find the perfect environment where kids of all abilities can easily play alongside their friends and siblings.
Have you been to any of the playgrounds? Which one is your favorite? Be sure to tag your photos on social media with @metroplexsocial!