Be sure to grab our handy round up of 15 Frugal and FREE Kid-Friendly Museums in Dallas Fort Worth HERE.
If you haven't been to this amazing all-inclusive playground in Frisco, TX yet, then you (and your kids) are missing out! I helped in the build of this super cool playground and so I feel like I can give you special insight into How Hope Park in Frisco is the BEST Playground in ALL of Collin County. If you are searching for a playground that is accessible to children of all abilities, then this playground is going to quickly become a family favorite.
Want to discover some more awesome playgrounds in the metroplex? Check out our roundup of the BEST Playgrounds in DFW to Take Your Kids!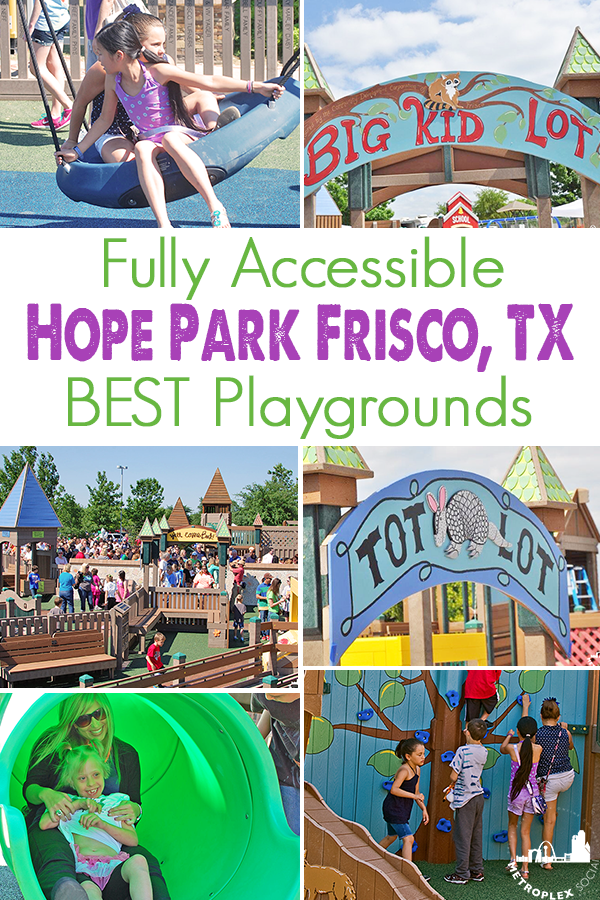 Hope Park Frisco – BEST Playground in Collin County
Another one of the many reasons why I love this fully accessible playground in Frisco, TX is that there are tons of kids activities to do here. There's a climbing wall, car slide, miniature town where kids can play "shop," and lots of shaded areas where kids can get out of the hot sun. Can your kids find all the frogs on the Big Kid Lot? This all inclusive playground is just so much FUN!!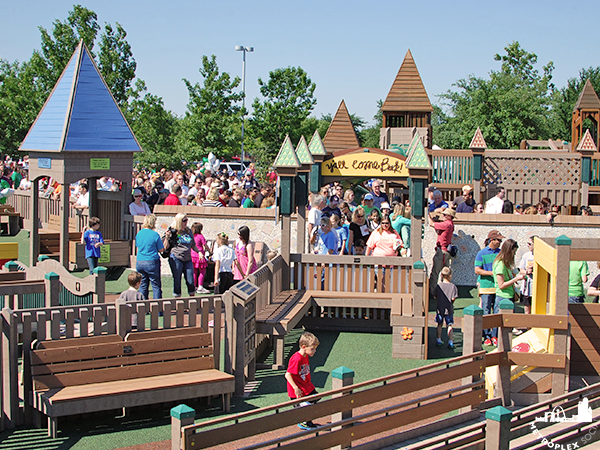 Fully Accessible DFW Playground in Frisco, TX
Hope Park opened in 2013 and is the dream of local Frisco mom, Jenni Jensen. Jenni's youngest daughter, Nora, who is special needs was in a wheelchair for several months after breaking her leg. Nora had a wonderful idea to build an unbelievable park for kids in which children of all abilities can play together!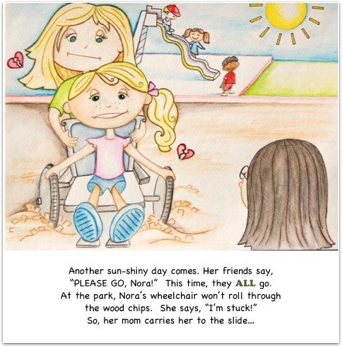 Community Build Accessible Playground
The playground was designed by Leathers & Associates and a team of Frisco community members. Construction of the all-inclusive playground was a volunteer community effort and hundreds turned out to make this DFW local playground happen. Right across from Hope Park is Friendship Park, which was renovated in 2013. It is also the site of Frisco Commons which includes a splash pad, veterans memorial, fishing pond, and walking trails. There's so much to do here!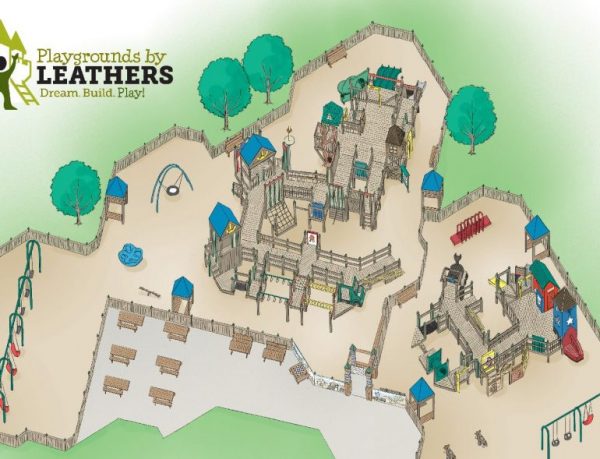 Fully Accessible Playground Design
Hope Park has several extras that make it fun for both kids and parents. The playground features accessible swings, a cochlear implant-friendly slide, and a spongy floor surface suitable for wheelchairs (and tired feet). There are two lots for children of different ages: tot lot for little kids 2-5 years old and the big kid lot for kids 5-12 years old.
This DFW accessible playground is well planned with plenty of seating for parents to rest while their kids play (supervised of course) and shaded picnic tables for lunch, snacks or even small birthday parties.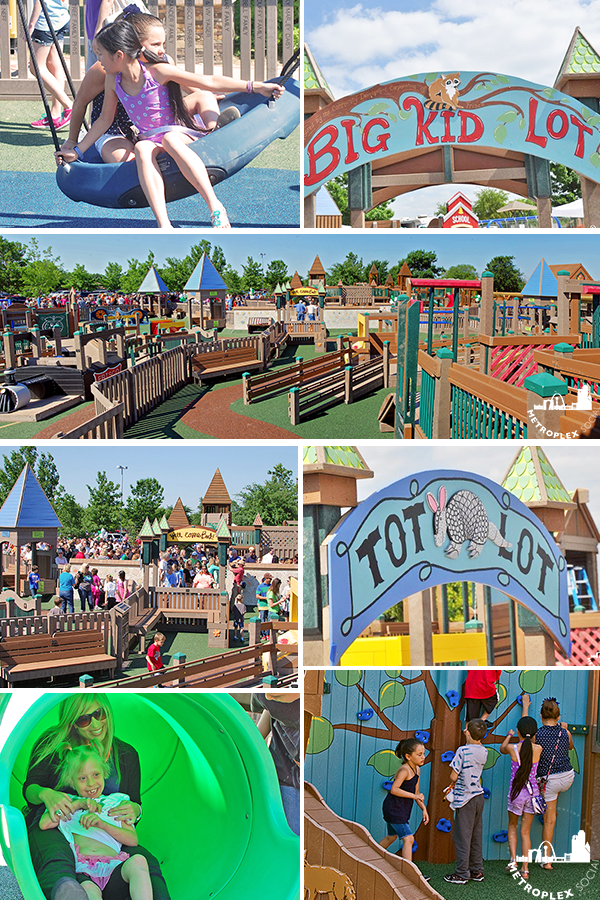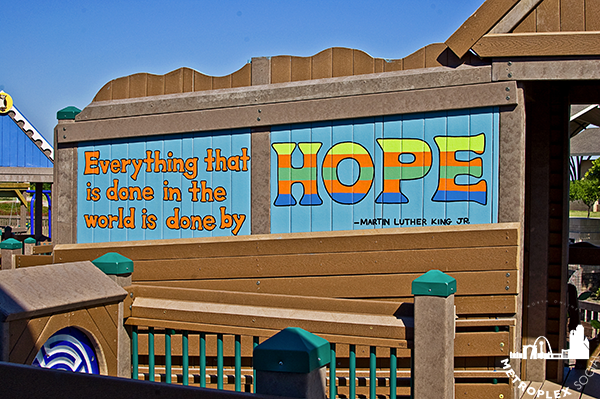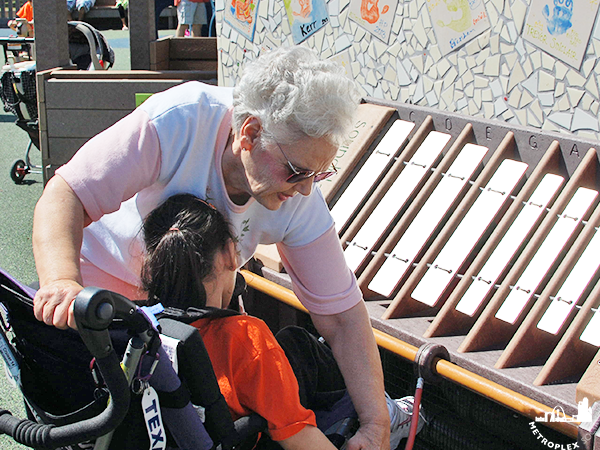 There is literally so much detail that went into the design of this Frisco playground. Each time we visit we always find something new that we didn't notice before.
Frisco Commons Features: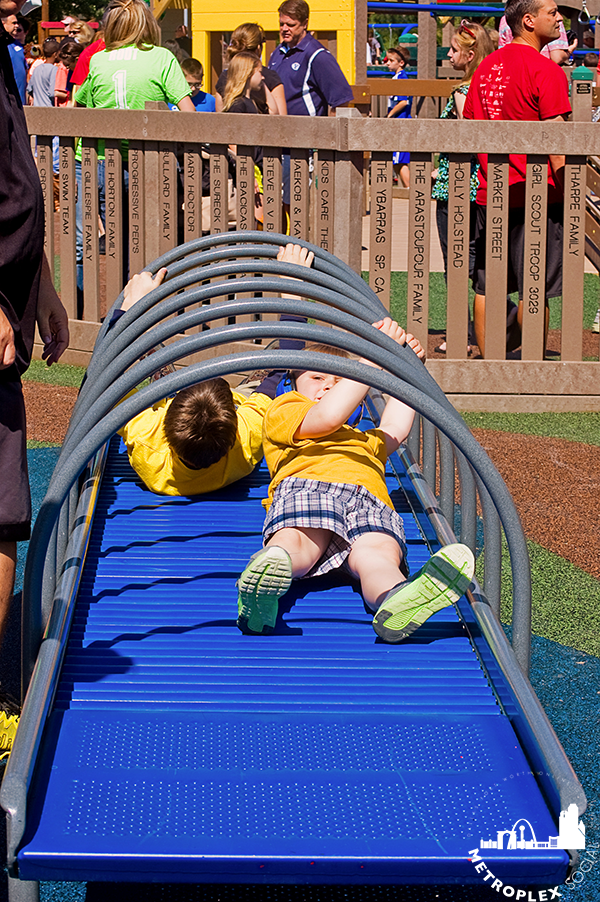 Amphitheater
BBQ Grill
Bike Trail
Fishing
Hope Park
Pavilion
Picnic Tables (these are NOT available for rent)
Playground
Restrooms
Spray Park
Stocked Pond
Veteran's Memorial
Walking Trail
Summary
So, if your kids are driving you nuts and you need to get them outside to burn off some energy, then trust us Hope Park Frisco is the BEST Playground in ALL of Collin County. It's easy to see why this fully accessible playground in Dallas Fort Worth is a favorite with all kids! Let us know what we missed.
Be sure to grab our handy round up of 15 Frugal and FREE Kid-Friendly Museums in Dallas Fort Worth HERE.