Searching for free things to do in Dallas Fort Worth? One of the greatest things about the metroplex is the endless amount of places to see and things to do. But did you know there are a ton of great places to visit that won't cost you a dime?
Well maybe some gas money to get there, but visiting one of the largest art museums in the country for FREE or taking a step back in time to watch the cattle drive at the Fort Worth Stockyards for FREE is pretty amazing. Here are my Top 20 best FREE things to do in Dallas Fort Worth.
RELATED: If you are looking for more fun places to visit check out my Ultimate List of Date Night Ideas in Dallas Fort Worth.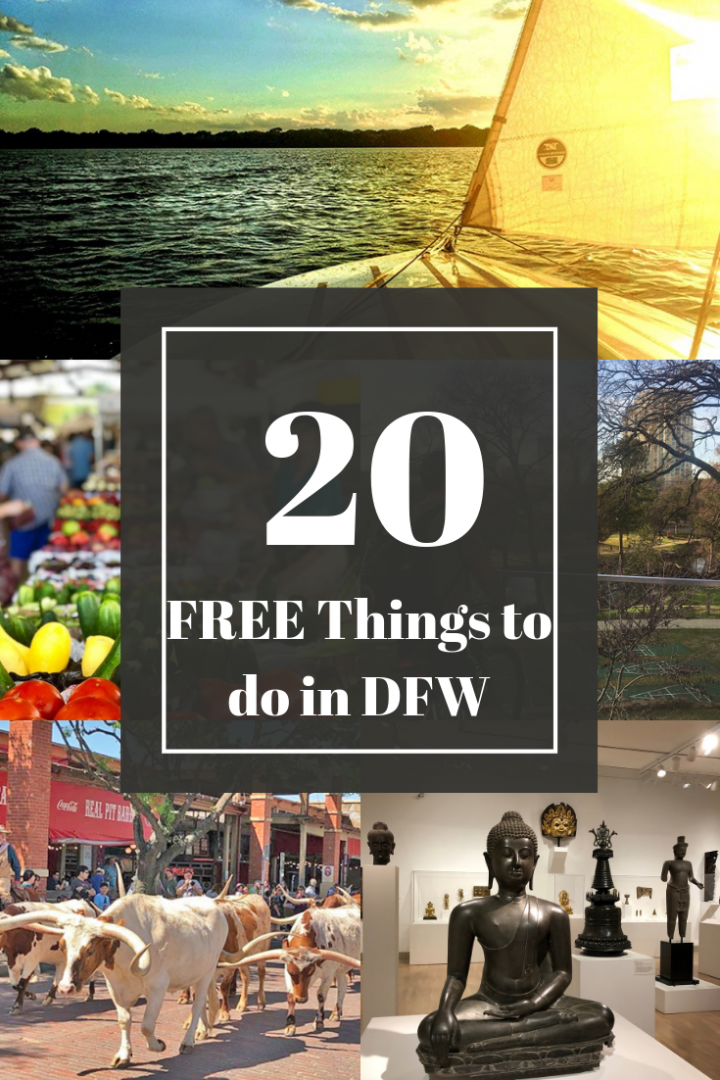 Did you know that you can take FREE transportation to a park that hosts FREE yoga classes or watch a FREE outdoor movie? Maybe you are looking for an air conditioned indoor play area? I'll let you know where you can go for FREE. Or maybe you want something more unique to do like exploring underground tunnels beneath the Dallas city streets? I'll fill you on where you can find those too! Keep reading to discover all my favorite FREE things to do in DFW: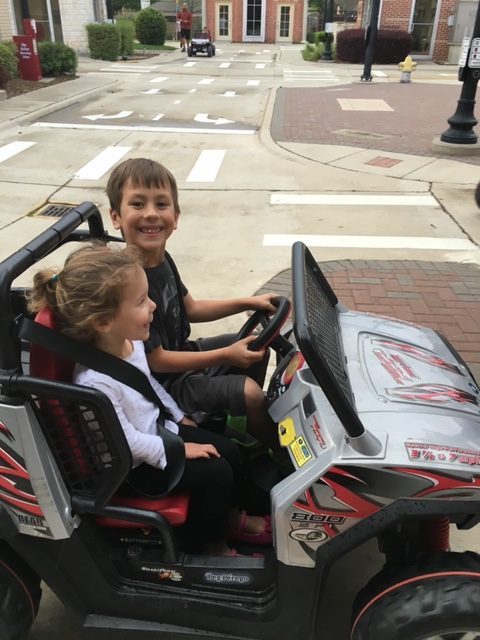 Top 20 FREE Things To Do in DFW
Here are my favorite FUN and FREE things to do in the Dallas Fort Worth area.
1. Klyde Warren Park
This 5.2 acre park is built right on top of the Woodall Rogers Freeway. Multiple food trucks set up at the park, there is a play area, reading room where you can borrow a book or newspaper to read, urban dog park, restaurant, and tons of FREE events year round like yoga, concerts, and movie nights.
Klyde Warren Park, Address: 2012 Woodall Rodgers Fwy, Dallas, TX
2. Dallas Art Museum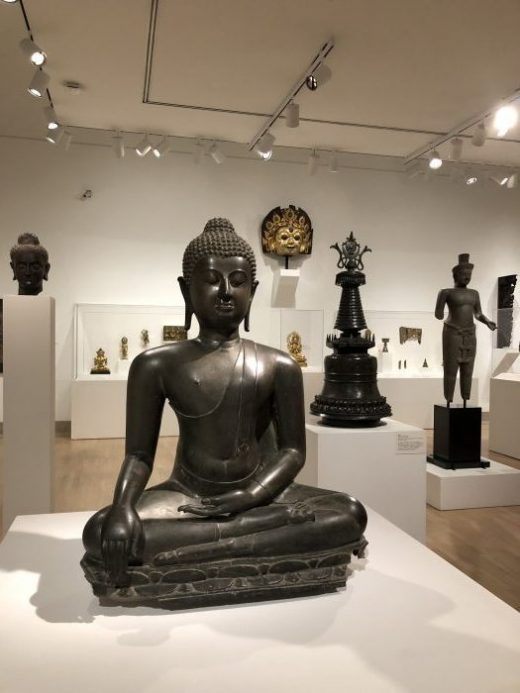 This museum is one of the largest art museums in the country and it's completely FREE! They have a large selection of beautiful artwork from different eras and regions, and the museum is family friendly. The First Tuesday program is designed for children ages five and under, but all ages are welcome.
Enjoy thematic art-making activities, story times, performances, and gallery activities from 11am-2pm, September through May. Museum hours are Tuesday-Sunday 11am-5pm.
Dallas Museum of Art: Address: 1717 N Harwood St, Dallas, TX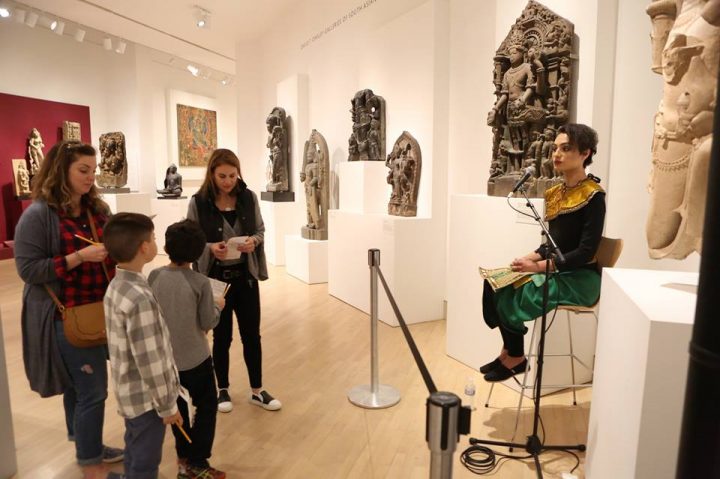 3. Founders Plaza Airport Observation Area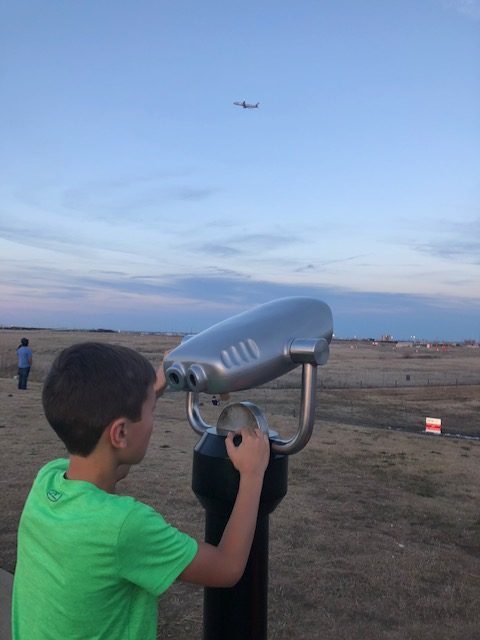 This open, park area in Grapevine offers great views of airplanes landing and taking off at the DFW airport. Free parking, benches, telescopes, and a radio that broadcasts air traffic control messages are available. Pack a picnic and enjoy the view! The plaza is open from 7am-7pm daily.
Founders Plaza Airport Observation Area, Address: 1700 N Airfield Dr, Grapevine, TX
4. Frisco Farmers Market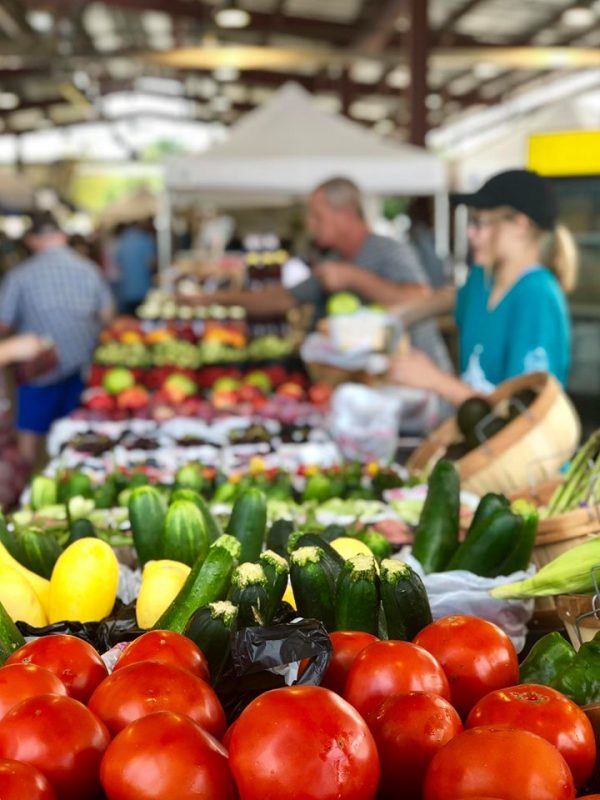 Shop the local vendors this market offers while sipping a cold, iced frappe from YiaYia's Coffee house. Or you can browse the stalls and enjoy many of the FREE year round events the market offers like exercise classes, car shows, fairs, holiday events and more. Open Saturdays 8am-3pm and Sundays 10am-4pm.
Frisco Farmers Market, Address: 9215 John W. Elliott Dr, Frisco, TX
Catch more refreshing farmers markets in our roundup here.
5. Fort Worth Water Gardens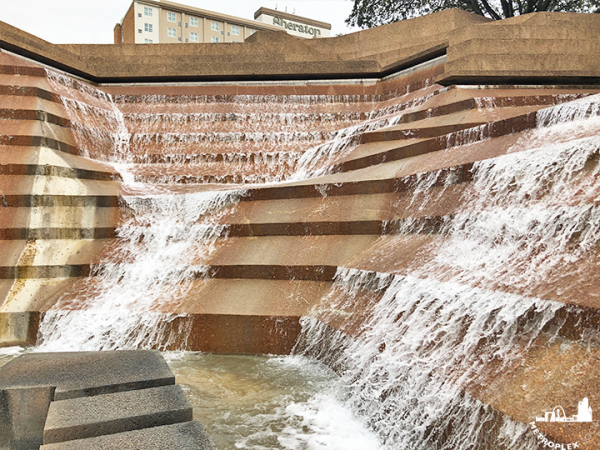 This refreshing and architectural oasis is located in downtown Fort Worth and is completely FREE. You can read all about the Fort Worth Water Gardens here.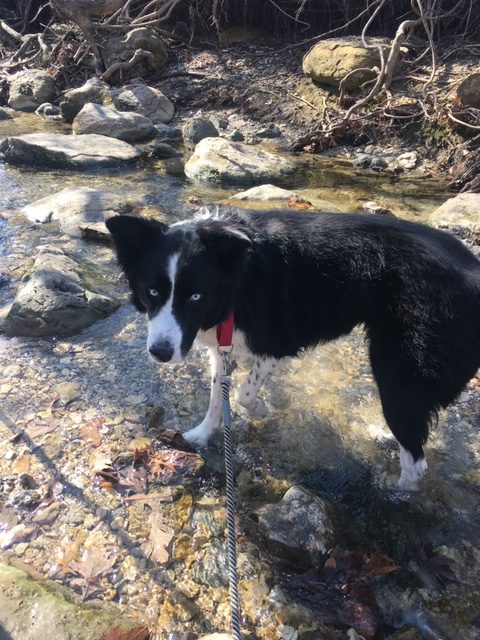 Arbor Hills Nature Reserve is a 200-acre park in Plano, TX with several amenities including a 3 mile long paved hiking trail, 3 miles of unpaved hiking trails, a 2.8 mile off-road bike trail, restrooms, a covered pavilion, and a playground. There are also streams to explore which are great for letting your dog cool off after a hike.
When hiking through the woods or picnicking by the water you almost forget you are only minutes from the Dallas Tollway.
Arbor Hills Nature Reserve, Address: 6701 W Parker Rd, Plano, TX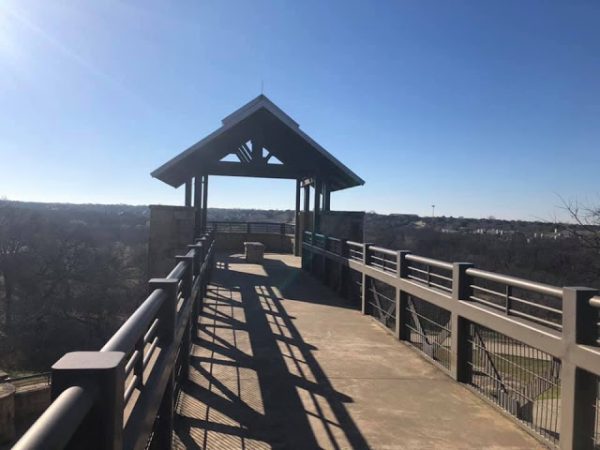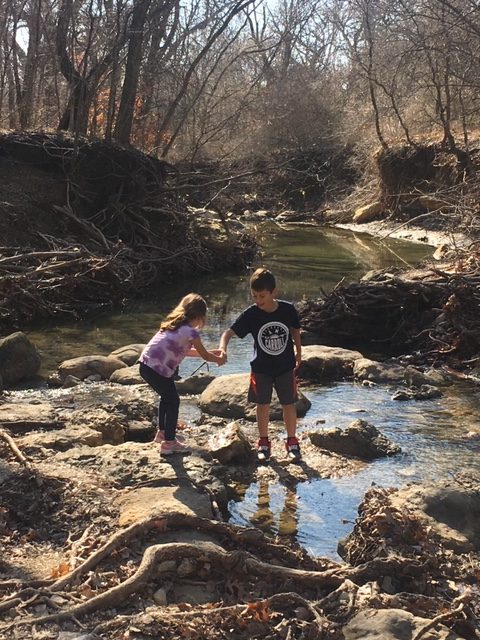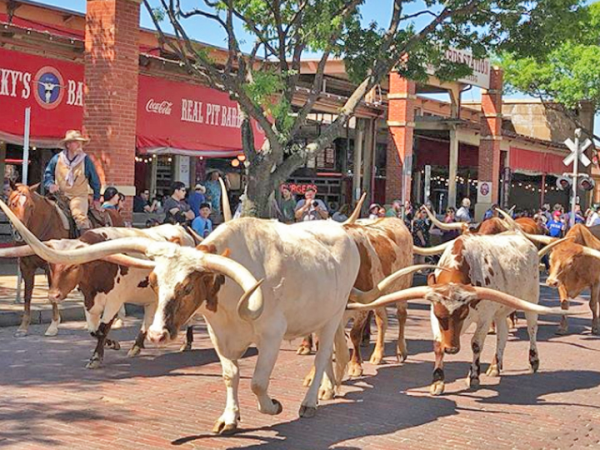 The Fort Worth Stockyards is a historic district that is located just north of the central business district. You feel like you have stepped back in time when you walk on the original brick walkways, see the long horns cattle drive daily at 11:30am and 4pm, smell the BBQ cookin', and observe actual cowboys on horseback.
There are activities for purchase like riding a horse, visiting the petting zoo, or riding the mechanical bull too. Plenty of shops and restaurants also line the street. Free holiday events take place at the Stockyards too making this one of the coolest free things to do in DFW.
Fort Worth Stockyards, Address: 2501 Rodeo Plaza, Fort Worth, TX
8. Watters Creek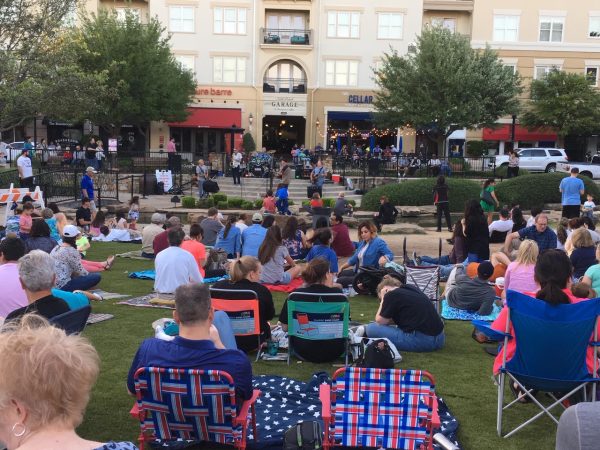 A scenic neighborhood shopping center in Allen, TX featuring an array of stores, restaurants and a kids' play area. While there are many great shops and restaurants, concerts by the creek is a FREE concert series that runs every Saturday, April-June. They take a break over the summer and then return in September for the fall series.
Blankets are allowed, all other outdoor chairs must sit to the side or back of the lawn so as not to block the view of other guests. Due to restaurant support of this series, coolers with outside food/beverage are not permitted on The Green.
Guests are welcome to bring to-go orders from the Watters Creek restaurants and Market Street. Alcohol not permitted and pets are not allowed on The Green.
Watters Creek, Address: 970 Garden Park Dr., Allen, Texas
9. Katy Trail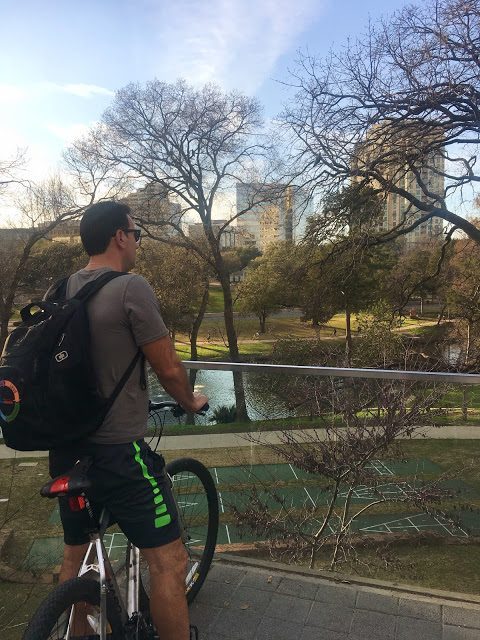 This 3.5 mile long, paved trail runs through the Uptown and Oak Lawn areas of Dallas. It's a great trail for jogging, walking, inline skating, and biking. The Katy Trail Ice House is also located on the trail and a fun place to stop for a cold drink and maybe some people watching.
One of the best places to park is near near the north end of the trail, there is a retail parking lot near Knox Street. Take Travis Street south from the Knox intersection, then take a right into the first retail parking lot.
Be sure to check out our list of Top Biking Trails In Dallas Fort Worth.
10. Playgrounds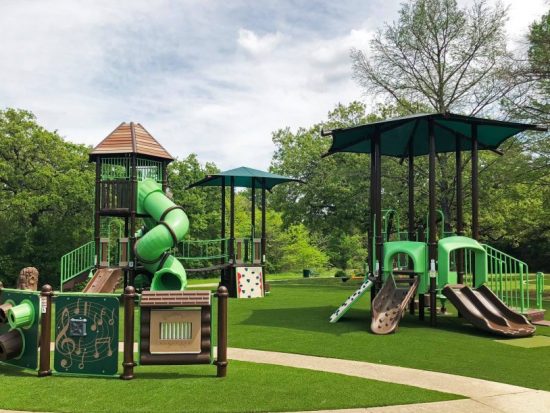 We have so many amazing playgrounds in the Dallas Fort Worth area! Be sure to read the Best Playgrounds in North Dallas and Best Playgrounds in DFW to Take Your Kids.
11. McKinney Avenue Trolley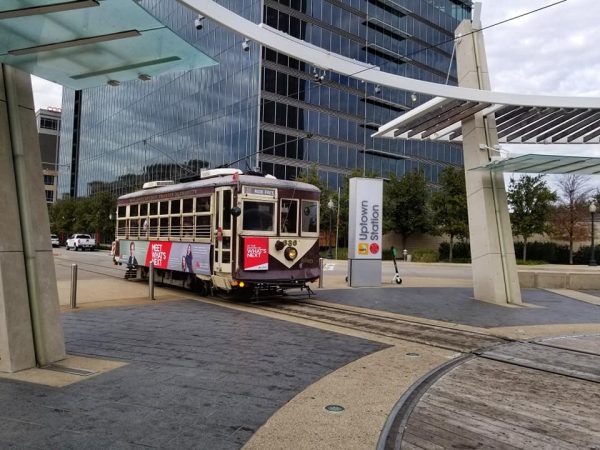 This vintage trolley of the M-Line is air-conditioned and heated, it normally operates 365 days a year. It's a safe, clean, reliable, and convenient public transportation that is FREE of charge in Dallas' Uptown Neighborhood.
If you are not already in the area and need a place to park, try the Uptown Station 2700 Cityplace West Blvd. Dallas, TX. You could even ride this trolley to Klyde Warren Park and take in the sights there!
View the route map here.
12. U.S. Bureau of Engraving and Printing Tours
Located in Fort Worth, TX. Come see where over half of the nation's currency is printed! Billions of dollars are printed here and you can watch all the action from the suspended bridge right over the production floor.
The experience includes an informative theater film, interactive exhibits and displays showcasing currency history and the intricate art of currency manufacturing. There is also the Moneyfactory Gift Shop where you can purchase souvenir items including uncut currency sheets and other specialty currency products. We ain't made out of money either which is why this place made it on our list of free things to do in DFW.
Restrooms and vending machines are available. Self guided tours are FREE with no reservation required, Tuesday-Friday 8:30-4:30pm.
U.S. Bureau of Engraving and Printing, Address: 9000 Blue Mound Rd, Fort Worth, TX
13. Kidz Indoor Playground (Prestonwood Church, Plano)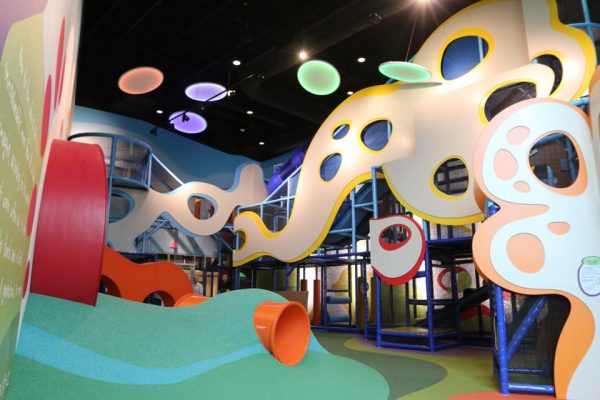 This super fun, indoor play area is completely FREE of charge. However, you do have to check in at the Kidz central desk.
Adult supervision is required and hours are Monday-Friday 9:00 a.m.–4:30 p.m. Saturdays: 4:30–4:55 p.m. and Sundays: 8:45–9:20 a.m., 12:15–12:45 p.m. Restroom and water fountain available.
Kidz Indoor Playground, Address: 6801 W Park Blvd, Carrollton, TX
14. Trinity River Audubon Center
This 6,000-acre forest is the largest urban hardwood forest in the United States. They have a diverse community of plant and animal species and a unique mixture of hardwood forest, wetland, and prairie habitats.
The Trinity River Corridor Project is the center's 130 acres that used to be a former illegal dump site. It's now a reclaimed haven for a vast array of birds and other wildlife. You can hike, take a class, or attend any of their events. On the third Thursday of every month, admission is FREE.
Trinity River Audubon Center, Address: 6500 Great Trinity Forest Way, Dallas, TX
15. Towne Lake Recreation Area
Located in McKinney, TX, this 108 acre park has it all. A large lake with a fishing pier, paddleboat rentals, trails, a playground, sand volleyball courts, horse shoe pits, picnic areas, and disc golf course.
Towne Lake Recreation Area, Address: 1405 Wilson Creek Pkwy, McKinney, TX
16. Explore underground tunnels in downtown Dallas
Did you know there is a maze of air conditioned underground tunnels and food courts that connect some of downtown's biggest businesses and residencies? These controversial tunnels were built to keep residents and visitors safe from the outdoor elements but have also been criticized for taking away the ground level traffic and vibrancy of the city.
Today the tunnels still exist but many are blocked off and privately owned. However, you can still go explore and grab a bite to eat. Entrances are at Thanksgiving Square, Renaissance Tower, One Main Place and Bank of America Plaza. They may be hard to find since there aren't many signs, so head to the garage or lowest level and look for stairs that lead below street level.
The Underground Tunnels in Downtown Dallas just had to make it on our list of top free things to do in DFW.
Underground Pedestrian Tunnels, Address: point your gps to 1 Main Place, Dallas, Texas
17. White Rock Lake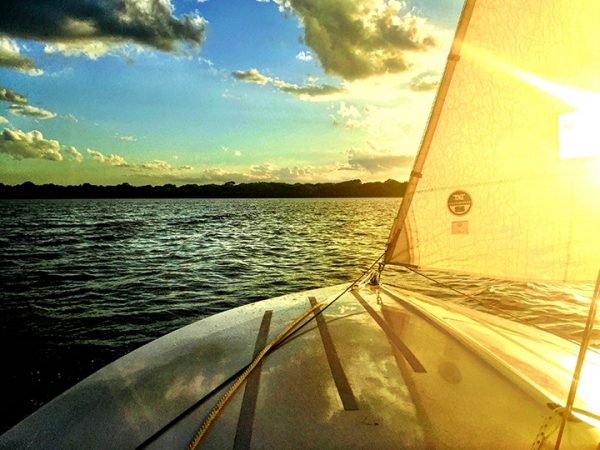 This popular, 1,015 acre lake is located approximately 5 miles northeast of downtown Dallas. This is one of the best places to experience natural areas and wildlife in an urban setting which is why it made our list of top free things to do in DFW.
There is a 9 mile walking/biking trail around the lake, the Dallas Arboretum is located here, picnic areas, dog park, kayak rentals, fishing, sailing, and playgrounds. Multiple events and music festivals are held here year round.
White Rock Lake, Address: 8300 E. Lawther Drive, Dallas, TX
18. Deep Ellum
This lively district is known for its vibrant street murals, funky art galleries and long-time concert venues. The streets are lined with bars, brewpubs, restaurants, and unique shops. This area also hosts festivals and events through the year.
Deep Ellum is also a popular Dallas spot with millennials who are upping their Instagram game with all the cool murals around. This area of Dallas is so cool which is why it made our list of FREE things to do in DFW.
19. Fritz Park Petting Farm
Only open during June and July. During these summer months you can visit the farm for FREE. Visit with and pet horses, chickens, cows, rabbits, and peacocks. Bring the kids for an educational visit to the farm. Open 10am-6pm Tuesday-Saturday and 2pm-6pm on Sundays during the months of June and July.
Fritz Park Petting Farm, Address: 312 E Vilbig St, Irving, TX
20. Frisco Fire Safety Town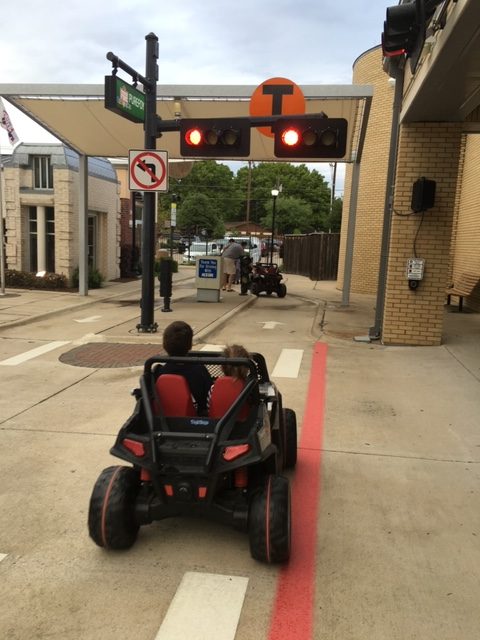 FREE safety education programs are offered during both Frisco School District spring and summer breaks. They offer a wide range of safety topics and activities for children currently in Kindergarten through 5th grade. Kinder and First grade students can drive battery-operated jeeps throughout the outdoor streets of Safety Town as they learn about the importance of seat belts.
Older students get to ride bicycles after classroom lessons on the importance of wearing helmets while cycling. They have a fleet of children's bikes for use. FREE public tours of the facility are also offered by a firefighter with an appointment.
Tour the facility, see the fire engines, safety house, and tour the pedestrian village. Note: bicycles and jeeps are not part of this tour.
Frisco Fire Safety Town, Address: 8601 Gary Burns Drive Frisco, TX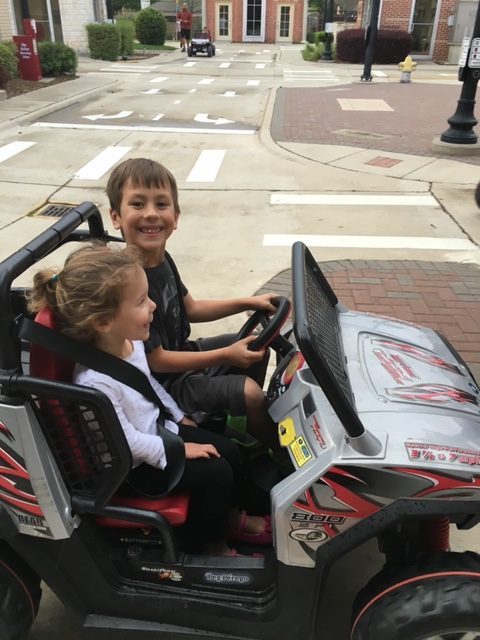 Top 20 FREE Things To Do in Dallas Fort Worth
There's so many free things to do in DFW that there's no excuse to not explore the metroplex! Whether you're looking for new places to visit with kids in Dallas or you're hoping to create fun memories with friends, this list has plenty of things to do in DFW that won't burn a hole in your wallet.
More on Metroplex Social:
Are there any FREE places to visit or FREE things to do that we missed and should know about?
Leave a comment with your favorite FREE activity in the DFW!