Are you an adventurous spirit who's ready to explore some new towns in Texas? We've got a little known gem that should be first on your list. This German town is filled with bluebonnets, fresh peaches, and Southern hospitality! Here is a list of 10 things to do in Fredericksburg Texas for a weekend.
Got 48 hours? Here's the Best Things To Do In Plano, TX.
==> Discover ALL the coolest places around DFW when you get a Pogo Pass and use promo code METROPLEX at checkout for extra savings. Buying a pass helps us earn a few bucks at no extra cost to you. Help support local!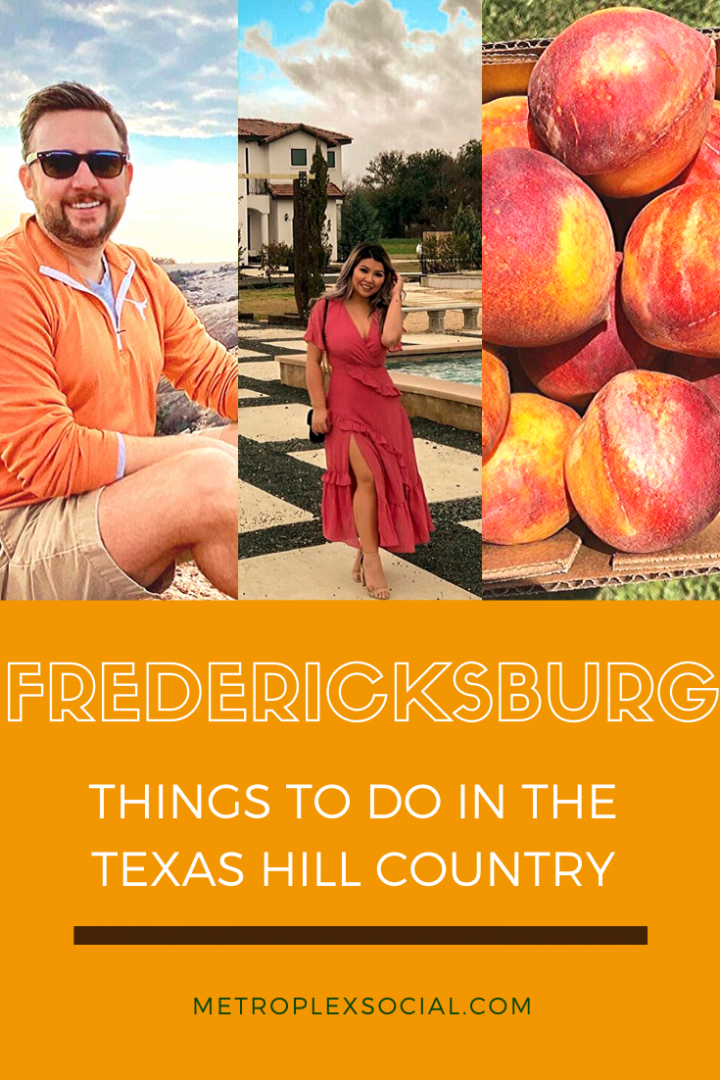 If you've been thinking about planning a quick getaway, this town is a perfect choice! You'll find everything from traditional German foods and festivals to wineries that are to die for. Here's everything you need to know when visiting: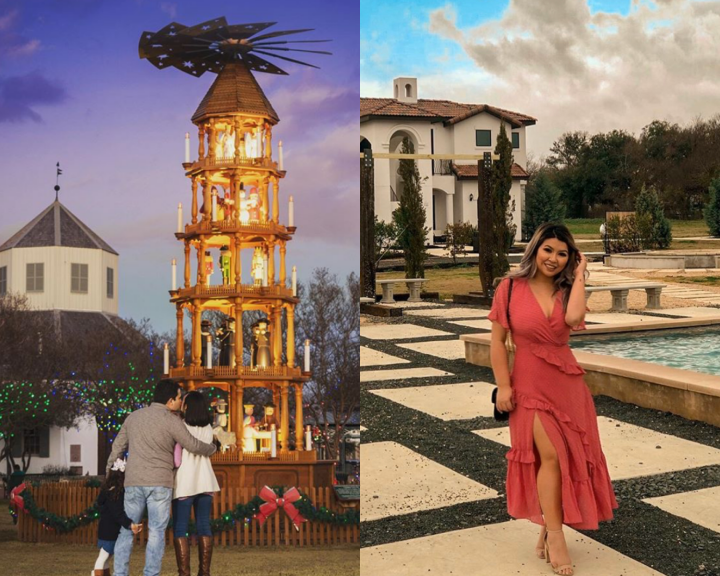 Top 10 Things To Do In Fredericksburg TX
Fredericksburg Texas will win you over in only one weekend! Keep reading to find out how.
Barons Creek Vineyard
There is no shortage of wineries and vineyards in Hill Country! Barons Creek Vineyards is a cut above the rest with their gorgeous architecture and yummy wine! The landscaping is jaw dropping and will make your time there so memorable.
Barons Creek Vineyards, 5865 US-290, Fredericksburg, TX 78624, (830) 304-3000, baronscreekvineyards.com
Enchanted Rock State Natural Area
Enchanted Rock State Natural Area is a state park that has views that are like no other in Texas!
The unique rock formations and perfect hiking trails make this a must see spot for anyone who loves the outdoors. Make sure to bring water and your favorite pair of hiking shoes!
Enchanted Rock State Natural Area, 16710 Ranch Rd 965, Fredericksburg, TX 78624, (830) 685-3636, tpwd.state.tx.us/state-parks/parks/find-a-park/enchanted-rock-state-natural-area
Das Peach Haus
You can talk about Fredericksburg without mentioning fresh peaches! Das Peach Haus has every possible peach product you could think of.
Take a little piece of this German town back with you by grabbing a jar of yummy preserves! You can even learn to make some yourself in their German cooking classes.
Das Peach Haus, 1406 US-87, Fredericksburg, TX 78624, (830) 997-8969, daspeachhaus.com
National Museum of the Pacific War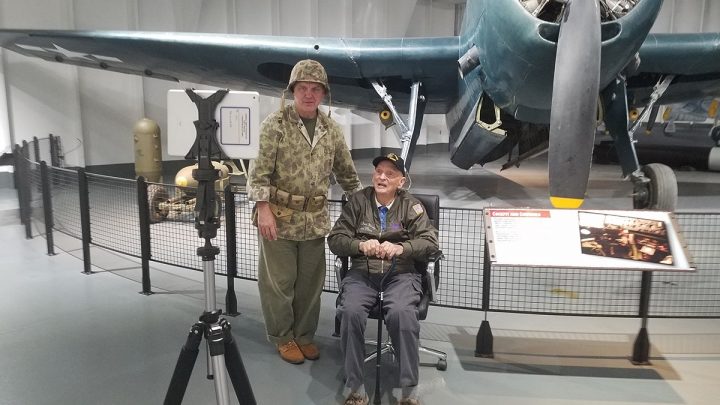 Take a moment to view some major historic pieces at the National Museum of the Pacific War!
Take in the war memorabilia and stories from veterans when you visit this spot. A great educational detour where you can appreciate those who have fought for the country.
National Museum of the Pacific War, 311 E Austin St, Fredericksburg, TX 78624, (830) 997-8600, pacificwarmuseum.org
Becker Vineyard
Becker Vineyard is another great vineyard so you can wine and dine on your weekend trip!
Bring your favorite girl gang or your significant other for a stroll down these grape vineyards as you sip on the best wine in Texas. This is seriously the best way to spend a weekend!
Becker Vineyard, 464 Becker Farms Rd, Fredericksburg, TX 78624, (830) 644-2681, beckervineyards.com
Things To Do In Fredericksburg Texas – Herb Farm
The Fredericksburg Herb Farm has so much to offer! You can spend a night in this quaint and cozy Air B&B, but that's not all. Enjoy brunch and a spa day at this gorgeous spot too!
There is so much greenery and bright beautiful decor that you'll feel uplifted and relaxed the second you arrive. Don't forget to stop by their gift shop to pick up some lovely products from local vendors.
Fredericksburg Herb Farm, 405 Whitney St, Fredericksburg, TX 78624, (830) 997-8615, fredericksburgherbfarm.com
Shops on Main Street – Things To Do In Fredericksburg Texas
Retail therapy is also a huge part of the Fredericksburg scene! From unique boutiques for clothing to locally handmade soaps, you'll find exactly what you need on Main Street in Fredericksburg.
Hit up Zertz for your fashion needs or The Grasshopper for delicately made gift items. See a full list of shopping options on the Main Street website.
Address: E. Main St Fredericksburg, Texas
Opas Smoked Meats – Things To Do In Fredericksburg Texas
We even have a little something for the carnivores! This is a highly reviewed spot for lovers of smoked sausage and high quality meats.
Grab a to go sandwich if you're feeling hungry or order a few pounds of sun dried tomato sausage to whip up at home!
Opa's Smoked Meats, 410 S Washington St, Fredericksburg, TX 78624, (830) 997-3358, opassmokedmeats.com
Old Tunnel State Park
Bats may sound like the last thing you want to see on a vacation, but for lovers of adventure the Old Tunnel State Park is the place to be!
Witness tens of thousands of bats flutter from the tunnels daily. These little creatures fill up the entire sky and are seriously a sight to see!
Wildlife is always going to be a huge part of Fredericksburg!
Old Tunnel State Park, 10619 Old San Antonio Rd, Fredericksburg, TX 78624, (866) 978-2287, tpwd.texas.gov/state-parks/old-tunnel
Fredericksburg Festivals and Fun!
Whether it's an authentic German Oktoberfest, the Peach harvest, or Christmas events, there's always something fun and seasonal going on in Fredericksburg! You can even try to make it to the Gillespie County Fair – oldest county fair in Texas! Find out what the town has going on during your travel dates on the official website.
Address: Various locations. Check online for upcoming events during your stay.
So Many Things To Do In Fredericksburg Texas!
What are you waiting for? It's time to relax and spend some time eating great food, enjoying German culture, and breathing in the fresh air in Fredericksburg! With unique shopping options, natural beauty, and so much of great historic spots, you'll love spending a weekend here.
Here's more exciting places to visit in Texas:
Visiting Fredericksburg, Texas? Tag us! Follow us at @metroplexsocial on social media and use #discoverDFW for a chance to be featured!