These places in Texas are going on my Texas bucket list! Now that the Texas weather will be cooling off soon, it is the perfect time to get out and explore. These Texas Bucket List spots will show you just how much you can experience without even leaving our great state!

==> Can't wait? Click the link above and get instant access to our Ultimate Places in Texas Bucket List.
I'm always looking for awesome places in Texas to visit with family and friends. Keep reading to discover amazing Texas places — from the unexpected to the unusual:
Historic Places in Texas
Where to Float a River in Texas
Hidden Swimming Holes in Texas
Road Trip Worthy Texas Spots
Must-Visit Texas Towns
Weirdest Places in Texas
Things To Do that are Totally Texan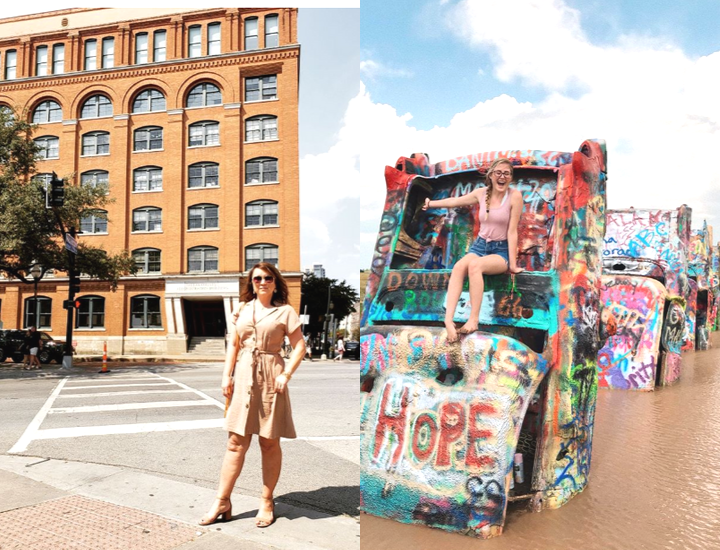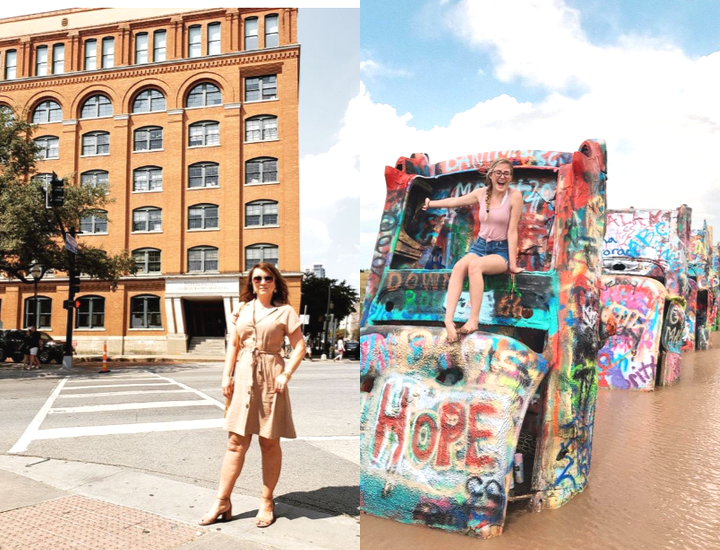 These Places in Texas Need to Go on Every Texan's Bucket List
Just how Texan are you? You're about to find out.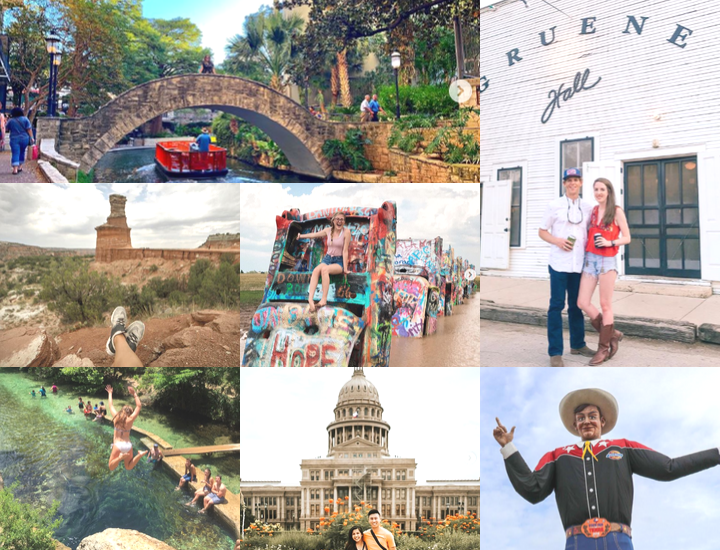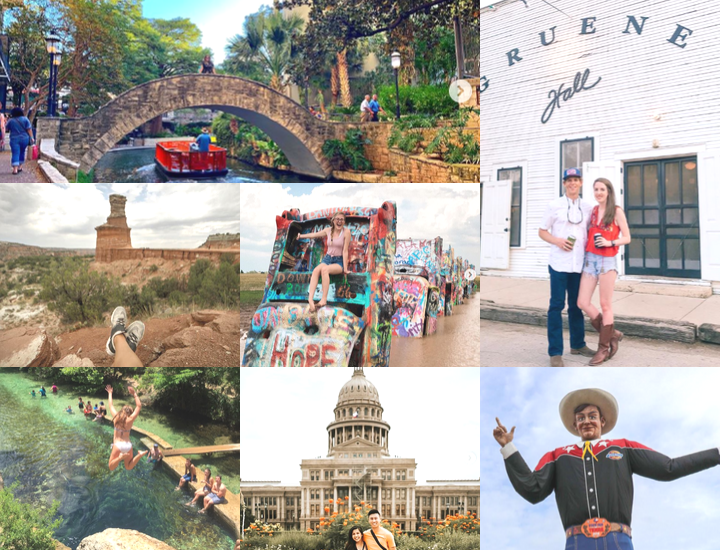 Visit These Historic Places in Texas
Learn about Texas history at these places while exploring our great state.
Visit the Sixth Floor Museum in Dallas
The Sixth Floor Museum at Dealey Plaza is located on the sixth floor of the Dallas County Administration Building in downtown Dallas, Texas, overlooking Dealey Plaza at the intersection of Elm and Houston Streets.
A popular tourist and historical spot in Dallas, the Sixth Floor Museum examines the life, times, death, and legacy of United States President John F. Kennedy and is located at the very spot from which Lee Harvey Oswald, according to four government investigations, shot and killed the President on November 22, 1963.
Visit the State Capitol
The Texas State Capitol is 302.64 feet tall, making it the sixth tallest state capitol in the United States. The Texas State Capitol building is also one of several taller than the United States Capitol in Washington, DC. The current Texas State Capitol is actually Texas' third building to serve as the capitol building.
The Texas State Capitol building is constructed from sunset red granite all the way from Granite Mountain, near Marble Falls, TX. The owners of Granite Mountain offered to donate to the state, free of charge, the necessary amount of red granite needed to complete its construction.
Find out how you can visit the Texas State Capitol here.
Visit the Alamo!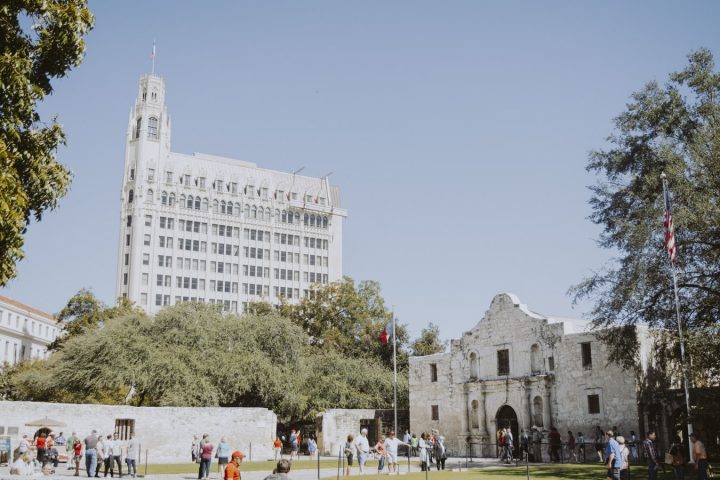 Every person who grew up in Texas was brought up with a reverence for the Alamo. "Remember the Alamo!" is a phrase we know by heart. In December 1835, during Texas' war for independence from Mexico, a group of Texian volunteer soldiers occupied the Alamo, a former Franciscan mission located near the present-day city of San Antonio.
On February 23, 1836, a Mexican force thousands strong and led by General Antonio Lopez de Santa Anna began a siege. Although extremely outnumbered, the Alamo's 200 defenders–including James Bowie, William Travis, and Davy Crockett—held out for 13 days before the Mexican forces finally overpowered them.
For Texans, the Battle of the Alamo became an enduring symbol of their heroic resistance to oppression and their struggle for independence, which they won later that year.
Note: Be sure to go over the Rules of Reverence at the Alamo when visiting.
Address: 300 Alamo Plaza, San Antonio, Texas
San Antonio River Walk – Places in Texas
Sightseeing, shopping, food and fun. All on a world-renowned 15-mile urban waterway. The River Walk, or Paseo del Rio, is a San Antonio treasure and the largest urban ecosystem in the nation. Tucked quietly below street level and only steps from the Alamo, it provides a serene and pleasant way to navigate the city.
Explore by foot along the river's walking path or jump aboard a river barge for a ride and guided tour. In the heart of downtown, explore nearby attractions like the Alamo, the King William Historic District and more.
Or, shop local favorites along the river's Museum Reach at the historic Pearl. While at Pearl, dine and drink al fresco at our local food hall, The Bottling Dept. Further south, immerse yourself in history at our UNESCO World Heritage Site, the San Antonio Missions, along the Mission Reach.
Address: Downtown San Antonio, Texas
See the Nation's Largest Rose Garden in Tyler
Tyler's popular rose garden is a public, 14-acre park with more than 38,000 rose bushes, plus fountains, reflecting pools, gazebos & walking paths. Established in 1952, the Tyler Municipal Rose Garden is the nation's largest rose garden! It was listed in 2011 in Livability.com's top 10 most inspiring gardens in the USA.
The rose gardens are a popular destination for both local residents and for visitors, and offer a diversity of photographic opportunities. They are the location for numerous wedding photo shoots, school group photos, parties, reunions and professional photography as well.
Address: 420 Rose Park Drive, Tyler, Texas
Explore NASA in Houston
Offering extensive science education programs and a space museum, Space Center Houston, is a leading science and space exploration learning center. It is one of Houston's top attractions, the area's No. 1 attraction for international visitors, the Official Visitor Center of NASA Johnson Space Center and a Smithsonian Affiliate.
Tour the Fort Worth Bureau of Engraving and Printing
The Fort Worth Bureau of Engraving and Printing public Tour and Visitor Center located in Fort Worth, Texas is a great place to learn about U.S. currency. The tour is FREE, which makes sense since billions of dollars are printed here! Over half of the nation's currency order is produced in Fort Worth.
Available before or after the free self-guided tour, the experience includes an informative theater film, and visitors have the opportunity to walk through two floors of interactive exhibits and displays showcasing currency history and the intricate art of currency manufacturing.
Also located in the visitor center is the Moneyfactory Gift Shop where the public can purchase souvenir items including uncut currency sheets and other specialty currency products. Restrooms and vending machines are available.
Address: 9000 Blue Mound Road, Fort Worth, Texas
Places in Texas to Float a River
The Texas hill country region is pretty much synonymous with floating the river! There are several great rivers to check out, some more suited for families and some for adventurers. Here area few of the more popular ones!
==> Click here to get our Ultimate Places in Texas Bucket List right in your inbox.

Comal River – New Braunfels
Although it's the shortest river in Texas, the Comal River (pictured here) is long on fun. Beginning at Comal Springs in Landa Park, the river flows 2.5 miles through New Braunfels until it joins the Guadalupe River. The spring-fed Comal provides clear water at a refreshing 70–72 degrees, perfect for tubing. The City Tube Chute offers some excitement on an otherwise relaxing float.
Frio River – Concan
Cold and secluded, the Frio River is ideal for escaping the summertime crowds. A Hill Country beauty, the Frio passes high limestone bluffs, shady cypress sentinels and lots of scenic Texas countryside. The Frio River is also home to spectacular fall colors you need to see for yourself!
Access can be found near Leakey, Concan and Garner State Park.
Guadalupe River – New Braunfels
The most popular river to tube in Texas, the Guadalupe River can get crowded and rowdy on summer weekends. Ever-changing, the Guadalupe's flow fluctuates with the release rate of water from Canyon Dam, from calm to raging. The Guadalupe's fast water is shaded by stately pecan and bald cypress trees.
There are plenty of outfitters to choose from between New Braunfels and Canyon Dam.
Medina River – Bandera
The calm, more secluded Medina River offers a picturesque tubing experience for all ages. Small rapids occur along the winding, crystal-clear river, but the experience is mostly one of beauty and relaxation, with only one caution: Look out for low branches.
Hidden Swimming Holes in Texas
Dive into these stunning swimming holes in Texas.
Dive Into Jacob's Well – Wimberly
Jacob's Well is a perennial karstic spring in the Texas Hill Country flowing from the bed of Cypress Creek, located northwest of Wimberley, Texas. The spring is located on the property of Jacob's Well Natural Area, managed by the Hays County Parks Department. Measuring 12 ft. in diameter, this natural spring with clear water is a busy swimming destination.
Swimming at Jacob's Well Natural Area is allowed from May 1st – September 30th BY ONLINE RESERVATION ONLY.
Hiking is allowed year-round.
Learn more by clicking here.
Swim at Hamilton Pool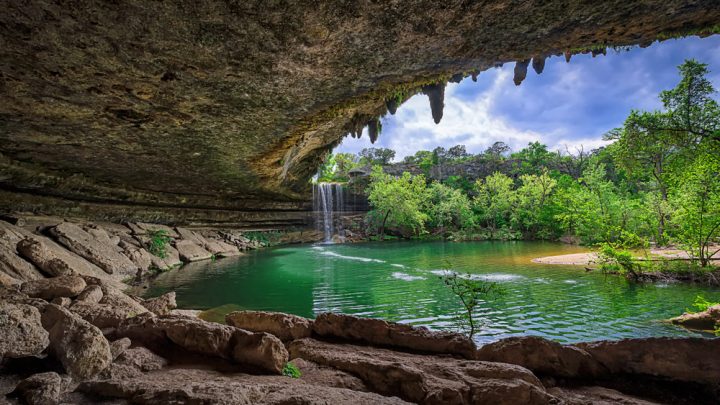 Hamilton Pool Preserve is a historic swimming hole located about 30 minutes west of Austin. The preserve's pool and grotto were formed when the dome of an underground river collapsed due to massive erosion thousands of years ago.
The waterfall never completely dries up, but in dry times it does slow to a trickle. However, the pool's water level stays pretty constant, even during periods of drought. The preserve is also home to a variety of native birds, fish, animals and plants.
Reservations are required to enter Hamilton Pool Preserve during peak summer months, May-September.
Go Swimming at Krause Springs – Spicewood
Krause Springs is a camping and swimming site located in the Hill Country of Texas. It is located in Spicewood, Texas, approximately 30 miles northwest of Austin. The 115-acre property has 32 springs, and several feed the man-made pool and the natural pool which flow into Lake Travis.
Learn more about Krause Springs here.
Go Swimming at South Padre Island
South Padre Island is located on the coastal tip of Texas. Visit the beautiful beaches, warm Gulf waters, fishing, boating, bird watching, and shopping. Popular during spring break destination South Padre Island gets crowded and rowdy, so unless you're looking to join the party, avoid this area in March.
South Padre Island Birding and Nature Center is home to a 5-story watchtower with views of migrating birds. The South Padre Island Dolphin Research & Sealife Nature Center offers boat tours and touch tanks. Sea turtles are rescued and rehabilitated at Sea Turtle Inc.
Places in Texas that are Road Trip Worthy
Hit the road and visit these awesome Texas places this year.
Hike Enchanted Rock – Fredericksburg
You don't have to go to Colorado for rock climbing! Located in Gillespie & Llano Counties, 17 miles north of Fredericksburg, Enchanted Rock offers camping, picnicking, 8.4 miles of hiking trails, nature trail, interpretive exhibits, and rock climbing.
Enchanted Rock is a pink granite mountain located in the Llano Uplift approximately 17 miles north of Fredericksburg, Texas and 24 miles south of Llano, Texas, United States.
Get more info on Enchanted Rock State Natural Area here.
Visit Big Bend – Places in Texas
Ready for a "I can't believe this is Texas" view? Head to Big Bend National Park. Located in far southwest Texas, near the Mexico border, Big Bend offers 150 miles of hiking trails, white water rafting, hundreds of species of birds and wildlife and so much more!
Big Bend National Park is in southwest Texas and includes the entire Chisos mountain range and a large swath of the Chihuahuan Desert. The Ross Maxwell Scenic Drive leads to the ruins of Sam Nail Ranch, now home to desert wildlife.
The Santa Elena Canyon, carved by the Rio Grande, features steep limestone cliffs. Langford Hot Springs, near the Mexican border, has pictographs and the foundations of an old bathhouse.
Hike Palo Duro Canyon
Also known as Texas' Grand Canyon, Palo Duro Canyon is a canyon system of the Caprock Escarpment located in the Texas Panhandle near the cities of Amarillo and Canyon. As the second-largest canyon in the United States, it is roughly 120 mi long and has an average width of 6 mi, but reaches a width of 20 mi at places.
Address: Canyon, Texas
Kayak Caddo Lake – Places in Texas
Located on the Texas/Louisiana border, Caddo Lake is a lake like no other place in Texas! As the only natural lake in Texas, it covers over 225,000 acres of Cypress Swamp. The lake offers kayaking, boating, fishing, a state park and numerous cabin rentals for overnight stays.
Get more info on Caddo Lake State Park.
Drive Over Regency Bridge – Brady
Regency Bridge, locally known as the "Swinging Bridge," is a one-lane suspension bridge over the Colorado River in Texas. It is the only swinging bridge open to vehicle traffic within the state of Texas!
It is located at the intersection of Mills County Road 433 and San Saba County Road 137, both gravel roads, near a small community called Regency.
View Ancient Pictographs at Hueco Tanks
Hueco Tanks State Park and Historic Site is rich with history and geology. Due to the fragile nature of the park's resources, only 70 people can enter the self-guided area at one time. Since Hueco Tanks reaches that limit regularly from November through March and on weekends and holidays calling the park ahead of time to avoid a wait is a good idea. Once the self-guided area fills up, no one can enter the area until other visitors leave.
Early visitors left images on the rocks at Hueco Tanks. The images connect us to the mystery, ceremony, and conflict of at least three cultures and more than 1,500 years.
Plan your visit by clicking this link.
Hike to Gorman Falls – Colorado Bend
Marvel at the beauty of Gorman Falls, cool off in Spicewood Springs, fish or paddle the river, take a cave tour, and test your limits on 35 miles of hike and bike trails. Take a self-guided tour to this 70-foot spring-fed waterfall. Come prepared for a 3-mile round trip hike over rough and rocky terrain.
Stunning Views at Lost Maples State Natural Area
Lost Maples State Natural Area is a large, pristine area of beautiful hills and canyons on the upper Sabinal River in the Edwards Plateau Region of Texas. It is designated a Natural Area, rather than a State Park, which means the primary focus is the maintenance and protection of the property's natural state.
Lost Maples is known for its beautiful fall colors during the autumn. Stunning fall colors has made Lost Maples State Natural Area one of the most popular places in Texas to see stunning autumn foliage.
Address: 37221 FM 187, Vanderpool, TX 78885
Visit Meteor Crater Near Odessa
The second largest meteor crater in the U.S., Odessa Meteor Crater, is 550 feet wide and 100 feet deep — but most of that 100 feet has been filled in with Texas dust.The Odessa Meteor Crater is a meteorite crater in the southwestern part of Ector County, southwest of the city of Odessa, Texas.
The site has been designated as a National Natural Landmark by the National Park Service, and a small information area and nature trail has been set up on-site for a self-guided tour.
It is accessible approximately 3 mi south of Interstate 20 at Exit 108.
Address: 5599 Meteor Crater Rd, Odessa, TX
Visit this Stunning Hindu Temple in Houston
Popular with photographers and locals looking to up their Instagram game, the BAPS Shri Swaminarayan Mandir of Houston, Texas is a traditional Hindu temple built by the BAPS Swaminarayan Sanstha.
The Souvenir Shop is located in the front of the Mandir. It is filled with a wide selection of books, postcards, CDs, DVDs, herbal health products and gifts for all ages, tastes and budgets.
BAPS Shri Swaminarayan Mandir is one of many places in Texas you'll have the opportunity to experience and appreciate another culture.
Address: 1150 Brand Ln, Stafford, TX 77477
Visit Galveston Island – Places in Texas
Galveston is an island city on the Gulf Coast of Texas. It's known for Moody Gardens, where giant glass pyramids house sharks, monkeys, and other animals. Amusement rides and restaurants line Galveston Island Historic Pleasure Pier on the south shore.
To the west is Galveston Island State Park, popular with birding specialists and lined with trails, kayak launches, and fishing spots. Stewart Beach and East Beach are on the island's eastern end.
Sled Down Monahans Sand Hills
Out in far West Texas lies an ocean of sand where the wind sculpts sand dunes into peaks and valleys, sometimes overnight. Mon­a­hans Sandhills State Park offers a Texas-sized sandbox for kids of all ages, as well as a close-up view of a unique desert environment.
The park does not have marked trails – you are free to explore at will. Watch for the myriad of creatures, plants and wildflowers that thrive in what seems to be one of the most inhospitable places in Texas.
Rent sand disks at headquarters and slide and tumble down the dunes (for kids of all ages).
Plan your visit to Monahans Sandhills State Park at this link.
Explore Natural Bridge Caverns
Natural Bridge Caverns are the largest known commercial caverns in the state of Texas. The name is derived from the 60 ft natural limestone slab bridge that spans the amphitheater setting of the cavern's entrance. The span was left suspended when a sinkhole collapsed below it.
In March of 1960, four college students from St. Mary's University in San Antonio, obtained permission to explore the area that is now Natural Bridge Caverns. The students were convinced that large underground passages existed under the amazing 60-foot limestone bridge.
On their fourth expedition, the explorers made their way carefully climbing and crawling through two miles of vast cavern passage. After making this amazing discovery, they returned to the surface to tell the landowners.The result is one of the world's premier show caverns, and one of the most popular places in Texas.
Plan your trip to Natural Bridge Caverns here.
See Ancient Footprints at Dinosaur Valley State Park – Glen Rose
Long ago in the area now known as Dinosaur Valley State Park, dinosaurs left footprints in the mud at the edge of an ancient ocean. Today, you can walk in their tracks in the bed of the Paluxy River. This long trip to the past is just a short drive from Fort Worth.
Other Interesting Attractions Near Glen Rose, TX
Dinosaur World: See Over 100 Life Size Dinosaurs!
Fossil Rim Wildlife Center: Giraffes, cheetahs, wildebeests, emus, giraffes and rhinos live on this 1,800 acre ranch.
Address: 1629 Park Rd 59, Glen Rose, TX 76043
Visit Magnolia Market in Waco
There's a little something for everyone at Magnolia Market at the Silos in Waco, TX. Shopping, games, the garden and even a bite to eat. The Market itself is staged and set up with one goal in mind: to inspire you to own the space you're in. Things to do at Magnolia Market:
Relax on the lawn
Grab a bite to eat at the food trucks
Visit the garden
Treat yourself at Silos Baking Co.
Tour the Silos grounds
Address: 601 Webster, Waco, Texas
Visit McDonald Observatory
The McDonald Observatory is an astronomical observatory located near the unincorporated community of Fort Davis in Jeff Davis County, Texas.
McDonald Observatory is home of North America's largest telescope located in one of the darkest spots on the continent. The Permian Basin needs to go on your places in Texas to visit list!
Find out how you can visit McDonald Observatory by visiting this link.
Must-Visit Places in Texas
Hit the road and visit these interesting Texas towns…bonus points if you can pronounce them all correctly!
Visit Marfa
Marfa, a small desert city in West Texas, is known as an arts hub. The Chinati Foundation, founded by artist Donald Judd, displays huge indoor and outdoor installations on an old army base. The Ballroom Marfa arts center hosts exhibitions, concerts and the Marfa Myths cultural festival.
Outside town is a viewing platform from which the mysterious orbs known as the "Marfa Lights" phenomenon can sometimes be seen (more on that later in this article).
With a population around 1,800, Marfa is a walkable Texas destination where the pace of life slows down and you find yourself appreciating the simple things in life. Go see the Marfa Lights, tour Marfa art galleries, and hike the many state and national parks in the Big Bend region.
Visit Gruene
Gruene is a Historic District located within the city of New Braunfels, about one hour from Austin. Known for it's rustic and truly "Texas" feel, it attracts visitors from all over the state and country. A few notable places worth visiting here are the legendary Gruene Hall, Gruene General Store, The Gristmill restaurant, and so much more!
Visit Luckenbach, Texas
Are you a music fan? Listen to live music daily in Luckenbach, TX! Jacob Luckenbach is known to have come to Texas as early as the mid-1830's and was among the Texans, including many Texas-Germans, who helped to win Texas' independence from Mexico.
With ties to the German town of Luckenbach, Germany, the citizens on the other side of the world were very proud when the song, "Luckenbach Texas–Back to the Basics" became a worldwide hit.
A descendant of Jacob Luckenbach, Dr. Reiner Luckenbach, executive editor of the world's largest encyclopedia of chemistry, after hearing the song, came to Texas in 1985 to meet with the Luckenbachs for the first time. A movement is afoot for the two Luckenbach villages to become "sister cities."
Learn more about Luckenbach here.
Visit Terlingua
Perhaps the best-kept secret about the Big Bend is the view from the porch in Terlingua Ghost Town. Most afternoons you can see the Santa Fe de Los Pinos mountain range over 80 miles south in Mexico, and of course such local landmarks as the Chisos Mountains and Mule Ears peaks.
Visitors to Terlingua will also find a trading company/gift shop, art galleries, unique lodging options, restaurants, and bars. Terlingua was a mining town around the turn of the century and was the site of the first famous championship chili cook off in 1967, that today draws over 10,000 "chili heads" from all over the world on the first Saturday every November.
Learn how you can visit Terlingua here.
Visit Fredericksburg
Fredericksburg is a popular tourist city located in the Texas Hill Country, and known for its several wineries. The city's German heritage is on display at the Pioneer Museum, which features settlers' homesteads and artifacts. In the nearby town square, Marktplatz, the Vereins Kirche is a replica of a 19th-century German church that once stood in the city.
Fredericksburg is the perfect Texas place for a weekend getaway with its award winning wineries, spas, bed and breakfasts, motor coach hotels, and more. Fredericksburg is one of those best-kept secret places in Texas!
Plan your visit to Fredericksburg here.
Visit San Saba
Welcome to San Saba, Texas…The Pecan Capital of the World! The City of San Saba is located right in the heart of the Texas Hill Country. Historic San Saba is known for its beautiful views and landscapes.
Visitors can enjoy an award-winning eighteen hole municipal golf course and rv park, two suspension bridges, national registry trees, historic building and churches, and the oldest fully functional jail in the nation, and…PECANS!
Learn more about San Saba here.
Visit Marble Falls
This is one of my favorite places in Texas! Award-winning wineries, large recreational parks, and picturesque lakes are among the many attractions in Marble Falls, a captivating town in the Hill Country. If you're planning a visit to this captivating place, make sure to check out this list of attractions in Marble Falls so that you can have the best experience while you're in town.
Visit Decatur
Decatur is proud of its western heritage and celebrates that pride with an annual Chisholm Trail Days event. The western lifestyle is also celebrated with an annual rodeo and by playing host to the WC Challenger Charities JW Hart Professional Bull Riders Competition.
Throughout the city are examples of projects that reflect Decatur's rich past while looking to the future. The recently installed replica of an antique movie marquee on the historic square is a prime example. Places to visit while in Decatur, TX include:
Project Bloom outdoor art and mural
Decatur College Administration Building
Wide County Heritage Museum
Petrified Wood Gas Station, Cafe, and Motor Court
Whistle Stop Cafe
Historic Square
Wise County Courthouse, aka Pink Lady
LBJ National Grasslands
Brushy Creek Vineyards north in Alvord
13,000 Lake Bridgeport
Decatur's crown jewel, the Wise County Courthouse, built of pink granite in 1896, welcomes visitors for many fun-filled events throughout the year. From the Glitzy Girls Trailer Park, to Cruise Nights on the Square, from the Chisholm Trail Days Western Heritage Festival to Paint the Town Pink and Decatur Swirl Wine and Food tasting, there is something for everyone in the shadow of the proud, 'Pink Lady'.
Plan your visit to Decatur, Texas here.
Weirdest Places in Texas that Actually Exist
Crazy enough, this places actually exist in Texas.
Drink the Famous Crazy Water in Mineral Wells
The waters of Mineral Wells, TX have been making folks feel good inside and out since 1881. The legend goes like this: In late 1881, a woman who suffered from dementia would sit by the well all day drinking the mineral water. People slowly began to notice that the crazy old lady was not so crazy anymore. Had the water from the well alleviated the lady's "crazies"?
The well became known as the "Crazy Well" and thousands of people from all over the country flocked to this magical well, including a man named Ed Dismuke.
Mr. Dismuke was told by his doctor that there was no remedy for his ailing stomach. But Mr. Dismuke began drinking the magical water and before he knew it, he was restored to health. In 1904, Mr. Dismuke founded the Famous Mineral Water Company, selling and distributing the mineral water. Now, more than 100 years later, people are still drinking Crazy Water.
Address: 100-198 NW 3rd Ave, Mineral Wells, TX 76067
See the Historic Baker Hotel and Spa
The Baker Hotel Resort and Spa is a long-shuttered hotel in Mineral Wells, Texas. The story of the Baker Hotel begins in 1890, when citizens of Mineral Wells, concerned that non-citizens were profiting off of the growing fame of the community's mineral water, raised $150,000 in an effort to build a large hotel facility owned by local shareholders.
Construction began on the hotel in 1896 but was stopped after Mr. Baker made a trip to California, where he visited a hotel with a swimming pool and decided the new Baker Hotel must have one in the front of the hotel. An Olympic sized pool to be filled with the curing mineral waters, it was the first swimming pool built at a hotel in Texas.
At its completion, the Baker Hotel would rise fourteen stories over Mineral Wells, house 450 guest rooms, two ballrooms, an in-house beauty shop, and other novelties such as a bowling alley, a gymnasium, and an outdoor swimming pool. Completed three years later with a cost in 1929 dollars of $1.2 million, the mammoth building instantly dominated the city skyline.
The Baker Hotel was placed on the National Register of Historic Places in 1982.
The Baker Hotel is not open to the public, and some say it is haunted.
Address: 201 E. Hubbard St., Mineral Wells, Texas
See the Mysterious Marfa Lights
The Marfa lights, also known as the Marfa ghost lights, have been observed near U.S. Route 67 on Mitchell Flat east of Marfa, Texas, in the United States. They have gained some fame as onlookers have attributed them to paranormal phenomena such as ghosts or UFOs.
Visit an Alien Grave Site in Aurora
The Aurora, Texas, UFO incident reportedly occurred on April 17, 1897 when, according to locals, a UFO crashed on a farm near Aurora, Texas. The incident is claimed to have resulted in a fatality from the crash and the alleged alien body is to have been buried in an unmarked grave at the local cemetery.
World's Largest Concrete Caterpillar Near Dallas Fort Worth
Believe it or not, but You Can See the World's Largest Concrete Caterpillar in Italy, Texas. Italy, a small town located off Interstate 35 and about thirty minutes south of Dallas in Ellis County is home to this fun, caterpillar. You can't help but smile when you see this happy caterpillar complete with antennae! Now, you may be asking about right now: Why is there a giant concrete caterpillar in Texas anyway? Well, I have the answer…
The Traveling Man in Dallas
AKA the 38 ft metal Gumby located in Deep Ellum area of Dallas, Texas. Traveling Man towers over the Deep Ellum station of Dallas's downtown light rail system.
Conceived and built by a group of local artists as an allegory of the neighborhood: a guitar-shaped head honors nearby musicians, a stainless steel body reflects the industries that moved away so that the musicians could move in, etc. There are two other, smaller, Traveling Men at the station as well.
Address: 2605 Elm St, Dallas, TX 75226
See a Full Scale Replica of Stonehenge – Kerrville
Stonehenge II is a homage to the original Stonehenge monument and is located in the Texas Hill Country just outside Kerrville, TX. Stonehenge II was conceived by Al Shepperd and built with the help of his friend and neighbor, Doug Hill near Hunt, TX. An unusual structure built to replicate the original Stonehenge in England. This replica shares the land with replicas of Easter-Island statues as well.
After Shepperd's death, the structures needed a new home. In an effort to preserve this true Texas landmark, the sculptures were relocated stone-by-stone to their final resting place beside the Guadalupe River on the campus of the Hill Country Arts Foundation.
Address: 120 Point Theater Rd., Ingram, TX 78025
Check Out Cadillac Ranch
Cadillac Ranch is a public art installation and sculpture in Amarillo, Texas. Standing along Route 66 west of Amarillo, Cadillac Ranch was invented and built by a group of art-hippies imported from San Francisco in 1974. The artists are Chip Lord, Hudson Marquez, and Doug Michels, who were a part of the art group called Ant Farm.
The installation of ten half-buried Cadillacs pointed nose-first in the ground is popular with tourist and passer-bys. Be sure to bring a fresh can of spray paint!
Bat Bridge in Austin
Starting in late March and continuing through early fall, North America's largest urban bat population calls the Ann Richards Congress Ave Bridge in Austin home. The bats begin to wake up and start their night flight around sunset. The first few bats begin to trickle out from under the bridge then. After the sun sets, the show really begins, and hundreds to thousands of bats pour out and cascade East over Lady Bird Lake.
The best time to witness the bats is around sunset, but the nightly show can take place anywhere from 7:30 to 9:45 p.m. It can take as long as 45 minutes for all of the bats to exit the bridge for the night. Plan to arrive early in order to find parking and get your spot.
Address: 100 S. Congress Ave., Austin, TX
Things To Do That Are So Texan
Don't let anyone take your Texan card.
Visit the State Fair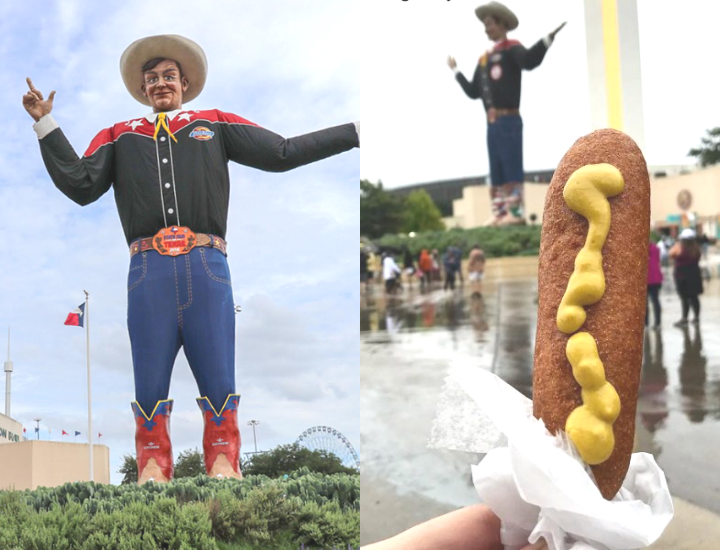 It's pretty much a rite of passage to visit the State Fair of Texas as a resident of DFW. The fair started in 1886 and begins in late September each year. The fair boasts an annual attendance of more than 2 million, which is more than any other state! You can fill your day with eating, children's rides, music, and so much more.
Here's how to get all the State Fair of Texas discounts.
Visit the Fort Worth Stockyards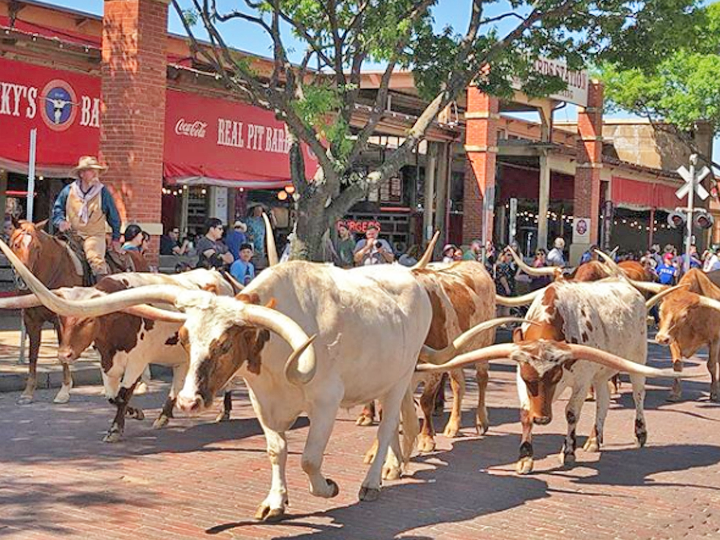 Are you a DFW local who wants to explore all that Fort Worth has to offer? The stockyards are a uniquely Texan experience that has a modern twist on all things cowboy! Here's 6 Fun Things to Do at the Fort Worth Stock Yards with friends and family this year.
Pit Stop at Buc-ee's
Maybe it's the bronze beaver. Maybe it's the beaver nuggets. Whatever it is no Texas road trip is ever complete without a pit stop at Buc-ee's. And…I mean, can you really blame them? Buc-ee's isn't your typical travel center gas station convenience store.
No–Buc-ee's is the most Texan of all the gas stations. In fact, no Texas road-trip is truly ever complete without a pit stop at Buc-ee's and a few purchases of tacky beaver swag.
Visit the Czech Stop
For many years, Czech Stop has been promoting that Czech Heritage spirit so popular in the small town of West, Texas. Whether serving the neighbors down the street or travelers off of I-35 Czech Stop takes great pride in providing fresh, delicious that will wow you. They sell a variety of sandwiches; ham, turkey, beef on wheat, rye and white breads.
Are you holding out for the Kolaches?
Czech Stop in West, TX has tons! Ham, sausage, many types of fruit.
See their full menu here.
Czech Stop is located off I-35 at West, TX and open 24/7 as doors never ever close.
Buy Some Cowboy Boots
There's a boot for every Texan, including Big Tex (Lucchese). And they never go out of season.
Go to a Texas Rodeo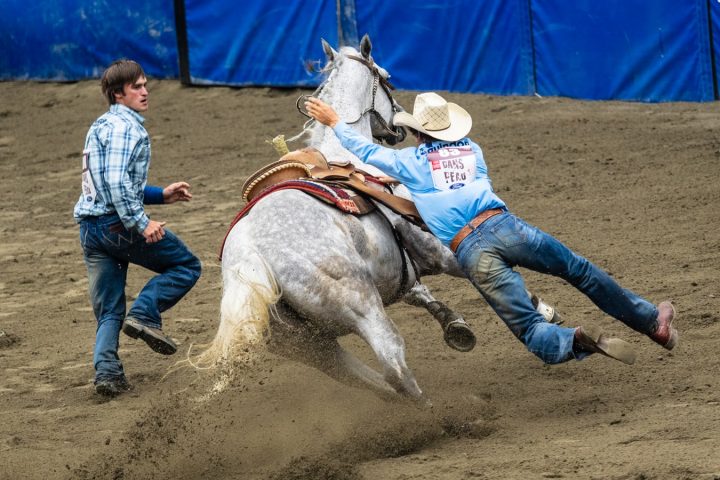 Save a horse, ride a cowboy?
Dine at Whataburger
They may have lost their Texan card by selling out to Chicago, but you've gotta try them at least once.
Visit the Dr Pepper Museum in Waco
Nothing like drinking an ice cold Dr Pepper on a hot summer day. Learn all about Texas' favorite fizzy drink at the Dr Pepper Museum located in Waco, TX.
Plan your visit here.
Drink Big Red
Texas' second favorite fizzy drink.
Take a Bluebonnet Photo
It's Texas tradition every spring to get pictures taken in the bluebonnets, and with that in mind we discovered Where to Find the BEST Bluebonnet Spots for Photos in DFW to share with y'all! I mean, every kid growing up in Texas can remember a parent skidding to the side of the highway to get those highly coveted bluebonnet spring photographs. It's proof you're a real Texan after all.
Try Some Blue Bell Ice Cream
Texans know there is no wrong time to enjoy Blue Bell ice cream. Blue Bell ice cream has become a Southern staple, because it "tastes just like the good ole' days."
Started by local dairy farmers in Brenham, Texas all the way back in 1907 as a co-op these farmers soon realized they needed a way to get rid of all the excess cream. Originally delivered door to door by horse and wagon, Brenham Creamery Company changed its name to Blue Bell Creameries as a homage to Texas' state wildflower…..ummmm well, at least it's the "best ice cream in the country."
Only question remaining is what's your favorite flavor?
Friday Night Lights!
Football is pretty much another religion in Texas. If you haven't been baptized into it yet, you will be soon. Those "Friday Night Lights" are a part of modern Texas culture.
Texas is sometimes referred to as the "High School Football Capital of the World" (American football, not to be confused with soccer). The most popular sport in Texas, at least as a spectator sport, is football. People in Texas have a reputation for caring a great deal about the sport.
Texas has, of course, two NFL teams, the Cowboys and the Texans.
Eat Tex-Mex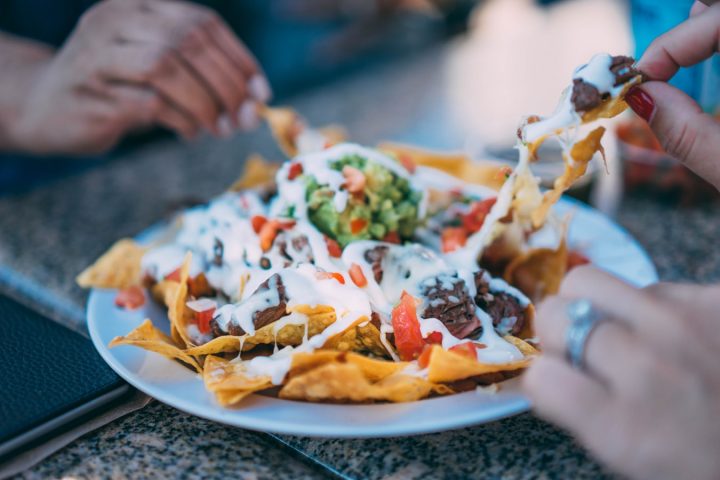 Tex-Mex cuisine, also known as Mexican American cuisine, is a fusion of Mexican and American cuisines, deriving from the culinary creations of the Tejano people living in Texas. It has spread from border states such as Texas and others in the Southwestern United States to the rest of the country as well as Canada.
Be sure to try this hole-in-the-wall Tex-Mex restaurant located in Lake Dallas, Texas. You can thank me later.
Eat BBQ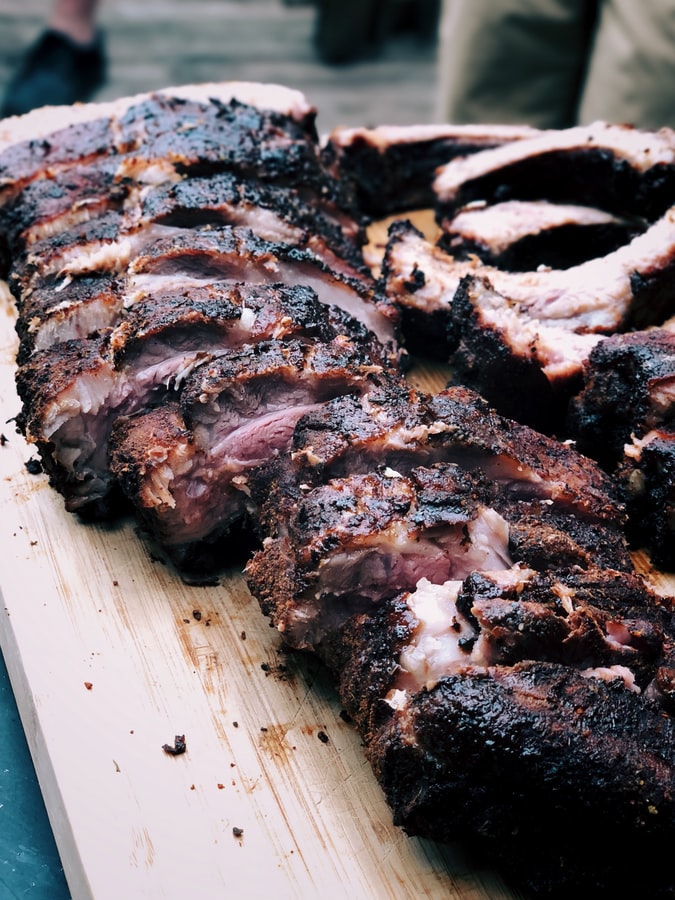 Love great BBQ? Well, we do too. Look no further because we've been asking around and discovered Where to Find BEST BBQ in Dallas Fort Worth! Gather your friends and family around, because we've got the perfect roundup of the Metroplex's favorite barbecue restaurants.
==> Click here to get our Ultimate Texas Bucket List right in your inbox.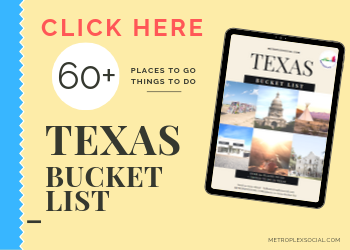 Awesome Places in Texas That Need to Go on Your Bucket List This Year
These are the most incredible places in Texas that need to go on every Texan's bucket list. I can't wait to visit them all!
How many of these Texas places have you visited? Did we miss any Texas places on your bucket list? Let us know in the comments below.
Be sure to tag us @metroplexsocial on social media and show us where you've been.