Fall in Texas is one of my favorite seasons–especially as leaves begin to change color. Yes, that's right! Texas has some of the most beautiful places to see the changing leaves of fall and you're gonna love visiting these places and taking it all in.
Create more memories by visiting our favorite Pumpkin Patches in DFW.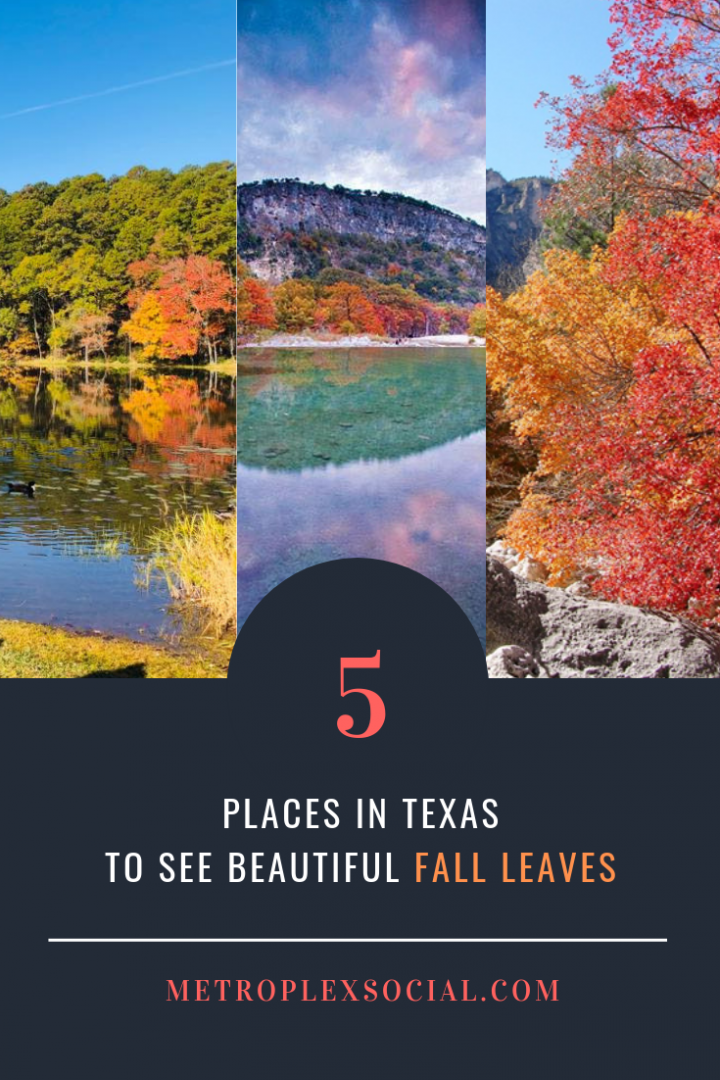 Texas in fall offers some amazing colors as oak, maple and cypress trees see their leaves turn bright orange, red, brown and golden yellow. With leaves changing color later than northern states, Texas is a popular spot for leafers in late October and early November. While parts of southern Texas do see leaves change colors, it's more prevalent in central and North Texas.
With that in mind, state and national parks make the best places to visit with dense tree populations and overlooks and trails that take you into the heart of leafing. Here are a few destinations that need to be on your fall leaf viewing list: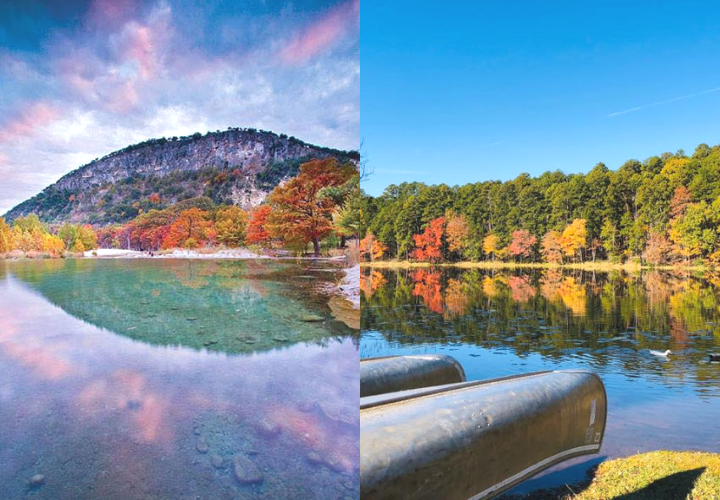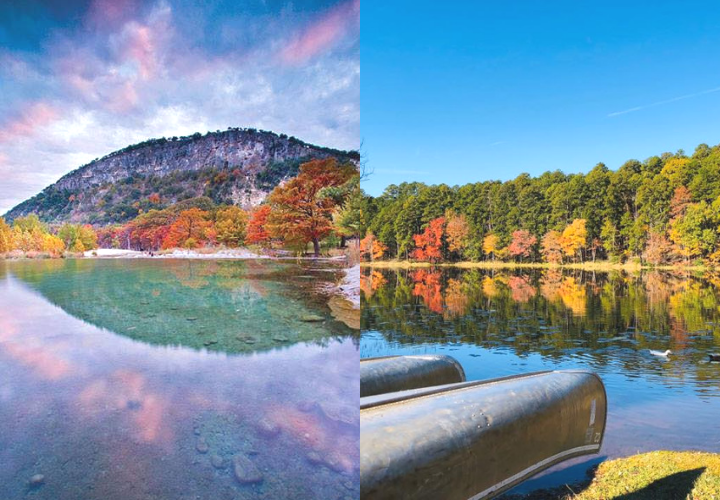 Where to See Changing Leaves this Fall in Texas
Here's are some of the most beautiful places to experience the changing leaves of fall in Texas.
Lost Maples State Natural Area – Vanderpool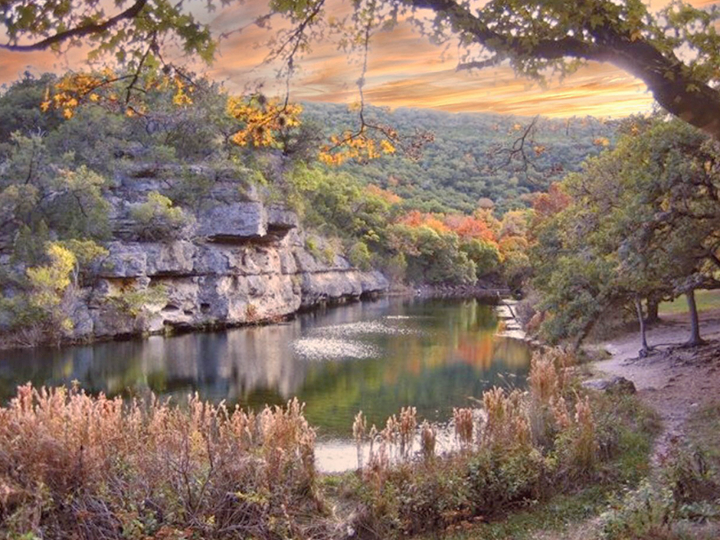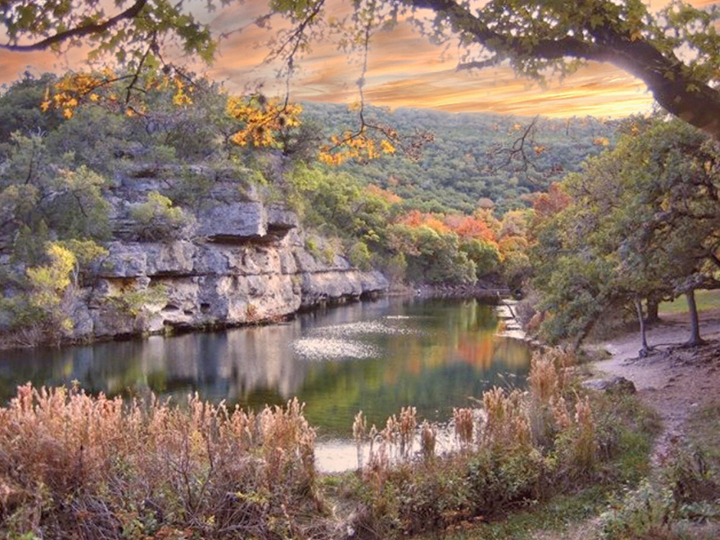 Rain and temperatures always define the color and vibrancy of leaves during autumn. However, if the weather is just right, visitors to Lost Maples State Natural Area in Vanderpool, about 90 minutes northwest of San Antonio, should see peak colors of orange, red and yellow.
With fall changes taking place usually in mid- to late-October, the park will become popular with people seeking to witness the beauty of the leaves changing colors. With more than 10 miles of trails, hikers can get up-close to the leaves for great photo opportunities, as well as just to appreciate nature.
Consider camping at the park for a day or two, and take in star gazing at night.
Drive time:
6 hours
Must do:
Hike the Maple Trail
Side trip:
Fredericksburg, Texas
Address: 37221 FM 187, Vanderpool, Texas
Guadalupe Mountains National Park- Salt Flat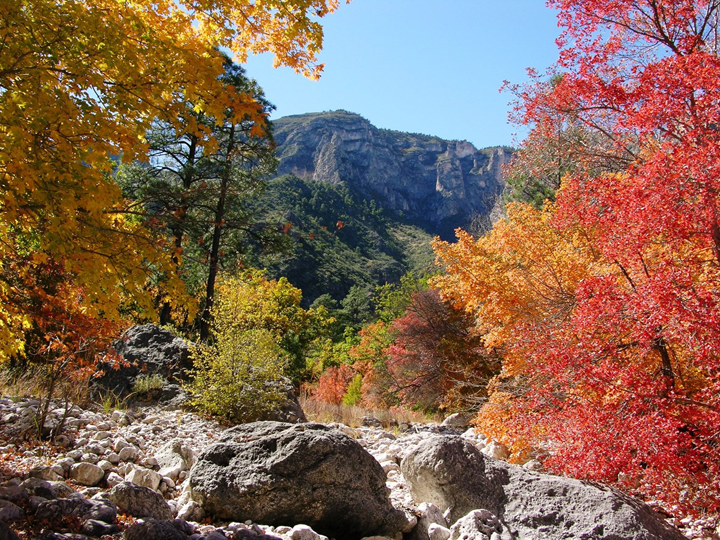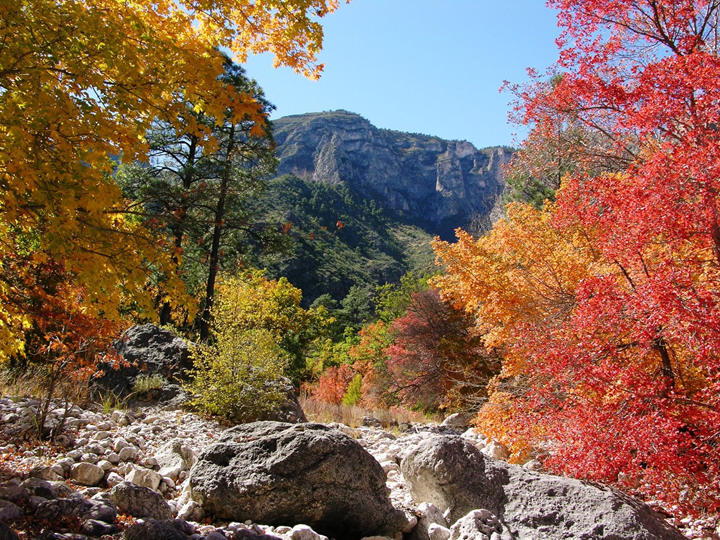 Guadalupe Mountains National Park, about two hours east of El Paso, offers visitors a mix of natural views – with mountains, caves, deserts and canyons – that makes visiting to see the changing colors of leaves unlikely.
Yet, McKittrick Canyon remains one of the most popular destinations in Texas to see the colors of the season, as the walls of the canyon manage to provide the trees below an opportunity to show off reds, yellows and browns during late October and early November. Stay up to date with the Fall Colors Report to plan your visit.
McKittrick Canyon has earned the nickname as the most beautiful spot in Texas, at least as far as leafing goes. As visitors travel from around the state and nearby New Mexico, the national park welcomes those seeking to take in the scenic views of the season.
As you visit Guadalupe Mountains National Park, ensure you take advantage of the natural wonders and explore the mountains and valleys that surround the fall foliage.
Drive time:
7.5 hours
Must do:
See Guadalupe Peak, the highest point in Texas at 8,749 feet
Side trip:
Carlsbad Caverns, New Mexico
Address: Use your GPS and search "Guadalupe Mountains National Park."
Dinosaur Valley State Park – Glen Rose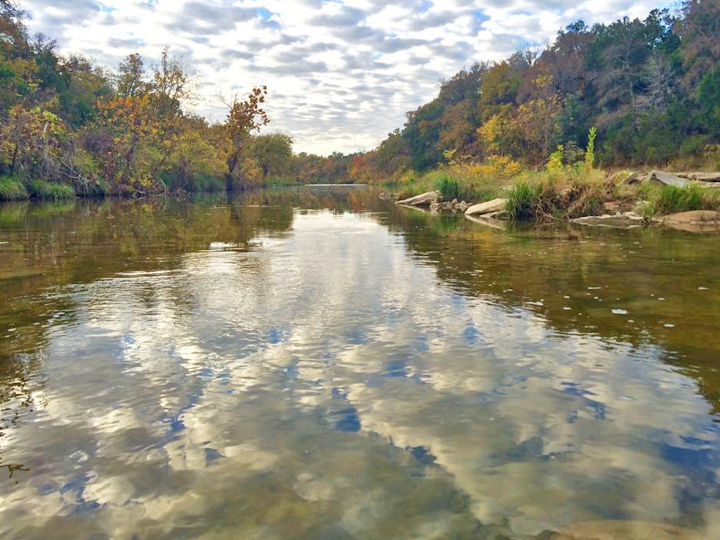 Known for being the land of the dinosaurs, combining the history of the giant creatures roaming the earth with the changing leaf colors, and you've got the makings of a Jurassic-sized leafing adventure. Located in Glen Rose, about an hour southwest of Fort Worth, Dinosaur Valley State Park is home to major dinosaur tracks.
Hiking trails to find them makes for a fun day trip. However, as fall foliage takes place in late October, the park adds colors like red, yellow and orange to hiking adventures. With a dense forest, the foliage views are immaculate.
Drive time:
1.5 hours
Must do:
See real dinosaur footprints
Side trip:
Dinosaur World
Address: 1629 Park Road 59, Glen Rose, TX
Garner State Park – Concan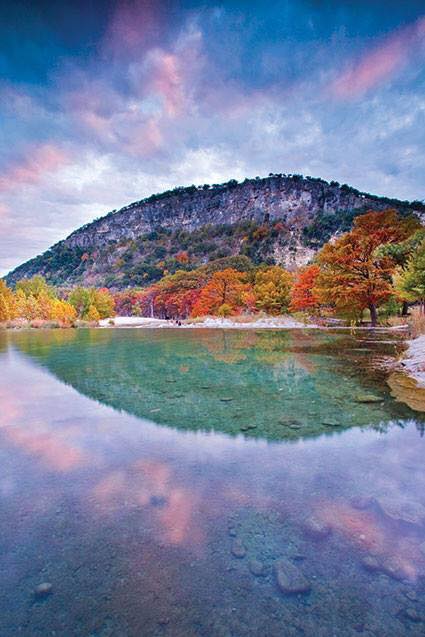 Considered one of the best places in the state to take in fall foliage, Garner State Park in Concan provides a beautiful setting with trees showing off their colors alongside the Frio River. Located in Texas Hill Country, about 90 minutes west of San Antonio, Garner State Park offers more than 15 miles of trails among its attractions.
With orange, red and yellow on a backdrop of green and the Texas hills, Garner State Park is a nature photographer's dream. The park, which is also open for kayaking, swimming and fishing, is a nice place to spend a night or two camping.
Drive time:
5.5 hours
Must do:
Bring your camera and hiking boots
Side trip:
Explore the nearby scenic roads for more fall foliage views
Address: 234 RR 1050, Concan, Texas
Daingerfield State Park – Daingerfield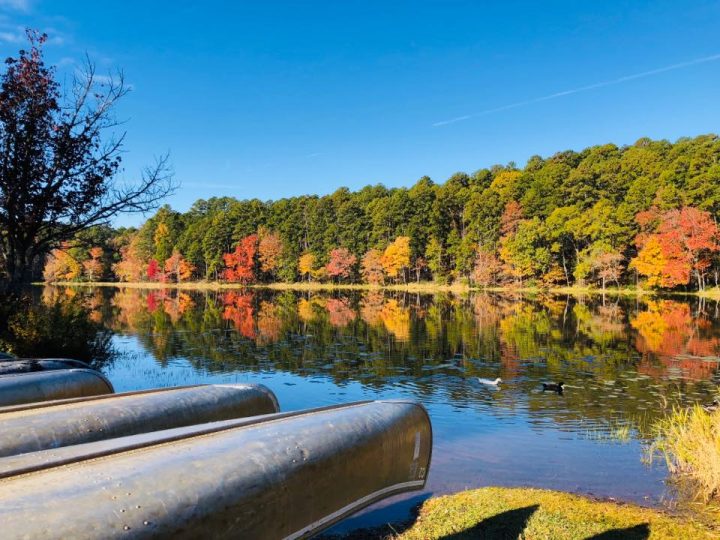 About an hour south of Texarkana, Daingerfield State Park in November is an excellent location to take in the changing leaves. With sweetgums and maples seeing their leaves turn color, the park provides a picturesque view of autumn.
Enjoy a hike along the 2.4-mile lake trail or challenge yourself (and get a better view) with the 1.2-mile mountain trail. The 80-acre lake is ripe for boating or fishing. The state park is also open for camping.
Drive time:
2.5 hours
Must do:
Kayak, canoe, or paddle board
Side trip:
Historic City of Daingerfield
Address: 455 Park Road 17, Daingerfield, Texas
Best Places to See Fall in Texas This Year
With dozens of state and national parks scattered throughout the state, Texas offers unique opportunities for fall foliage views. You can even visit parks where you won't see any leaf color changes, but can still enjoy the beauty of the surrounding nature. But, since most people enjoy taking in the colors of autumn, enjoy visiting the parks we've recommended. Happy leafing.
Have you ever been to any of these places in Texas? Which one was your favorite? Be sure to follow us on social media at @metroplexsocial.