No one can deny that a cup of great coffee can change the course of your entire day, but when you get the chance to sip on that cup of joe in a gorgeous café, it's a totally different experience! These gorgeous coffee shops in Dallas will leave you in awe!
Do you like sweets with your coffee? Check out the best places for desserts in Dallas.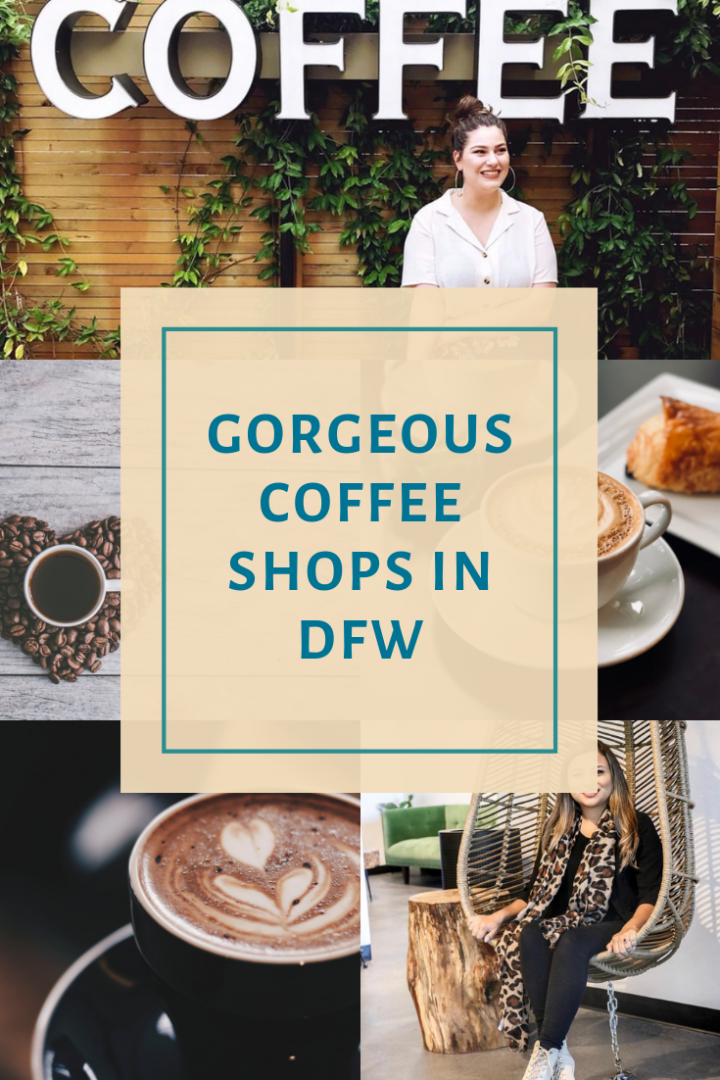 Coffee shops that create a pleasing aesthetic are becoming wildly popular! With competition growing, coffee shops in DFW are continuously finding a way to stand out from the mainstream. Keep reading for a list of the most beautiful coffee shops in Dallas: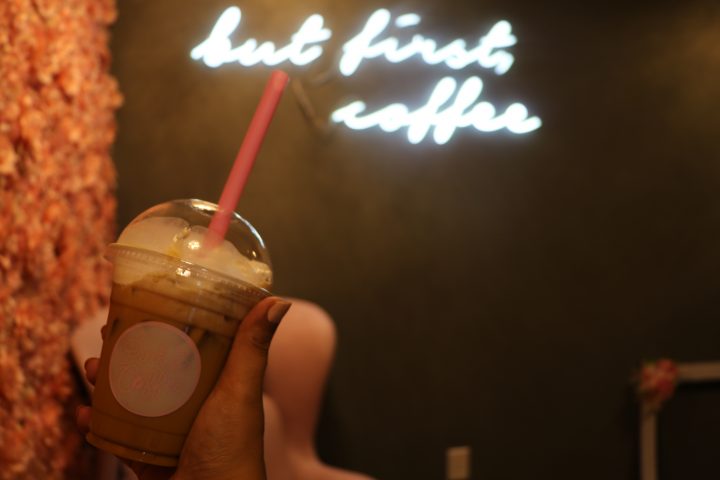 The Most Gorgeous Coffee Shops In Dallas
Get caffeinated while being surrounded by some of the most beautiful decor in Dallas. Keep reading for some of the best aesthetics for coffee shops in Dallas!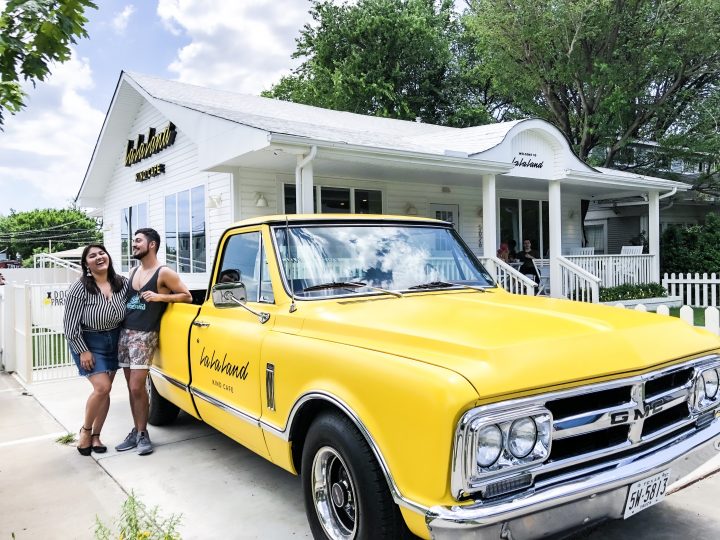 LaLa Land Kind Cafe is beautiful from all angles! The interior is almost completely white except for the bright yellow accents. Their main attraction is right in front! A yellow vintage truck is always parked at the entrance, ready for your next photo op! The beauty is truly "inside and out," because LaLa Land aims to hire those who were formerly in foster care and have aged out of the system.
Address: 5626 Bell Ave Dallas, Texas
2. Pink Coffee & Roastery – Garland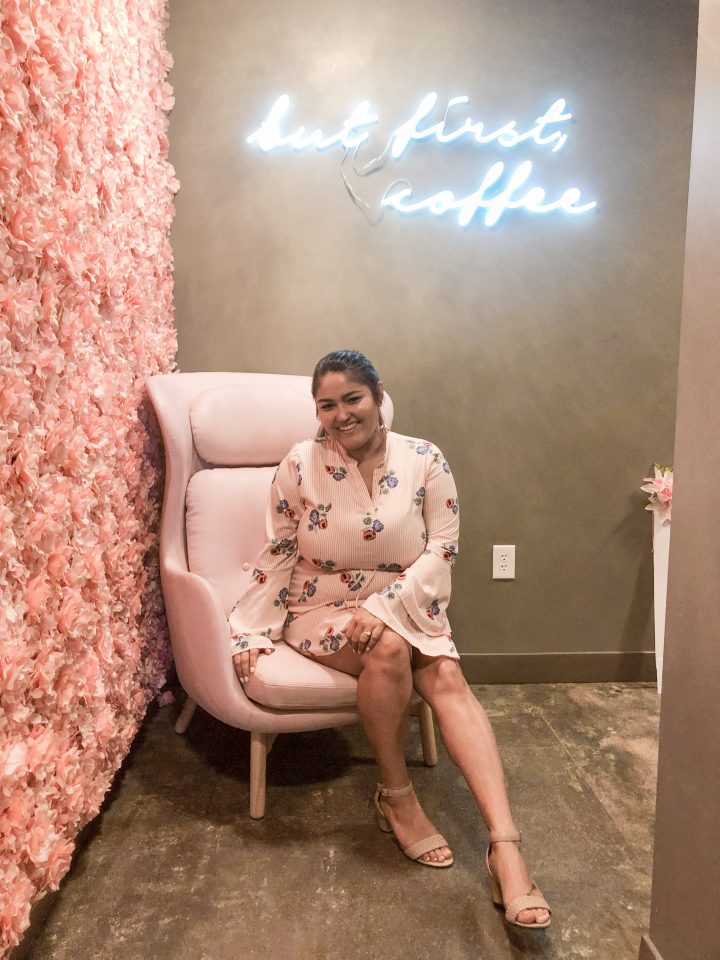 The name says it's all! Every pink lover needs to make their way to Pink Coffee in Garland and take a look at their gorgeous pink flower wall, which even has a pink accent chair for you to sit in. Their amazing cake display will make your mouth water, and their coffee roaster is also a part of their decor as a unique centerpiece for the coffee shop.
Address: 2334 W. Buckingham Rd. #210 Garland, TX 75042
3. XO Coffee Co. – Plano
We're all suckers for pink accents. Combine modern decor with exposed brick and you'll get XO Coffee Company in historic Downtown Plano! The entire area is a sight to see, and their adorable chalk wall art only adds to the aesthetic.
Address: 1023 E. 15th Street Plano, Texas
4. Halcyon Coffee Bar – Dallas
https://www.instagram.com/p/BrVvCubl_h4/?igshid=1vc8vdhxbgr0c
At Halcyon Coffee Bar local artists make sure there is always new and inspiring art on their brick walls, and the mix of warm orange tones, modern shapes and bright colors really does instill happiness!
Address: 2900 Greenville Ave, Dallas, TX
5. Hola Cafe – Dallas
This black and white cafe has a fresh and clean feel that you'll love. The contrast of the vivid green plants against Hola Cafe's simple design is what really makes this coffee shop one of the most beautiful in Dallas.
Address: 416 N Tyler St Dallas, Texas
6. Brewed – Fort Worth
Brewed in Fort Worth has an eclectic set up that manages to create such a cozy feel! Plush couches, a unique wooden accent wall, and various eye catching pieces really make Brewed Coffee stand out from its competitors.
Address: 801 W Magnolia Ave, Fort Worth, Texas
7. Dwell Coffee and Biscuits – Fort Worth
If made from scratch biscuits isn't enough to get you through the door, Dwell's intricately detailed floral accent wall should do the trick. It's one of the most gorgeous things you could look at while sipping ok coffee!
Address: 3113 S. University Dr. 1st Floor, Fort Worth, TX
8. Verbena Parlor – Dallas
Of course Verbana Parlor and Social house is great at appearances – not only are they a coffee shop, they're also a beauty parlor! This unique combination comes to life with their bright lemon accents and airy decor.
Address: 2626 Howell St, #166, Dallas, Texas
9. Civil Pour – Dallas
By now we know that an awesome mural is a must. Civil Pour is on this list because of their breath taking elephant wall. Pair the mural with an insane amount of natural light and you might have found your new favorite spot.
Address: 8061 Walnut Hill, Ste 924 Dallas, Texas
10. Sip Stir Coffee – Uptown Dallas
To finish our list, we couldn't forget to mention Sip Stir Coffee. The olive green color scheme is so cozy and warm and makes this a great place to visit when you need something pretty to look at!
Address: 2626 Howell St, #166 Dallas, Texas
These Coffee Shops In Dallas Will Blow Your Mind
When you need to a little eye candy along side your caffeine fix, head on over to one of these amazing coffee spots. You'll see for yourself why they made our list of Most Gorgeous Coffee Shops In Dallas.
What's a coffee shop that's really caught your eye? Any great ones that I missed? Leave me a comment and let me know! Be sure to follow us on social media at @metroplexsocial for more great places to visit in the metroplex and beyond.