You don't need to catch a plane to have a fabulous spring break. I have some great places to go for Spring Break that are only a short drive from the DFW Metroplex. So buckle up and let's take a road trip!
And if a road trip is not your forte, you can find some great Dallas Stay cation ideas right here.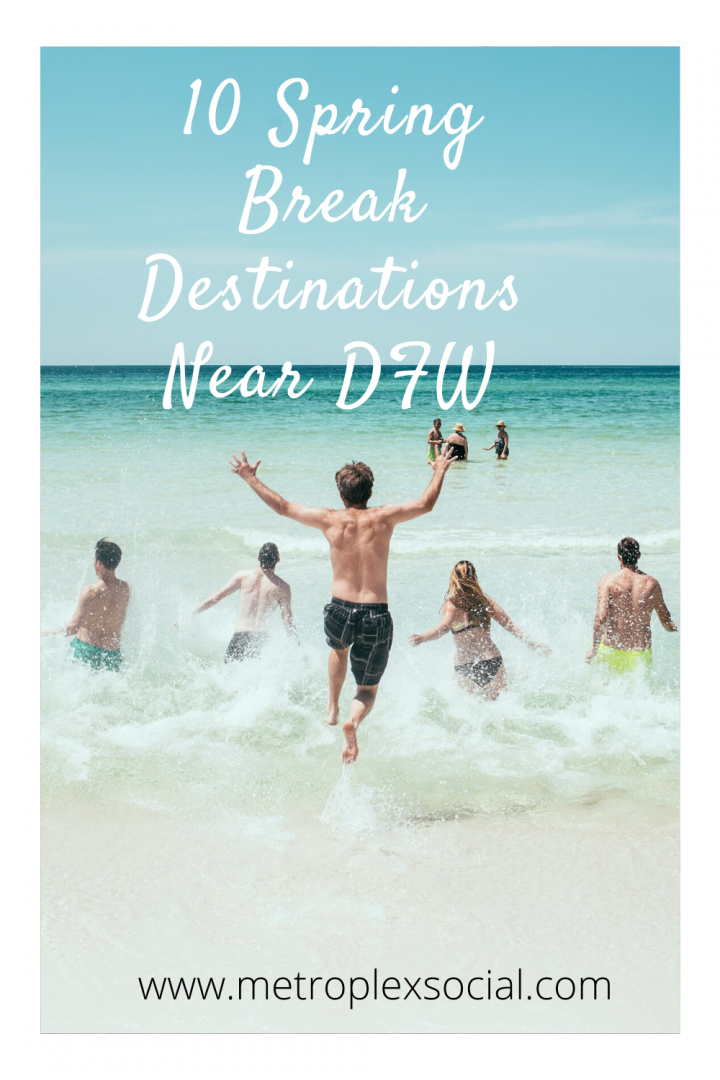 Texas has many great spring break destinations that are sure to appeal to all ages and interests. Whether you are looking to tube down a river, catch a Disney cruise, camp under the stars, have lunch with a real astronaut, or watch dolphins frolicking in the Gulf of Mexico, you can do it in Texas. Here's our top favorites places to go for Spring Break in and around Texas:
Top 10 Places To Go for Spring Break Near the DFW Metroplex
Leave your passport at home and get ready to see what adventure is awaiting you in your own backyard.
San Antonio, TX
San Antonio is about a 4.5 hour drive from Dallas and a ton of fun. From relaxing resorts to roller coasters and a little bit of history, San Antonio has something from everyone.
For lodging, the JW Marriott San Antonio Resort and Spa is the place to stay. With upscale accommodations, beautiful views of Texas Hill Country, and a nine acre water park, you can't go wrong. Make sure you get a chance to float down the 1,100 foot lazy river.
During your stay in San Antonio, you can get a history lesson at the Alamo, stroll and shop along the Riverwalk or the Shops at La Cantera, enjoy thrill rides and shows at Six Flags Fiesta Texas and Sea World.
Explore Natural Bridge Caverns, The DoSeum (a 3 story hands on children's museum), wineries, golf, the beautiful hill country, and more.
Broken Bow, OK
Broken Bow is about a 3 drive from Dallas and a nature lover's paradise. It's the only destination here that is not in Texas, but it's a popular getaway from the DFW Metroplex.
Camping, "glamping" in luxury cabins, fishing, kayaking, swimming, boating, hiking, horseback riding, and more.
And have no fear, if the weather doesn't cooperate there are also some breweries, wineries, and an escape room to provide indoor entertainment.
You can find cabins in all price ranges and sizes. They even have pet friendly cabins. Beaver's Bend Lodging is highly rated and they have 60 cabins to choose from. Lodges and inns are also available in the area.
Galveston Island, TX
Galveston is about a 5 hour drive from Dallas and a hot spot. Galveston has more than 30 miles of beaches and tons of activities for all ages.
Besides relaxing on the beach you could take a surfing lesson or book a dolphin watching tour. Rent a golf cart and explore the area, or bring the kids to the historic Pleasure Pier for fun rides and carnival food.
Make sure to visit the Moody Gardens which boasts a hotel, golf course, animal encounters, an aquarium, rain forest experience, boat rides, and a ropes course/zip line park.
14 museums, shopping, dining, and plenty of places for lodging. And don't forget to take a ride on the FREE Port Bolivar Ferry, I hear this is also a great way to spot dolphins.
Lodging includes everything from resorts, inns, to rental homes and condos in a variety of price ranges. Galveston is also a port for cruise ships including Carnival, Royal Caribbean, and Disney Cruise Line.
Port Aranas, TX
Port Aranas is located on Mustang Island and about a 7 hour drive from Dallas. This beautiful area was hit hard by Hurricane Harvey in 2017. As of January 2020, the city is about 75% recovered and has been welcoming tourists the past couple years.
Port Aranas Beach was voted a top ten family beach in 2019. This 18-mile barrier island on the Gulf Coast of Texas is a popular place to go camping. Just don't forget to pick up a permit, which is sold at local stores for a small fee.
You can drive on the beaches and build bonfires at night making this a fun family destination.
Port Aransas is referred to as "The Fishing Capital of Texas," offering plenty of places to catch a big one and once you do, take it to Harbour Lights Grill at Woody's Sports Center and they will cook it any way you want!
The Red Dragon Pirate Cruise and the Scarlet Lady Dolphin Adventure tours are two can't miss family adventures.
There are plenty of hotels and inns available, but you can't go wrong finding a beach house, condo, or villa. Many are pet friendly too.
South Padre Island, TX
This is one of the longest drives from Dallas at around 9 hours. However, your chances of a warm and sunny beach vacation also increase the further south you go.
South Padre Island is also a big spring break destination for college students and I can attest to the craziness there many years ago. Just be mindful of that if you are planning a family vacation with children. However, this destination is also a great spot for families and pet friendly!
The water is calm and shallow, and the beaches are clean. There is also plenty of other activities to keep everyone entertained. If you love sea creatures, visit Sea Turtle, Inc. This is a rehabilitation center for sea turtles and they provide a fun and informative tour.
There are also plenty of dolphin watching tours, fishing piers and cruises, bike and golf cart rentals, and a visit to Gravity Park and Schlitterbahn Beach Water Park will provide plenty of thrills.
You can see the largest sand castle and view wildlife at the South Padre Birding and Nature Center.
The island is not short of good restaurants and lodging. Everything from private rentals to hotels and inns.
Big Bend National Park
A road trip to Big Bend Bend National Park is the longest on this list at about 10 hours from Dallas. However, if nature, hiking, and exploring is your thing, this park is a must visit for all ages.
While in Big Bend take the Ross Maxwell Scenic Drive for fantastic views of the Chihuahuan Desert landscape. This drive will also lead you to the Rio Grande where there are areas you can launch your canoe or kayak.
On the drive, there are scenic overlooks and exhibits. A highlight of the trip is the short walk to one of the most scenic spots, the Santa Elena Canyon. Make sure to visit the hot springs you can soak in.
There are several easy hikes in the park that kids of all ages can go on, including the Window View and the Basin Loop trails in the Chisos Basin.
If you have older kids or are up for a challenge, check out the Lost Mine Trail. Other hikes children may enjoy include the Chihuahuan Desert Nature Trail at Dugout Wells, the Rio Grande Village Nature Trail and the Boquillas Canyon Trail.
The Boquillas Canyon Trail has a large sand dune next to a lake. And speaking of sand dunes, Monahans Sandhills State Park is a magical place with many large sand dunes you can climb, sled down, explore on foot or by horse.
Campsites, RV parks, hotels, lodges, motels and a resort are all available for lodging. The Lajitas Golf Resort is a top rated spot with a beautiful old western feel.
Houston and Kemah
You can drive to Houston, TX in about 3 hours and 40 minutes from Dallas. Don't forget to pack your most comfortable shoes because there is a lot to see and do at this top spring break destination!
If you have any budding astronauts or engineers, Space Center Houston is a great place to visit. You can even book a lunch reservation with a real astronaut! The Houston Zoo, Downtown Aquarium, the highly rated 90,000 square foot Children's Museum, Miller Outdoor theater, and Houston Arboretum & Nature Center are all great places to visit.
But that's not all, waterparks, miniature model train rides, Buffalo Bayou (downtown recreation hot spot for hiking, kayaking, and home to a bat colony), and Hermann Park (a 445 acre urban park with train rides, paddle boats, playgrounds, and gardens) are also great places to visit that are unique to Houston.
A big city like Houston has plenty of places to stay and great restaurants. Club Quarters Hotel in Houston is highly rated for best value and Hotel Za Za in the museum district is another great option.
If you like good food and golf, make sure you stop at Loft18 and check out their full swing golf simulation stalls. Loft18 doesn't allow anyone under 21 past 4pm so if you have kids in tow, plan accordingly.
Want more adventure? Check out Kemah Boardwalk. It's a 20 minute drive from downtown Houston. This charming, waterfront spot has amusement rides, games and entertainment to boot. There is one hotel on the boardwalk, and plenty of shopping and dining.
Glen Rose, TX – Places To Go for Spring Break
Glen Rose is only about an 1.5 drive from Dallas and this small town boasts BIG fun.
Fossil Rim Wildlife Center is located here and home to more than 1,000 exotic and endangered animals. This 1,800-acre facility offers a 7.2-mile scenic drive where you can interact with the animals while they roam free.
Self guided and guided tours are available. However, if you choose a guided tour you will need to pre-book or get there early in the morning. The guided tours are the best way to get up close and personal with the giraffes since they seem to gravitate towards the jeeps.
Overlook Cafe is a nice halfway point to grab something to eat, visit the gift shop, or experience the petting farm. They even have accommodations on site where you can stay in the lodge or in rustic cabins and view the animals roaming around.
Another big attraction in Glen Rose is Dinosaur Valley State Park. You can see actual dinosaur prints left in the river bed of the Paluxy River. Besides viewing real dinosaur tracks you can hike, swim, fish, go horse back riding, mountain bike and camp at the park.
There are over twenty miles of trails to explore and campsites are available in the park. Check park conditions before you go since the dinosaur tracks may not be visible due to high water levels.
Right outside Dinosaur Valley State Park is Dinosaur World which is a great dinosaur themed museum with real life size dinosaurs and dinosaur animatronics.
When in Glen Rose, Big Rocks Park is another can't miss attraction. Giant rocks are scattered around the riverbed making this a fun place for kids and dogs to explore. You can swim and splash in the water during summer months and there is a snow cone stand right next to the park. There is no charge to enter Big Rocks Park.
If you find yourself ready for a meal check out Loco Coyote Grill and their HUGE burgers. What a FUN places to go for spring break in Texas near DFW!
Austin, TX – Places to Go for Spring Break
The state capitol is about a 3 hour drive from Dallas without traffic. With traffic you are looking at adding about an hour to your commute. But you can always make a pit stop at the famed convenience store Buc-ees, or the Czech Stop for some fuel and amazing kolaches and baked goods!
Once you arrive in Austin, the hotels, resorts, and air bnb possibilities are endless. I personally like the Hyatt Regency located on the Congress River. The price is right and many Austin attractions are located within walking distance.
However, if you are looking for a quieter place away from the city than check out Lost Pines Resort. This Hyatt Regency Resort and Spa is located 23 miles outside of Austin on the banks of the Colorado River. You can kayak on the river, float down their lazy river, go horseback riding, or hike at the nearby McKinney Roughs Nature Park.
A visit to the state capitol isn't complete without a tour of the capital building. Rent a kayak and float down Lady Bird Lake, see the bats at Congress Street Bridge, hike Mount Bonnell, and take a dip in Barton Springs Pool (a natural, limestone, spring fed pool).
Visit the Thinkery (children's museum), browse and shop South Congress street and explore the many painted murals around town for photo ops.
And of course, no trip to Austin would be complete without some good BBQ or a trip through Texas Hill Country. Austin needs to be on your list of places to go for spring break!
New Braunfels, TX
Speaking of Texas Hill Country, a visit to this Texas town is a must if you love being outdoors. New Braunfels is about a 3 hour and 40 minute drive from Dallas.
Schlitterbahn Waterpark New Braunfels is a 70 acre park with more than 50 kid and adult friendly rides and attractions. Rent an inner tube and float the Comal River, try fly fishing, explore Landa Park and historic downtown Gruene for shopping and wine tasting.
Don't miss Gruene Hall, the oldest dance hall in Texas for daily live music. New Braunfels has got to go on your list of top places to go for spring break in Texas this year!
Top 10 Spring Break Destinations Near the DFW Metroplex
This spring break, skip the airport lines and pack up the car for some fun spring break destinations in and around the great state of Texas. You never know what adventures you may find in your own backyard.
Also check out these travel ideas of places to go for Spring Break:
Do you know of any other great spring break destinations in or around Texas that we should know about? Send us a DM and follow us on social media @metroplexsocial #discoverDFW with your spring break fun and we'll share it with our followers.