Frisco, TX is not lacking when it comes to great restaurants, coffee shops, family entertainment and sports! No wonder Frisco has been named Sports City, USA and one of the best places to live. Here are Frisco's Top Ten Attractions that make it a great place to visit and live.
While visiting Frisco, you make a stop in nearby Plano for even more fun!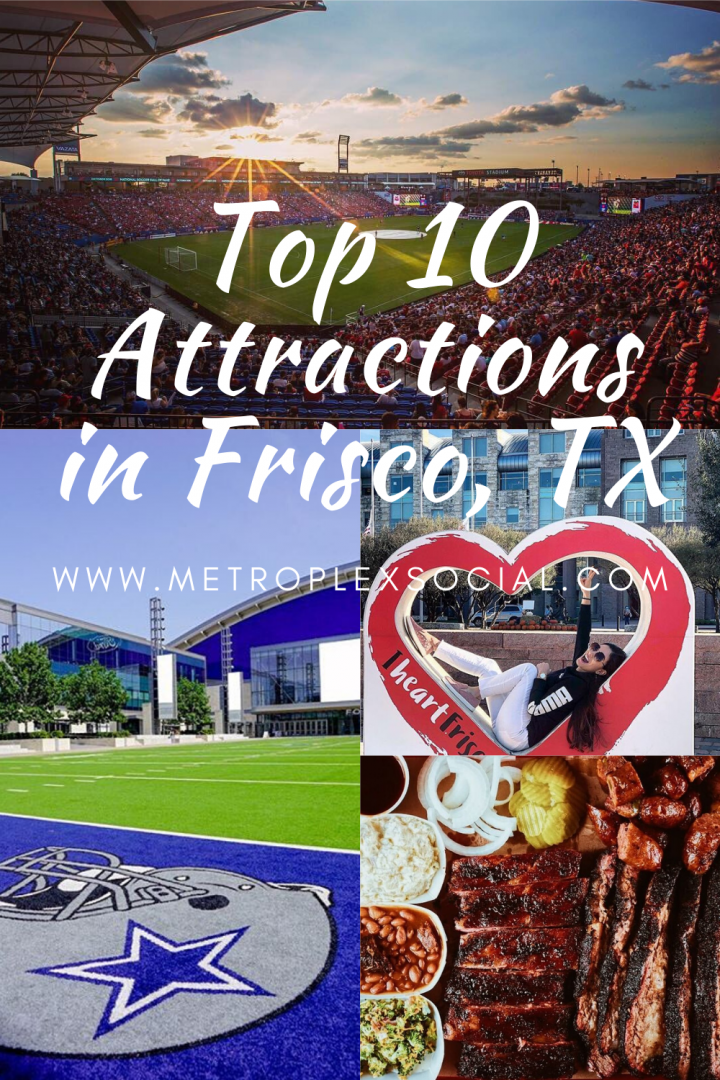 Whether you live in the DFW Metroplex or are visiting, here are the Top Ten Attractions in Frisco, TX that you don't want to miss. And because I couldn't limit them to just 10, I had to throw in some honorable mentions at the end.
Top 10 Attractions in Frisco TX
A list of the best things to do in Frisco, Texas!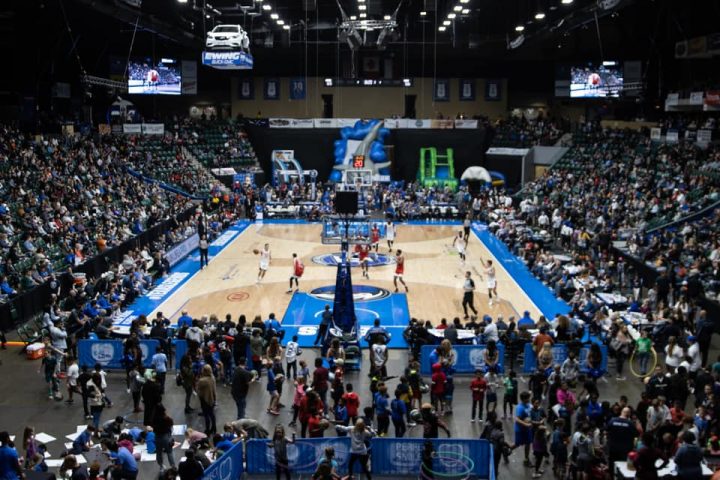 Brought to you by Texas Legends.
The Texas Legends are the offical affiliate team of the Dallas Mavericks. Their high energy, family friendly games are played at the Comerica Center right in Frisco, TX.
The tickets are priced right and they run many fun promotions through the season.
They have a fun kid's area by the court where kids can play and they even run limbo contests and other fun activities during the games to keep the young ones entertained.
Many local dance groups, choirs, non profits and more are showcased at the games!
Plus, they host birthday parties. There is plenty of parking in the garage right next to the center too.
2. Hutchin's BBQ
You can't come to Texas and not try the BBQ! While there are many drool worthy BBQ joints around the great state, Hutchins BBQ in Frisco is one of the best.
Yes, the Frisco location is a spin off of the original one in Mckinney, TX, but that doesn't make it any less tasty.
Pounds of perfectly smoked brisket, sausage, ribs, and turkey accompanied by crisp onions, sweet pickles, lip smacking bacon mac and cheese, brisket pinto beans and much more are served Tuesday-Sunday 11am-9pm (or until they run out).
Don't forget the complimentary peach cobbler and soft serve ice cream for dine in patrons.
If you have yet to try a Texas Twinkie (large jalapeno stuffed with brisket and cream cheese, wrapped in bacon and grilled to perfection), this is the place to go! One of the yummiest creations in my book!
Note: Texas Twinkies are only available on weekends. Go see for yourself why this BBQ joint has been named one of the Top 50 BBQ Joints in the World.
3. Hope Park at Frisco Commons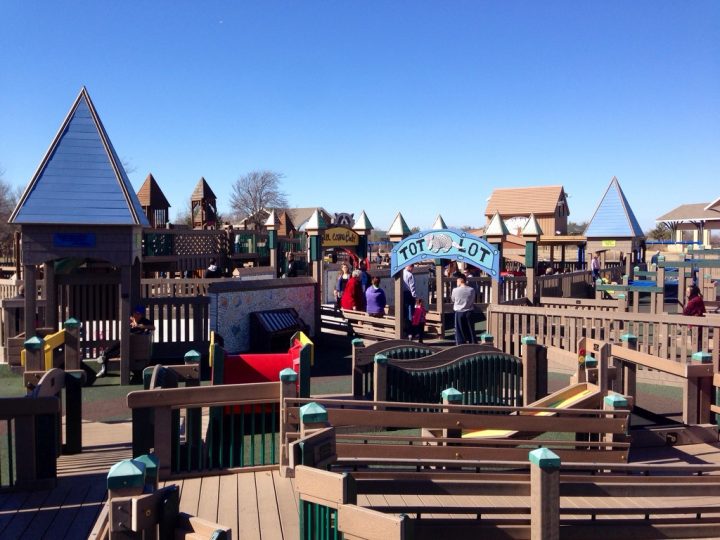 If you need to burn off some calories after all that BBQ, then head over to Hope Park located in the Frisco Commons. This "all abilities" and award winning playground is fully enclosed which gives parents a piece of mind.
The playground has a Tot-Lot for ages 2-5, a Big Kids Lot for ages 5-12, and a Friendship park for all ages.
Soft surfaces, multiple swings, climbing wall, large instruments, a shaded area, and unique play equipment are all part of this one of a kind playground.
And that's not all. Located just outside the playground on the Frisco Commons is a spray park that is open during summer months, pavilions for rent, and many great paved walking trails.
4. The Star
The Star in Frisco is one amazing attraction!
Not only is this the Dallas Cowboys World Headquarters and practice field, it's also a hot spot for dining, events, world class accommodations at the Omni Hotel, Cowboys Fit workout facility, and most recently the prestigious condos at Twelve Cowboys Way.
You can take a guided tour daily from 10am-5pm of this state of the art athletic facility that also hosts Frisco ISD's high school football games.
Talk about Friday Night Lights! In August you can even snag tickets to watch the Cowboys practice at training camp. Or grab your football and have your own impromptu football game on the turfed Tostitos Championship Plaza.
If football isn't your thing, there is plenty else to experience at The Star.
The dining options are endless: Tupelo Honey, Da Mario, Roti Grill, Mi Cocina, Sushi Marquee, Wahlburgers, and Ziziki's are a few.
Bars and roof top patios can be found at Concrete Cowboy, Cowboys Club, Trophy Park, and Neighborhood Services inside the Omni Hotel.
A few boutique stores, spa, blow dry bar, and top knotch gaming center can all be found here too.
5. KidZania
KidZania USA is the first location for this company in the United States and it's right here in Frisco!
Attached to the Stonebriar Mall near Dillard's Department Store you will find this one of a kind children's play center. But this isn't just an indoor playground, kids ages 4-14 (I personally would say ages 5-12) start off with some cash and work different jobs and professions to earn more money.
However, this isn't your cute children's museum grocery store, these are hand's on detailed experiences where kids can create their own podcast, learn how to care for a sick pet, make real french fries, or fight "real" fires as a firefighter!
You can read all you need to know about KidZania here.
6. Toyota Stadium
Toyota Stadium opened in 2018 and is the home to the Major League Soccer club FC Dallas. This Major League Soccer team has won multiple titles and the 2020 season is just about to begin.
Plan a family outing or night out soon. They also have firework shows on select nights.
Toyota Stadium also has hosted the NCAA Division 1 FCS Football Championship, various concerts, the annual Off the Rails Country Music Festival (which draws in some big names), and is home to the National Soccer Hall of Fame.
7. Nerdvana
Nerdvana is located right across the street from Toyota Stadium and another fun destination in Frisco.
This unique and chic establishment caters to kids and adults alike.
Not only do they have handcrafted cocktails, locally roasted coffee, and a varied menu, but you can also choose a gaming system at your table for some retro Nintendo Mario Brothers or the latest version of Fort Nite on the XBox.
Note: All gaming is free with a $10 minimum purchase and kids under 15 must be accompanied by an adult. A library of board games is also available to play at your table.
8. Dr Pepper Ballpark
Dr Pepper Ballpark Center is the perfect place to catch a Rough Riders baseball game.
Here you can watch the game from a single ticket seat, lawn seats, a private suite, or perhaps the lazy river. Yes, you read that right, the LAZY RIVER!
This viewing experience from the 3,000 square foot Choctaw lazy river provides amazing views of the entire ballpark.
Every Thursday evening their is a party at the Yard with $1 beers, drink specials, food, and a DJ.
There is also plenty of family fun and special promotion nights. Check their website for more information.
9. National Video Game Museum
The country's first video game museum is right here in Frisco, TX. This museum was created to document, preserve and exhibit the history of video games.
Those of us that grew up in the 70's and 80's will feel a bit of nostalgia walking into some of the exhibits.
This museum isn't only full of relics to view, but plenty of interactive games for the young and those young at heart.
10. Eight 11 Place
Eight 11 Place is your go-to patio spot in downtown Frisco. A cozy atmosphere with live music, specially selected wines, craft beers, and a fabulous shareables menu.
This is the perfect spot for a mom's night out or anyone looking for great food, good drinks, and a charming atmosphere.
Don't forget to save room for the s'mores board!
Frisco Texas' Honorable Mentions
Frisco has so many amazing attractions that I had to add these honorable mentions too:
Summer Moon Coffee
Babes Chicken Dinner House
Sci-Tech Discovery Center
Maple Street Biscuit Company Frisco
Frisco Public Library
Daiso Japan Discount Store
Rare Books Bar Speakeasy
Top 10 Things To Do In Frisco Texas This Year
I know I am probably missing some other great attractions in Frisco, but there is only so much I can put into one post. Feel free to leave to a comment on your favorite attraction in Frisco, TX!
Looking for more fun things to do around DFW?
Did you know you can submit a story for publishing consideration? Be sure to follow and tag us on social media @metroplexsocial #discoverDFW for a chance to be featured!