It's a nerd's paradise at This Video Game Themed Restaurant in Frisco. That's right–if you have a nerd friend that would rather stay home glued to their screen and keyboard, you now have a way to drag them out of their den to enjoy a few drinks and eats right here in the metroplex! If you haven't discovered this awesome gem, then it's time to check out Nerdvana in Frisco, TX.
Looking for some more great local places to grab coffee while you get work done? These Local Coffee Spots are Where to Go in Dallas Fort Worth for a Relaxing Cup of Joe.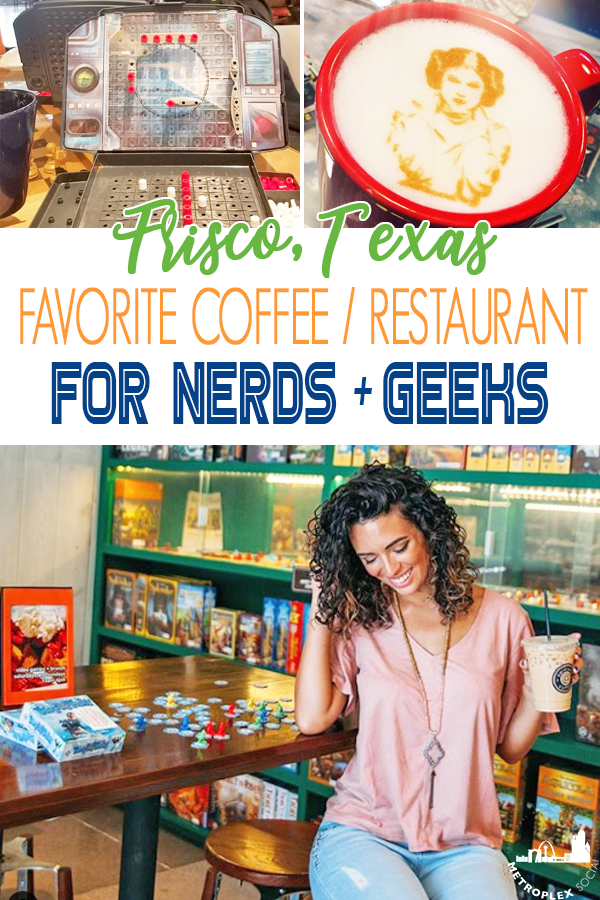 If you've never been to this retro video game themed restaurant in Frisco yet, it definitely needs to be on your bucket list of places to try. And don't think you have to be a nerdy gamer to fit in–I'm totally not into that stuff, but I love hanging out at this cool place and grabbing a cup of coffee or meeting clients. You're gonna have fun checking out all the awesome board games and nerd toys (I probably just offended someone) that Nerdvana is decorated with–like Star Wars and Dungeons and Dragons. Yup, Nerdvana in Frisco Let's You Relive Your Childhood:
View this post on Instagram
View this post on Instagram
Coffee, Food, Drinks at Nerdvana in Frisco, TX
Nerdvana is Part Coffee House, Part Restaurant
Nerdvana in Frisco is the coolest restaurant north of Dallas. They have full-sized TVs mounted on their walls that you and your friends can battle it out on games while you enjoy a meal and a drinks…probably for hours if you're really getting into it. Nerdvana is divided into two sections: one side is their food and spirits section and the other side is their coffee shop. At the coffee shop you can play table games like Monopoly and Life instead of video games. And you can even have your favorite nerd characters emblazoned on your coffee to complete your geek out.
View this post on Instagram
The baristas are super friendly…and look I'm going to admit something embarrassing…I once forgot my wallet and didn't realize it until after I completed my order. Shout out to the baristas who were friendly and compassionate enough to set me up with my coffee order anyway and put a cute heart on top (they could probably tell I'm not a gaming nerd).
Nerds, time to leave the dungeon you call home and check out Nerdvana in Frisco, TX with your friends! Don't worry if you're not into games and such…you can always grab a drink to help make the time spent a little more bearable. Take one for the team.
View this post on Instagram
View this post on Instagram
View this post on Instagram
Owners are Local Gamers Too, So Nerdvana Totally Makes Sense
Owners Kristy and Randy Pitchford are sweethearts that moved to Frisco in 2016. In addition to Nerdvana, they also own Gearbox, a highly-acclaimed video game company. In fact, Mr. Pitchford has been creating games since the age of 6. With a background in the gaming industry, it make sense that this power couple developed a nerds' paradise of sorts. They've created a restaurant concept that combines their love of games and coffee, and it's been a wild success!
Half a world away on our anniversary. Here was us at the beginning, 29 years ago at prom Happy Anniversary @DuvalMagic ❤️ pic.twitter.com/Ux0HyOFVdE

— Kristy Pitchford (@Kristige) April 19, 2019
Summary
Nerdvana in Frisco is the perfect spot for gamers and nerds alike to battle it out in a retro game themed restaurant right here in DFW. Nerdvana is located at 5757 Main St #112, Frisco, TX.