Now that the weather is warming up, it's time to find some great outdoor patio spots in Dallas Fort Worth. Dining at a DFW outside patio restaurant is such a fun experience and it's my favorite way to end the day with family and friends. Keep reading to see where to enjoy your next meal or margaritas when you visit these 20 Awesome DFW Patio Restaurants You Need to Visit this Year.
Related: These Tasty BBQ Joints in Dallas Fort Worth Will Get You Craving More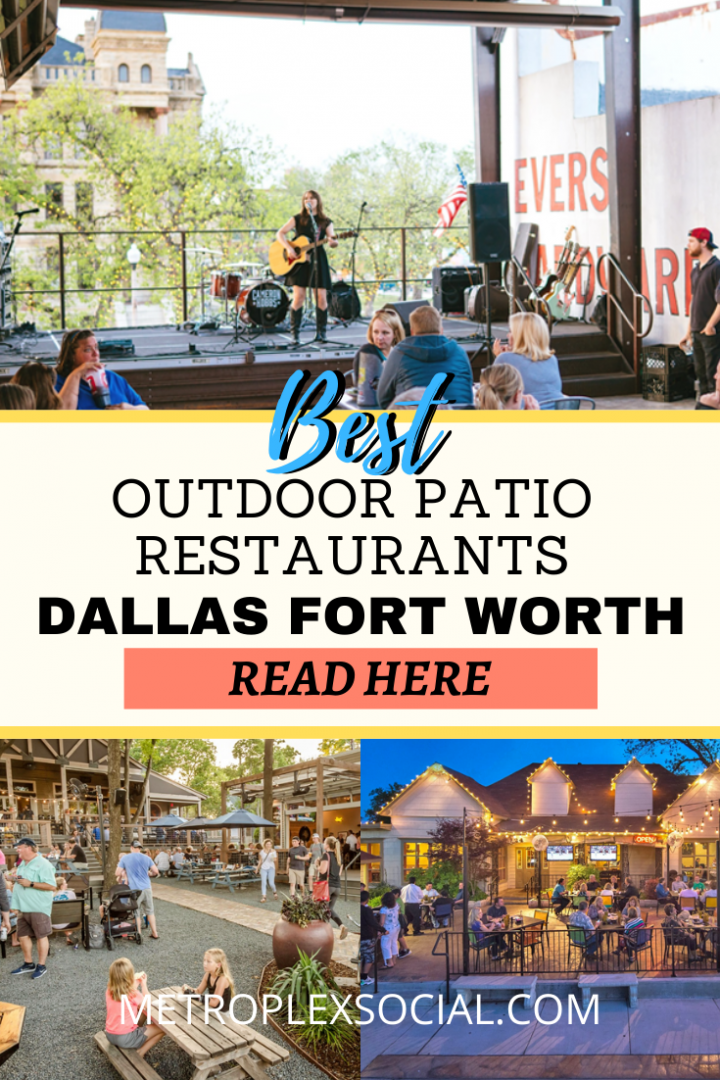 I love hanging out with my friends over a great meal and I make a point to dine outdoors when I can. It's always fun finding new DFW outdoor patio restaurants here in the metroplex. So here's where you can find 20 Awesome Outdoor Patio Restaurants in Dallas Fort Worth: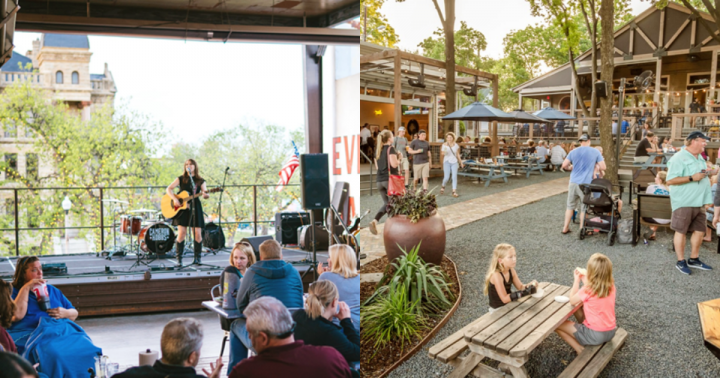 Editor's note: Please call ahead before heading out to these restaurants as due to the economic shutdown some may not be open. Please leave a comment if you find information that needs to be updated. Thanks!
Best DFW Outdoor Patio Restaurants To Dine At This Year
Esparza's Restaurante Mexicano – Grapevine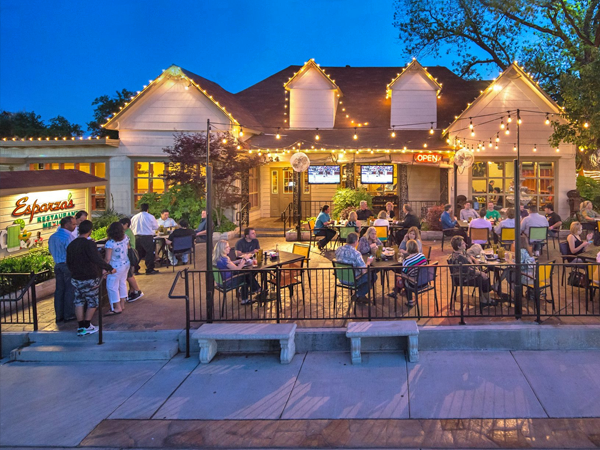 There are a few things Texas just does better than any other state, most notably refreshing margaritas and hearty, flavorful Tex-Mex cuisine. That's what we're all about here at Esparza's Restaurante Mexicano, celebrating the spices and flavors of our home with our signature margaritas, quesadillas, fajitas, enchiladas, and more. Whether after a long day at the office or a weekend full of fun, dine and unwind with us under the stars with a cool, refreshing margarita, a hearty meal, and take it all in.
Address: 124 E Worth St, Grapevine, Texas, (817) 481-4668
Blue Goose Cantina – McKinney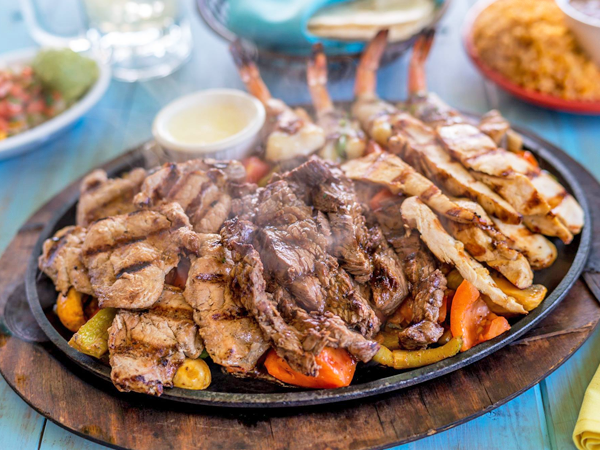 The freshest and most delectable Tex-Mex because they start chopping and cooking EVERY morning at 7am. Sizzling fajitas, homemade tamales, mesquite grilled shrimp, enchiladas smothered in delicious sauces…well, you get the idea. These margaritas have been voted OVER and OVER as the best in Texas! Blue Goose Cantina throws a party every day and for your favorite holidays and occasions. Great service and exceptional food in a kick-back-and-relax atmosphere.
Address: 2020 N Central Expy, McKinney, Texas, (214) 491-1689
Bird Cafe – Fort Worth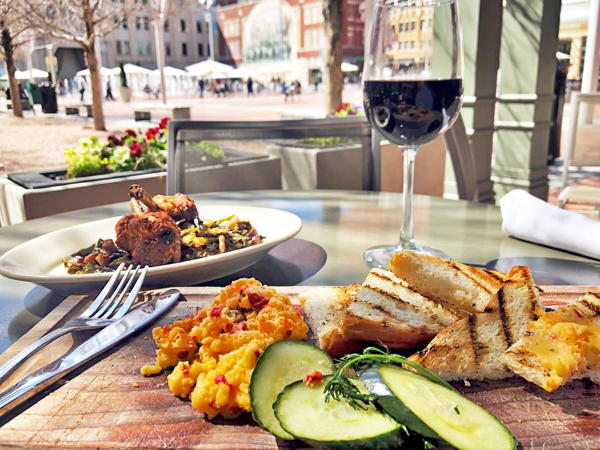 Bird Café serves Modern Southern cuisine for everyone, craft cocktails, and an array of unique beer and wine. Dine right on beautiful Sundance Square and enjoy downtown Fort Worth. Complimentary Valet Parking available.
Address: 155 E 4th St, Fort Worth, Texas, (817) 332-2473
Fresco's Mexicana – Highland Village
Your next favorite Mexican Food Restaurant is in Highland Village, Texas. At Fresco's Mexicana they make all of their food from scratch using original recipes from Mexico. You're going to want to try one of their mesquite-grilled filets or ribeyes. Their world-class menu also includes shrimp, ribs, and entrée salads. So if you want Mexican food that is a world above everyday Tex-Mex, visit Fresco's Mexicana. You can't imagine how good it is!
Address: 2420 Justin Rd, Highland Village, Texas, (972) 317-3628
Earl's 377 Pizza – Argyle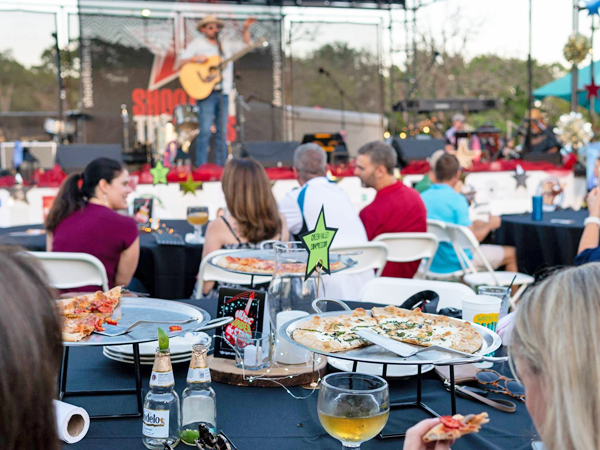 Earl's 337 Pizza in Argyle, Texas may instantly became one of your local favorites. Reviews say the service is exceptional and they rave about how great it is to see how the wait staff helped each other like a true well-oiled machine). Great place for kids and you'll find the staff engaging with kiddos so feel free to bring the family. Try splitting the cheese pizza! Other menu food to try are the meatballs, the small arugula salad, and the Spirit of the Hero pizza which they give a portion to veterans.
Address: 427 US-377 South, Argyle, Texas, (940) 464-4444
Black Walnut Cafe – Colleyville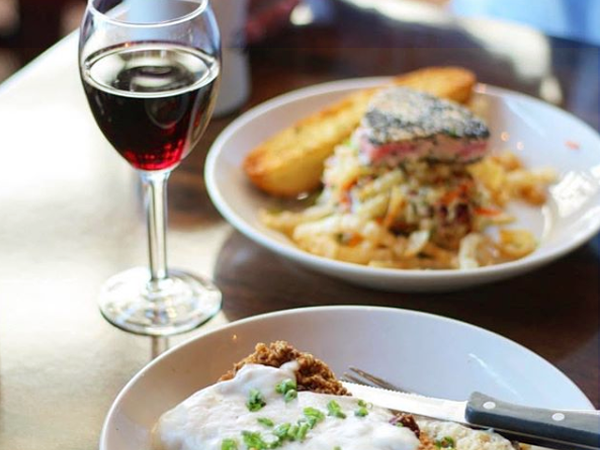 Black Walnut Cafe in Colleyville, Texas is all about making their dining experience "Your Place, Your Pace!" This local outdoor patio restaurant in DFW is a polished fast-casual dining experience serving breakfast, brunch, lunch, and dinner. You feel relaxed and comfortable while also enjoying an elevated dining experience. Enjoy your meal outdoors on their patio.
Address: 1205 Church Street, Colleyville, Texas
Legal Draft Brewery – Arlington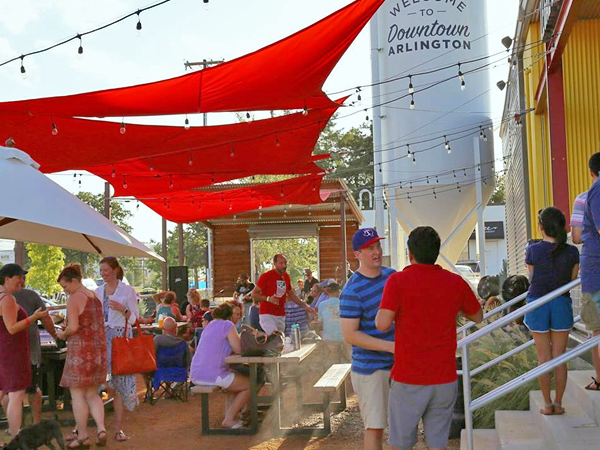 Legal Draft Beer Co. is a brewery and taproom located in Downtown Arlington. What we love about Legal Draft Brewery is that you can find their beer in cans and on tap throughout Texas.
Address: 500 E Division St, Arlington, Texas, (817) 962-2210
The Blue Fish – Allen
The Blue Fish is a Japanese Restaurant that serves the finest sushi, sashimi and rolls with an emphasis on quality and freshness. The Blue Fish also offers an array of Asian inspired hot dishes, salads and artisan desserts. You'll love their crafted cocktails or try their selection of fine wine, sake, and beer. Exceptional service in a lively atmosphere gives guests an unforgettable experience that has made The Blue Fish an award-winning restaurant for more than 20 years.
Address: 940 Garden Park Drive, Allen, Texas
Gloria's Latin Cuisine – Frisco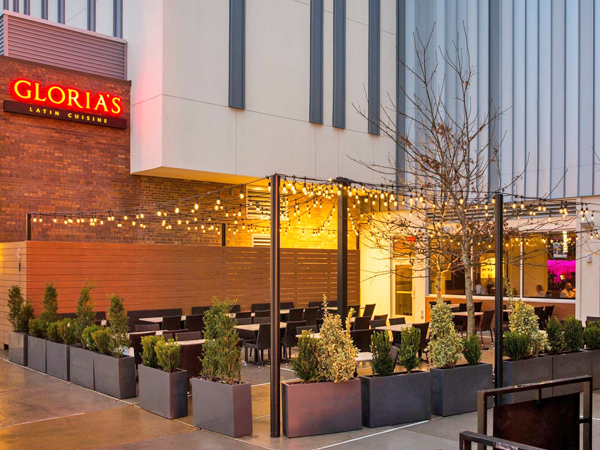 Gloria's Latin Cuisine was founded in the Oak Cliff district of Dallas, Texas on April 15, 1986 by Gloria and Jose Fuentes, two young Salvadorians who had recently come to the United States. Featuring an artful blend of their native Salvadorian cuisine with regional Mexican and Tex-Mex favorites, Gloria's became a hit with restaurant critics and Dallas natives alike. As the years passed, the need to grow was inevitable – as Gloria's would open 17 restaurants across Texas, including the Frisco, TX location. Salsa dancing is offered at 5 locations.
Address: 8600 Gaylord Parkway, Frisco, Texas
Del Frisco's Grille – Southlake
Del Frisco's Grille combines a social atmosphere with exciting cuisine, an expansive wine list & hand-crafted cocktails. Food and drinks are built to share, so get together with a friend or share the experience with your neighbor. I love to take my friend here!
Address: 1200 E Southlake Blvd, Southlake, Texas
Craft and Vine – Roanoke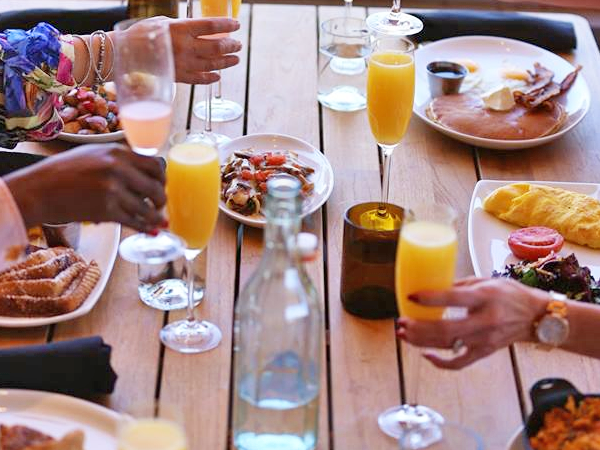 Roanoke's newest hot spot! Craft & Vine serves up "farm to table" shared plates, 72 taps, and a welcoming atmosphere to create a unique dining experience. Grab your keys and besties and head on out to this DFW outdoor patio restaurant for a unique dining experience!
Address: 310 S. Oak Street, Roanoke, Texas
Woodshed Smokehouse – Fort Worth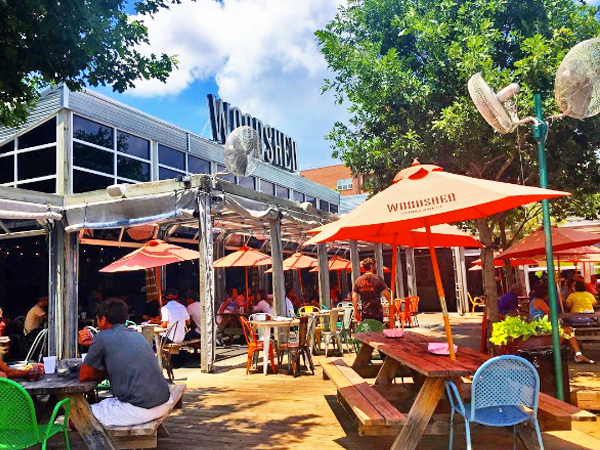 Located on the bank of Fort Worth's Trinity River, the 14,000 square foot, open-air venue has something for everyone, including fresh tortillas handmade daily, and Love's celebrated camp bread served with "pitmaster fat" – a rich and meaty spread Love developed just for this restaurant. The Woodshed features 25 craft beers on tap, 3 smokers, 2 rotisseries, 2 wood grills, and a rotating variety of 4-5 woods on which to cook.
With its location on the bank of the Trinity River, The Woodshed is quickly becoming a community meeting place, with a working garden, live music, backyard games, bicycle rentals, fresh coffee, and freshly baked pastries.
One of Love's goals at The Woodshed is to be as green as possible, and as such, all utensils and cups are biodegradable. Due to its proximity to the river and the running and biking trails, no glass bottles will be served at the restaurant.
Another key element of The Woodshed is its ongoing live music series, with bands and performances curated by Love, and complimentary performances on Friday, Saturday and Sunday nights.
Address: 3201 Riverfront Dr, Fort Worth, Texas
Flying Saucer – Fort Worth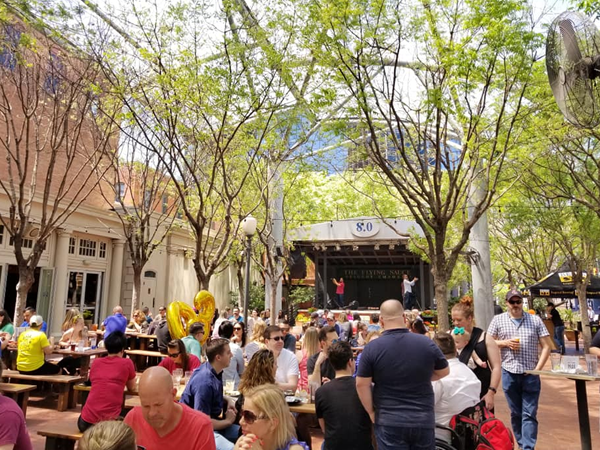 Flying Saucer Fort Worth is located in the heart of Sundance Square one block from Bass Hall. They've got over 80 beers on tap and over 100 in the bottle. This is an awesome beer garden where you'll enjoy hanging out with friends with a cold one.
Address: 111 East 3rd Street, Fort Worth, Texas
Hannah's Off the Square – Denton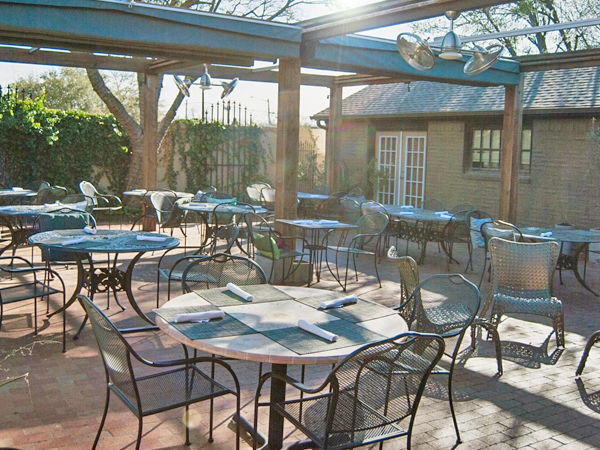 Hannah's Off the Square is a popular DFW outdoor dining spot that will soon become a favorite! You'll enjoy the welcoming atmosphere, not to mention the wine. See ya there!
Address: 111 W Mulberry St, Denton, Texas
LSA Burger Co. – Denton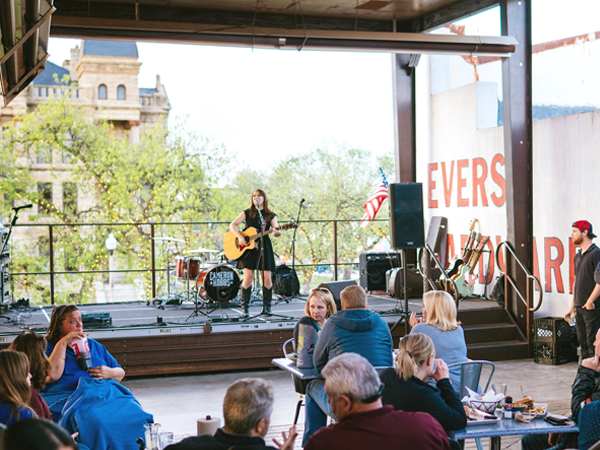 LSA stands for Lone Star Attitude®, which is more than just a motto coined by Texas singer-songwriter, Jon Christopher Davis… it's a way of life!
There's an old saying and it goes like this: "God made Texas on his day off, for pure entertainment, just to prove that all that diversity could be crammed into one section of earth by a really top hand." At LSA Burger Co., they are all about the LOVE of everything Texas, especially their burgers, beer, and music!
Great views of Denton Courthouse on the Square from their rooftop patio!
Address: 113 W Hickory St, Denton, Texas
The Yard – McKinney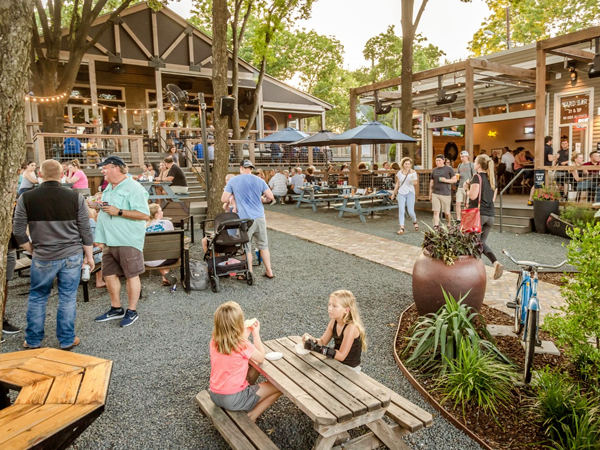 The Yard is McKinney's local ice house and is situated in the heart of McKinney, Texas and nestled under the towering canopy of old oaks. The Yard is the perfect place to bring your whole family. Gather your friends, enjoy their takes on classic backyard grub while sipping on a frozen margarita or a cold Shiner Bock. With indoor dining, outdoor patio seating, and plenty of space to play in the yard, feel free to eat, drink, and play outside.
Address: 107 S. Church Street, McKinney, Texas
Dakota's Steakhouse – Dallas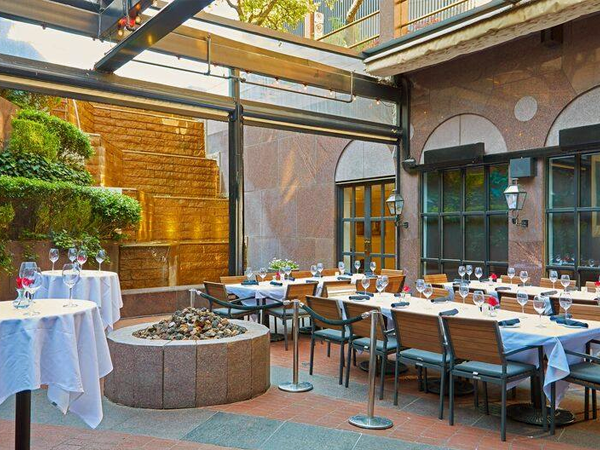 Dakota's Steakhouse is a restaurant that has been in the Dallas dining scene for over 30 years. Nestled 18 feet below street level, a glass elevator takes guests to an intimate ambiance with timeless style. The steakhouse prides itself on serving premium steaks from renowned beef purveyors, Allen Brothers. No meal at Dakota's Steakhouse is complete without a bottle of wine from our expansive 2016 Wine Spectator Award of Excellence prized list, which is updated on a regular basis. Enjoy fine dining in a unique location that you won't soon forget.
Address: 600 N. Akard Street, Dallas, Texas
Marty B's – Bartonville
Marty B's is Bartonville's Backyard! Enjoy great steaks, BBQ, brisket, Tex-Mex, and craft beers. They even have fire pits and s'mores for a complete Hill Country experience. Be sure to hang out for cornhole, cattle roping, live music, and dance lessons. This is one of my favorite outdoor patio dining places to hang out with friends in the metroplex!
Address: 2664 FM 407 East, Bartonville, Texas
J2 Steakhouse – Lewisville
J2 Steakhouse is a new restaurant in a familiar space. Opening in the Spring of 2018 by a family who was just as fond of great food as they were of preserving the past.
After operating since 1886, the Lewisville Feed Mill at 119 E. Main St had seen its fair share of history & reinvention. There is something special about what the Polser family created over 100 years ago that lends itself to preservation. It's rare to find a restaurant that feels so comfortable in its own right and place – so written into the lore and landscape of a neighborhood and it seems it has always been at that address.
Today, J2 Steakhouse serves elevated Texas fare with a wonderful selection of dry aged beef in the heart of downtown Lewisville. It is kept up by a staff who strives to maintain an unobtrusive sense of hospitality & service. Check them out and see for yourself!
Address: 119 E. Main St., Lewisville, Texas
The Rustic – Dallas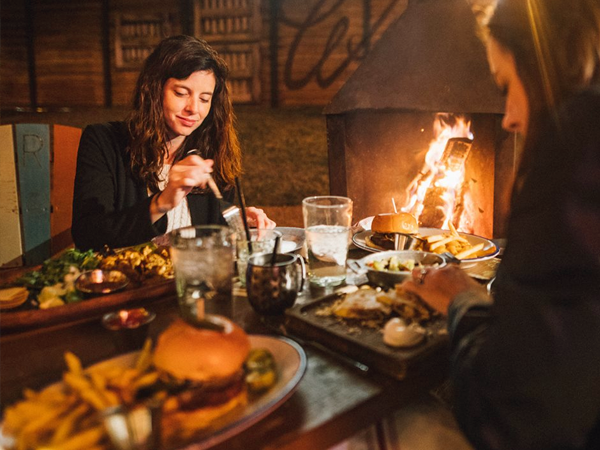 Have you been to The Rustic in Dallas yet? Enjoy delicious homestyle meals prepared with farm-fresh local ingredients at The Rustic located in Uptown Dallas. With a relaxed casual atmosphere, it's a place where anyone can feel at home. Enjoy authentic local beers, wines, and spirits served by a friendly staff. Listen to free live music 7 days a week from local and national artists, and take it all in from their award winning outdoor patio.
Address: 3656 Howell St, Dallas, Texas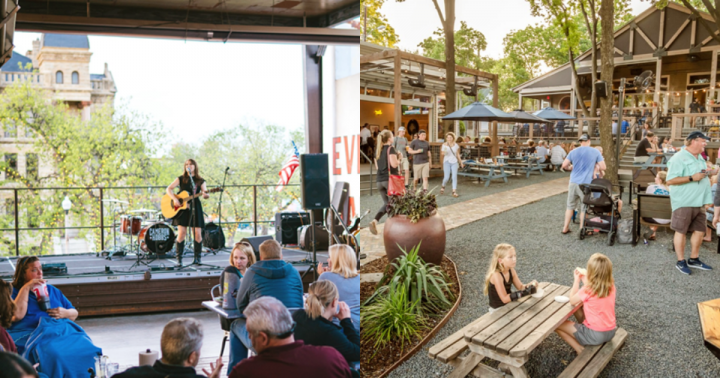 Best DFW Outdoor Patio Restaurants To Dine At This Year
It's time to find some great outdoor patio restaurants in Dallas Fort Worth. Here's our favorite 20 Must Visit Outdoor Patio Spots in Dallas Fort Worth.
More on Metroplex Social:
Got something to say? Leave a comment.