Whether you are looking to impress your friends or satisfy your sweet tooth, you will find some of the yummiest treats around at these Top Dessert Places Around Dallas. From edible, raw cookie dough to freshly made waffles topped with strawberries, nutella, cookie butter, and whipped cream, to homemade carrot cake that melts in your mouth, we have you covered!
A great cup of coffee always pairs well with a sweet dessert, check out our pick of top coffee shops in the Dallas Fort Worth.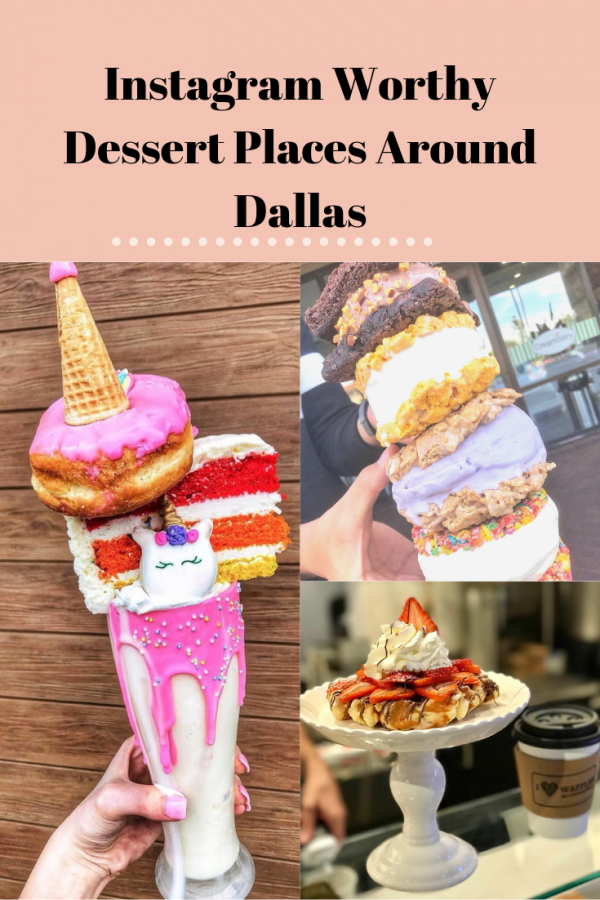 If you are looking for a place to celebrate or need some sugar therapy read on to see why we chose the following as our top dessert places around Dallas. Don't forget your camera, not only are the desserts Instagram worthy, but so are many of the shops. Have you seen the patio at Bonnie Ruth's Bistro in Frisco? If not, put it on your summer bucket list…pssst check out our list of 20 Outdoor Patio Restaurants in DFW.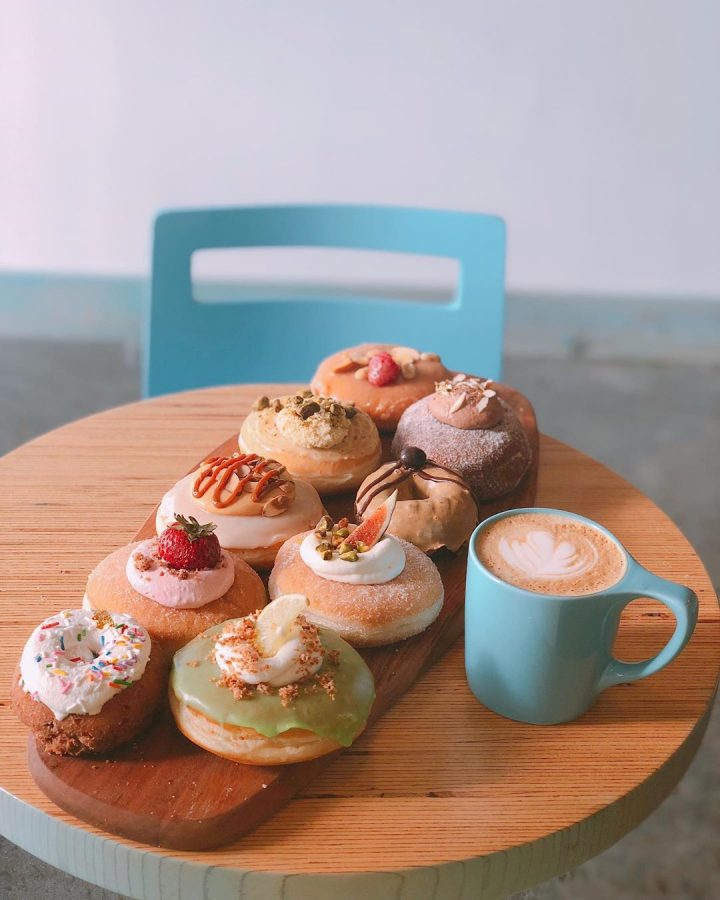 Top Dessert Places in Dallas Fort Worth
1. Avalanche Dessert Lounge in McKinney
Avalanche Dessert Lounge in McKinney takes desserts to the extreme with their ice cream buns, extreme funnel cakes, table side s'mores, crazy shakes, and Hawaiian shaved ice.
This super adorable dessert place in north DFW is the perfect spot to not only satisfy your sweet tooth, but also take your instagram to the next level. Bring your camera.
Address: 3530 W. University Dr. #301 McKinney, Texas
2. The Unicorn-Magical Dessert Bar – Dallas
The first Unicorn Magical Dessert bar was located in Deep Ellum until early spring of this past year. While the desserts looked amazing, the general public was not happy with the location and lack of seating.
The shop closed and they relocated to their current location on Main St. in Dallas on June 1st, 2019.
They also have locations in Fort Worth and Houston.
They sell lemonade, doughnuts, cakes, unicorn milkshakes, and other dessert creations all presented in the most fabulous way.
You can read more about them here.
Address: 3408 Main St. Dallas, Texas
3. Sweet Daze – Richardson
Sweet Daze makes all of their desserts in shop daily. They have a variety of soft serve ice cream, cereal bars, cake, doughnuts, dessert bars, and fun dessert creations.
You can see their current menu here.
They do allow you to pre-order whole cakes for your party or event.
Because Sweet Daze makes all their desserts fresh daily, it's a good idea to call ahead before you go to make sure they haven't sold out.
Address: 581 W. Campbell Rd. #127 Richardson, Texas
4. Sweet Lab – Carrollton
The Sweet Lab makes their own ice cream and bubble waffles in store and creates some pretty cool concoctions like the Cookie Monster, Texas Fair, and The Hello Kitty.
I personally recommend the Insomniac: coffee flavored ice cream, caramel, chunks of Snickers, and caramel popcorn!
You can get pints or quarts of ice cream to go, smoothies, milk tea with Boba, coffee, and soda floats.
You can visit their website for more information.
Address: 2625 Old Denton Rd. #555 Carrollton, Texas
5. Press Wafflew Co. – Plano
Press Waffle Company was started by two brothers from Dallas and they even appeared on ABC's show Shark Tank.
Press Waffle Company now has 3 storefront locations in Texas with plans to expand.
Home made, authentic Belgium waffles are made to order in shop and then topped with fresh ingredients.
If you are in the mood for something sweet, try the House. Strawberries, Nutella, cookie butter, and whipped cream on a warm waffle!
The Chicken and waffles is another fan favorite. Or you can build your own waffle.
Stop by Legacy Hall in Plano and see why this place is one of the Top Dessert Places in Dallas.
You can see more of their menu here.
Address: 1st floor Legacy Hall, Plano, Texas
6. Uncle Julio's The Chocolate Pinata – Multiple DFW Locations
Not only does Uncle Julio's Mexican have delicious food, they also have an amazing dessert that is sure to delight your crowd!
This one of a kind dark chocolate pinata is filled with fresh fruit and homemade churros.
All you need to do is grab the mullet and swing to break it open! This is definitely a memorable and delicious dessert.
For more information on locations and the menu, visit their website.
Address: multiple locations around DFW
7. Detour Doughnuts and Coffee – Frisco
Detour Doughnuts is known for their fresh and tasty doughnut flavors and coffee.
The current doughnut flavors are birthday cake, strawberry cheesecake, dulce de leche, pistachio ganache, peanut butter and raspberry jam, ferrero rocher, mocha cake, fig + mascarpone, and key lime pie!
Doughnut flavors are rotated seasonally.
Stop in this Frisco shop today and try one of these unique donuts for yourself.
You can also read more about Detour Doughnuts on their Facebook page.
Address: 8161 FM 423 #250 Frisco, Texas
8. Bonnie Ruth's Neighborhood Bistro – Frisco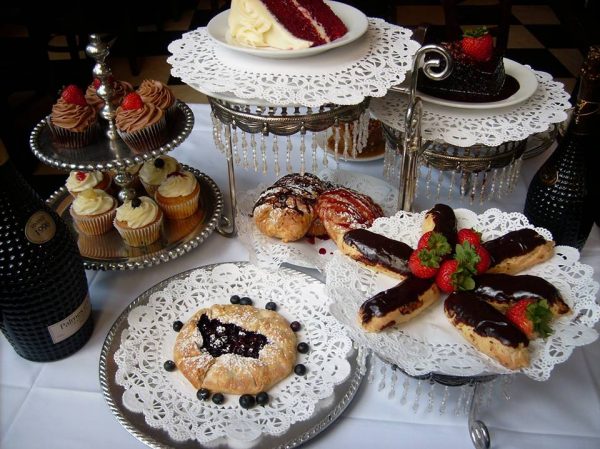 Bonnie Ruth's Neighborhood Bistro is known for their delicious dishes, amazing brunches, and super cute outdoor patio in Frisco, but did you know their homemade desserts are also out of this world?!
You can stop in anytime to grab a slice of carrot cake or buy a whole cake for your party or event.
Cookies, cakes, dessert bars, eclairs, cream puffs, croissants, petite cupcakes and tarts are just some of their offerings.
Click here to find a complete list of their desserts.
Address: The Shops of Starwood 6959 Lebanon Rd. Frisco, Texas
9. Creamistry – The Colony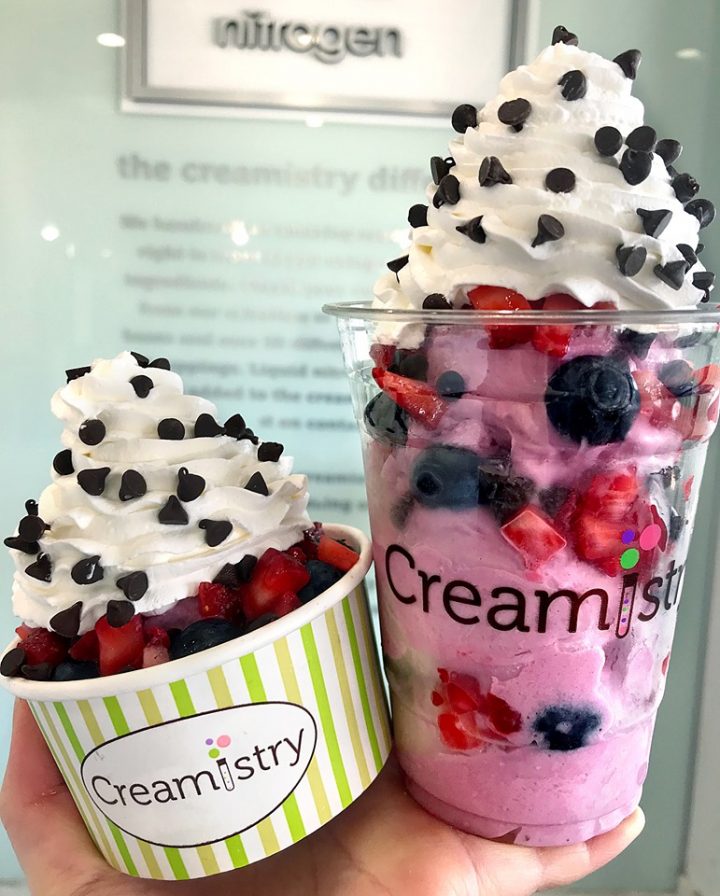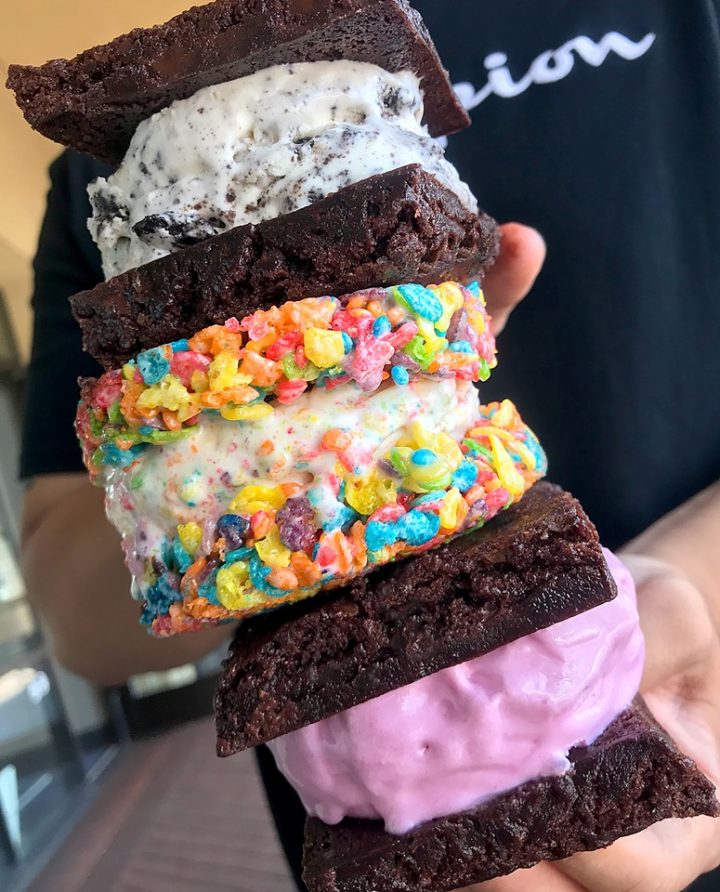 At Creamistry you can get handcrafted, premium ice cream one delicious scoop at a time!
This top dessert place in North DFW uses liquid nitrogen to flash freeze their ice cream at -321° F, which is perfect for cooling down during these hot Texas summers in the metroplex.
Choose from over 60+ flavors & toppings! Made-to-order and customizable just the way you like it!
Also available at Creamistry are shakes, floats, gourmet ice cream sandwiches, sorbet, and milkshakes.
Address: 5733 TX-121 #285, The Colony, Texas
10. Beard Papa's – Frisco
Beard Papa's started as a small store in Japan selling their famous cream puffs in 1999.
There are now over 400 stores in 15 different countries, and Plano, TX is home to one of those locations!
You can try one of their original cream puffs, vanilla, chocolate, green tea, strawberry eclair, honey butter and more!
Flavors vary by state and season so check out their website to see what flavors are currently available.
Address: 2301 N. Central Expressway #158 Plano, Texas\
These Top Dessert Places Around Dallas Will Satisfy Your Sweet Tooth
When you need to satisfy your sweet tooth with an extravagant treat, grab your crew and visit any of these memorable shops. You'll see why they made our list of Top Dessert Places in the Dallas Area.
Here some more sweet restaurants and coffee shops near Dallas Fort Worth:
What's your favorite dessert place? Any great ones that I missed? Leave me a comment and let me know!
Follow and tag us on social media @metroplexsocial #discoverDFW for a chance to be featured!