Looking for the Best Donuts in Dallas? Nothing says "Good Morning!" quite like fried and frosted dough which is why we made this roundup of the Top 10 BEST Donut Shops in DFW.
Be sure to grab our list of restaurants in DFW where kids can eat FREE.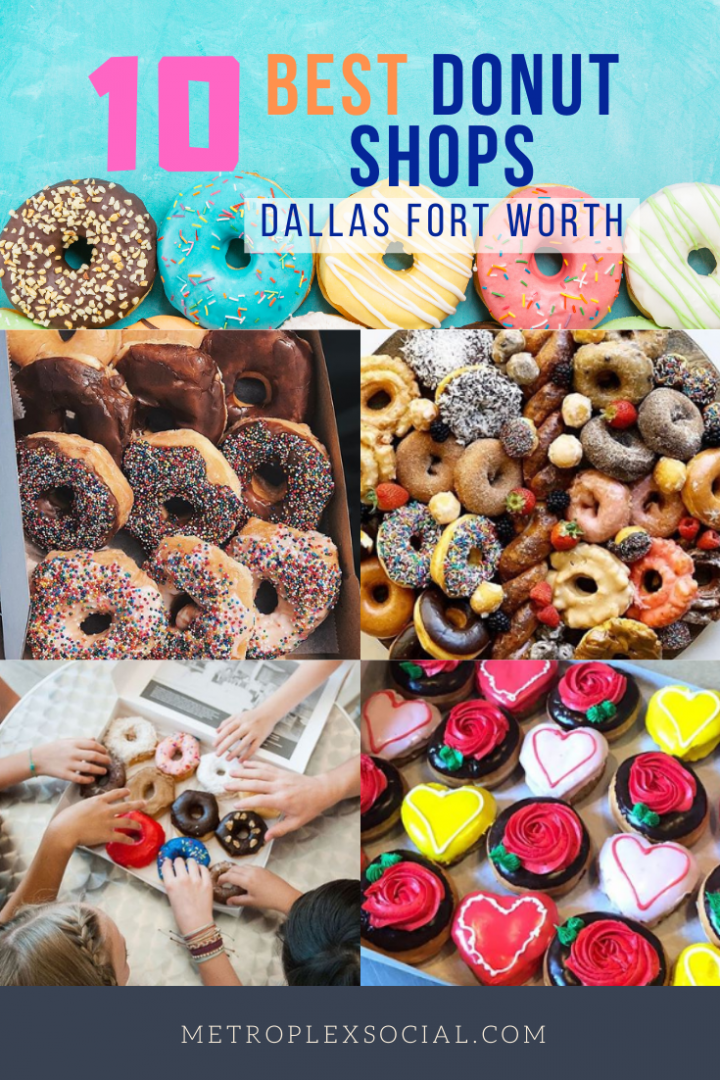 Everybody seems to have their favorite when it comes to local doughnut places in the metroplex. Every town or city seems to have just that perfect one spot that locals love.
So, set your alarm clocks because some of these places you're gonna have to get their early if you want any at all. Keep reading to discover the Best Donuts in Dallas Fort Worth: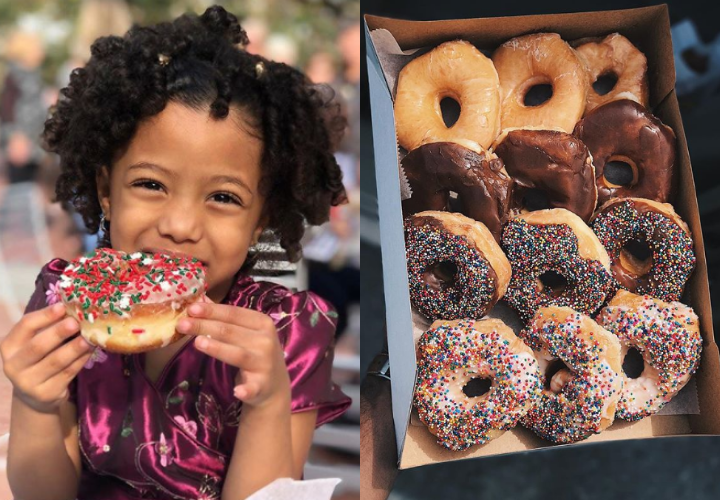 10 Best Donuts in Dallas Fort Worth You'll Actually Love
Hand me a napkin and glass of milk, because I'm about to go to town on these DFW donuts.
1. Urban Donut – Dallas
Urban Donut has created a unique donut experience. You can personalize your donut just the way you like at their "Design Your Own Donut" Bar.
Holy Moly! Clearly, this is not your everyday typical donut joint.
Urban Donut, 2805 Allen St, Dallas, TX
2. Sara's Donut Story – Flower Mound
Sara's Donut Story is a dream come true for owner, Faith Sara Ko, who has been dreaming about opening a bakery since she was a teen. Making donuts brings her and locals in the Flower Mound, TX area so much joy and happiness.
If you ask someone in the "Flowerplex" where their favorite donut shop is located, they'll answer 9.8/10 times "Sara's Donut Story."
Sara's Donut Story, 2201 Long Prairie Rd, Flower Mound, TX
3. FunkyTown Donuts – Fort Worth
FunkyTown Donuts is a Fort Worth family-owned bakery that makes handcrafted donuts. FunkyTown's goal is to "put a Funky twist on the traditional doughnut and give that good old southern charm."
There are a variety of donuts offered daily including yeast and cake donuts, with a rotating list of seasonal glazes. FunkyTown Donuts also offers gluten free and vegan options on Wednesday and Sunday.
What a great place to take your family and friends!
FunkyTown Donuts, 1000 8th Ave #101, Fort Worth, TX
4. Max's Donut Shop – Allen
Where else to take out of town guests? Max's Donut Shop.
Kim says: "My cousins have recommended this place several times and we finally went a few weeks ago. I've been back and today will be my 4th time. Never had a better doughnut. There are not enough words to describe it. I knew when the line was about 20 people long that I would love this place."
We've heard they are even better when stuffed with ice cream.
Let me know.
Max's Donut Shop, 105 N Greenville Ave #13, Allen, TX
5. Hurts Donut – Frisco
Man, these guys take PRIDE in their OVER SIZED donuts! Hurts Donut makes 70 varieties on rotation daily and they were featured on BUZZFEED and Food Network magazine.
Hurts Donut, 3288 W Main Street, Frisco, TX.
6. The Donut Kitchen – McKinney
The Donut Kitchen located in McKinney, TX has a little of everything…and what I love the most is that not only do they serve mouth-watering gourmet donuts, but they also have a variety of other light fare to choose from too.
(This which means you can first stuff your kids with breakfast dishes, soups, salads and sandwiches before letting them chow down on a donut).
The Donut Kitchen, 7250 Virginia Pkwy #140, McKinney, TX
7. Shipley's Donuts – Pantego
Shipley's Donuts is the multi-state chain that got included in this list where the specific location was mentioned to be better than all the other locations. Go try them out in PANTEGO, TX and let me know, please.
Shipley's Donuts, 2524 W Park Row Dr, Pantego, TX
8. Jarams Donuts – Lakewood
Jarams Donuts in Dallas, TX call themselves Creative Donut Artists.
Chris says: "The speciality donuts are to die for here! The croissant donuts and funnel cake donuts are always delectable. You can also find very cute and creative seasonal donuts here.
Ps. The creme brulee donut is to die for."
Jarams Donuts, 2117 Abrams Rd, Dallas, TX
9. Lone Star Donuts – Deep Ellum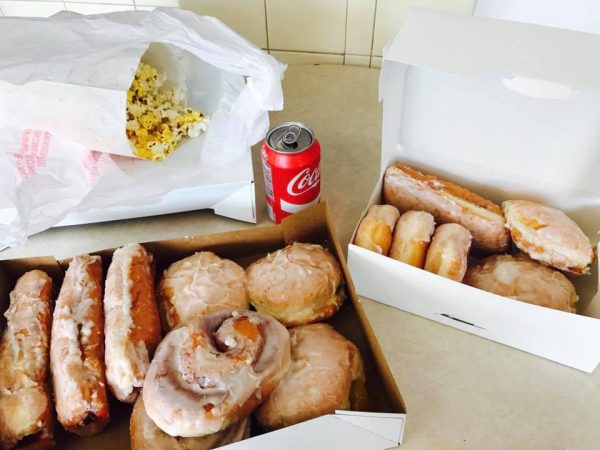 Since 1950, Lone Star Donuts have been locals' favorite donuts in Deep Ellum. And it's easy to see why.
Rob says: "Where do i start. i drive all the way from grand prairie to dallas (oak cliff) just to enjoy a lone star donut jellyroll. they always get it right. i can't wait for my next trip to purchase and devour a lone star jelly roll to add to my belly roll…."
Lone Star Donuts, 1727 N Beckley Ave, Dallas, TX
10. Detour Donuts – Frisco
I am so glad someone recommended Detour Donuts in Frisco, TX!
Detour Donuts is serving up gourmet doughnuts, craft coffee, and baked goods everyday that are sure to put on a smile on your face and make your tummy happy.
Detour Donuts, 8161 FM 423, Frisco, TX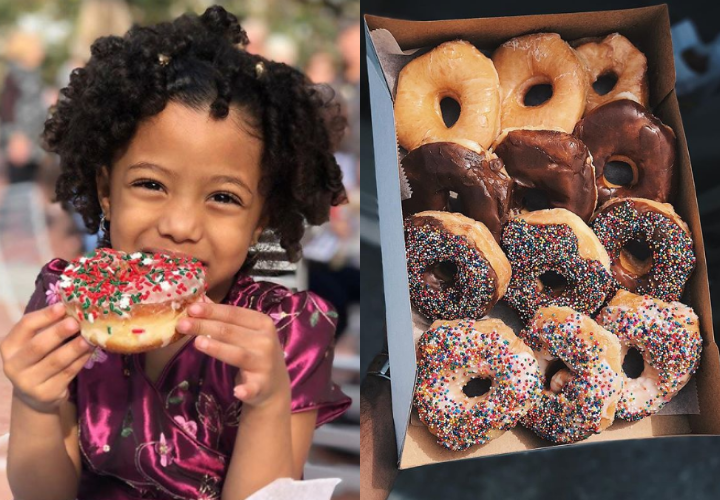 Best Donuts in Dallas Fort Worth You'll Actually Want to Eat
There are so many choices when it comes to donuts in the metroplex that we're sure you're going to find the one (or two) that make your heart swoon. We know ours did.
Plan on visiting one of these local donut shops? Have a donut shop you want to recommend? Be sure to tag us on social media @metroplexsocial #discoverDFW for your chance to be featured.