Get your selfie game on because we've got the Top 20 Coolest Places to Take Instagram Photos in Dallas Fort Worth waiting for all your filter magic!
When you're done with this list, make sure you also check out our list of 20 MORE Top Instagram Spots Near Dallas!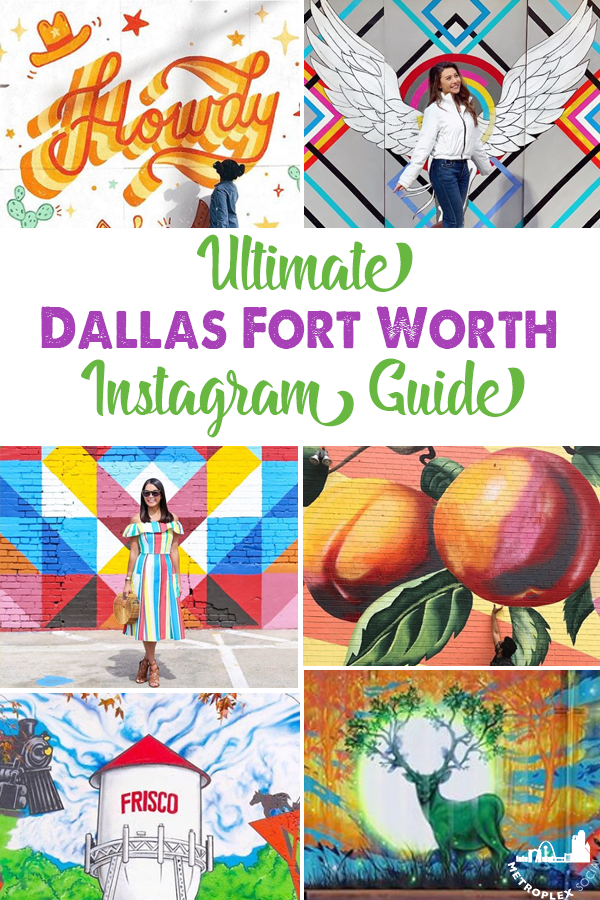 We know you've been wanting this ultimate Instagram list for photos in Dallas Fort Worth…and we had the funnest time finding all the coolest and most creative Instagram-worthy places and backdrops for your profile. Lets explore DFW!
One of the awesome things about finding local spots to get your pic taken is that you'll often discover new places to eat, shop, and play. That's what we're all about here at Metroplex Social!
Find your next favorite hangout while taking on this bucket-list of the Top 20 Coolest Places to Take Instagram Photos in Dallas Fort Worth!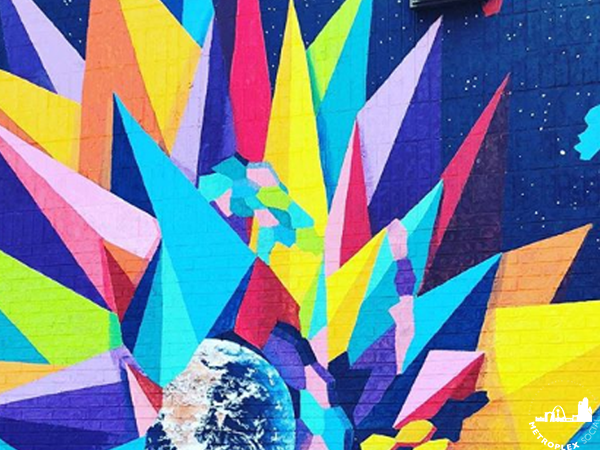 Top 20 Coolest Places to Take Instagram Photos in Dallas Fort Worth
1. Deep Ellum
With so many murals in Deep Ellum, you're SURE to find an Instagram spot that's perfect for your profile. This historic part of Dallas is full of culture and it gets popping after dark…
Location: Deep Ellum, Dallas, Texas
2. The Hill Shopping Center
Situated in the heart of Dallas, The Hill is a historic mixed-use center located at the northeast corner of Walnut Hill and US-75 Central Expressway.
Hang out with the coolest murals, shopping, and dining near Preston Hollow. There are several awesome backdrops to choose from and I especially love chilling at the courtyard after lunch.
Location: Walnut Hill and 75, Dallas, Texas
3. Dallas Pegasus Plaza
Pegasus Plaza is a public park located in Downtown Dallas, Texas. Located at the corner of Akard and Main Street in the Main Street District, the plaza takes its name from Pegasus, the iconic sign atop the adjacent Magnolia Hotel and the mythical flying horse.
Question – How many Pegasuses can you find in Downtown Dallas?
4. Bishop Arts District
Created by local artist, John Bramblitt, who completely lost his eyesight before he began to paint, this mural in the Bishop Arts District is absolutely amazing and needs to get on your gram stat!
5. Denton Peach Mural
Grab life by the peaches! This is such a beautiful Instagram-worthy photo op in our quirky neighbor to the North…aka Denton, Texas.
Location: Bolivar and Congress in Denton, TX
6. Denton Lady Portrait Mural
Located near the Square in Denton, TX. Denton is home to several murals and public art pieces you can get your selfie game on located in Denton.
This just may be the second ultimate Instagram mural destination in DFW. Also, be sure to check out the public murals at LSA Burger on the Square while you're there (these get changed out occasionally).
Location: Near the Square in Denton, TX
7. Denton Purple Door
Half the fun is finding the purple door in Denton, TX!
The only clue we're giving you is that it is near the courthouse and you're probably gonna drive right by it and not notice.
Location: Shhhhhh!! It's Denton tradition not to give the location away.
8. Fort Worth "Howdy" Mural
One of my favorite Instagrammable spots in DFW! Show your Texas spirit when you post the iconic "Howdy" mural to your gram.
Mend Hair Studio is located at 1418 N Sylvania Ave, Fort Worth, TX
9. McKinney – Cadillac Pizza Pub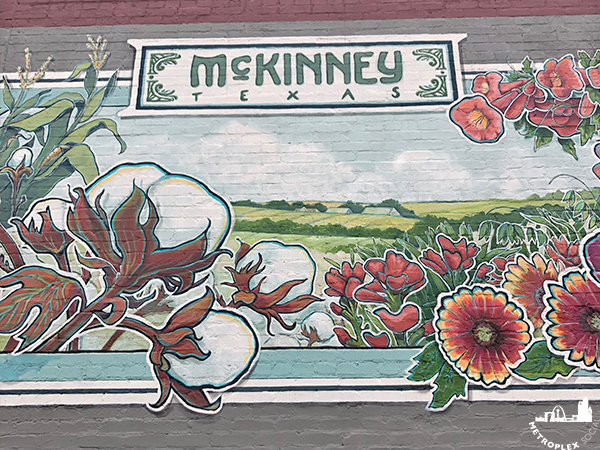 Hang out in Downtown McKinney, Texas this year after a full day of shopping and dining go find this Instagrammable wall mural!
This mural is located on the wall of Cadillac Pizza Pub in the rear parking lot.
10. McKinney Cool Flames Mural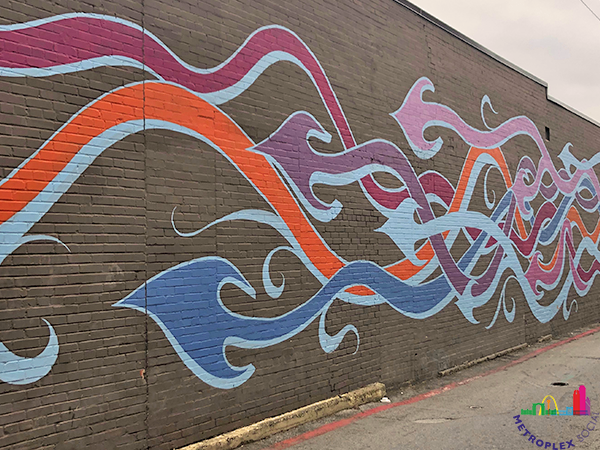 Don't go too far from the last spot…make sure you catch this Instagrammable spot before you go!
Located between two buildings and is on the side of Mellow Mushroom in McKinney, TX in a narrow alley.
11. Weird Giant Eyeball in Dallas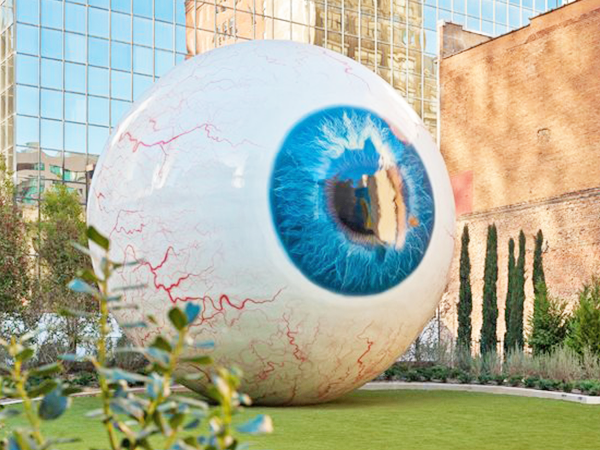 Ever feel like someone is staring at you? Now, exactly WHY there's a giant 30 foot eyeball in Downtown Dallas is beyond me…much your gram is gonna blow up with comments after you post this one.
Located at The Joule, a swanky hotel in Dallas, which you can set your gps to 1601 Main St.
12. Fort Worth Water Gardens
Located in Downtown Fort Worth, this FREE public display of water features is a great local DFW spot to take Instagram-worthy pics. There are several pools and water features to choose from when you take a drive to this family-friendly Fort Worth location.
Make it a day trip and read more about the Fort Worth Water Gardens here.
13. Sundance Square
This popular Downtown Fort Worth spot for taking pictures is the perfect backdrop for your Instagram creativity!
And bring the kids, because if you come in the afternoon they are gonna have the funnest time running through those fountains.
Only got 48 hours? Here's How To have the Most EPIC Weekend in Fort Worth this year!
14. Deep Ellum Water Tower Mural
There are sooo many public murals in Deep Ellum, TX which is why we think it's DFW's BEST spot for Instagram photos.
While you're in Deep Ellum, be sure to take advantage of all the trendy restaurants and relaxed vibe of this historic Dallas location.
15. Box Office Warehouse Suites
Explore this vibrant and modern business park in Fort Worth that offers retail, office and warehouse space–all made entirely out of converted shipping containers!
This business park has some of the coolest public murals on display in North Texas. We're sure you'll find one to fall in love during your trip out there.
Located just south of Alliance Airport at 1953 Golden Heights Rd in Fort Worth, TX
16. Ford Center at The Star in Frisco
The ultimate Instagram photo guide to Dallas Fort Worth wouldn't be complete without a mention of Ford Center at The Star in Frisco!
Grab your phone and head on over for this spot that embodies the culture of Dallas.
Grab your BFF's and camera and make it a day trip with these trendy shops and eateries at The Star. You're going to fall in love with this Dallas Cowboys shopping district!
Located between the Omni Frisco and Dallas Cowboys World Headquarters.
17. Fort Worth Stockyards
Fort Worth is where the West begins, and nothing embodies Western heritage better than the Fort Worth Stockyards National Historic District.
In case you didn't already know, real cowhands lead cattle drives at 11:30 am and 4 pm every day of the week down Exchange Ave.
Location: 2501 Rodeo Plaza, Fort Worth, TX
18. Thanks-Giving Square Dallas
Thanks-Giving Square is a place that inspires gratitude and honors the great American and world traditions of thanksgiving.
Designed in 1976 by architect Philip Johnson, this island of serenity in the heart of downtown Dallas contains a landscaped meditation garden with cascading fountains and a chapel open to people of all faiths and traditions.
The stained-glass spiral viewed from inside looking upwards needs to get on your Instagram grid.
Located in Downtown Dallas
19. Eighter from Decatur Mural
Eighter from Decatur, County seat of Wise!
Definitely on our list of Instagrammable spots in DFW is this mural and 12 foot tall dice sculpture…but you're gonna need to drive out about 30 minutes west of Denton or about 30 minutes north of Alliance Airport in Fort Worth to get to it.
Make it a day trip and explore more of Decatur with pics at the massive courthouse and many local shops on the square. So much history in this Wise County town!
E. Main or E. Walnut Sts at the intersection with S. Church St.
20. See Yourself in Frisco Mural
From cattle drives and steam trains to sports and the fine arts, see it all on the new mural in the Rail District!
Depicting Frisco's past and present, it took 30 days for Frisco Artist, Joshua Boulet, to complete the masterpiece using spray paint.
Check it out at the corner of 4th and Main Street.
Where To Go for the BEST Instagrammable Photos Near Dallas!
Who says the metroplex is boring? It doesn't have to be if you get out with a mission to explore and get to know our cities more.
We hope this guide to the Top 20 COOLEST Places to Take Instagram Photos in Dallas Fort Worth helps inspire you to get out with your phone camera and meet new friends in our cities!
Here's more cool spots around the metroplex you're going to love:
Did we miss a cool Instagram-worthy spot? Let us know! Be sure to follow us on social media @metroplexsocial #discoverDFW for more awesome places to go in Dallas Fort Worth and beyond!