I love discovering awesome Dallas Instagram spots and I can hardly go through my Instagram feed without seeing one of my friends posing in front of the coolest backdrops in Dallas. These amazing backdrops are popping up everywhere around the metroplex and each one is unique and different! Here's my favorite Instagram-worthy places around Dallas.
Related: Top 20 Coolest Places to Take Instagram Photos Around DFW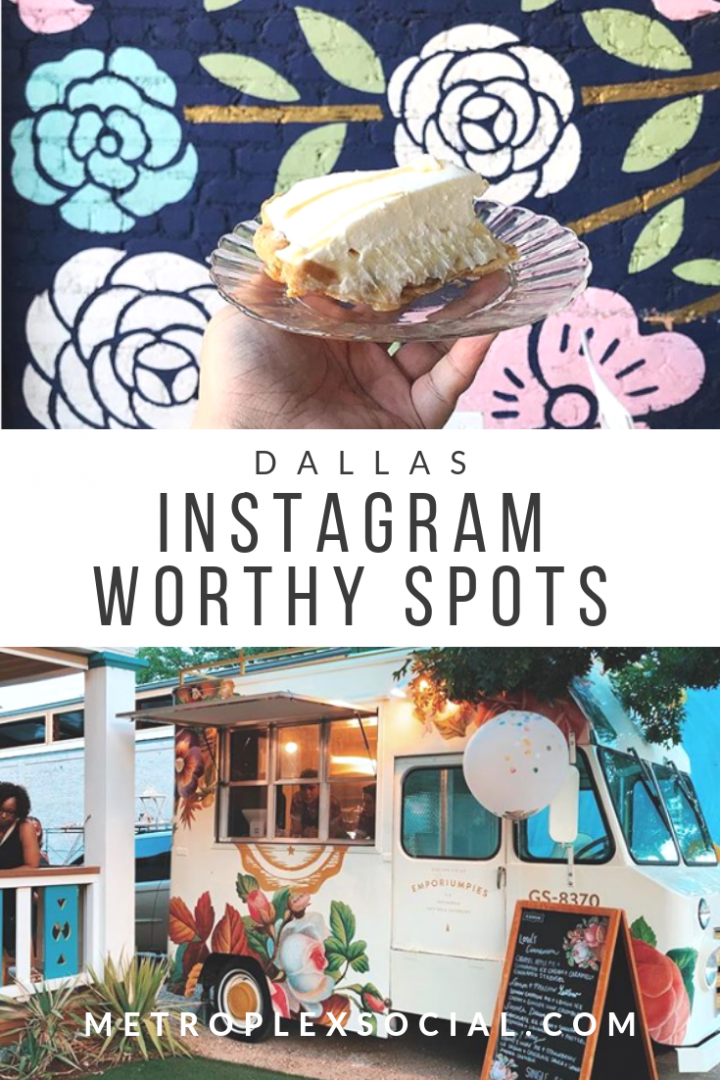 If you are wanting to spice up your Instagram feed these Dallas murals and backdrops will make your pictures POP and have everyone asking you, "Where is this?" Keep reading to see where my fave Dallas Instagram spots are around town:
Perfect Dallas Instagram Spots for the BEST Photos!
1. Emporium Pies
View this post on Instagram
Next time you are in Deep Ellum you have got to make your way to Emporium Pies! This mural is so much fun, I mean who doesn't love pie and fine folk!
Pro Tip: While you are there taking pictures in front of the mural, go ahead and order yourself a slice of Ebony and Ivory, it is the VERY best!
Address: Fine Pie for Fine Folk – Emporium Pies, 2708 Main St #110, Dallas, TX
2. The Eyeball – Joule Hotel
Now this photo op is sure to turn some eyes (get it)! Located at the Joule Hotel the Eye sculpture stands 30 feet tall – WOW! You cannot go through Dallas without stopping to see the Eye.
Address: The Eyeball – The Joule Hotel, 1601 Main St, Dallas, TX
3. Love Equation Mural
View this post on Instagram
Grab your boo or best friend and head over to the Love Equation mural and strike a pose! This equation mural equals an adorable picture!
Address: On the Corner of Davis Street and Madison Avenue in the Bishop Arts District
4. Pegasus Plaza
View this post on Instagram
Dallas is known for two things (ok more than two but bear with me now):
Pegasus and Big D.
Get them both in one awesomely perfect Dallas Instagram spot photo the next time your in downtown Dallas.
Address: Pegasus Plaza in Dallas, Texas
5. We love Oaklawn
This grocery/ food mural is bright and just puts a smile on our faces! Next time you are in the Greenville head over this this mural and take some fun pictures to brighten up your Instagram!

Address: Across from the drive through at Start, 4023 Lemmon Ave, Dallas
6. Preston Center
Make your way through all the luxury shops at Preston Center, but never forget to grab a few quick pics against their bright murals!
Address: 8300 Preston Rd, Dallas, TX 75225
7. Shops at Legacy
This spot really has a little bit of everything. From the urban look of their modern shops, to murals that are bubbly and bright, and even a park area with a great pond, there's all sorts of insta options at Shops at legacy!
Address: 5760 Legacy Dr, Plano, TX 75024
8. Downtown Plano
Another location with tons of content opportunities! Their historic downtown has tons of brick shops and even a vintage train you can hop on. Walk through their various coffee shops to Haggard Park for some photos in front of their gazebo.
Address: E. 15th Street, Plano
9. Deep Ellum
We all know Deep Ellum is mural HEAVEN! Every corner, parking lot, and restaurant has some sort of unique graphic or artwork available for a photo. Pick a spot and start to wander, you'll love what you see!
Address: 2713 Canton St, Dallas, TX 75201

10. Walnut Hill Center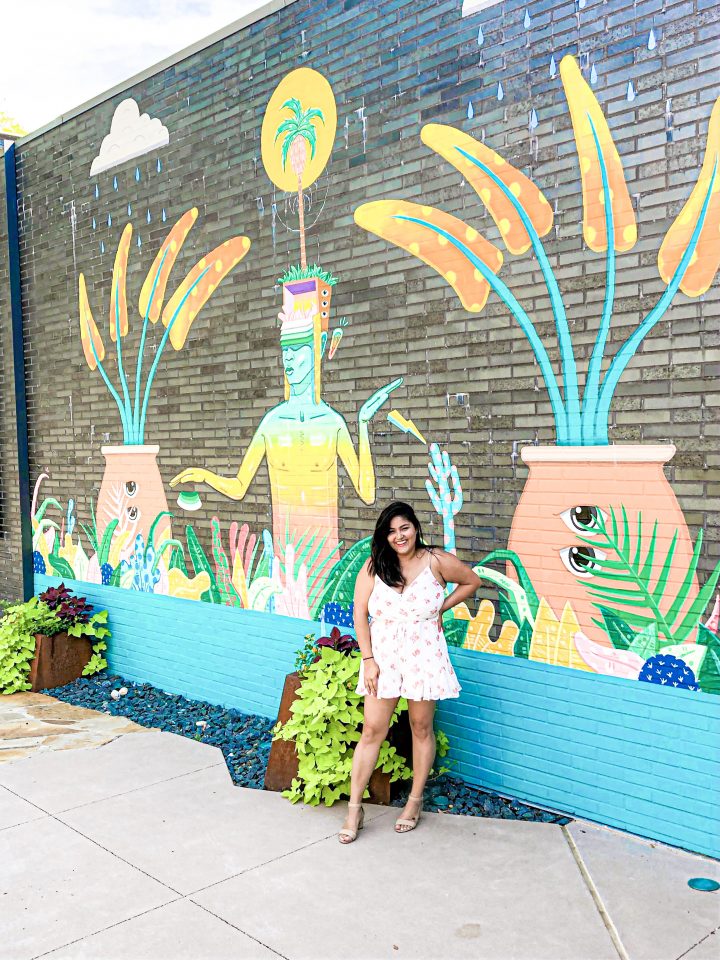 A little more hidden than most other Instagram spots, the Walnut Hill Shopping center is filled with yummy restaurants Instagram loves. Walk into their central courtyard area for tons of murals so you can leave ready for your next big Instagram break!
Address: 8041 Walnut Hill Ln Suite 846, 75231
11. Lala Land Kind Cafe – Lower Greenville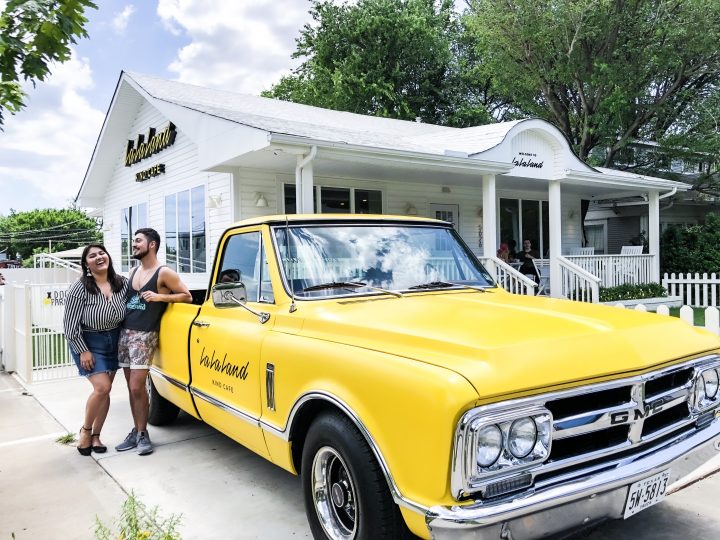 Lala Land Kind Cafe is gorgeous inside and out. Their all white interiors are great pops of yellow color, and their famous bright yellow truck is always the center of attention. You can find some more beautiful coffee shops here.
Address: 5626 Bell Ave, Dallas, TX 75206
12. Bishop Arts – Oak Cliff
Bishop Arts – the name speaks for itself, right? This neighborhood in Oak cliff is littered with gorgeous artwork and boutique shops. Get dressed up and take a walk to find your favorite mural!
Address: 314 N Bishop Ave, Dallas

13. Sweet Daze – Richardson
Between their gourmet desserts or their eye catching wall displays, everything about this dessert shop screams Instagram! Plus, who needs an excuse to grab some yummy treats?
Address: 581 W Campbell Rd, Unit 127 Richardson, TX 75080
14. Mockingbird Station
Mockingbird Station has a modern feel that will look great on your Instagram feed. With bright colors and sleek designs, you'll wonder why you didn't stop by earlier!
Address: 5321 E Mockingbird Ln, Unit 230 Dallas, TX 75206
16. GROW – Fort Worth
A little plant shop in a vintage airstream? Get your phone out, because this is the perfect instashot! Look at all those cute little potted plants!
16. Four Corners Brewing – Dallas
Tons of different options at Four Corners Brewing thanks to their listeria themed wall murals! Find which card fits you best and grab a pic.
Address: 2314 Myrtle Springs Ave, Dallas, TX 75220
17. Fiction Coffee – Dallas
Quotes are always a hit, especially when they truly speak to you! Give everyone their daily dose of positivity thanks to Fiction coffee.
Address: 1623 N Hall St, Dallas, TX 75204
18. Gemelle – Fort Worth
Gemelle is a new favorite in Fort Worth, and who can blame them? From gorgeous seating and neon lights to a patio packed with greenery, Gemelle made sure we would snap a few pics every time we visit them!
Address: 4400 White Settlement Rd, Fort Worth, TX 76114
19. Stock Yards – Fort Worth
The stockyards have everything from Texan Cowboy vibes to hipster wall murals! You can't miss out on these photo ops, so head on over. Read a little more about what the stockyards have to offer here.
20. The Foundry District – Fort Worth
Bright wall murals are a trend we love! Stop by this awesome walkway in Fort Worth for artwork that'll make your jaw drop.
Address: 200 Carroll St, Fort Worth, TX 76107
Summary
Here's Where to Find the Perfect Dallas Instagram spots for photos. Next time you are out and about a see one of these murals be sure to tag us @metroplexsocial! We would love to see your pictures in front of these fun murals located all over the DFW metroplex!
Did we miss one of your favorites? Comment below and let us know!