When Valentine's Day this February 14th comes around, it can be hard to think of fresh ideas. If you're a hopeless romantic just trying to impress a very special someone this year, this list of the most romantic restaurants for Valentine's Day in Dallas will help you start off an unforgettable night!
When you're done with dinner, check out over 55 more date night ideas in the metroplex.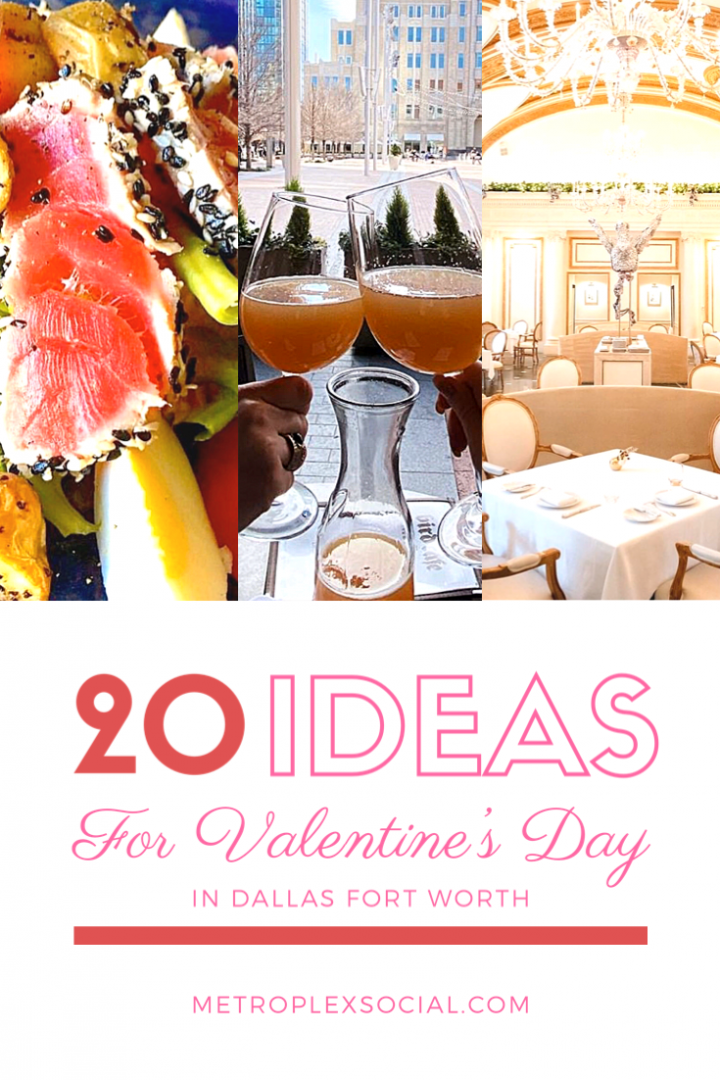 There is so much work that goes into laying out the perfect dinner plan. Making sure you're both happy and sharing intimate moments can be tricky on a crazy night like Valentine's!
You're in luck though, because these dinner options in DFW are known for having the perfect vibes to help sparks fly! Here's 20 of The Most Restaurants For Valentine's Day In Dallas Fort Worth: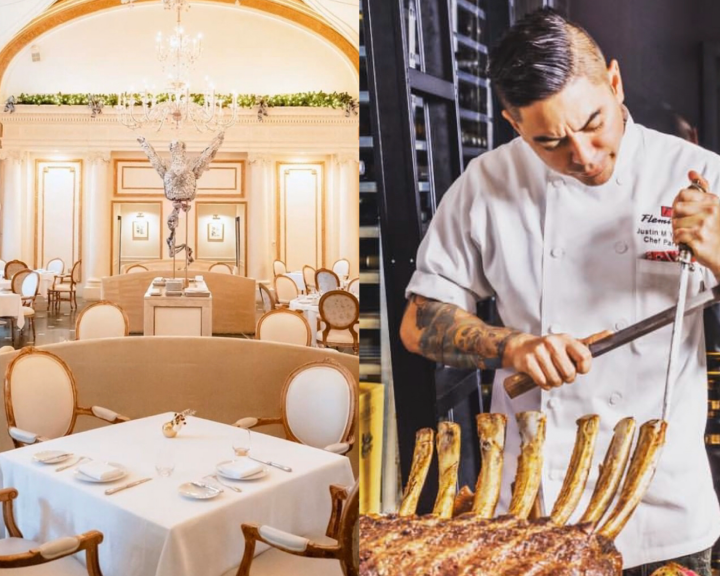 Create A One Of A Kind Valentine's Day In Dallas This Year
Making a reservation at one of these coveted DFW favorites will make your date the luckiest person in the world!
Ruth Chris Steak House – Valentine's Day In Dallas Fort Worth
Everyone from Dallas to Fort Worth has a Ruth Chris location near them! Thanks to their extensive menu of quality seafood and steaks, there will be something for anyone to enjoy!
Ruth Chris Steakhouse, Various Locations Across DFW
Fachini – Highland Park
I love a good Italian restaurant for Date Night, and Fachini always delivers! Their pasta is absolutely delicious and their prices are very reasonable. You can even walk around the Highland Park shopping area after dinner!
Fachini, 33A Highland Park Village, Dallas, Texas
Delta Charlie's – Date Night Idea in Dallas
Here's an absolutely amazing date idea in DFW! At Delta Charlie's you can book a romantic aerial tour of Dallas!
An evening flight on a private plane with Delta Charlie's will make this Valentine's unforgettable.
Add in a fantastic dinner at one of these romantic DFW restaurants while you get a birds eye view of the Dallas Skyline!
Delta Charlie's, 5303 Challenger Dr, Dallas, Texas
The French Room – Downtown Dallas
This list wouldn't be complete without the ultimate Dallas Romantic Restaurant… The French Room. This is the kind of place you'll want to dress up for!
Make reservations fast though, because this French beauty will fill up faster than you can blink. Get ready to open up your wallet for this one.
The French Room, 1321 Commerce St, Dallas, Texas
Town Hearth – Valentine's Day in Dallas
If you want to stray from the usual and try something new and fun in Dallas, then Town Hearth will be your Dallas romantic restaurant choice.
Town Hearth, 1617 Market Center Blvd., Dallas, Texas, 214-761-1617
Gemma – Valentine's Day in Dallas
This beautiful Farm-to-Table restaurant in Lower Greenville is known for having incredible oysters, mouthwatering desserts, and an incredible interior!
Gemma, 2323 N Henderson Ave, Ste 109, Dallas, Texas
Capital Grille – Plano
There's a reason Capitol Grille in Plano is constantly voted one of the top steakhouses In Dallas Fort Worth! Make sure to reserve your table and get ready for a complimentary champagne bottle with your Valentine's meal!

Check Availability Here
Flemings – Plano
Your Plano Fleming's is located at the Legacy Tower in Plano on the southeast corner of the Dallas North Tollway at Legacy Drive.
Whether you're celebrating, dining at lunch with business clients or want a night out with friends, Fleming's has created the perfect ambiance with a menu filled with your favorites and a local chef's table that changes with the season.
Flemings, 7250 Dallas Pkwy, Plano, Texas
Eight 11 Place – Frisco
A patio, live music, glass of wine and good eats… all by the fire and under the stars. Doesn't get much more date night than that.
Located on Main Street in Historic Downtown Frisco, Eight11 Place is a cozy little wine bar, featuring craft brews and light bites. Known for live music on the weekends and their yummy Fireside S'more Board, it's the perfect place for a romantic and unique date night.
Eight11 Place, 7080 Main St, Frisco, Texas
Five Sixty – Reunion Tower
You knew this place was going to be on every Dallas Romantic Restaurants before you opened it, admit it! Five Sixty is the gorgeous restaurant in the Dallas Ball that you see in our skyline every day!
Of course, Five Sixty has an amazing menu full of delicious food & cocktails. However, what makes it romantic is the incredible view of Downtown that you get. Note: if you ask the hostess really nicely they will put you right by the windows!
Five Sixty, 300 Reunion Blvd E, Dallas, Texas
Del Frisco's Grille – Valentine's Day In Dallas
Del Frisco's is known nationally for their extensive menu and amazing quality meats! If you're an aficionado you'll find prime steak with yummy sides like sweet potatoes fries. Lighter eaters will love their entree and appetizer combos, or even a great salad.
Rise No. 1 – University Park
You are going to love this little French restaurant in Dallas! The baguettes are impressive and pairs well with its delicious food.
The interior of this Dallas restaurant is covered in a beautiful French countryside with exposed brick and white tablecloths. This restaurant is on the more affordable side and makes a great spot for a lunch date.
Rise No. 1, 5360 W. Lovers Lane Suite 220, Dallas, Texas
SER Steak – Medical District
Steakhouses are always a perfect spot for a cozy dinner with your S/O. SER is the place to find a really good cut in Dallas. Bring your wallet, because your experience is an investment. The rooftop views are INSANE.
SER Steak, 2201 N Stemmons Fwy, Dallas, Texas
Lonesome Dove Bistro – Fort Worth
Join us on the day of LOVE and we'll help make it a memory you'll cherish forever.
February 14th, 4:30 – 11:00PM
Make this Valentine's Day one to remember with an extraordinary dining experience at Lonesome Dove Western Bistro. Exclusive menu is $110/pp plus tax and gratuity.
B&B Butchers – Fort Worth
Located in The Shops at Clearfork, B&B Butchers & Restaurant is an upscale steakhouse and butcher shop that specializes in serving prime A5-certified Kobe beef, fresh seafood, and other meat dishes.
This Fort Worth restaurant is open for lunch and dinner, seven days a week.
B&B Butchers and Restaurant, 5212 Marathon Avenue, Fort Worth, TX 76109, 817-737-5212
Bird Cafe – Sundance Square
Bird Cafe is located in the historic Land Title Building on Fort Worth's famous Sundance Square. This gastropub with unique bird-themed décor serves New American cuisine on small plates.
The café is a chef-driven restaurant that focuses on delectable shared dishes, such as mussels, pot pies, and small gourmet specials, along with fine wines, craft beers, and handcrafted cocktails.
Bird Cafe, 155 E. 4th and Commerce, Fort Worth, TX 76102, 817-332-2473
Bari's Pasta and Pizza – Flower Mound
Some of us love keeping Valentine's Day casual and fun! Grab a gourmet pizza from Bari's for a great Italian dinner. Family friendly and loved by Flower Mound locals, Bari's is a neighborhood restaurant that goes above and beyond to make your dinner memorable!
Bari's Pasta and Pizza, 3472 Long Prairie Rd, Flower Mound, TX, (972) 539-7091, Make Your Reservation
EG Steak – Frisco
All you can eat meat, a salad bar that will leave you stuffed, and incredible service? EG, formerly Estilo Gaucho, is a full service Brazilian steakhouse for those really wanting a hearty meal for Valentine's. They even have a ton of vegetarian options!
EG Steak, 8650 TX-121, Frisco, Texas, (214) 618-6150, egsteak.com
Sixty Vines – Valentine's Day In Dallas
Sixty Vines has a gorgeous, inviting, and warm atmosphere That makes it the perfect spot for perfect occasions.
Unique dining options like goat cheese pizzas or duck fat potatoes are common on this menu, and with over 60 wine and beers on TAP this is a favorite in DFW!
Not to mention, if you are someone with a dietary restriction needing gluten free or vegetarian options you won't feel limited!
Sixty Vines, 500 Crescent Ct, Suite 160 Dallas, Texas, (214) 814-8463, sixtyvines.com
Soho Food And Jazz – Addison
Soho is a hidden gem in the Addison area! With a variety of food and flavors on the menu and tons of great cocktails, it makes it the perfect spot for picky or indecisive eaters. Live jazz only adds to the swanky and intimate feel of this wonderful little spot.
Soho, 5290 Belt Line Rd, Ste 102B, Dallas, Texas, (972) 490-8686, sohofooddrinksandjazz.com
20 Romantic Restaurants for Valentine's Day in Dallas Fort Worth
These are some of the top intimate and romantic Valentine's Day ideas in Dallas! Take your pick and create a unique night filled with love. You'll both be on cloud 9 after spending a day at one of these amazing places!
Did you favorite spot make the cut? Let us know in the comments below! Be sure to follow us on social media at @metroplexsocial.