Looking for a unique dining experience near the metroplex? Love horses, camels, zebras, and cute farm animals? Well, roll up your sleeves and get ready for adventure at Whitehorse Steakhouse!
These are the 25+ Weird and Wonderful Restaurants in Dallas Fort Worth you've gotta see to believe…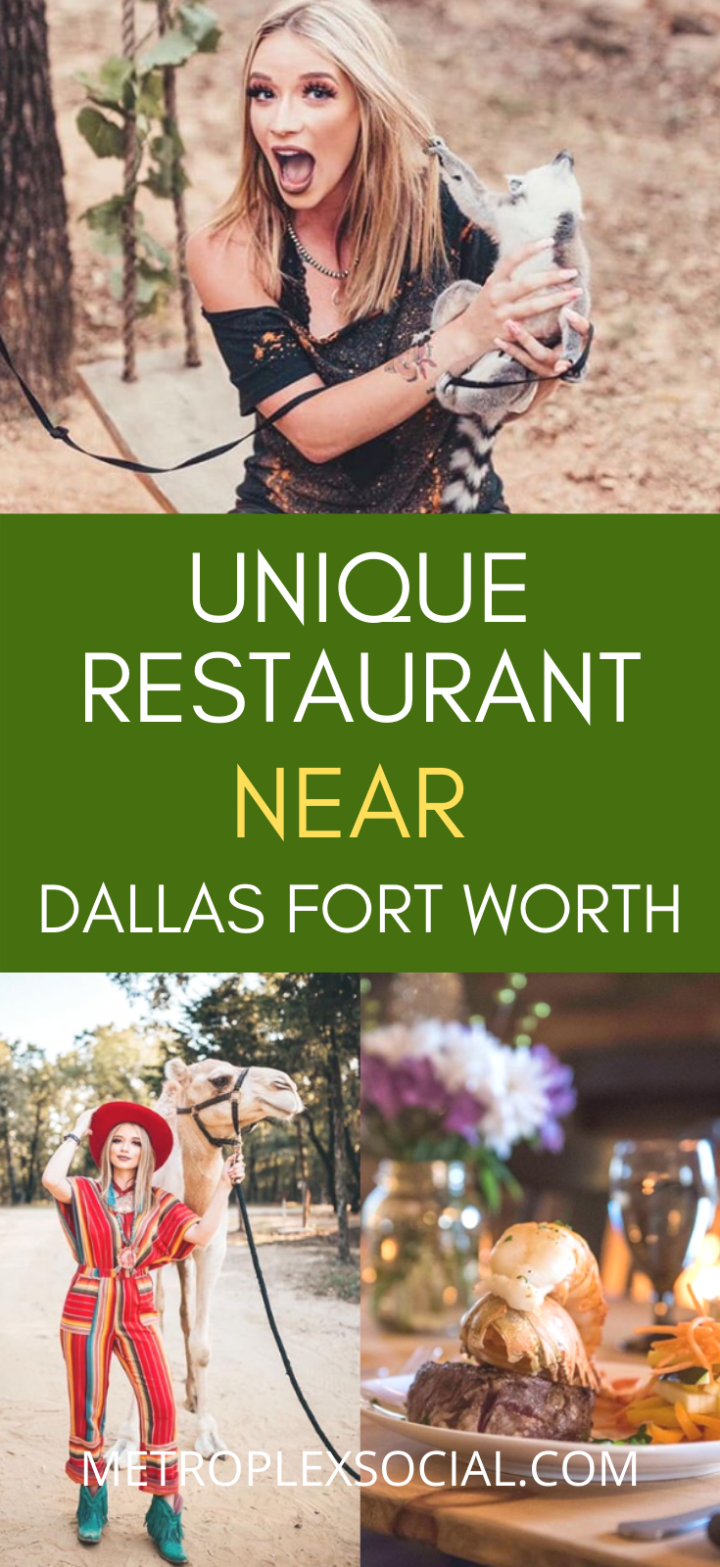 The Whitehorse Steakhouse experience is inspired by family, community gatherings, old barns, shared stories, Dutch oven-cooked campfire food, summer days in the sunshine, and winter nights by the fire.
Reservations are required to dine at this restaurant, but we promise it's totally worth it! Keep reading to learn about Whitehorse Steakhouse and how to make reservations.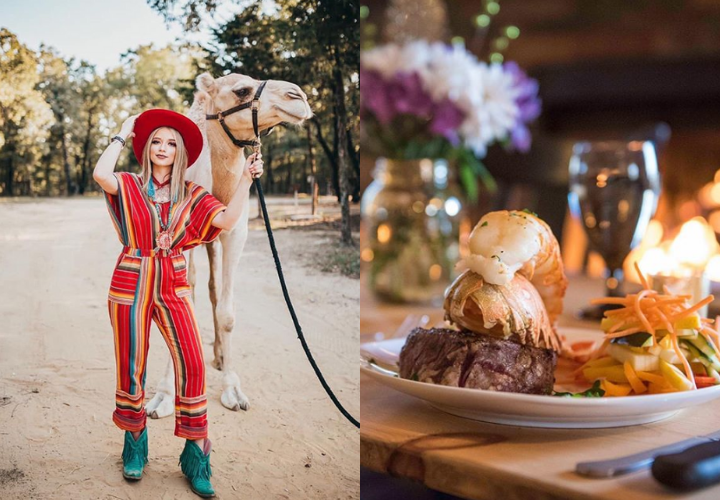 Whitehorse Restaurant Near Valley View TX
Meet all the exotic animals at this unique restaurant near Dallas Fort Worth.
About Whitehorse Steakhouse
Nestled among acres of tranquil woods just 15 minutes from Denton Texas, Whitehorse Steakhouse is not only a destination restaurant, but also the cornerstone of the idyllic rustic wedding destination and event venue, Oak Meadow Ranch.
The Animals at Whitehorse Restaurant Near Valley View TX
At this unique North Texas restaurant there'll be the things you've come to expect at any great steakhouse–delicious grass-fed steak, locally sourced dishes, impeccable service, and beautiful surroundings–and then there's a few surprises awaiting you.
Meet Jo Jo the camel, Chiquillo the service goat, Pirate the dorper sheep, and Armani the zebra while you're waiting for dinner to be served.
Of course, you'll also fall in love with Tony the llama, Donkey Kong and Woody the miniature donkeys.
Not to mention Sydney the famous kangaroo and King Julien the baby lemur. I'm just done y'all.
The Whitehorse Steakhouse Story
Allan and Renay Watt were always enamored with the cowboy lifestyle. Allan was even fondly named "Wall Street Cowboy" by his friends. Their love of competing in cowboy mounted shooting and preparing flame-cooked meals on their vintage chuckwagon for church gatherings sparked their vision of operating an event venue.
They purchased 50 acres of land in 2013 and with help from their family began work on creating a western style town, restaurant, and event venue full of old-fashioned charm of the old west, mingled with a warm, welcoming atmosphere, and graceful luxury.
In January of 2016, the family suddenly, and tragically lost their mother Renay. She truly loved caring for her animals and the beauty of being in the tranquil woods. Oak Meadow Ranch was Renay's dream, and it was her persistent joy and perseverance that brought it to life. Renay was endlessly loved by her family, and it was their greatest hope to fully realize her vision.
Together, the family completed work on the ranch and opened for business in January of 2017. Rustic, yet refined, not too big and not too small, surrounded by the peace and serenity of the quiet country, with no detail overlooked – just as Renay envisioned it.
The Renay E. Watt Wellness Center, 501c3 organization, is working to bring Suicide awareness & Prevention to individuals, Families, Veterans, & First Responders.
How to Experience Whitehorse Steakhouse
The Whitehorse Steakhouse is Reservations Only so plan ahead before heading out. They only have 1 seating so once you get there you can begin to enjoy your evening while your food is prepared.
Feel free to walk around and enjoy the ranch and see all the animals while waiting for your meal to be prepared. You're here for more than a meal, you're here for the experience. Their menu and upcoming events can be found here.
This unique restaurant near DFW is also BYOB. They will provide Iced Tea and Lemonade to all customers, but if you wish and are of LEGAL age to consume alcoholic beverages, feel free to bring some with you. Please Drink Responsibly.
Cabin Rentals and RV spots are available should you wish to stay overnight.
Exotic Wedding Venue Near Dallas Fort Worth
Before you say I do, visit Oak Meadow Ranch and let them help make your day as special as it can be. They also offer full wedding services including: Breathtaking Rustic Chic Venue, Indoor/Outdoor Seating, In-House Chef, Wedding Planner, and Floral and Decoration Teams.
You can't get any more Texan than this place…and your guest will be talking about it for years to come.
Whitehorse Restaurant Location and Hours
Whitehorse Steakhouse is located at 440 Red Top Road, Valley View, Texas. Call them at (940) 902-3679. Remember, reservations are required so plan accordingly before heading out.
Whitehorse Restaurant Near Valley View TX
See all the exotic animals including a famous kangaroo and baby lemur at Whitehorse restaurant near Valley View TX. An unforgettable experience awaits you!
Have you been to this restaurant before? Have a story suggestion? Follow and tag us on social media @metroplexsocial #discoverDFW.