There are plenty of great Dallas sushi restaurants, but some are just a cut above the rest! Are you a lover of all types of sushi and Japanese cuisine? This list of the best Dallas sushi restaurants will help you be able to choose your next fave dinner spot!
Looking for vegan options in Dallas? These Are 8 Vegan Restaurants In Dallas You Have To Try.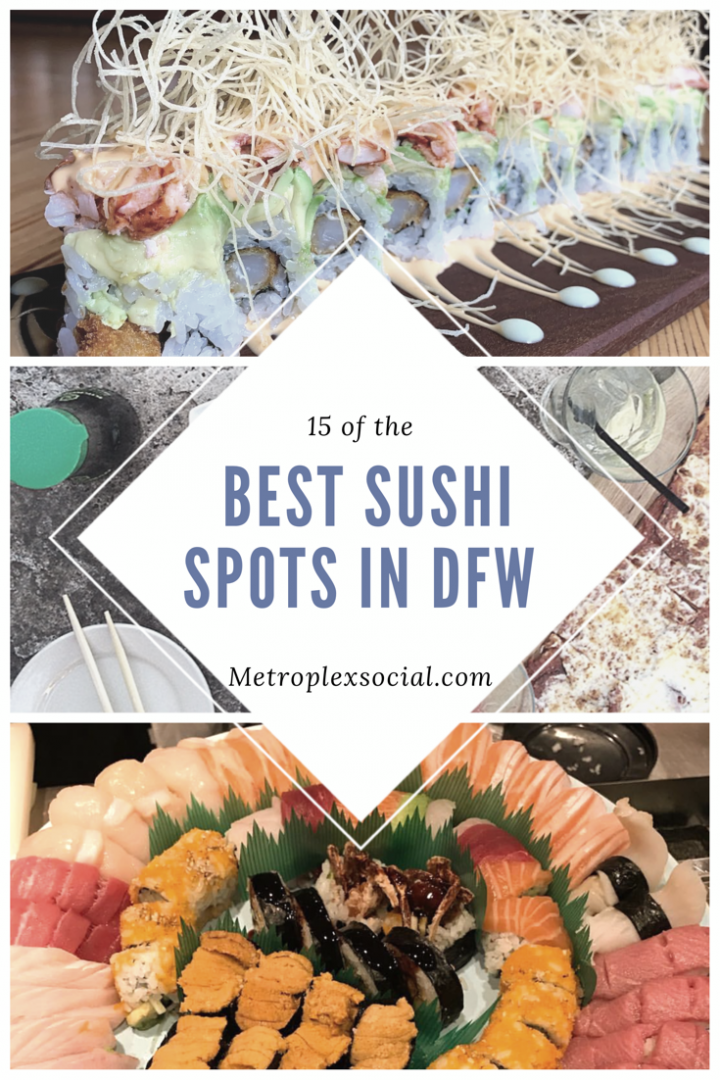 There are so many factors that go into the ideal sushi restaurant. From freshness and quality to price point, these sushi spots really hit the mark for DFW locals! Even your friends who say they hate sushi are going to love these places in Dallas Fort Worth to eat sushi. Here's Where to Find the Best Sushi Restaurants in Dallas Fort Worth: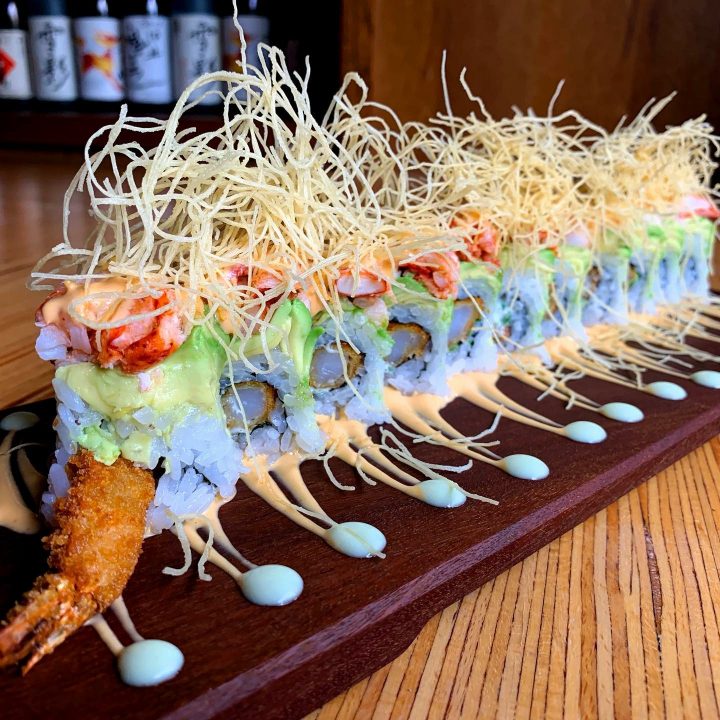 These Dallas Sushi Restaurants Are Where To Take Your Friends
Know that if you go and visit any of these recommended restaurants, you'll leave happy and full of some great sushi!
1. Zenna – Plano, Downtown Dallas
Zenna Restaurant is known for its amazing daily happy hour and great Thai and Japanese cuisine. Enjoy all your favorite rolls for about $3 and don't be shy about ordering their beer tower! Happy hour is from 3pm-7pm!
Address: 2500 N Central Expy, Plano, TX 75074 (multiple locations)

2. Kura Revolving Sushi Bar – Plano
This revolving sushi bar in Dallas is one of our favorites! Tons of different options for sushi and appetizers are constantly revolving by your table. Once you see how yummy these dishes look, it can feel so hard to decide! You can pay for each plate you remove from the bar or order a la carte at Kura.
Address: 100 Legacy Dr, Plano
3. Kona Grill – Northpark Mall
Kona Grill has great sushi and a variety of items like calamari or flatbreads! Their happy hour menu features half priced rolls and discounted apps and sake, and their patio or bar area is great for a chill night out with friends.
Address: 8687 N. Central Expressway, Suite 1722 (multiple locations)
4. Sushi Sake – Richardson
This hidden gem might not look like much from the outside, but Sushi Sake is sushi heaven once you take a seat. Tons of fresh options are on display and sliced right in front of you!
Address: 2150 N Collins Blvd, Richardson
5. imotō – Dallas
Fresh Sushi is only the tip of the iceberg at imoto Dallas! Order off of their full menu for an amazing dining experience, or taste from their wide selection of wines. Either way, it's impossible to leave disappointed.
Address: 2400 Victory Park Lane Dallas
6. Blue Sushi Sake Grill – Fort Worth
Share a few rolls with friends or go ahead and order one of Blue Sushi's famous gigantic cocktails to add a little fun to dinner! My mouth is watering already.
Address: 3131 W 7th Street, Forth Worth (multiple locations)
7. Ku Sushi and Japanese cuisine – Dallas
You have got to oder a delicious tuna tower from Ku! Get ready to receive sushi that's so pretty you (almost) won't want to take a bite!
Address: 11661 Preston Rd #160, Dallas
8. RA Sushi Bar Restaurant – Addison
https://www.instagram.com/p/BUx87nKlTUY/?igshid=12k63fwbw9cno
Enjoy RA Sushi's fully stocked bar, great upbeat atmosphere, and their yummy sushi rolls! Their presentation is flawless and perfect for your next Instagram post.
Address: 5100 Belt Line Rd, #210 Addison
9. Deep Sushi – Deep Ellum
https://www.instagram.com/p/BSEK6TKA6s0/?igshid=azu3dtciquw6
Grab a sushi boat and get ready to fall in love with Deep Sushi. This Deep Ellum favorite is known for their amazing presentation and equally impressive sushi quality!
Address: 2624 Elm Street
10. Oishii – Dallas
Though it is a relatively casual spot, Oishii takes its sushi seriously! A great selection of fresh , quality fish awaits you at Oishii.
2525 Wycliff Ave, Dallas
11. Sushi Axiom – Dallas
https://www.instagram.com/p/By3maeSHkNd/?igshid=lpvj3t2vp7jr
Complete with it's inviting aesthetic and spacious seating, Sushi Axiom is perfect for large parties and social gatherings! The great sushi doesn't hurt either.
Address: 3211 Oak Lawn Ave, Unit C
12. Uchi Sushi – Dallas
This upscale sushi spot gives you a front row seat into the "heart" of the restaurant – the sushi bar! At Uchi Suchi, watch delicious sushi and sashimi be prepared as you fantasize about finally being able to gobble it up.
Address: 2817 Maple Ave Dallas, Texas
13. Nori Hand Roll Bar – Dallas
Chef Jimmy Park goes above and beyond when creating hand rolled sushi for the guests at Nori. The sleek look of the restaurant paired with the delicious gourmet sushi and food makes visiting Nori a truly memorable experience.
Address: 2814 Elm St, Dallas
14. Yutaka Sushi Bistro – Dallas
Another one of the more upscale options on our list, Yutaka has high quality sushi with gorgeous presentation! Try their other seafood creations, like a yummy ceviche!
Address: 2633 McKinney Ave, Dallas
15. Teppo Yakitori and Sushi – Dallas
It's going to be so hard to decide between Teppo's sushi or their juicy Yakitori selection. Might as well get both, right?
Address: 2014 Greenville Ave, Dallas
You Will Seriously Love Eating At These Dallas Sushi Restaurants!
Here are 15 of the most recommended Dallas sushi restaurants according to the locals! Try some of the unique rolls at these delicious spots. You'll never have to worry about choosing a new place for sushi again! With this list, you'll always know you're getting the best sushi experience you can find in Dallas!
Did you favorite spot make the cut? Let us know in the comments below! Be sure to follow us on social media at @metroplexsocial.