Wanna play tourist? Wondering what to do in Downtown Dallas? Everything is bigger in Texas and that couldn't be any truer than in the Big D. Keep reading to discover our Top Things To Do in Downtown Dallas!
Need more ideas? Check out our list of over 21 Things To Do in Dallas. Lots of great places to go in Dallas with kids!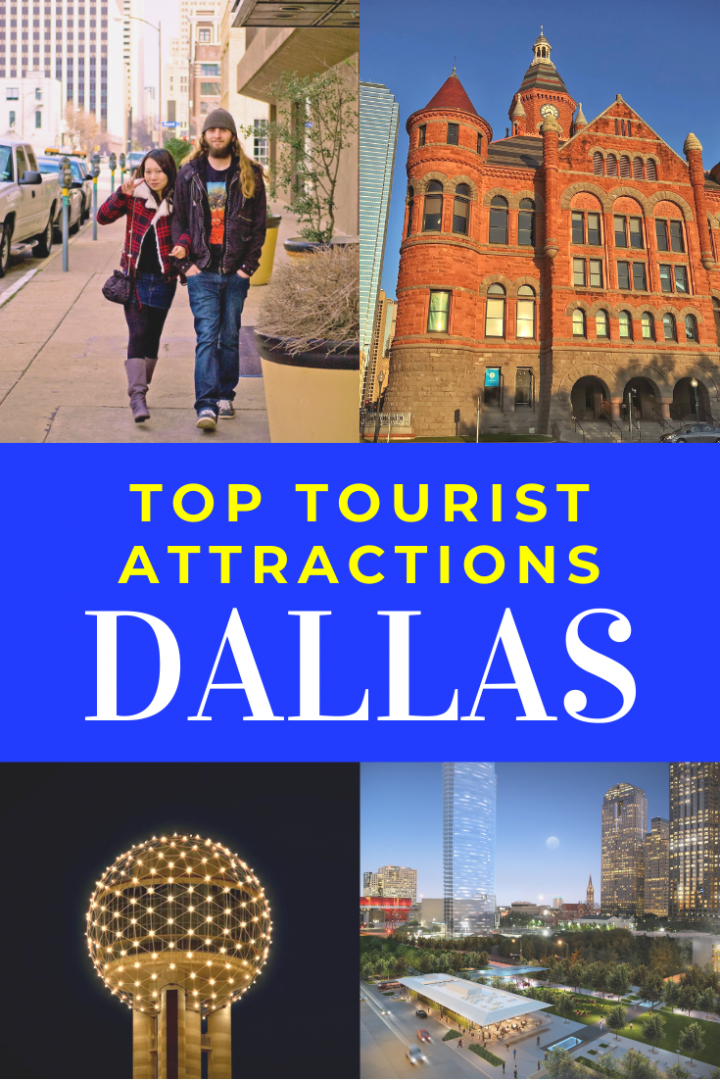 Got out of town guests? Want to be a tourist in your own hometown? Downtown Dallas is a cultural Mecca for visitors and locals alike. Here's our Top 10 Things To Do in Downtown Dallas: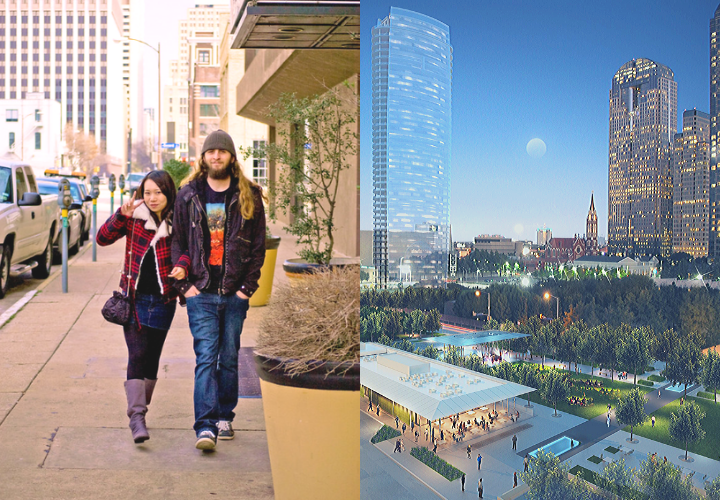 15+ Best Things To Do in Downtown Dallas This Year
These top Dallas attractions will make you feel like a tourist in your own hometown.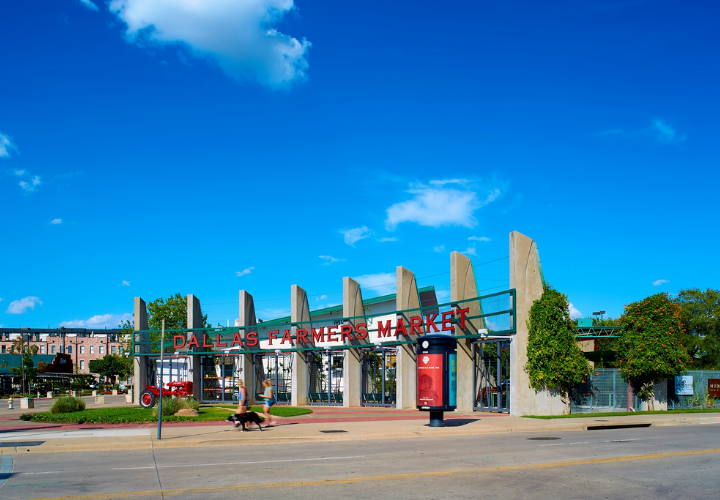 On the east side of Downtown Dallas is the Dallas Farmers Market and is widely recognized as one of the largest markets in the state. Founded in 1941, you find over 150 vendors showcasing seasonal produce, naturally raised meats, cheese, eggs, and honey in an open-air pavilion (the Shed). There's also a massive indoor hall (the Market).
In addition to shopping and eating, the Farmers Market hosts regular activities, ranging from yoga classes and cooking demonstrations to live musical performances and fun seasonal events.
Dallas Farmers Market, 920 S. Harwood,
Dallas, Texas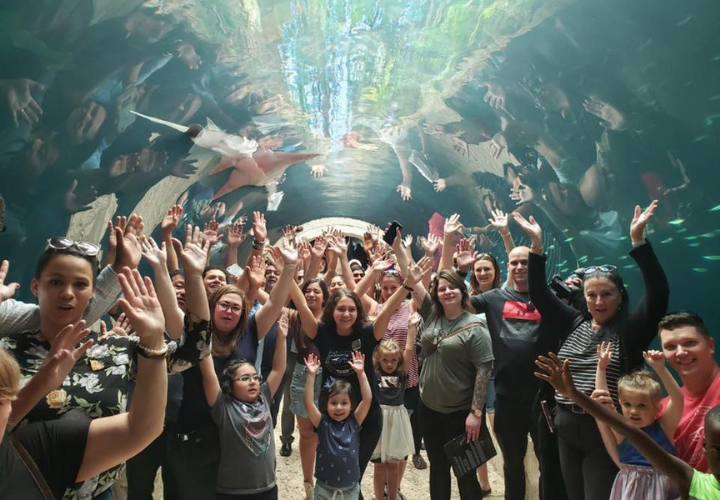 Nestled inside a massive refurbished warehouse in Dallas' Historic West End District, this privately-owned aquatic wonderland is home to countless varieties of marine and animal life (many of which are endangered) from all over the world. In addition to stingrays, piranhas and Orinoco crocodiles, the aquarium boasts a multi-level rainforest as well as a 20,000-gallon walk-through exhibit filled with sharks. Visitors can also commune with everything from three-toed sloths and manatees to giant river otters, penguins and ocelots. Not-to-be-missed are the animal talks and feeding sessions held throughout the day.
Recommended for Downtown Dallas' Best Attractions because: The Dallas World Aquarium is a must-see for animal lovers of all ages.
Ilene's expert tip: Be sure to check the website for feeding times and special performances. Also, be aware that the manatee and penguin feedings are extremely popular, so plan on getting to the area at least 20 minutes in advance if you want to snag a good viewing spot.
Dallas World Aquarium, 1801 N Griffin St,
Dallas, Texas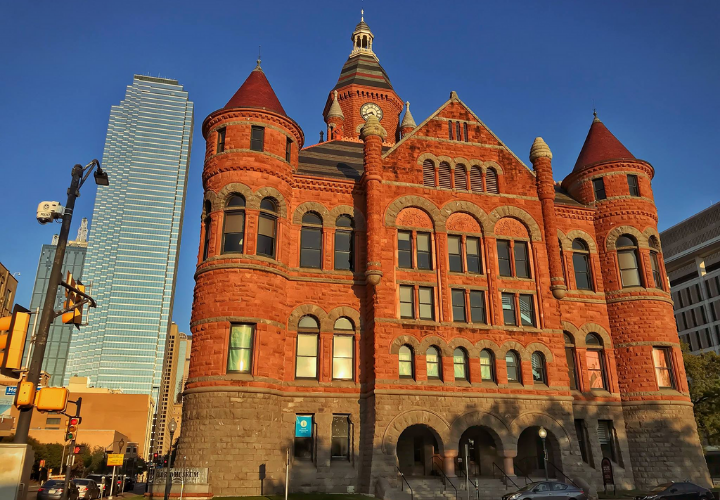 Built in 1892, the Old Red Museum is housed inside a Romanesque-style building that served as the Dallas County Courthouse from 1892 until 1966. The museum is located on the second floor and is comprised of four galleries, each focused on a specific time period in the city's history.
You'll find over 1,000 artifacts, ranging from a Civil War-era dragoon pistol to handcuffs worn by Lee Harvey Oswald.
Old Red Museum, 100 S Houston St, Dallas, Texas
Pioneer Plaza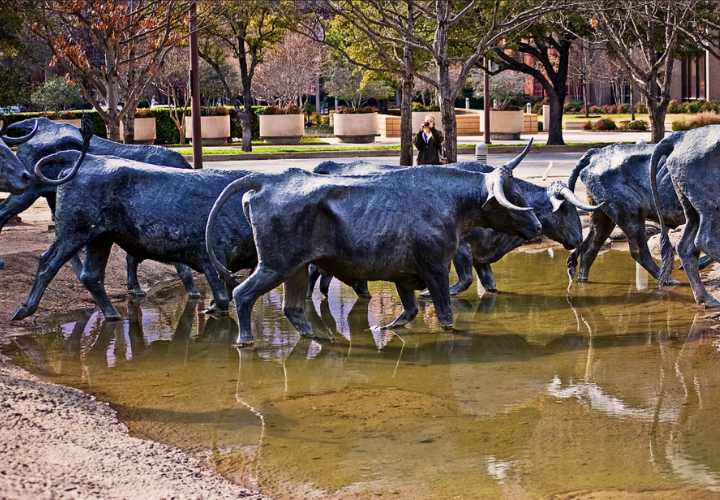 Pioneer Plaza is a large public park located near the Convention Center in Downtown Dallas, Texas. The breathtaking, fifty-two piece bronze sculpture is the largest sculpture of its kind in the world. It consists of three cowboys mounted on horses herding forty-nine, larger than life steers through an artificial landscape of cliffs with a functional stream and waterfall.
A heavily visited tourist site, Pioneer Plaza is next to Pioneer Park Cemetery which features the Confederate War Memorial.
Pioneer Plaza, 1428 Young St, Dallas, TX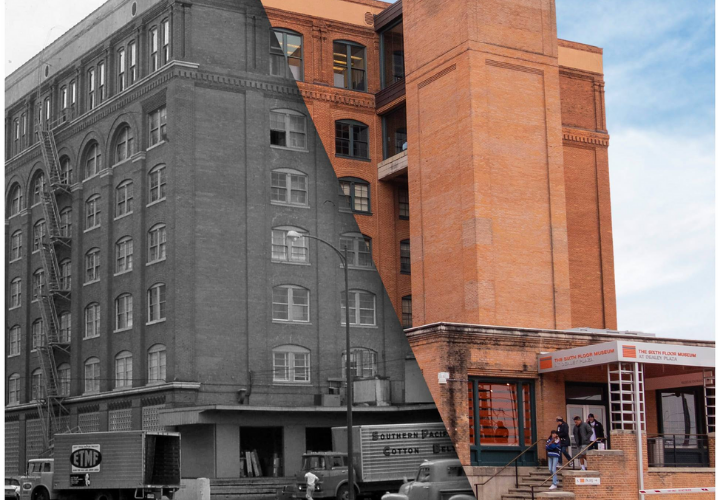 One of the most visited attractions in Dallas, the Sixth Floor Museum houses information about the assassination and legacy of President John F. Kennedy. Whether you're a history buff or a conspiracy theorist, you'll find yourself fascinated by the vast source of history and artifacts here.
The Sixth Floor Museum exhibits over 45,000 items, ranging from artifacts to home movies and video footage, documenting Kennedy's presidency through to his final days. The highlight of the tour is the enclosed area where Lee Harvey Oswald is believed to have fired the fateful shot.
After visiting the museum, be sure to go down to the grassy knoll to get a better perspective about what happened that tragic day.
Sixth Floor Museum, 411 Elm St, Dallas, Texas
Offering the official City of Dallas Tour, the Award-Winning JFK Tourm as well as the only Hop-On-Hop-Off Sightseeing Tour of Dallas, Big D Fun Tours is all narrated by professional tour guides.
Come and learn where the city got its start, where it is today and where it's going – with lots of unexpected surprises along the way. Hop on a big red Trolley in Downtown Dallas at Dealey Plaza or any other of the fourteen trolley stops in downtown and hop back off when you feel like it.
Complete list of Dallas trolley location information on their website.
Founded by Holocaust survivors in 1984, the Dallas Holocaust Museum aims to educate visitors on the history of the Holocaust as well as to promote tolerance and human rights. The museum houses a permanent exhibition hall, containing numerous photographs and artifacts, including an actual boxcar that was used by the Nazis to transport Jews.
The Dallas Holocaust Museum is one of only 21 museums of its kind in the nation.
Dallas Holocaust and Human Rights Museum, 300 N. Houston St, Dallas, Texas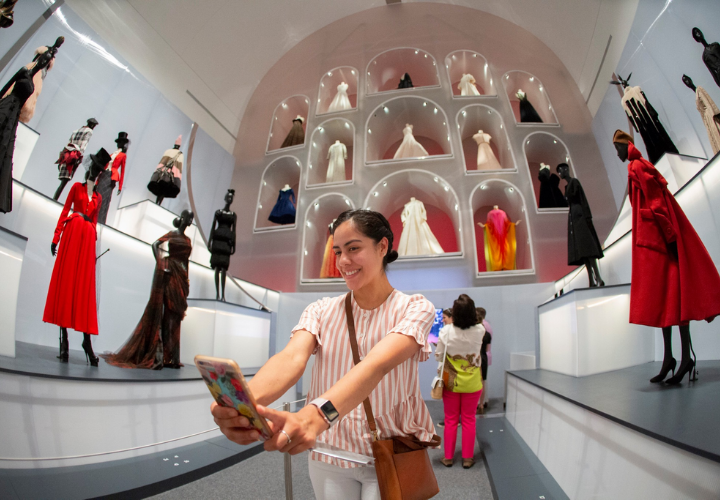 The Dallas Museum of Art, designed by New York architect Edward Larrabee Barnes, offers one of the largest and most impressive art collections in the nation. The museum features 23,000 works of art, sculptures, jewelry, and artifacts from around the world dating back from the third millennium BC to the present day
You'll find masterpieces from Pollock, Rothko, Monet, Rodin, and Picasso. Beyond the galleries, the museum houses a children's creative zone, a sculpture garden and a cafe featuring a window of Dale Chihuly's glass flowers. General admission to the museum is always free.
Dallas Museum of Art, 1717 N Harwood St, Dallas, Texas
Built during the 1920s, The Majestic is a historic theater on Elm Street in Downtown Dallas. The Majestic is the only remaining theater on what was once Dallas's version of Broadway, Theater Row.
The elaborately facaded building has a seating capacity of one thousand seven hundred and hosts a variety of shows ranging from comedy stand-up to lyrical plays, solo music artists and films. The Majestic is one of the best places to catch a live show in Downtown Dallas.
The Majestic, 1925 Elm Street, Dallas, Texas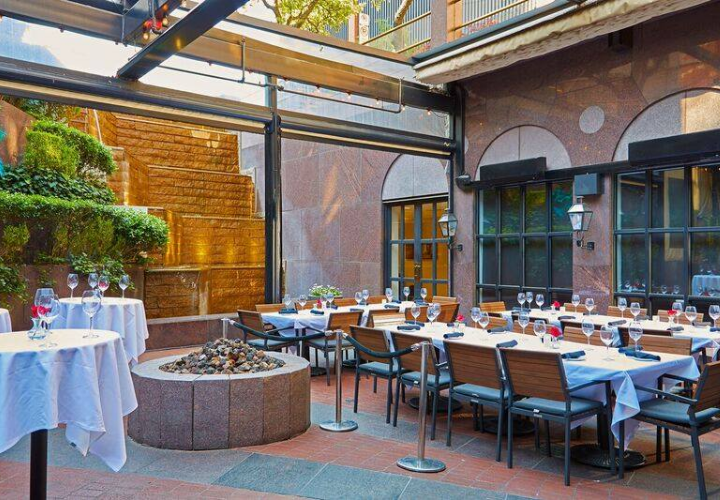 Dakota's Restaurant may be underground, but it's definitely not a secret. The steakhouse has been serving the Downtown Dallas community from the premises on North Akard Street for over thirty years.
When First Dallas Baptist Church sold the land where Dakota's now sits, they added a legally binding clause that prohibited any future owner from selling alcohol on what was once church grounds. There was nothing mentioned in the legalese that said below site so construction crews dug down 18 feet below street level…and the subterranean steakhouse has been serving cocktails and steak ever since.
Dakota's Steakhouse, 600 North Akard St., Dallas, Texas
The Giant Eyeball
Shock your friends and Instagram followers by posting a photo of Downtown Dallas's Giant Eyeball. Easily classified as Dallas's weirdest piece of artwork, the giant eye sits on the grounds of the Joule Hotel on Main Street.
The Joule, 1601 Main Street, Dallas, Texas
Dallas' most iconic landmark offering the best views of the city is Reunion Tower. The only way up to the GEO-deck's 360 degree views of the city is by purchasing a ticket to the viewing platform.
Towering 470 feet above the ground, this top Dallas attraction features an outside deck as well as an indoor area filled with interactive touch screens and high-definition zoom cameras.
Reunion Tower, 300 Reunion Blvd E, Dallas, Texas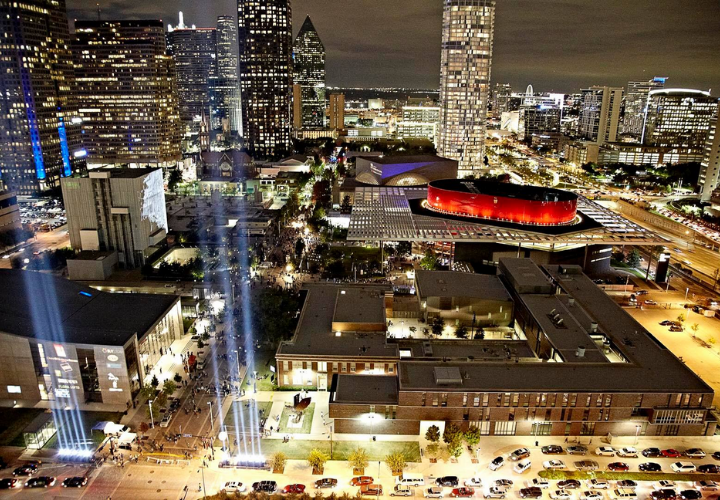 The Dallas Arts District is the largest urban entertainment district in the United States spanning 68 acres and over 20 square blocks. Here you'll find performance venues such as the Morton H. Meyerson Symphony Center and three world-class museums (the Dallas Museum of Art, the Nasher Sculpture Center and the Crow Collection of Asian Art).
This easily walkable District houses more buildings designed by Pritzker Prize-winning architects than any other location in the world.
Dallas Arts District consists of over 20 square blocks of museums, performance halls, parks, restaurants, churches, schools + homes located in Downtown Dallas.
The world-class Perot Museum offers a vast array of artifacts, objects, and activities that are certain to fascinate visitors of any age. Opened in 2012, this stunning 180,000-square-foot architectural gem features five floors of stunning exhibit halls filled with hands-on activities, interactive kiosks and a state-of-the-art multimedia cinema.
A good way to start is to take the external glass escalator up to the top and work your way down while enjoying panoramic views of downtown Dallas. Get your tickets before you get there to avoid long lines.
Perot Museum of Nature and Science, 2201 N Field St, Dallas, Texas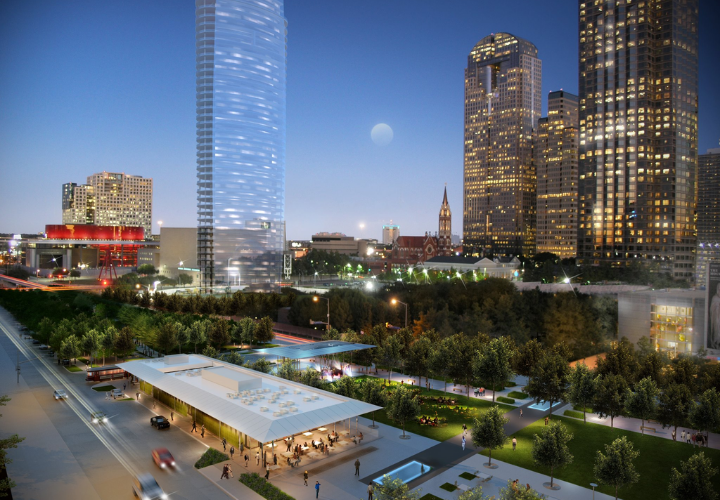 Perched atop a sunken freeway in the Dallas Arts District and attracting more than 1 million visitors each year, this 5.2-acre park is considered one of Dallas' premier community gathering spots. You'll find year-round programs, such as fitness sessions, dance lessons, yoga, children's entertainment, musical performances, and film screenings at Klyde Warren Park.
Klyde Warren Park, 2012 Woodall Rodgers Fwy, Dallas, Texas
Visit Wild Bill's Western Store on North Market Street, open for over forty years, while in Downtown Dallas. Customers to Wild Bill's Western Store will be able to make all their Western dreams come true from cowboy boots to cowboy hats to your favorite pearl snap shirt you never knew you needed.
Have a great time in the Big D.
Wild Bill's Western Store, 311 N. Market St. Dallas, TX
15+ Best Things To Do in Downtown Dallas This Year
Stuck in Dallas? Here's the Best Things To Do in Downtown Dallas this year. Have a great time in the Big D on your next visit to DFW.
Plan on visiting any of these top places in Downtown Dallas? Be sure to tag us on social media @metroplexsocial #discoverDFW for your chance to be featured!