Are you looking for the BEST Playgrounds in DFW to Take Your Kids? Then this roundup is for you! We've compiled our favorite local playgrounds and put them all into one spot so you can easily find them. Keep Reading to Discover the Top Playgrounds in Dallas Fort Worth:
All kids deserve the opportunity for play! Check out this fully accessible playground and find out why How Hope Park Frisco is the BEST Playground in Collin County.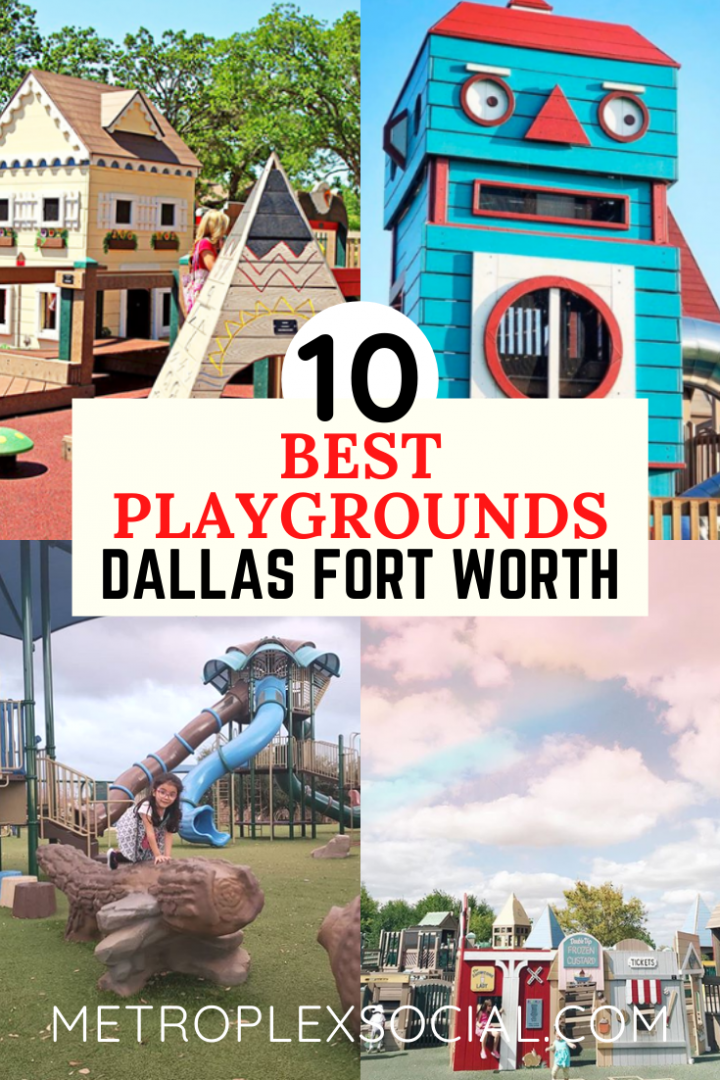 Check out this FUN list of DFW area playgrounds that you'll want to take your kids to right away!
Playgrounds make a great escape from boredom and there's always something for kids to do as they burn off all that energy. Keep Reading to Discover the BEST Playgrounds in DFW to Take Your Kids: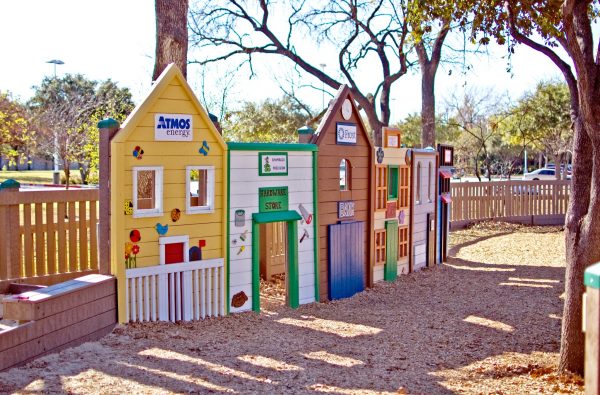 BEST Playgrounds in DFW to Take Your Kids
Hope Park is another community-built playground and is also a fully accessible playground in Frisco, TX. There are lots of kids activities to do at this DFW park!
There's a climbing wall, car slide, miniature town where kids can play "shop," and lots of shaded areas where kids can get out of the hot sun.
Hope Park has several extras that make it fun for both kids and parents. The playground features accessible swings, a cochlear implant-friendly slide, and a spongy floor surface suitable for wheelchairs (and tired feet).
There are two lots for children of different ages: tot lot for little kids 2-5 years old and the big kid lot for kids 5-12 years old.
Find out what makes Hope Park Frisco the Best Playground in Collin County.
Hope Park is located at 8000 McKinney Rd, Frisco, TX.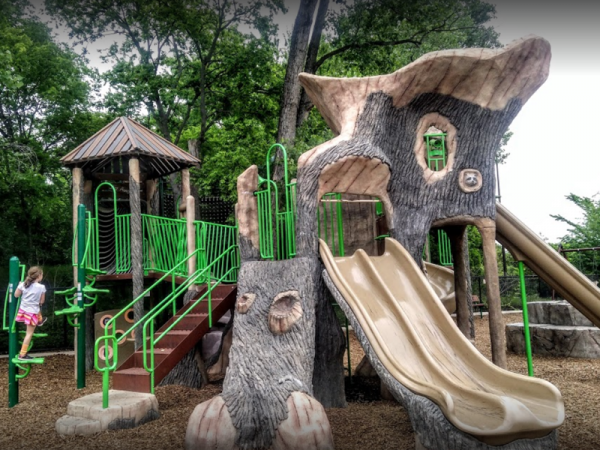 River Legacy Living Science Center serves as the gateway to the adjacent 1,300-acre River Legacy Parks.
Words don't quite explain how wonderful this place is. It's a beautiful venue to consider if you are planning something special.
Stop by the Nature Center before exploring the park's 8 miles of trails, river overlooks, and more.
The trails and educational elements are AMAZING and free. The park and adjacent natural features are a hidden treasure.
Park hours are 5 am to 10 pm daily and you'll find this playground at 701 NW Green Oaks Blvd, Arlington, TX.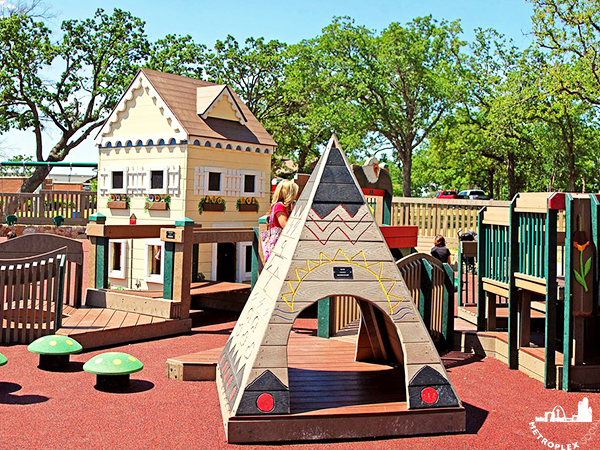 Fort Wildflower at Heritage Park in Flower Mound, Texas is another incredible park that needs to go on your best playgrounds in Dallas Fort Worth to check out this year!
Built by the community several years ago, the playground features artwork created by area artists–including several pieces by Metroplex Social's CEO and Co-founder, Allie Van Wagoner.
Parents and caregivers love this playground and it's hailed as one of the best playgrounds in DFW for toddlers (separate big kid and tot lot play areas).
Fort Wildflower and the surrounding park has been in development for years and now even has an awesome, shaded spray park for kids!
Fort Wildflower is located at 600 Spinks Rd, Flower Mound, Texas.
4. Windmill Playground in Prosper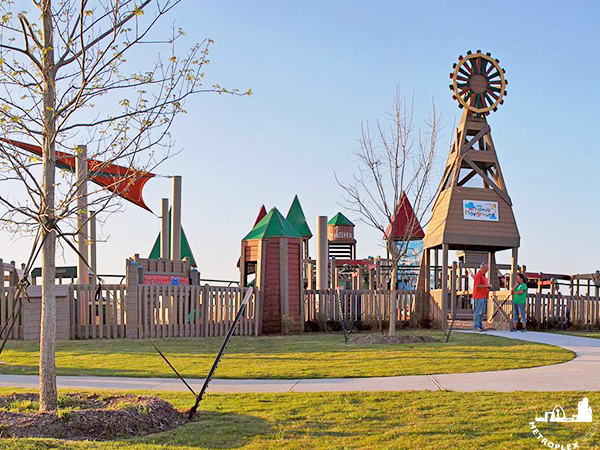 Completed in 2012, Windmill Playground at Frontier Park is another community build playground located right here in DFW!
This playground is a local favorite and features artwork representative of local culture. There's even a small spray ground right outside the play structure. This is such a FUN place to take your kids!
You can find Windmill Playground at 1551 Frontier Pkwy, Prosper, TX.
5. Mary Heads Carter Park in Carrollton
Mary Heads Carter Park in Carrollton, Texas is the "mansion" of all playgrounds. Once kids visit this playground it's hard to pull them away!
The play structure at this DFW park was designed for all ages in mind. The structure is strong, fluid, and full of surprises.
Even when it is busy on the weekends, there is still plenty of space for everyone to play and run around.
Take a break on the benches or set up a picnic on the grassy area between the pond and playground.
Find Mary Heads Carter Park at 2320 Heads Ln, Carrollton, TX.
6. Kid Country Playground in Coppell
Kid Country Playground can be found at Andy Brown Park in Coppell. This popular playground is so incredible!
What makes this playground so special is that it was built by community volunteers with sponsorships from individuals as well as businesses.
The playground looks very fort-like and kids will have fun exploring the structure. There are lots of swings and even obstacle course pieces throughout the playground.
Kid Country playground is part of the Andrew Brown East Park and is located at 260 Parkway Blvd in Coppell, TX. Nearby restrooms.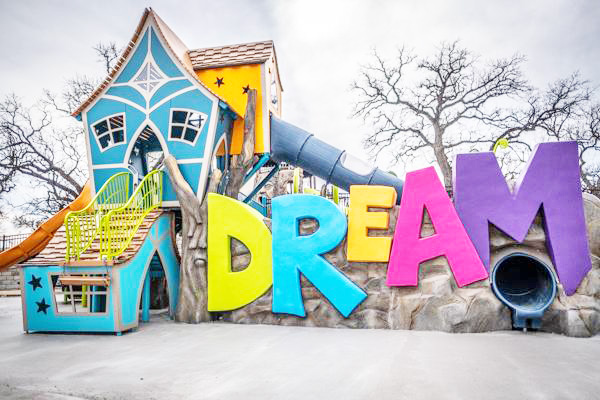 Every child should know the joy of laughter, the freedom to dream, and the ability to play without limits. That is what the mission of Dream Park is founded upon.
Dream Park was the first of its kind in our local Dallas Fort Worth community and not only meets, but exceeds ADA accessibility guidelines!
This playground was found by three women with a passion to see play for all children of all ages and abilities.
Head on over to 2001 University Drive, Fort Worth, Texas to find this amazing playground and you'll soon also discover what makes it one of the best playgrounds in DFW!
Adventure World Playground is a totally accessible playground built by community volunteers!
Bring your kids and enjoy this creative and popular playground…hours of fun!
This playground includes many features important to little ones and parents alike such as benches for resting, drinking fountains, picnic tables, and restrooms.
Located at 7451 Starnes Rd, North Richland Hills, TX.
Bicentennial Park is Southlake's premier park facility and is comprised of the first land assembled for park purposes in the city.
It is one of Southlake's largest parks and is home to baseball fields, the Liberty Gardens, the Southlake Tennis Center, a new playground and The Marq Southlake.
One of the best playgrounds in the DFW area, and there are so many sections to this playground that kids don't grow tired of even after hours of playing.
The play structure features a sand play area with a really cool dragon, toddler play area, zip-lining, big kids play area, and even a little water fountain place.
Park Hours: Monday – Sunday 6am to 11pm
Visit this park at 450 W Southlake Blvd, Southlake, Texas.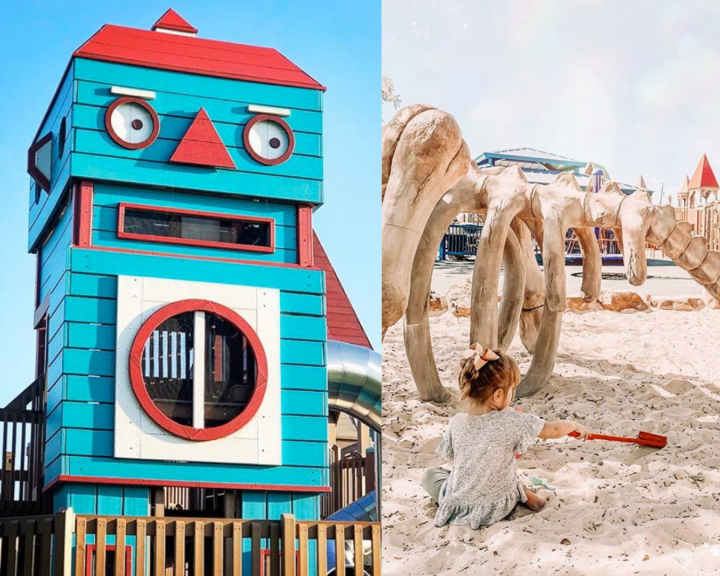 If your kids are tired of your neighborhood park, we've got the perfect solution! Unlike basic parks and play areas, Kids Kingdom Rowlett was built with all children in mind.
The hope for this playground is that all children, regardless of disability, would find a local space to enjoy themselves! They've gone above and beyond just to make sure this park met their standards!
Kids Kingdom playground is HUGE, plus there's plenty of trails to explore nearby.
Find this all-inclusive playground at 5300 Main St, Rowlett, TX and discover what makes it one of the best playgrounds in DFW!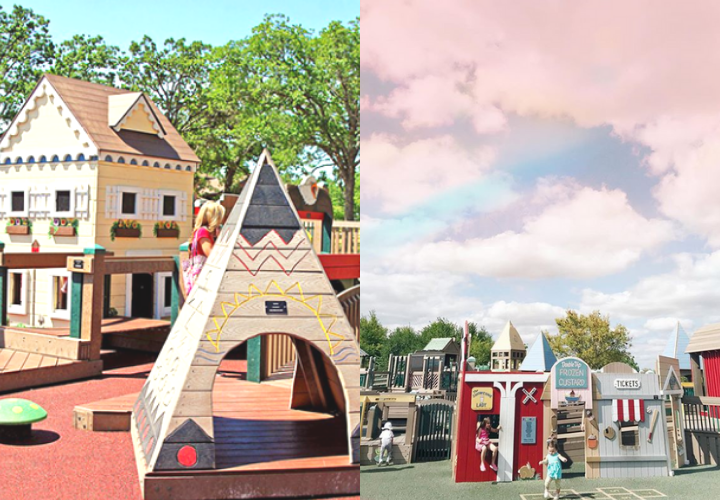 Best Playgrounds In DFW To Take Your Kids This Year
Here's where to find the best playgrounds in DFW to take your kids this year! Find a new favorite park when you visit these places.
Here's more amazing things to do with kids in and around the metroplex:
If we missed any of your favorite parks let us know by sending an email to hello @ metroplexsocial.com
Be sure to follow and tag us @metroplexsocial #discoverDFW when you visit playgrounds near Dallas Fort Worth for a chance to be featured!
Have a list of favorite places to go in DFW? Submit a story for publication consideration.