If your kids are tired of your neighborhood park, we've got the perfect solution! Unlike basic parks and play areas, Kids Kingdom Rowlett was built with all children in mind.
The hope for this playground is that all children, regardless of disability, would find a local space to enjoy themselves! They've gone above and beyond just to make sure this park met their standards!
Looking for an inclusive playgrounds in the Fort Worth Area? Come check out why everyone is talking about Dream Park in FW!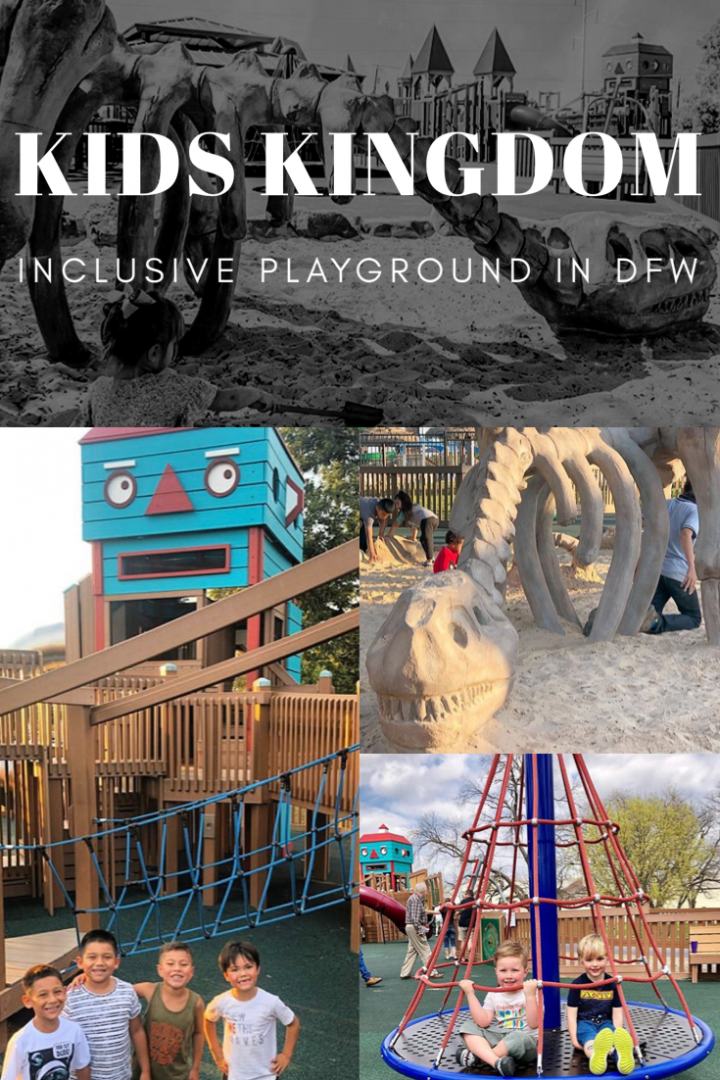 In the late 1990's, the Rowlett community gathered together to build the original Kids Kingdom. Unfortunately, due to safety concerns in 2011, the original park had to be closed down. This didn't stop the citizens of Rowlett for coming together for a second time to recreate this unique park! Here is everything you need to know about Kids Kingdom In Rowlett: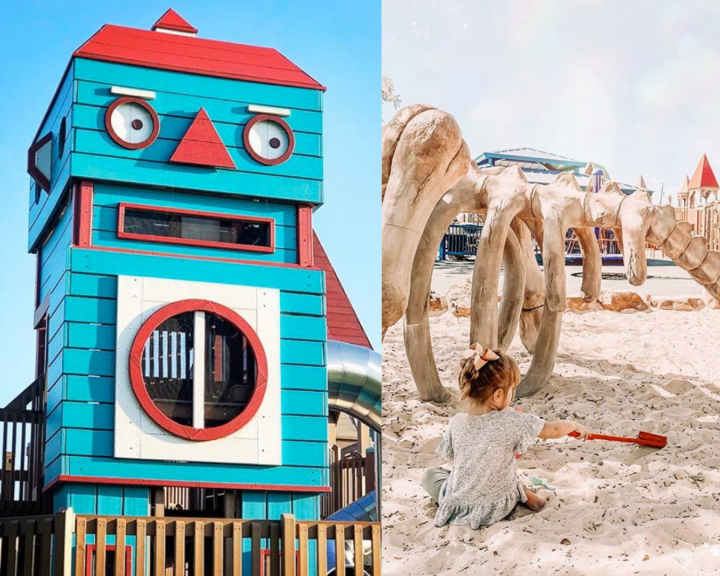 Kids Kingdom Rowlett Info:
You'll be able to find some of the usual things at kids kingdom like swings or a sandbox, but that's only the beginning!
The community came together to build, sponsor, and design this park. Local students even entered their design ideas to be incorporated – one of which was a huge robot shaped climbing structure that is a crowd favorite!
Areas of the park are separated by age level, including a tot-lot with toddler friendly play spaces, and a zip line for the older visitors!
A huge, climbable dinosaur skeleton is bursting out of the sandbox, and ramps along the play structures allow kiddos with various physical needs to enjoy the park.
Kids Kingdom Inclusive Playground in Rowlett
What Is An Inclusive Playground?
Inclusive playgrounds are self explanatory – it is a play area where kids can have fun regardless of physical or mental ability. Places like Kids Kingdom go above and beyond your basic playground standards.
The citizens of Rowlett made inclusivity their goal when they thought of creating a park for their local children!
Features like smooth surfaces and ramps throughout the park make it so much easier for children in wheelchairs to participate, and sensory experiences also take into account kids with other cognitive needs!
Features of Rowlett's Inclusive Park
Rubber surfacing for easy access for all abilities
accessible merry-go-round
ramps on a castle themed play ground
Sensory play activities including a sand box
Zipline
Rock Climbing Wall
Playhouse
Various swings, slides, and play structures
Sandbox with Climbable Dinosaur Skeleton
Tunnels for crawlers
Fenced in area with only one entrance to prevent children from running out
Kids Kingdom Location
Kids Kingdom is located at Pecan Grove Park in Rowlett, right behind Rowlett High School.
Address: 5300 Main St, Rowlett, TX 75088
For more information, visit their official Website.
The Whole Family Will Love Kids Kingdom!
Kids Kingdom Rowlett is a huge, inclusive park that your kids will never want to leave. This is seriously one of the best spots on this side of the DFW Metroplex! It is so heart warming to know that children of any abilities can enjoy their day here.
Here's some more fun playgrounds and play places to take kids in Dallas Fort Worth:
Have you visited Kids Kingdom? Tag us in your photos @metroplexsocial!