Parents, time to grab the little ones and go on an adventure: Flower Mound's Super Fun Splash Pad Just Opened for Summer and You Gotta Take Your Kids! Kids love playing with water and you'll love letting your little ones explore at this city park located on the northern end of the metroplex. What's even cooler is that this splash pad is also the location of an amazing community-built playground, Fort Wildflower. I can't wait to tell you more!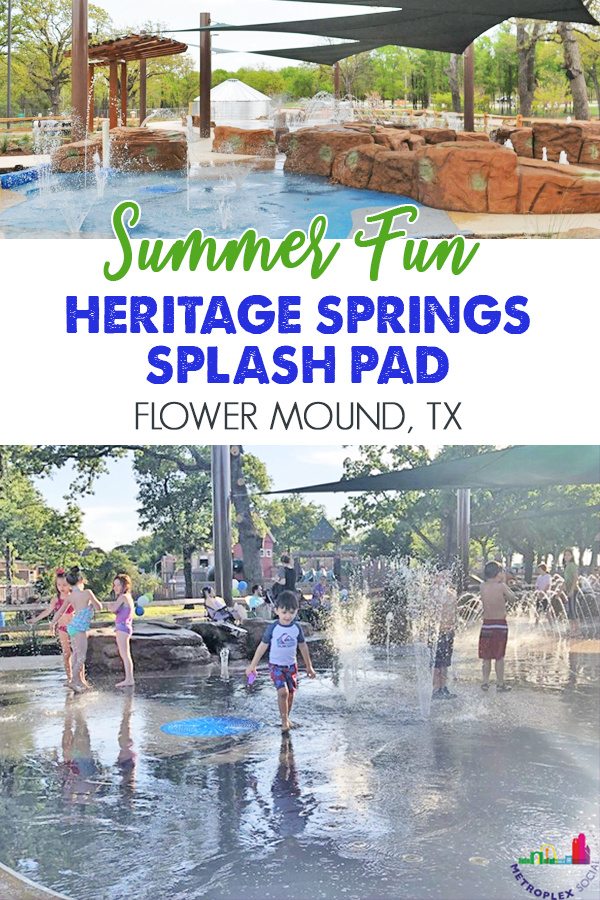 If you've never been to Heritage Park in Flower Mound, TX it's definitely worth the trip to North DFW to see this amazing city park. Heritage Park is a beautiful, improved public park with natural features and local history incorporated into its overall design. There are a few focal points of this park including a Fort Wildflower that will keep your kids entertained for hours, a disc golf course, multi-purpose trail with 12 life-size bronze sculptures of indigenous animals to Flower Mound, a wildflower meadow, interpretive signs, covered pavilion area, public restrooms, and of course Heritage Springs Splash Pad! Here's everything you need to know about this Super Fun Splash Pad in Flower Mound: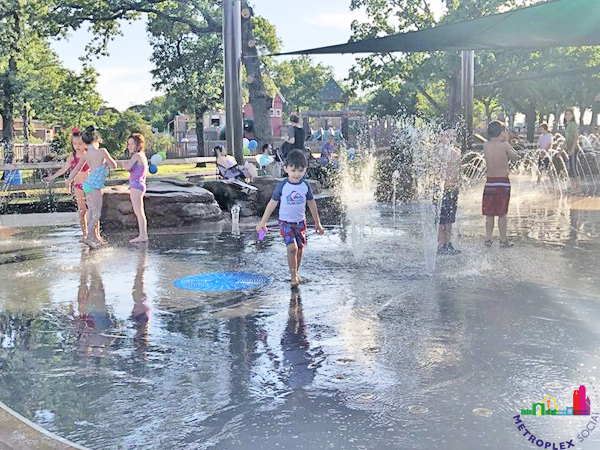 Heritage Springs Splash Pad in Flower Mound, TX
Heritage Springs Splash Pad Features
Here are some of the cool features at Heritage Springs Splash Pad includes:
2,000 square foot shaded splash pad
Shaded seating areas
Fenced in with a gate
14 unique water features including Misty Mountain, Over N' Under, and a Touch N' Go Activator
Separate area for toddlers
Holds 14,000 gallons of water and pumps approximately 773 gallons of water per minute!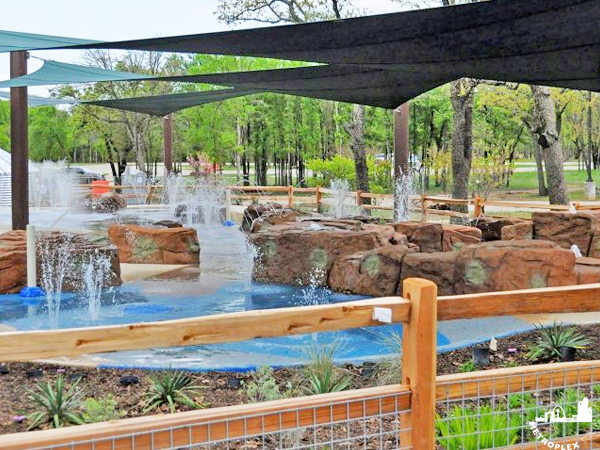 Heritage Springs Splash Pad Location – Flower Mound, TX
Address: This Super Fun Splash Pad in DFW is located at 600 Spinks Road, Flower Mound.
Hours: Open Daily from 9am to 8pm, May 1 through September 30.
Note: Heritage Springs Splash Pad is not available for private rentals.
Rules: Click here for the splash pad rules.
Summary
Kids will have so much FUN playing at Heritage Springs Splash Pad in Flower Mound, TX! This free, public splash pad will entertain your kids for hours in a safe, fun environment. Splash pad is open May 1-September 30 and is located at Heritage Park. There's so much to do in Dallas Fort Worth!