Runaway Bay, Texas – A golf club in Wise County is offering nearby seniors FREE meals. RB Golf Club & Resort wants to make sure seniors are safe during the coronavirus pandemic, and so they have been delivering the meals themselves. The golf club is giving back in other ways during the shutdown, including supporting healthcare workers.
Did you know you can now help hungry youth and families by ordering from local restaurants? Here's How.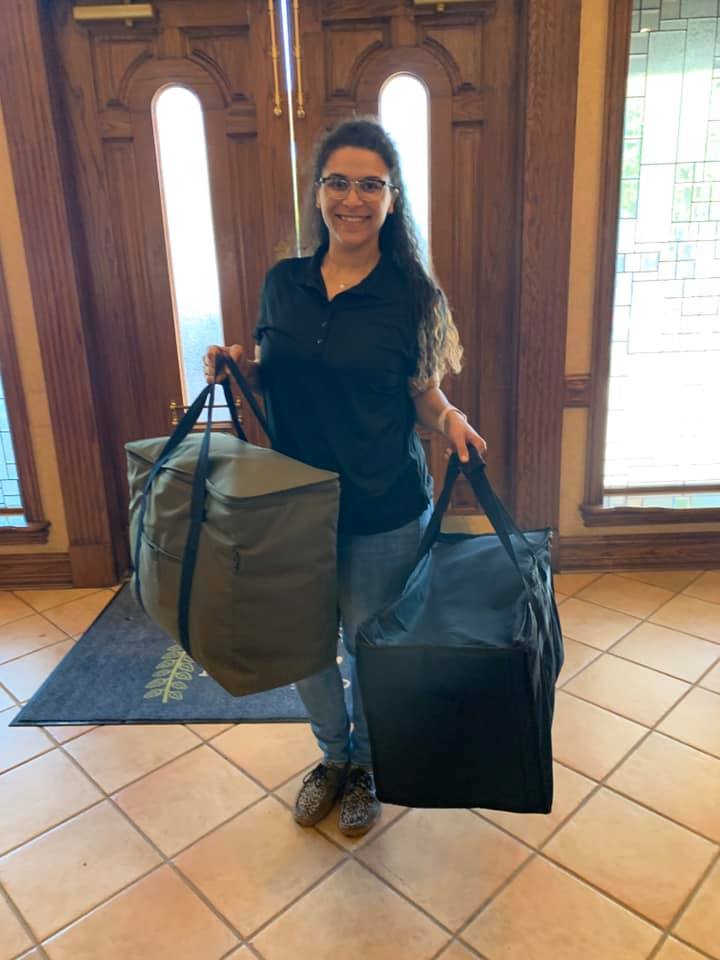 FREE Meals for Seniors at RB Golf Club and Resort
As of April 1, 2020, RB Golf Course and Club has delivered over 100 meals to seniors age 80+ through their Free Senior Meal Program. This meal is offered daily to anyone for $5. Also available is the Lakeview Tavern menu which includes cocktails, beer, and wine for pick up and delivery.
Seniors age 80+ in Runaway Bay who are interested in getting meals delivered to them just need to call 707-722-2640 or fill out this form.
FREE Meals to Healthcare Workers
RB Golf Club and Resort also recently provided free meals from its Lakeview Tavern to healthcare workers at the new drive-thru COVID-19 testing site in Bridgeport, Texas.
The Buy a Meal, Give a Meal program is aimed to support area healthcare workers. For every pizza ordered (such as the popular Chicken Bacon Ranch) between April 2 and April 5, the golf club wil give a free meal to a healthcare worker. Just call 940-575-2225 ext 2 or place your order online.
Easter Sunday Meal Catering in Wise County
RB Golf Course and Resort in Runaway Bay will also be offering an easy way for area residents to get Easter Sunday Meal Catering.
For just $50 they will do all the cooking for you so you don't have to lift a finger. The family meal feeds 4-6 people and a you're able to choose between roasted pork loin, prime rib or beef tenderloin.
This is such a great way to support a local restaurant while enjoying Easter while you're stuck at home. Just order by April 9th, and pick up Saturday April 11th. Call 940-575-2225 ext 2 to place your order.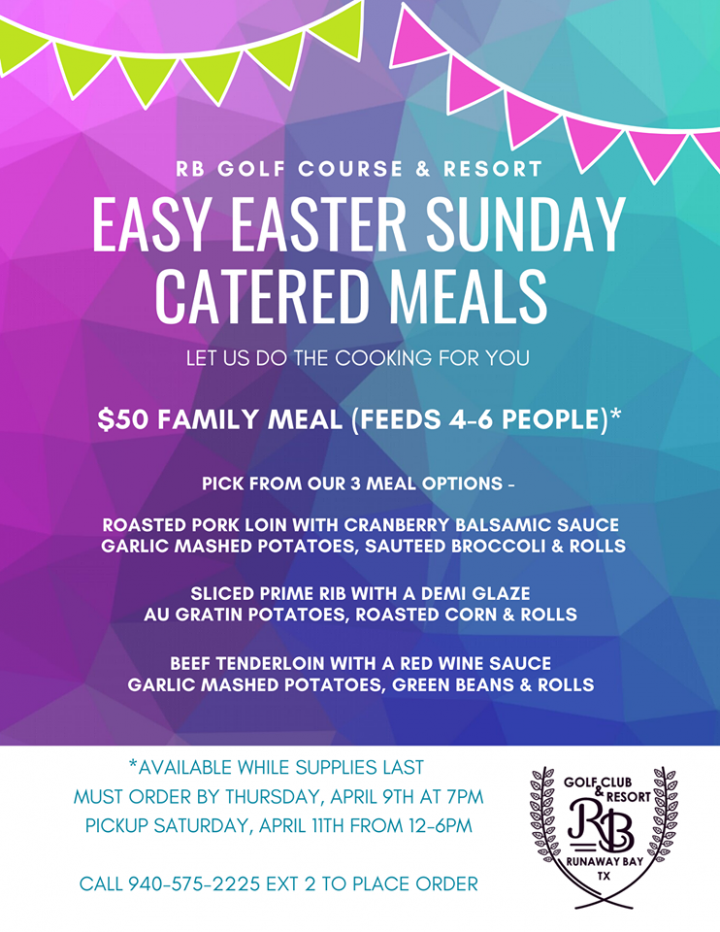 About RB Golf Club & Resort
RB Golf Club & Resort in Runaway Bay, Texas offers the only 18-hole golf course in either Wise or Jack counties.
Once rated as one of the best places to play in Texas by Golf Digest, renovations are already underway to transform the property into the premier golf club in Wise County, Texas.
RB Golf Club & Resort is situated on Bridgeport Lake less than one hour from Denton and Fort Worth and offers Play and Stay packages. For membership, tee times, and more information, visit rbgolf.com or call 940-575-2225.