Let us help you get into the holiday spirit. I know how hard it can be at times when you are having to think of all that needs to be done this time of year. There is shopping, baking, cooking, and decorating. That can be a lot. Let's pick one–decorating. Here's 10 Festive Wreath Ideas to Help You Celebrate the Holidays. . .
Here's the best neighborhoods in Dallas-Fort Worth to view Christmas lights this holiday season.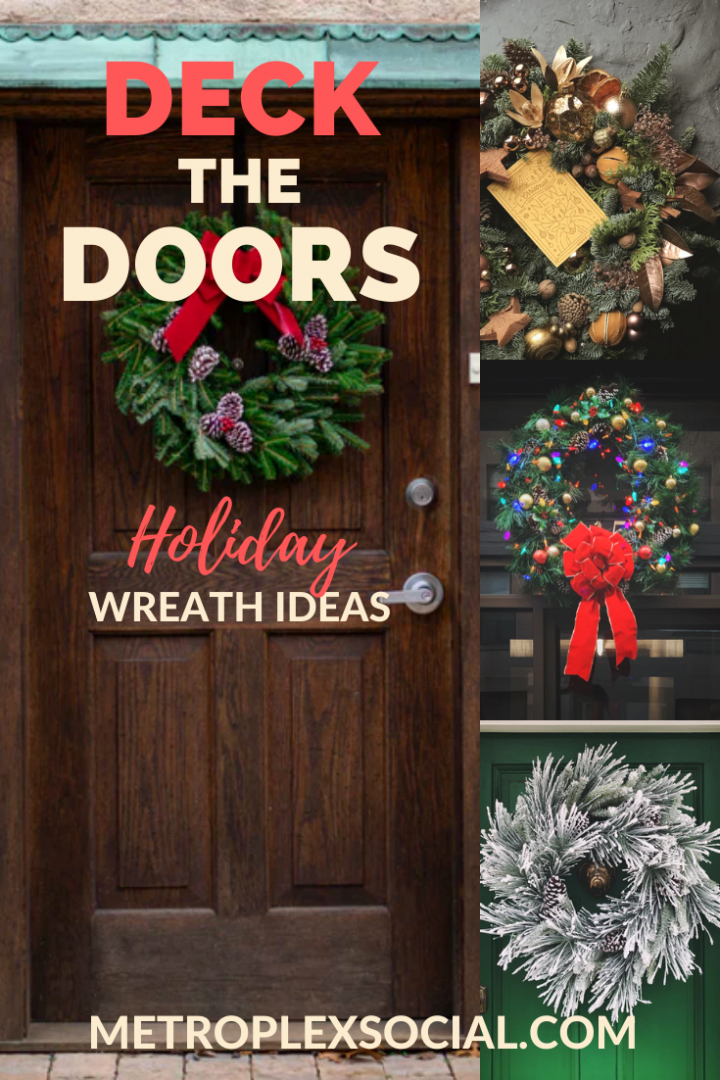 During the holidays, no door should be empty. Whether you want to DIY a festive wreath or buy a brand new one, these wreath ideas are here to help fill your house with holiday spirit. And there's a wreath for every style, too—from a fun, poppy wreath made out of balloons to dark, moody juniper berries, farmhouse plaids, coastal seashells, and everything in between, you're sure to find something you'll love to celebrate with. Here's 10 Festive Wreath Ideas to Help You Celebrate the Holidays this Season: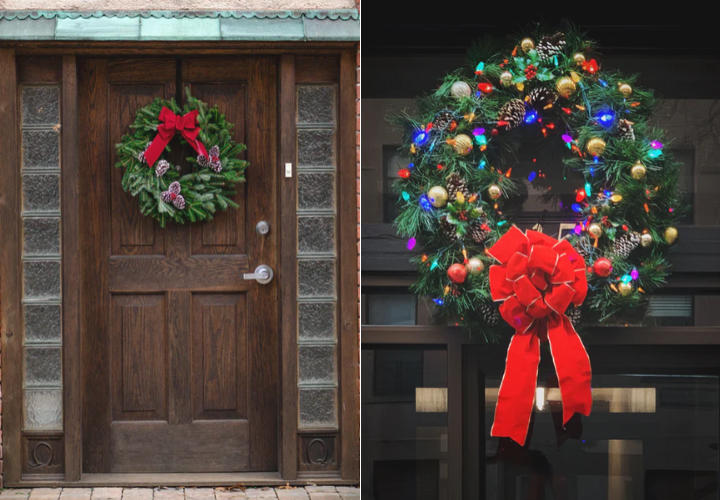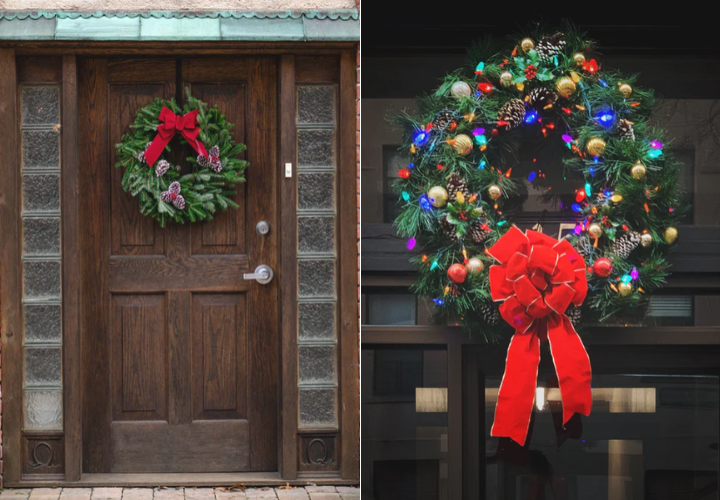 10 Festive Wreath Ideas to Help You Celebrate the Holidays
Deck the Doors with these holiday wreath ideas that will put anybody in the holiday spirit.
Festive Fall Wreath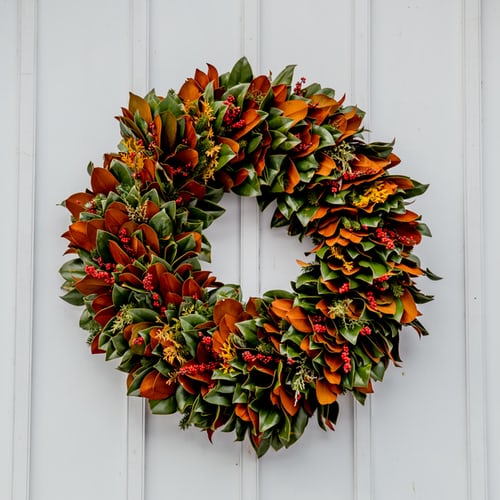 This wreath is a smart choice if you're looking for a wreath that will last throughout the holiday season. Perfect for Thanksgiving through Christmas, this holiday wreath made with a variety of dried, natural materials will spruce up your front door. A local florist should be able to help you make this wreath of your dreams.
Evergreen + Pine Cone Wreath with Flocking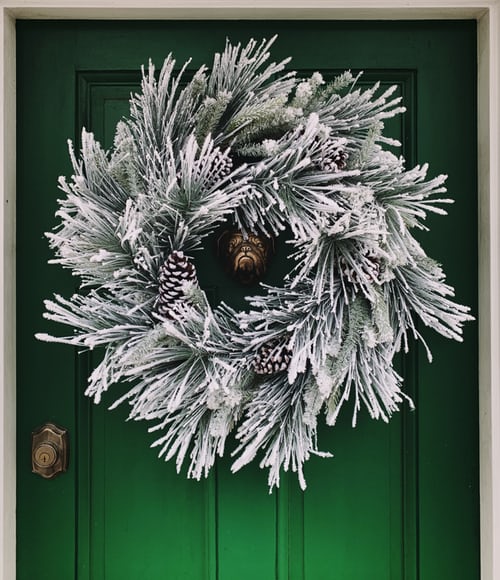 Contrasting against a deeper stained or painted door, you can have this holiday wreath hanging on your door in no time! Just purchase a premade evergreen wreath adorned with pine cones, and then cover in flocking. Anybody can make this holiday wreath idea reality.
Festive Holiday Wreath with Dried Citrus and Spice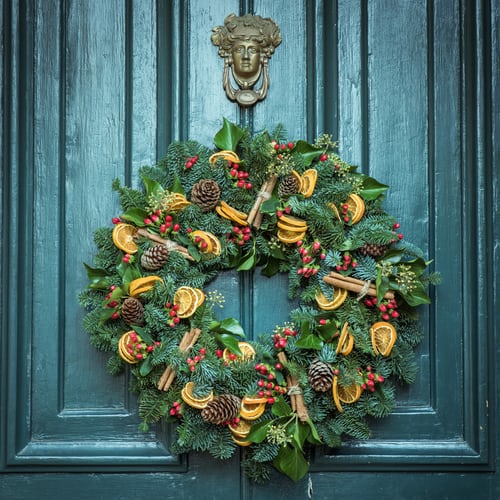 Creative and colorful, this holiday wreath idea infuses the spices of Thanksgiving and Christmas to fill your senses. Cinnamon sticks, dried cranberries, and dried orange slices finish off this festive wreath.
Texas Native Holiday Wreath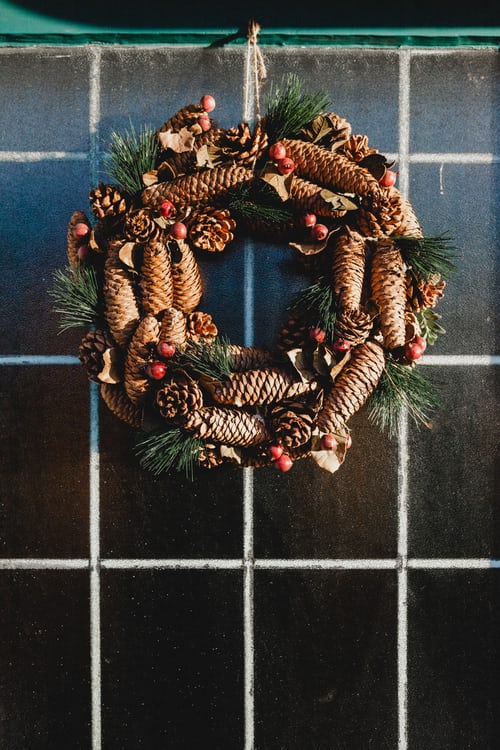 Want a more natural look? Choose or make your own holiday wreath out of natural materials you can probably find around your home (or ask a neighbor). This wreath is made from pine sprigs, large and small pine cones, fallen oak leaves, and dried berries.
Out with the Old, In with the Gold Holiday Wreath Idea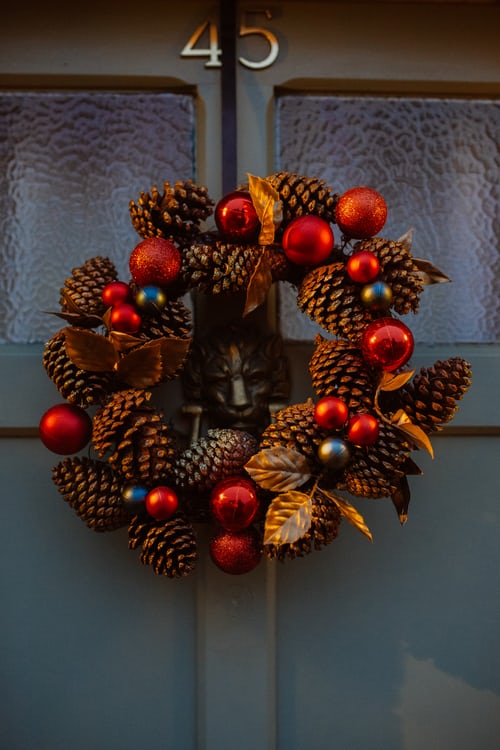 Take a lack-luster holiday wreath and transform it with sprigs of golden leaves (you can buy these at a craft store or spray paint your own) and small red and gold Christmas tree ornaments.
Go BIG or Go Home Traditional Holiday Wreath Idea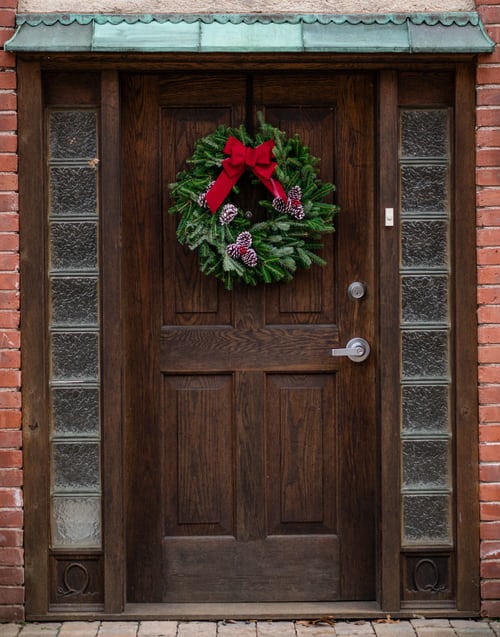 This simple, yet traditional holiday wreath idea will make your front door stand out. Simply purchase a pre-made evergreen wreath from your local hardware store, add flocked pine cones, and a couple small, red ornaments. Finish off with a medium-sized red ribbon.
Simple Holiday Wreath Idea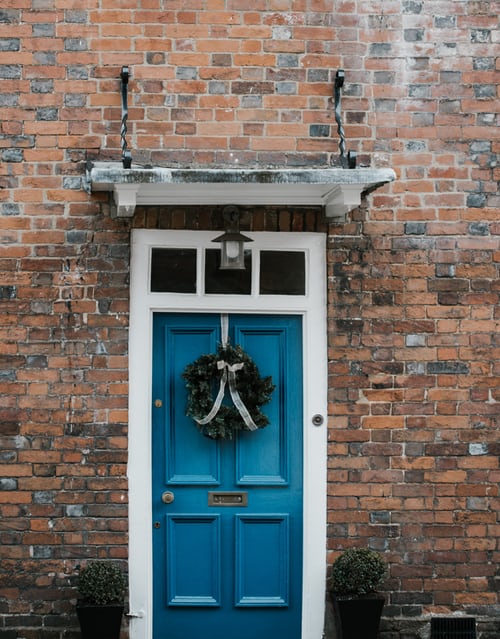 Similar to the traditional holiday wreath idea, this wreath transforms a pre-made evergreen wreath from bare to quiet flare with twinkling fairy lights and a white ribbon.
Deck the Door! Holiday Wreath Idea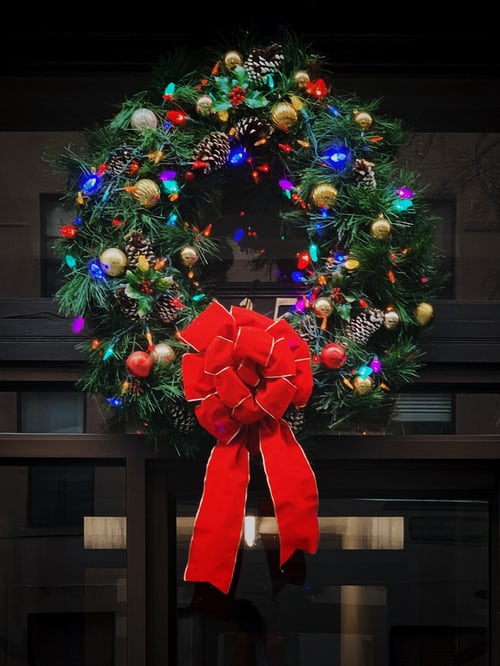 Make a BOLD entrance with this Christmas wreath! Take a simple wreath and liven it up with colorful Christmas lights, bells, silk holly sprigs, small ornaments, and teeny pine cones. Finish it off with a festive ribbon. Not gonna lie…I am a sucker for colorful holiday decor!
Grand Golden Wreath Idea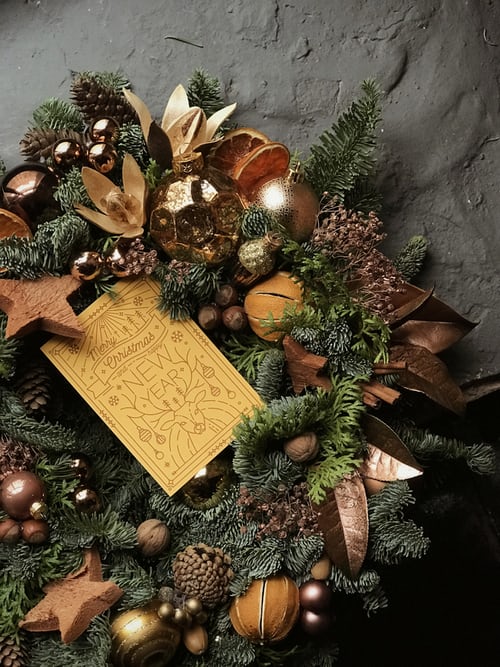 Go with the gold this holiday season! This wreath will last from autumn through New Years, so it's great for those with a busy lifestyle who love to celebrate the season, but don't have time to decorate for every holiday (raises hand). Find the materials to make this wreath at your local craft store or find a local florist or home decorator to make it for you.
Natural Evergreen Wreath Idea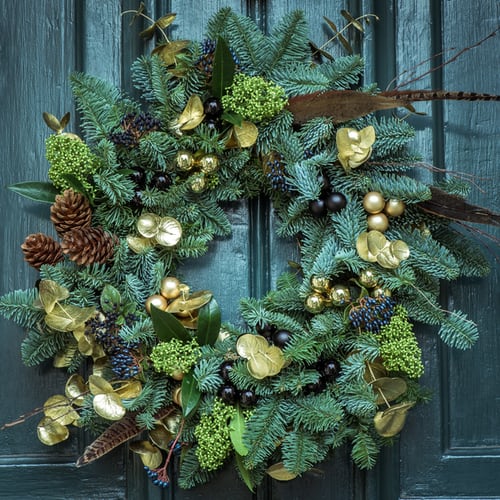 What I like about this holiday wreath are the blueish evergreen tones! Holiday wreaths don't have to be just hues of reds, greens, and orange to be festive. Simply elegant and beautiful, this holiday wreath idea will put you in the holiday spirit!
Best Holiday Wreath Ideas to Help You Celebrate the Holidays!
Deck the Doors with these holiday wreath ideas that will make your Dallas home festive and bright. Get ready to celebrate the holidays in DFW!
We would LOVE to see your holiday decorations – Christmas lights, wreaths, Christmas trees, outdoor yard decorations. We want to see them all! Tag us on social media at @metroplexsocial or send us an email [email protected] and we might share your holiday pictures and/or ideas online!