The NBA just announced that after tonight's scheduled games they are suspending all future games indefinitely for the season due to a Jazz player testing positive for coronavirus.
We just received word that remaining Texas Legends games, as well as the season, have been suspended. The Texas Legends are the official affiliate of the Dallas Mavericks, as well as a local advertising partner of Metroplex Social.
EVENT CANCELLATIONS DUE TO CORONAVIRUS: See our developing list of high-profile event and festival cancellations and postponements in DFW.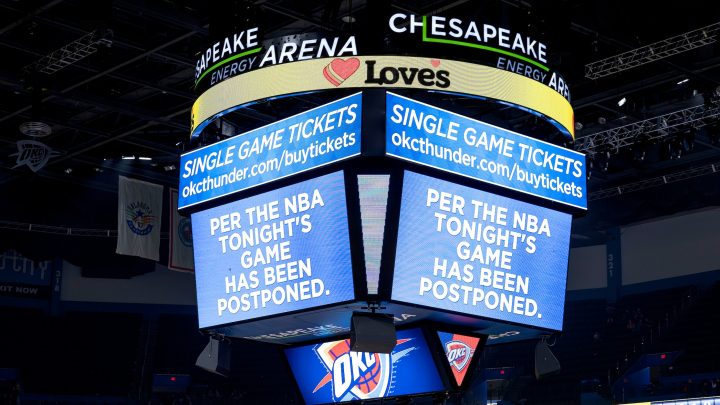 NBA Games Suspended Due To Coronavirus COVID-19 Until Further Notice
An announcement on the National Basketball Association's website states, " The NBA announced that a player on the Utah Jazz has preliminarily tested positive for COVID-19. The test result was reported shortly prior to the tip-off of Wednesday's game between the Jazz and Oklahoma City Thunder at Chesapeake Energy Arena. At that time, Wednesday's game was canceled. The affected player was not in the arena."

The statement continues, "The NBA is suspending game play following the conclusion of Wednesday's schedule of games until further notice. The NBA will use this hiatus to determine next steps for moving forward in regard to the coronavirus pandemic."
All games are suspended until further notice.
Dallas Mavericks Owner Mark Cuban's Reaction To NBA Announcement:
Cuban explained his reaction to the news to ESPN.
"This is crazy. This can't be true… It seemed more like out of a movie than reality," Cuban said.
When asked what Cuban thinks of the decision, he replied, "You really want to make sure you're doing this right way. Now it's much more persona."
Watch the interview below:
Dallas Fort Worth Area Connection
According to sources, Jazz point guard Emmanuel Mudiay was also being tested for COVID-19.
Mudiay played high school basketball at Grace Preparatory in Arlington and Prime Prep In Dallas.
NBA Games Suspended Due To Coronavirus COVID-19 Until Further Notice
NBA Just Suspended All Games After A Utah Jazz Player Preliminarily Tests Positive for COVID-19. The professional sports organization is using this time to determine next steps for moving forward in regards to the coronavirus pandemic.
Developing information about coronavirus in Dallas Fort Worth:
Follow and tag us on social media @metroplexsocial #discoverDFW for a chance to be featured.
Submit a story here for publishing consideration.