I'm on a mission to discover DFW's best tacos! Nothing gets me more excited than a plate stacked with tacos which is why I want you to know Where to Find the BEST Tacos in Denton, TX! Confession: I am obsessed with tacos. And I'm not talking about those fake tacos that come in a pre-formed hard corn-based shell. Y'all know what I'm talking about. No, it is my goal to find all the best tacos in Dallas Fort Worth, because why stop at Taco Tuesday when you can have tacos every day?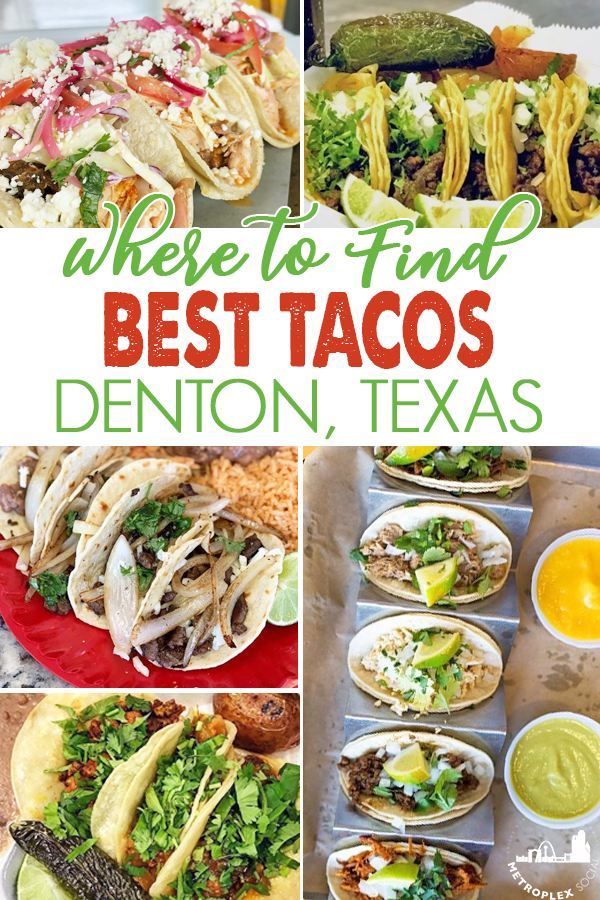 Denton, TX has a wide variety of taco offerings and it's impossible not to find a new favorite to add to your must-eat list. Whether you're looking for street tacos filled with grilled steak, pork or chicken…or you are looking for tacos al pastor or tacos pescados, I know you will find exactly what you are wanting on this tempting taco tour. So, now on to our first stop in the metroplex to discover great local tacos, here's our list of Where to Find the BEST Tacos in Denton, TX: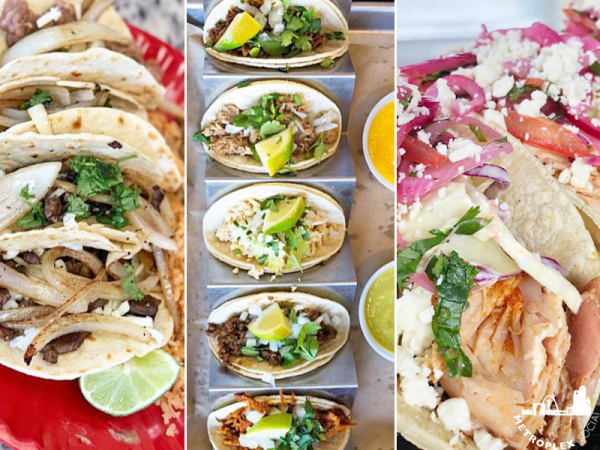 Where to Find the BEST Tacos in Denton
(Thank you to "the anonymous Dentonite who contributed to this report…you know who you are.)
Contributor's note: The best tacos in Denton is SO HARD because there are so many great taco places! Great, now I want tacos. SEE WHAT YOU'VE WROUGHT!
1. Taqueria Monterrey
View this post on Instagram
Authentic Mexican food is awaiting your taste buds at Taqueria Monterrey! You're gonna want to try the breakfast tacos, tacos asada, tacos chicken, asada de puerco, enchiladas, and quesadillas. Great value, wonderful customer service, addictive tacos…might as well try the entire menu.
2 Locations:
By the hospital at 3305 S Mayhill Rd, Ste 113 and 111 E University Dr
2. Guanajuato
View this post on Instagram
This casual taqueria serves up authentic, delicious street tacos that are simply amazing. Come for breakfast, lunch or dinner and enjoy excellent taste and a great selection of affordably priced tacos hidden away in a convenience store. Be sure to try the tripitas, chorizo, nopalitos, and al pastor tacos.
Address: 1017 E McKinney St
3. Miguelitos
View this post on Instagram
Looking for authentic Mexican cuisine? Here's your place. This family run Mexican restaurant in Denton serves up many Latin dishes you're going to fall in love with. Some menu items to try are the tacos de carne asada, flautas, gorditas, and corn in the cup. The staff at Taqueria Miguelitos is helpful and very friendly. Be sure to try their salsa too!
Address: 2317 W. University
4. Boca 31
Where do we start? Boca 31 is known for their delicious, tongue-seducing tacos that are more Latin inspired than Tex-Mex (and amazing empanadas!). Friendly staff awaits your order chicken al pastor tacos, barbacoa brisket tacos, and so many more creative dishes. Be sure to try the pork green chile empanada. You're going to find out why diners call this Denton restaurant a local favorite.
Address: 207 S. Bell Ave
5. Killer's Tacos
View this post on Instagram
With a name as memorable as Killer's Tacos, how could you not try this Denton, TX taco joint serving up awesome tacos in a fun music venue! Don't stop at the tacos…there's plenty to try here at Killer's in Denton, including an assortment of local beers.
Address: 424 Bryan Street
6. La Estrella
View this post on Instagram
View this post on Instagram
La Estrella in Denton, TX is another excellent Tex-Mex restaurant serving up delicious Mexican food. This hole-in-the-wall restaurant inside a convenience store makes handmade flour and corn tortillas and their tortas, burritos, gorditas, flautas, quesadillas…and or course TACOS can all be stuffed with tripa, fajita, chicken breast, barbacoa, rajas or just cheese. They have a large beer and beverage assortment. Come hungry!
Address: 602 EMcKinney St
7. Taqueria Sabrocita
View this post on Instagram
Bienvenido Amigo! If you enjoy the traditional tacos de pastor, carnitas, nopalitos or chicharrón, accompanied by waters of natural flavors, as well as warm tortillas every day, all day … do not think more, come and enjoy the variety of meats and dishes with Taqueria Sabrocita!
Address: 201 Dallas Dr
8. La Mexicana
View this post on Instagram
Here's a Denton taco restaurant to put on your taco tour list! PE Spencer says: "I've been eating at La Mexicana for 12 years. Their food is always fresh and served hot and is very appealing. Their shrimp plates are excellent. Servers are very attentive. The lengua taco today was delicious, tender and flavorful!" Traditional foods and flavors.
Address: 619 S Locust St
9. Mi Casita
View this post on Instagram
Looking for the best mexican food in town? Head on over to Mi Casita to satisfy your cravings with a delicious assortment of authentic mexican meals cooked fresh daily. You can dine in or drive thru for a quick meal. Stop by in the morning and choose from breakfast tacos and sandwiches, omelette plates and huevos rancheros plates. Come in for lunch or dinner and choose from our famous and hearty "Mi Casita" nachos and "Mi Casita" Grande burritos, tacos, fajitas, quesadillas, enchiladas, flautas, tamales, chalupas, and taco salads. We are sure you will leave satisfied!
Address: 110 N Carroll Blvd
10. Milpa
View this post on Instagram
"This beautiful couple booked our food truck for their wedding. Thank you for trusting us on your big day!" – Milpa
If that ain't true love, then I don't know what is.
Milpa is a family owned and operated restaurant serving up an innovative Mexican food experience. Guests will find the ultimate dining experience with excellent food, outstanding customer service, and genuine hospitality. Check out their full selection of dishes, including tacos, as well as their fun drinks. They have 100 margaritas to choose from–be sure to try the Dentoning Margarita!
Address: 820 South Interstate 35 East, Suite 101
Summary
Some of the best tacos in DFW can be found in Denton, TX. Here's 10 Denton taquerias and Tex-Mex restaurants to tempt your taste buds in our roundup of the Where to Find the BEST Tacos in Denton. What did we miss? Tell us in the comments.