Didn't we all grow up spending our winters in Dallas praying for a snow day? We've got something for you this holiday season that'll be almost as fun as hearing that your school is closed for the day, thanks to SNOWDAY Dallas and their holiday photo experience!
Looking For another fun Holiday pop up? Check out this 90s themed holiday art exhibit!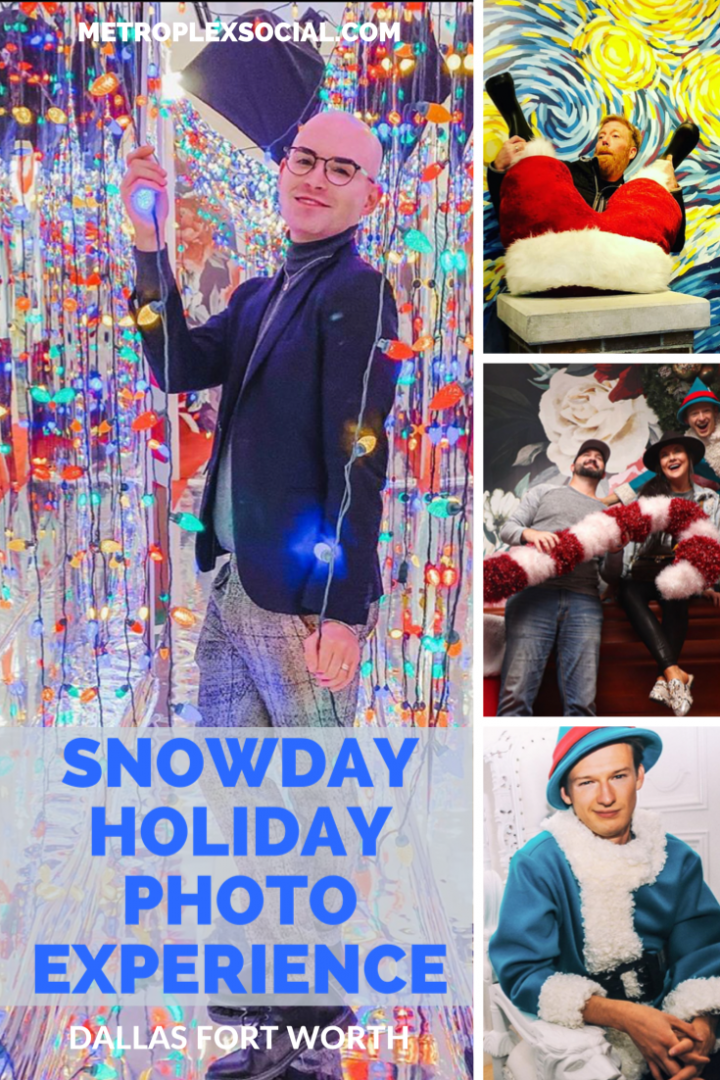 Take a day off and spend it having tons of fun posing for photos at SNOWDAY Dallas! The Dallas Fort Worth area is no stranger to successful pop ups, and SNOWDAY is another great addition to the list.
Bring a few of your favorite outfits, hang out with the elves, and have a great time until January 5th! Here's everything you need to know about SNOWDAY Dallas Holiday Photo Experience:
SNOWDAY Holiday Photo Experience
This wintry exhibit is fully interactive and packed with tons of great opportunities and activities. whether you're posing with a life sized polar bear or for a beach picture with Santa, SNOWDAY won't disappoint. Being unique was clearly the motivation between their many sceneries, and they've done a great job!
The creatives behind the original sets are companies Motusred and The Bayer Brothers, both experiences teams that create one of a kind sets for special events. There are a total of ten rooms and six interactive photo booths for you to enjoy.
Some of the sets include a Van Gogh inspired photo with Santa, an RV Christmas vacation, and a chance to become an elf on a shelf! Believe it or not, that's only the tip of the iceberg!
Tickets To Snow Day In Dallas:
Tickets are available online at the official SNOWDAY site.
Adults tickets are $30 each.
Children from ages 4-13 are $22 each.
The good news is that kids under four are totally free, and there are group discounts available for groups of more than five people! Time to grab your besties and spread the cheer!
When Can You Visit SNOWDAY Dallas?
This Holiday Immersive Photo experience will be open as follows:
From Monday-Thursday: 10am-8pm
Weekends on Friday-Saturday: 10am-10pm
They're even open on Sunday: 12pm-8pm
SNOWDAY will be opening until Jan. 5th, 2020!
Amazing 360 Photo Booths
One of the most unique parts of the SNOWDAY experience are their crazy photo booths! Create gifs that capture 3D and 360 views of your wild poses for Instagram photos everyone will be super jealous of. There are six total photo booths to grab a photo at during your experience, and they'll even print high quality sets for you at an additional cost.
Christmas Pop Up In Dallas Location:
Check out SNOWDAY Dallas at Preston center:
8312 Preston Center Plaza Dr. Dallas, Texas
https://www.instagram.com/p/B5B-vYHH37v/?igshid=1ul5nvq6iee3c
Swing By This Unique Holiday Pop Up!
An day well spent is waiting for you at SNOWDAY in Preston Center! Grab some great photos with your family or friends and make this Christmas one to remember! You have got to add this to your list of activities to complete this holiday season, you won't regret it!
Will you be heading to Preston Center for this awesome photo experience? Make sure to tag us @metroplexsocial #discoverDFW!