Few will ever be able to afford one of the many mega-mansions that are found throughout the DFW metroplex, but it's always fun to take a peek at how others live. We can always at least dream of living that ultra-exclusive lifestyle, can't we?
The Dallas Fort Worth metroplex is scattered with gorgeous mansions ranging from a mega-mega mansion complete with backyard water park that would rival local attractions to historic mansions that predate the Civil War. If that wasn't enough, DFW is also home to Texas' largest mansion of them all at a cool 48,000 square feet…located next to a trailer park and behind a Walmart. Keep scrolling because here's over 25 Stunning Photos of Mansions You Must See In Dallas Fort Worth…
Be sure to also check out our round up of 25+ Things You'll Actually Want to do in Dallas.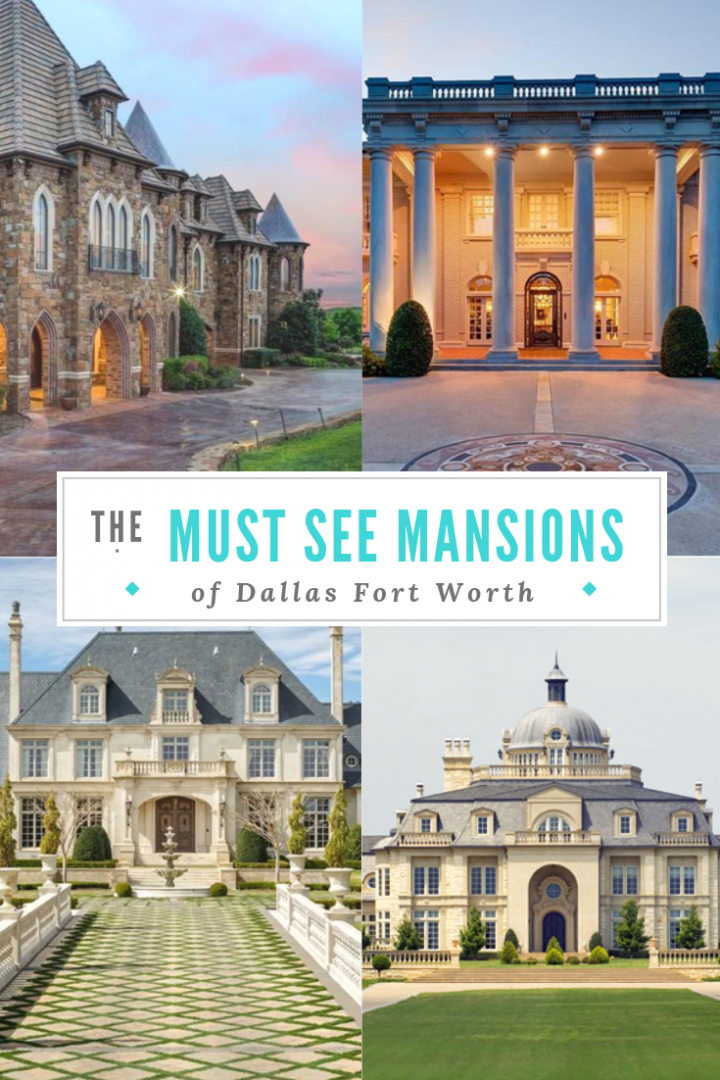 Over 25 Stunning Photos of Dallas Fort Worth Mansions
Please Note: These listings are for informational purposes only. Many of these amazing DFW mansions are on private property. DO NOT RISK TRESPASSING. You must gain express permission from the owner before visiting private property.
Rosewood Mansion on Turtle Creek – Dallas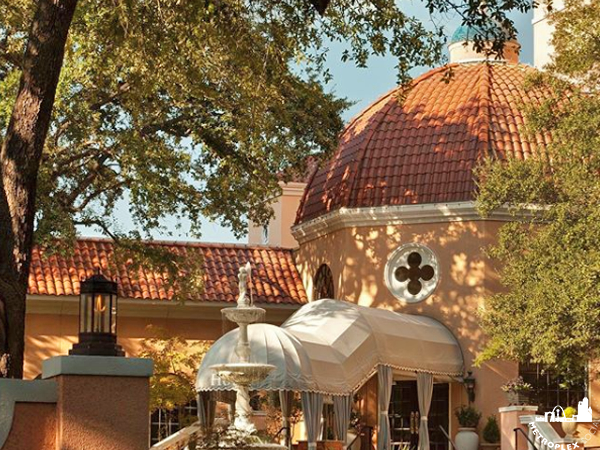 2821 Turtle Creek Blvd.
Rosewood Mansion on Turtle Creek is steeped in Dallas history. Originally built as a private residence, the fine estate seen today was constructed in the early 1920s. The owners, inspired by worldly travels, embarked on a tour of Europe with their architect, curating antique pieces, authentic fixtures and luxurious materials.
In 1925, the opulent manor was complete, including a cantilevered staircase and the first private elevator in Dallas. The architecture is influenced by 16th century Renaissance Italy. Ornate interior décor is inspired by grand estates in Spain, Italy, England, France and elsewhere. Famous guests included President Franklin D. Roosevelt and Tennessee Williams. The manor changed hands a number of times from wealthy families to prestigious corporations.
In 1979, The Rosewood Corporation purchased the property and transformed it into a world-class restaurant and hotel. The Mansion Restaurant opened to rave reviews and extraordinary national acclaim in 1980. In 1981, Rosewood Mansion on Turtle Creek, the luxury hotel, was added to complement the original residence, with 143 guest rooms and suites designed with an inviting ambiance. The hotel opened with a grand gala benefiting the local arts and education communities, an early indication of a strong commitment to philanthropic endeavors.
Mary Kay Ash's First Dallas Mansion – Dallas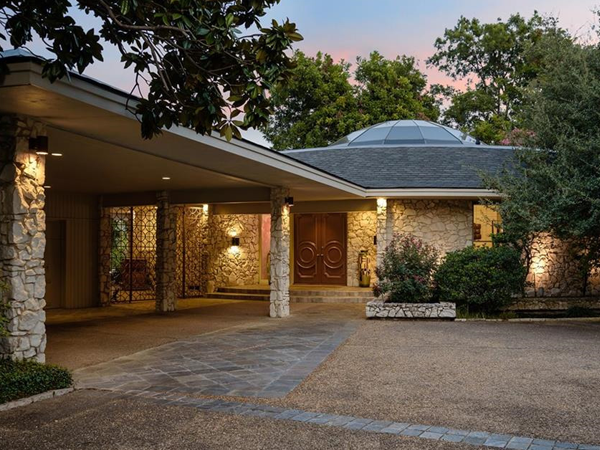 7246 Lupton Circle
Built by the acclaimed Frank L. Meier in 1969, the single-story, 4,500 square foot home includes a dramatic, 30 foot diameter glass dome that rises from the center of this unique circular home located in Preston Hollow. The first home of Mary Kay and Mel Ash includes a stocked private lake and resort-worthy landscaping. Unfortunately, Mary Kay's infamous pink mansion in Old Preston Hollow was bulldozed in 2017.
Although the home remodeled in 2007, it still gives off a modernist vibe. The stunning Dallas mansion has a stone exterior and prominent, covered entrance. A large skylight brings in bright sunlight into the home's central entertaining area showing off a magnificent retro chandelier. The space leads into another large living area towards the back of the home, with a natural stone wall and a modern fireplace. The rear of the home is lined with floor-to-ceiling windows, giving gorgeous views of the backyard and just steps from Windsor Lake. To complete this modernist Dallas mansion, there's also a circular pool in the backyard.
Private property, do not trespass.
Southfork Ranch – Parker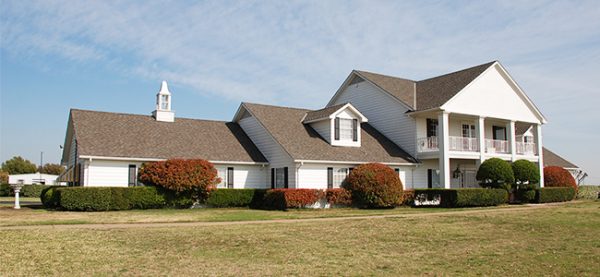 3700 Hogge Dr.
The house at Southfork was built in 1970 and was home to its original owners Joe R. (yes, the first J.R.) and Natalie Duncan. When the cast began filming the series in 1978, they were only allowed to film exterior shots, so all interior shots and scenes were actually filmed in a sound stage in California that resembled the inside of the house.
Initially scripted as a non-continuing five-part drama, DALLAS' success resulted in the show running for a total of 13 seasons and was shown in 95 countries! The series continued to grow in popularity and so did the interest of fans wanting to see the mansion in person. However, the original owners were not appeased by the traffic and eventually sold the property, allowing the new owners to open the mansion to the public.
In 1985, the ranch underwent massive construction to accommodate the thousands of annual visitors that stopped by, building a 63,000-square foot conference and event center. Today, fans from around the world come tour the ranch to relive the memories of the beloved show. Inside the mansion, you'll find tons of memorabilia, the characters' bedrooms and Jock Ewing's original Lincoln Continental, among other items from the golden era of the show. The ranch also hosts various events, as well as offer horseback riding lessons year-round.
Millermore Mansion – Dallas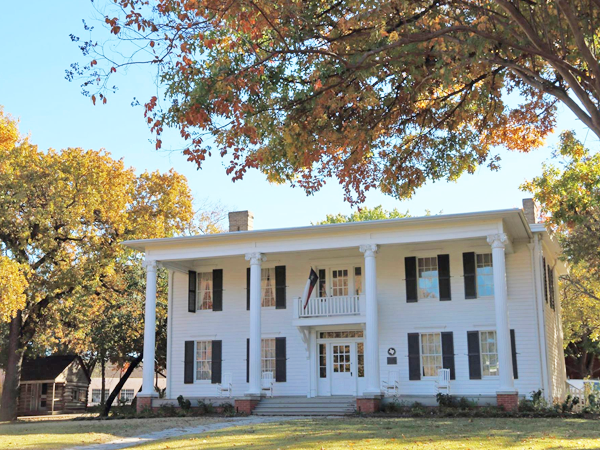 1515 S. Harwood St.

Now located in Old City Park, this Greek Revival-style mansion with its grand columns and stately porch was originally located south of the Trinity River. The stark white, historical structure was built by William Miller's slaves and completed in 1862. Miller was a cotton farmer and Trinity River ferryman who owned 7,500 acres in what is now Oak Cliff, according to A Guide to the History of Dallas. And some say his Southern palace is haunted. The 3,900-square-foot manor is a hotspot for paranormal sleuths, and a ghostly female is said to roam the upstairs.
"In Dallas, the earliest Greek Revival buildings were commissioned by settlers from the Southern states and constructed in the 1850s," according to Preservation Dallas, a nonprofit group that works to protect historic buildings and neighborhoods. "Unfortunately, those were destroyed by fire in 1860 along with most of downtown Dallas."
Wharton–Scott House | Thistle Hill – Fort Worth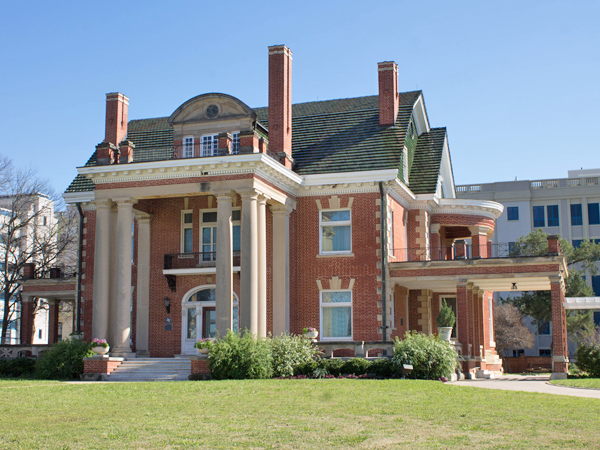 1509 Pennsylvania Ave.
The mansion was built from 1903 to 1904 for Electra Waggoner, the daughter of William Thomas Waggoner and heiress of the Waggoner Ranch, and her husband, Albert Buck Wharton. It was designed by Sanguinet & Staats in the Georgian Revival architectural style. The house is two and a half stories with a gambrel roof. Projecting bays on each side of the home use semi-circular elements. The brick house is trimmed in cast stone and the sloped roof is green tile. The interior features a grand staircase and elaborate woodwork. The grounds are fenced with brick walls and ornamental iron. A carriage house is located on the rear of the property.
In 1911, local businessman and cattle baron Winfield Scott purchased the house from the Whartons. Scott renovated the home and the grounds at the time. On January 1, 2006, Historic Fort Worth, Inc. took possession of the house and has devoted time and resources toward further restoration. The home continues to be rented for weddings and receptions.
Our next magnificent metroplex mansion is also an iconic Waggoner home…
Waggoner Mansion "El Castile" – Decatur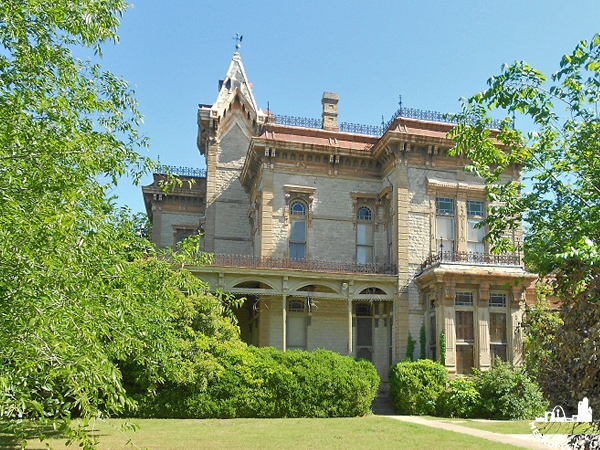 1001-1005 E Main St.
The Waggoner Mansion is a historic mansion located in Decatur, Texas. The sixteen room mansion was built in 1883 by the Waggoner Family. It was purchased in 1942 by Mr. and Mrs. Phil Luker and is now a private residence and not open to the public.
The Waggoner Mansion or "El Castille" as it is sometimes called, is an excellent example of Texas' finest Victorian masonry architecture. Built in 1883, the house has retained approximately ninety percent of its original craftsmanship and material. This percentage far exceeds most large Victorian homes of this nature that remain in such a good state of repair in Texas, and consequently by all means this home can be classified as being "authentic". Both the exterior and interior walls are of solid poriferous limestone construction.
The house contains a large basement, sixteen rooms and six and one-half bathrooms. There are two bedrooms downstairs and four upstairs. The interior of the house is in very good condition. The intricate woodwork, hardware and finishes are well maintained and only portions of some ceilings and upper walls are in need of any repair. There are many distinguishing features of the home. They include 18 ft. ceiling heights downstairs, 16 ft. ceiling heights upstairs, intricately carved door moldings on all the interior doors with a Texas "LoneStar" motif carried throughout the house, brass hinges, doorknobs and miscellaneous hardware, frescoed ceilings in a few of the rooms, stained glass transoms above all doors and windows, interior wooden shutters on all windows, eight fireplaces each with decorative tile insets, light fixtures, especially made for individual rooms and marble lavatories in all of the bathrooms. An artisan named Decker was brought from France to the Waggoner Mansion at the turn of the century to add the fresco decorations in some of the rooms. Decker signed one of the compositions in an upstairs room.
The house was built and owned by the Waggoner family from 1883 until 1906. In 1906, the mansion and surrounding acreage was traded by W. T. Waggoner to Samuel Bellah, III for a ranch in Baylor County. It was home to the Bellah Family until after the death of Mrs. Bellah in 1929 when Mr. Bellah sold it back to the Waggoners. The mansion was purchased by Mr. and Mrs. Phil Luker in 1942. The Luker family have lived in the house since their purchase of it.
The Waggoner family is well-known for being "cattle kings" and the Waggoner Ranch sprawling 30 miles east and west, and 25 miles north and south, and included over a million acres. By 1900 this sixteen room two story house was the headquarters for this well-watered and compact ranch. After oil was discovered on the ranch in 1903, development resulted in the founding of the Waggoner Refinery in 1911. The fortune which resulted from this cattle and oil base enabled the Waggoner Family to become one of the richest and most influential families in the Southwest.
Private property, do not trespass.
Armstrong Mansion – Highland Park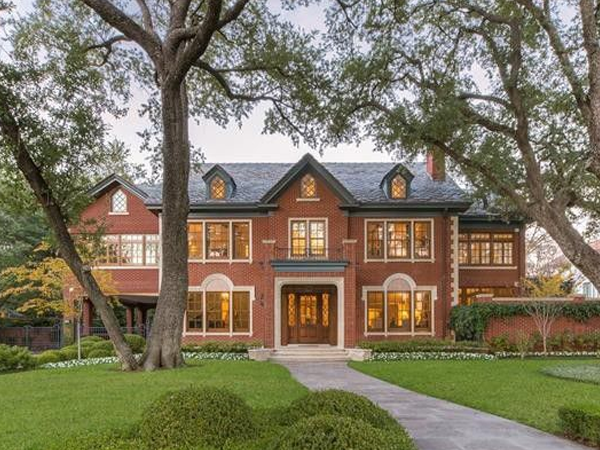 4224 Armstrong Parkway
When so many would have razed this stately Dallas mansion, owner Tori Steele transformed this 1928 Colonial mansion to a modern version that respects this home's historical roots. The original architect was Hal Thomson who was one of the most prolific architects of the era and designed many of the iconic homes on Swiss Avenue and in Highland Park. Heated floors, a huge guest quarter, and a perfectly designed backyard are just a handful of the features packed into this 11,459 square foot masterpiece in North Dallas.
The 5 bedroom, 7.5 bath home took three years refurbish and no expense was spared. This historical Highland Park mansion features tile & stone surfaces from Italy, Portugal, and Mexico, Vermont slate roof, hardware and fixtures from England, France, and Italy, new electrical and plumbing throughout, Crestron system, radiant heated floors, generators, solar panels, plaster walls & moldings & elevator to all 4 floors.
Private property, do not trespass.
Stanley Marcus Home – Lakewood | Dallas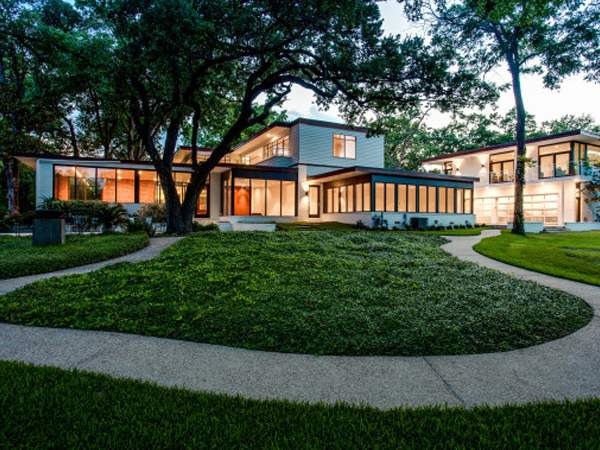 10 Nonesuch Road
A Dallas city landmark, the Stanley Marcus home sits on approximately three acres. The property originally consisted of six acres and, according to CBSDFW, was a gift to retail wizard Stanley Marcus from his father, Herbert, cofounder of Neiman Marcus. Local lore has it that Marcus originally hired famed architect Frank Lloyd Wright to design the 1936 international modern-style palace, but fired him after the original estimate soared. Roscoe Dewitt finished the home's construction.
Private property, do not trespass.
Mount Vernon Mansion – Dallas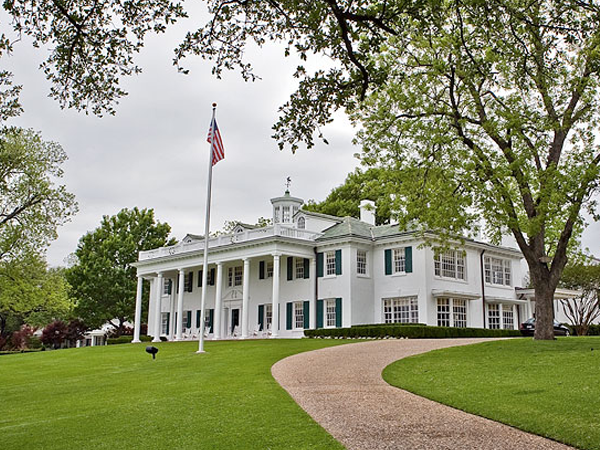 4009 W. Lawther Drive

The former estate of legendary oilman H.L. Hunt, the 1938 Mount Vernon sits on 10 acres overlooking White Rock Lake. The 10,500-square-foot mansion is a larger replica of George Washington's Mount Vernon in Virginia. Additions to the house during the six Hunt decades included one of Dallas' first private residential pools, pool house, tennis courts, guest house, garage, and utility buildings – all air conditioned space, a residential rarity at that time. The five bedroom, neoclassical Georgian-style home has since been remodeled and is currently up for grabs.
"Much of the original structure remains — wood floors, doors and paneling, foot-thick concrete walls, marble fireplaces and hearths, and a remarkable 'Spirit of America' mural," realtor Allie Beth Allman says.
Private property, do not trespass.
Belo Mansion – Dallas

2101 Ross Ave.
Belo Mansion is the former home of Colonel H.A. Belo, founder of The Dallas Morning News. The Classical Revival-style structure, which was built in 1890, was once leased to funeral home operators, according to the Dallas Arts District, and gained notoriety when the bullet-riddled body of Clyde Barrow was laid out in its parlor for public view.
Belo Mansion, an in-demand destination for lavish affairs, is now home to the Dallas Bar Association.
Ball-Eddleman-McFarland House – Fort Worth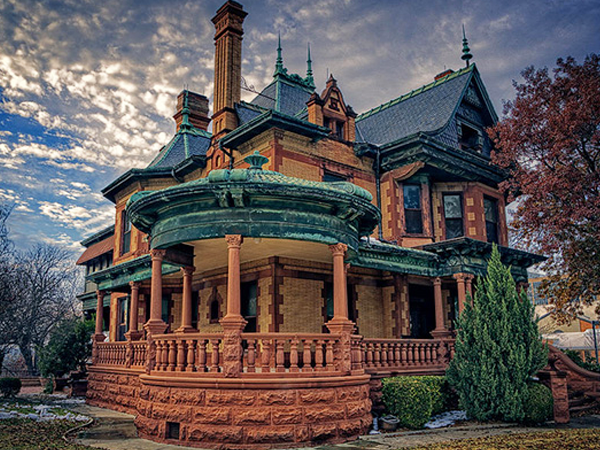 1110 Penn Street
Built in Fort Worth in 1899, this home this ornate historic home was one of the original cattle baron houses built in the historic Quality Hill area of Fort Worth, the home was originally designed for Sarah Ball by Howard Messer. The home was sold to Fort Worth banker William Eddleman. Its final tenant was Eddleman's daughter Carrie McFarland. The home is now in use as a wedding venue.
Hicks Crespi Estate – Preston Hollow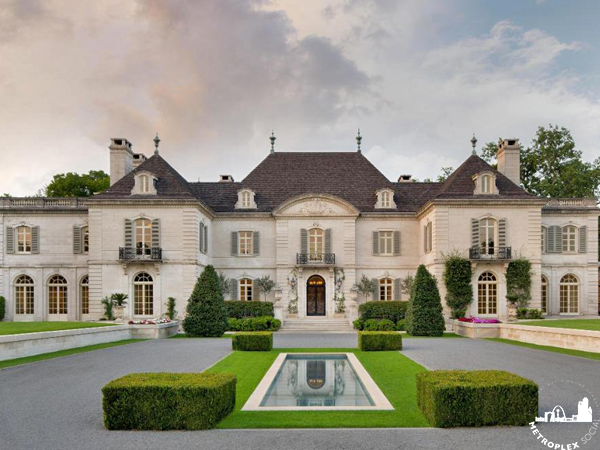 10000 Hollow Way Road

Architect Maurice Fatio designed this sprawling, 1930s estate for Pio Crespi, an Italian count, and his wife, Florence. The 28,000-square-foot mansion changed hands in 2016 when Dallas businessman Tom Hicks sold it to billionaire banker Andy Beal. Candy Evans says the 25-acre spread's original $100 million asking price tag was already discounted, and the estate's actual undisclosed sales price was rumored to be around $61 million. "If President Trump ever comes to Dallas, likely he will be staying with Beal at the Crespi," Evans says.
Private property, do not trespass.
Malouf Mansion- Preston Hollow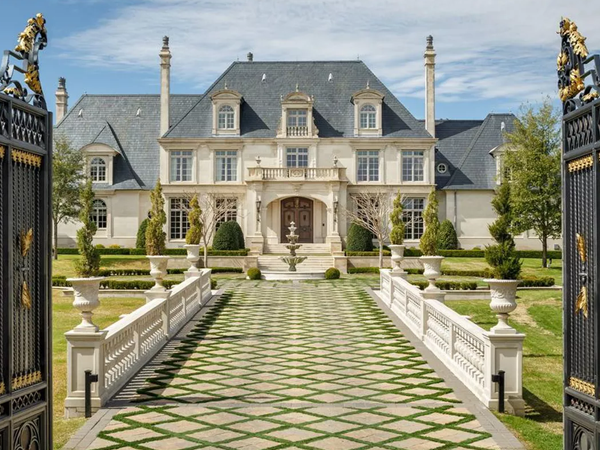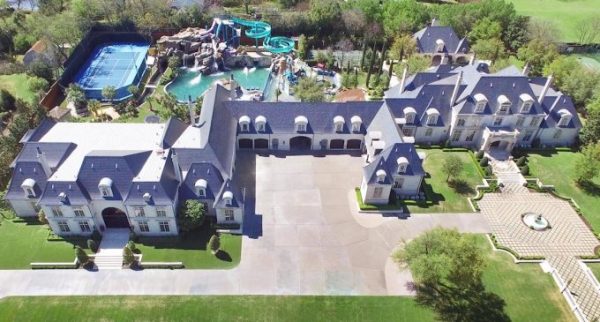 10711 Strait Lane
This over-the-top mega-mega Texas sized Estate designed by the renowned architect Robbie Fusch, is located on the coveted Strait Lane surrounded by notable neighbors from sports figures, public servants, celebrities, and professionals from all walks of life. From the second the 20 foot tall gates open revealing the magnificent estate on over 4 acres of manicured grounds you know you are in for an experience of a lifetime. Expect to be impressed with the finest of finishes and appointments throughout from rich onyx lit ceilings to hand carved stone columns, groin ceilings, extraordinary corbels to cut stone fireplaces, media rooms, sport courts, separate cabana, and even a water park rivaling local pubic venues.
Private property, do not trespass.
Champ d'Or – Hickory Creek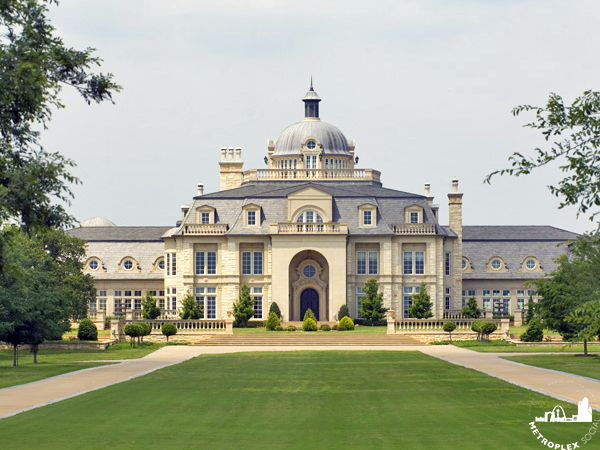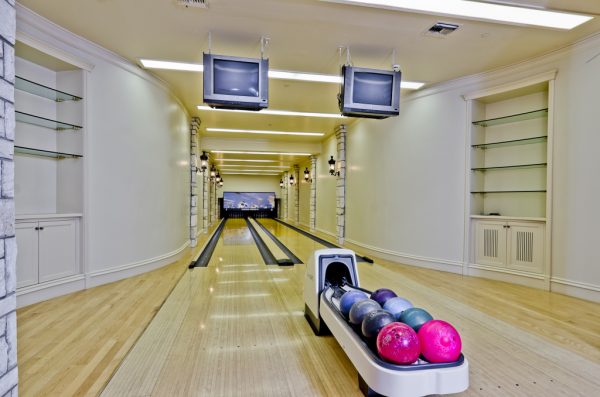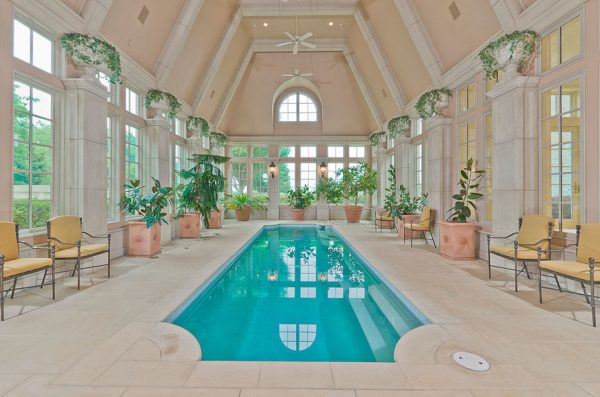 1851 Turbeville Rd.
Champ d'Or, the largest estate in Texas at 48,000 square feet, sits on almost 40 acres and includes six bedrooms, a media room, exercise room, bowling alley, wine cellar, multiple kitchens, a sauna and steam room, a tennis court, game room, indoor and outdoor pools, plus a tea room modeled after New York's Tavern on the Green restaurant. The lavish French chateau-style palace in Denton County is modeled after the Vaux-le-Vicomte chateau in Paris, and was built in 2002 by Alan and Shirley Goldfield for an estimated $52 million. All of the windows on the front of this North Texas mansion all bullet-proof.
Even wilder? Champ d'Or, which means "field of gold" in French, is located in the community of Hickory Creek, Texas next to a trailer park and behind a Walmart. No one anywhere nearby is ever keeping up with the occupants of this gargantuan mansion. Drive by this mansion and you'll understand what we're talking about.
Private property, do not trespass.
The Baldridge House – Arlington Heights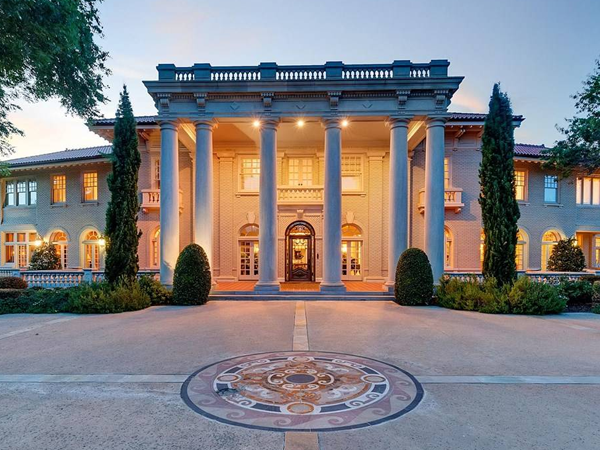 5100 Crestline Rd.
One of Texas' prized architectural treasures built from 1910-1913, and a Texas Landmark since 1978, the Baldridge House possesses an artful balance of historic elegance and modern amenities. The nearly one-and-a-half-acre estate is protected by a privacy fence and hedge. Juxtaposed by the grandeur of the home, guests are greeted by an understated, yet ornate fountain, which gives a proud and peaceful nod to this magnificent home. This estate has three living spaces, perfect for formal and informal gatherings, a billiard room with oak paneling and highly detailed oak coffered ceilings, six gorgeous bedrooms, six lavish bathrooms, large storage spaces and room for eleven cars making this home perfect for the auto enthusiast.
Private property, do not trespass.
Wilson House – Dallas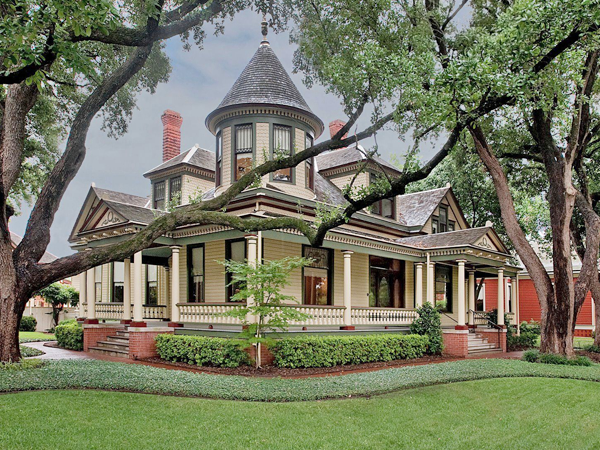 2922 Swiss Avenue

The Wilson House, an elaborate Queen Anne design featuring a turret and wrap-around porch, was built in 1899. The turn-of-the-century structure is the crown jewel of the Wilson Historic District and also the current home of Preservation Dallas. Frederick and Henrietta Wilson had owned the entire city block and built several other homes on their land as rental properties, most of which remain, according to Preservation Dallas. The couple's son Laurence lived in the home, which also has a carriage house and servants quarters, until the late 1970s.
The Wilson House also is the only house on the block that was built with a Servant's Quarters and a Carriage House; both of those buildings survive and also were restored by the Meadows Foundation. The Carriage House now serves as the location for many of Preservation Dallas' education programs.
Inverness | Castle at Heron Bay – Fort Worth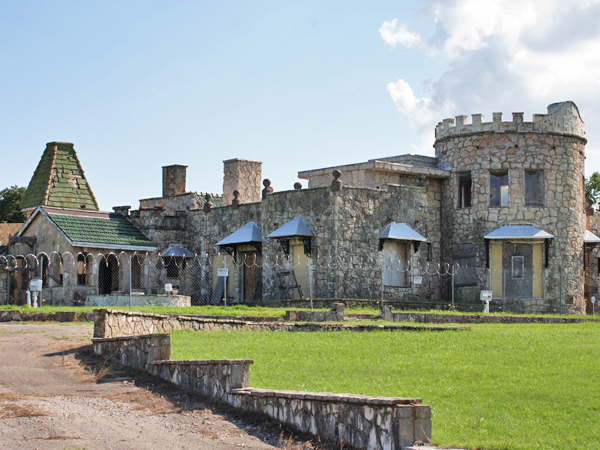 9115 Heron Dr.
Sit down for this one.
Fort Worth's 1930s Lake Worth Castle, also known as Inverness or the Castle at Heron Bay, is apparently vacant save for a caretaker, falling apart, and not on the market. Some say it was once an illegal casino, complete with secret tunnels leading from the card tables to the boat docks on nearby Lake Worth. Rumor has it that the property was won in a poker game against a guy named McPherson. Later, after it passed into the hands of the Vultee Aircraft Corporation, this castle was visited by General Dwight Eisenhower and Jimmy Stewart, who called it home while filming Strategic Air Command at a nearby airfield.
An old stone farmhouse has stood on the site since about 1860 and was incorporated into the existing castle. According to local legend, the farmer who owned that house was engaged to a woman who was found floating face-down in Lake Worth on their wedding day. Legend says in order to assuage their grief, the sister of the dead woman married the farmer a month after the drowning, and they lived happily ever—except for ghostly visitations from the dead woman. People say they've seen a woman in white run from the house down the water's edge, where she disappears.
Even more weird, in the 1970s, this Fort Worth castle was a hub of New Age classes and forums run by space alien abductees, dematerialists, astral projection claimants, and spirit watchers.
And now it's crumbling away, surrounded by razor wire, its windows boarded, its roof peeling in the Texas heat.
Private property, do not trespass.
Bob Simpson Mansion – Fort Worth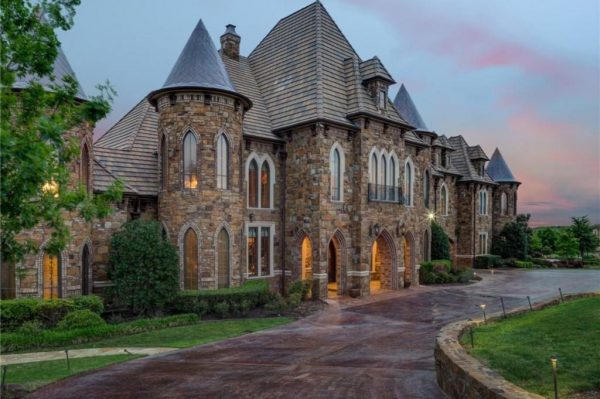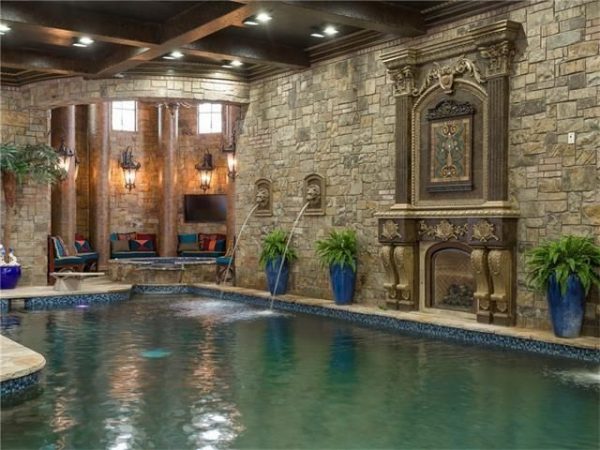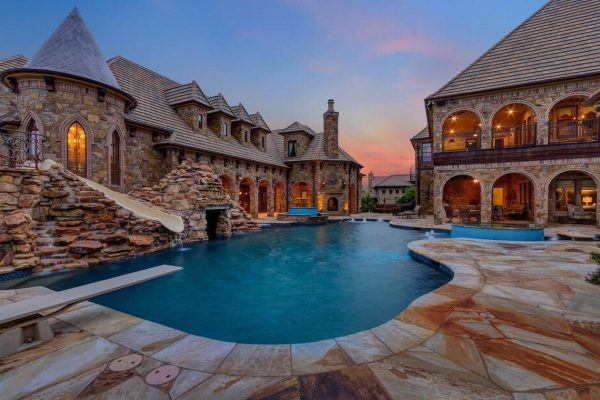 9553 Bella Terra Dr.
This lavish, medieval-castle-style home was once owned by prominent Fort Worth oilman Bob Simpson, co-owner of the Texas Rangers. This Fort Worth mansion sits on one acre in Fort Worth's Montserrat gated community. Bob Simpson also co-founded XTO Energy and sold it to Exxon Mobil in 2010 for $31 billion. The custom-designed home, built in 2006, has six bedrooms, two elevators, eight-and-a-half bathrooms, "wet bars galore," three private offices, a gourmet kitchen, a game room, a media room, and a 5,000-square-foot guest house.
The master suite also includes a 1,000-square-foot closet and an entrance to the indoor heated pool. A sweeping patio outside includes a hot tub with a marble surround and a large swimming pool with a slide and diving board. The guest house includes additional bedrooms, a game room, office, full kitchen and a "professional" workout room.
Private property, do not trespass.
Flower Mound Castle – Flower Mound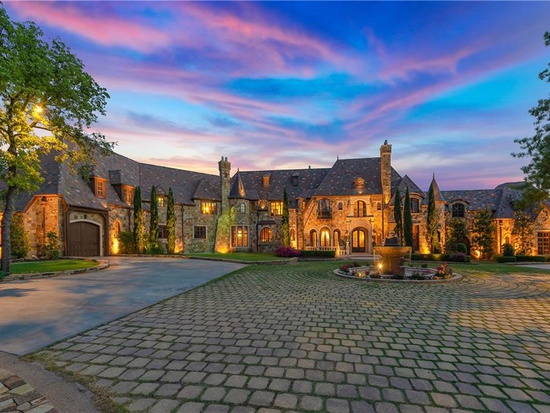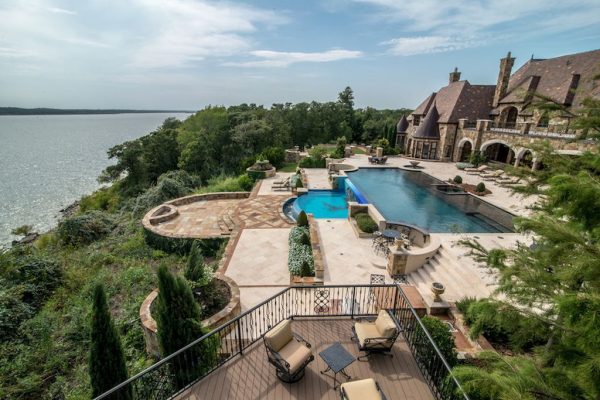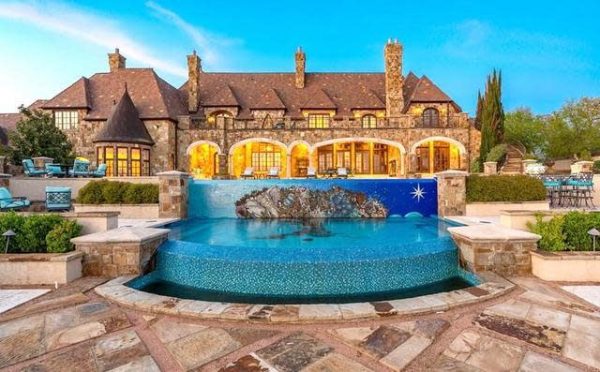 1808 Point de Vue Dr.
Hidden on the heavily timbered shores of Grapevine Lake in Flower Mound is a secluded estate that offers tremendous privacy, security, and yet convenience to the airport which is 15 minutes away! Featuring the most majestic views available, this unique estate lies on 10 wooded acres. The main house exceeding 19,000 sqft. and the three bedroom guest house separated by two swimming pools, this is truly a resort lifestyle offering unending entertainment options and amenities.
Private property, do not trespass.
Philip Johnson Mansion – Dallas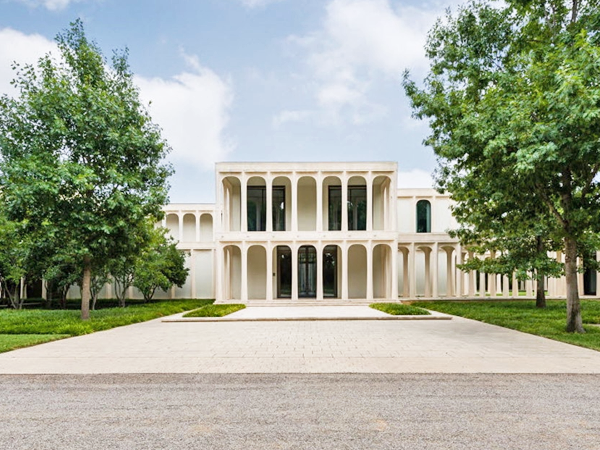 10210 Strait Lane
It is the rarest of them all: a Philip Johnson masterpiece, never to be repeated. Built in 1964, with an exquisite and sensitive update completed in 2008, the light-filled house boasts elegant living spaces, a stunning double staircase, a unique dining room with an arched canopy, five luxurious bedrooms and eight baths. The nearly 7 park like acres include a media house, modernist cabana, pool and tennis court. This award-winner has been featured in books, magazines and The New York Times.
Private property, do not trespass.
Summary
The Dallas Fort Worth metroplex is scattered with gorgeous mansions ranging from a mega-mega mansion complete with backyard water park that would rival local attractions to historic mansions that predate the Civil War. If that wasn't enough, DFW is also home to Texas' largest mansion of them all at a cool 48,000 square feet…located next to a trailer park and behind a Walmart. These listings are for informational purposes only. Many of these amazing DFW mansions are on private property. DO NOT RISK TRESPASSING. You must gain express permission from the owner before visiting private property.
Know a must-see Dallas Fort Worth mansion we should add to this list? Let us know in the comments below.