You'll immediately notice a difference when you first wander into this local donut shop. First things first: this isn't just any ordinary donut shop. No, this place is more than your typical metroplex fried dough purveyor. The humble doughnut has come a long way and is the object of obsession in this North DFW city. The artistic creations here run the gamut from boundary-pushing recipes exploring exciting new flavor combinations to decades-old institutions that just aren't going to change and don't need to. This is Sara's Donut Story…
Find out why Metroplex Social recently named Sara's Donut Story the BEST Donut Shop in Flower Mound, TX.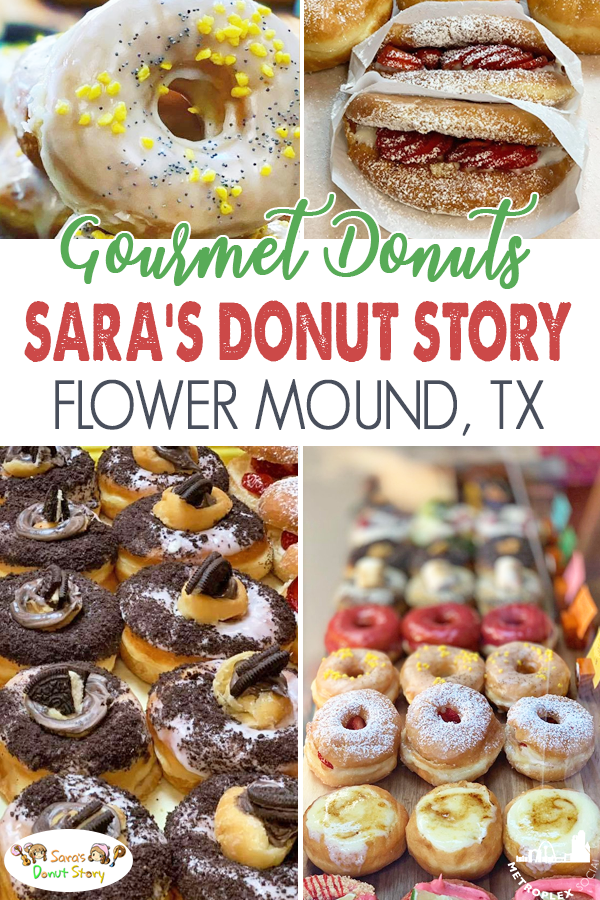 As I sat across from owner, Faith Sara Ko, to discuss the topic of gourmet donuts it only seemed appropriate that we'd chat over a hibiscus strawberry lemon donut and her newest creation–a fresh blueberry lemon glazed donut. In the nine years since Sara first opened her artisanal donut shop in the unassuming town of Flower Mound, she has created dozens upon dozens of different tongue-teasing, mouth-watering flavor combinations. Some fusions have come and gone, while others like the strawberry cream shortcake and tiramisu have made a lasting mark with the locals.
If you're trying to compare Sara's donuts to your every day donut, then you've entirely missed the point. Here's what makes Sara's Donut Story different from other DFW donut shops: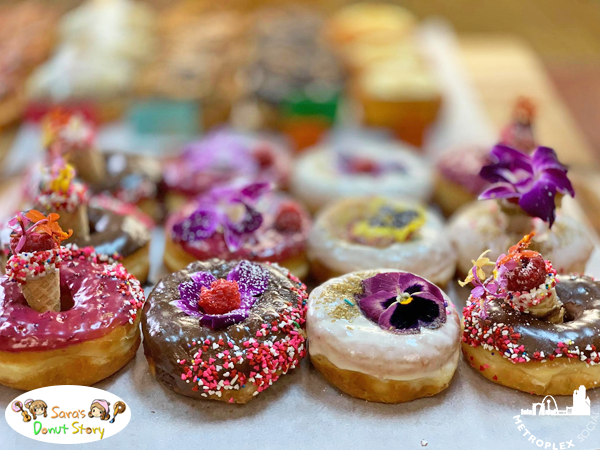 Sara's Donut Story in Flower Mound, TX
Where to Find Custom Gourmet Donuts in Denton County
Exceptional Quality
Sara's Donut Story uses the finest and organic ingredients when they can and when it makes sense. Sara takes great care in where she sources many of her ingredients–even obtaining them from far away places, including sometimes on the other side of the world. We've been sworn to secrecy, but I can tell you I saw the labels and I know it for a fact.
For example, the hibiscus she uses in the glaze of her donuts comes from organic, tropical hibiscus flowers. The cream in the strawberry shortcake donuts is handmade using a special, secret homemade recipe. Often, Sara incorporates nature into her donut creations, such as edible flowers and fresh fruit.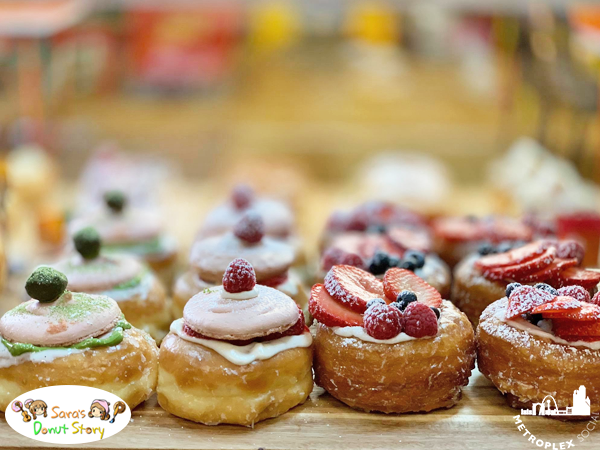 Exciting Flavor Combinations
And then when you least expect it, Sara's Donut Story comes out with a new limited edition flavor. You literally cannot have tried everything here, because there is always something new being created. Examples of fun flavor combinations are always changing and have included:
Passionfruit
Blood Orange
Creme Brulee
Strawberry Margarita Oreo
Maple Bacon
Matcha Latte
Spicy Cashew Cheese and Cheetos
White Chocolate Ganache with Rose Cream
Brownie Cookie Dough
Lemon Meringue Drop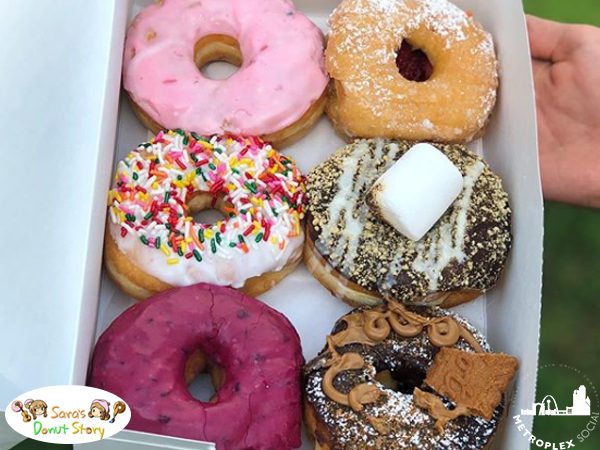 Sara's Donut Story Brings Happiness and Joy
I asked Sara why she goes to such great lengths to make her beautiful, unique gourmet donuts. Her reply? "Because it makes me happy." For Sara, it is all about the customer experience and as I hinted at the beginning of this article it all starts as soon as you open the bright yellow door that is the entrance to this fun local Flower Mound donut shop. On the walls here hang objects that brings the owner joy…things like a hand-drawn portrait by an eleven-year-old customer. One of Sara's biggest hopes is that by surrounding herself with stuff that makes her happy is that she'll also bring joy and happiness to others as they sit and eat gourmet donuts in her restaurant.
Sara's Donuts Flower Mound Location:
Grab the family and head out to Sara's Donut Story!
ADDRESS: 2201 Long Prairie Rd Flower Mound, TX 75022 HOURS: 5:30am to 12noon every day
Sara's Donut Story on Facebook
Sara's Donut Story on Instagram
Summary
Sara's Donut Story is a local North DFW gourmet donut shop located in Flower Mound, TX creating exciting new flavor combinations that will tempt your tongue and tease your senses. Grab the family and go there now!
We love sharing content from our local partners. This is a sponsored article by Sara's Donut Story. Any opinions expressed are our own.