Are you an honorary employee at Dunder Mifflin? Do you think Michael Scott is the world's best boss? Thanks to The Whippersnapper you'll get to experience all your favorite The Office memories in real life! Grab a beer and get ready for this The Office themed bar in Dallas.
Looking For More Unique Things To Do? Try The World's ONLY Pickle Festival, right here in DFW!
The Whippersnapper in Dallas is known for their unique pop up bars. You may have even visited their Family Guy themed bar in 2019. As DFW welcomes in the new year, this popular bar is on to its next big attraction!
It must be hard to always try to come up with new and exciting themes, but The Whippersnapper makes it look like a breeze! Their pop ups have been all the rage in DFW over the last year, so we know that this one will be one that you cannot miss. Here's everything you need to know about The Office themed bar in Dallas: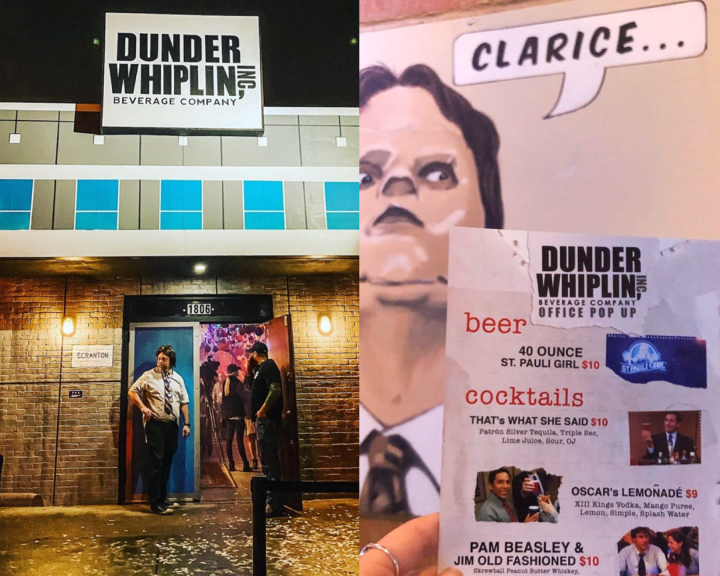 The Office Themed Bar In Dallas Fort Worth
Dunder Mifflin fans everywhere can rejoice as they watch their favorite characters and scenes come to life at this Dallas pop up bar!
About The Office Pop Up Bar in Dallas
Dunder Whiplin Inc. will officially hit Dallas as of January 9th! While it'll grace the Dallas bar scene for a little over a month, do not wait too long to come and stop by. This is perfect for a beer after heading home from your office, so invite all your coworkers!
Dunder Whiplin will be complete with local artwork, live music, and interactive experience which really take this bar up a notch. There seriously could not be a better way to start off 2020!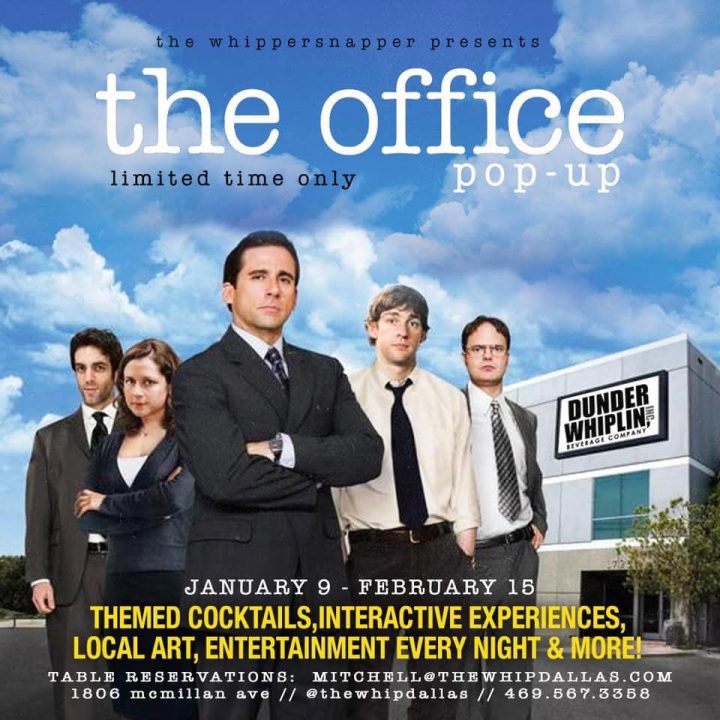 During your visit to The Office Pop Up in Dallas, you'll be greeted by a familiar exterior reminiscent of the corporate style building from the Office.
When you enter, you'll see props from some of your favorite episodes like the "It Is Your Birthday" sign, and tons of quotes and art pieces inspired by some of the funniest episodes!
That's What She Said…
Their bar menu features quirky themed drinks like the Pam Beasley and Jim Old Fashioned or the That's What She Said.
Even the food options provided by High Fives are perfect for fans! Who hasn't wanted to try a Scott's Tots, right? You can even make reservations to try it out for yourself on their website.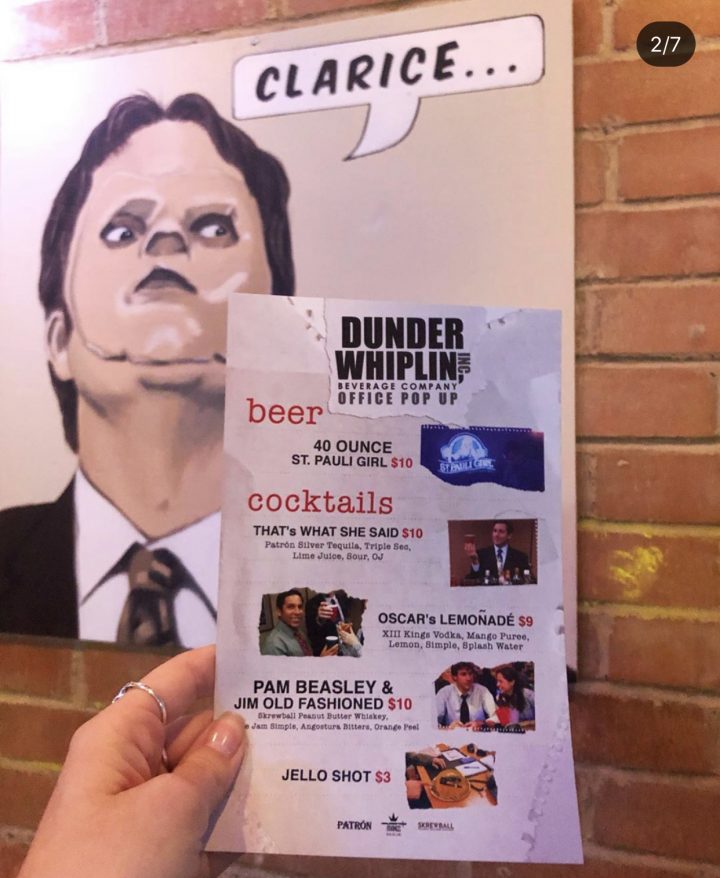 This is a great chance to bring out your coworkers out for a hilarious time and a yummy cocktail. You might even decide to have some business meetings Michael Scott style.
Grab all the biggest fans of the popular sitcom for this The Office themed pop up bar In Dallas!
What are the hours for Dunder Whiplin?
The Pop Up Bar at The Whippersnapper will be open Wednesday through Saturday. The hours are as follows:
WED – FRI: 9:00PM – 2:00AM
SATURDAY 8PM-2AM
Office Pop Up Bar In Dallas Location:
Check out Dunder Whiplin Inc. at
1806 Mcmillan Ave, Dallas, TX 75206
Located within The Whippersnapper!
Stop By This Hilarious Pop Up Bar In Dallas Fort Worth!
A long night at The Office is ahead of you at Dunder Whiplin Inc.! Special thanks to the Whippersnapper and another awesome themed pop up bar. Grab a new drink from the bar, or sit down for some grub. Regardless, you'll spend a night cracking up with your favorite people!
Will you be heading to Dallas to visit this pop up bar to start off the new year? Let us know by tagging us @metroplexsocial #discoverDFW and be sure to follow us!