On April 24, Shelley Luther reopened her Dallas salon in the middle of a global pandemic against Texas Governor Greg Abbott's executive safer at home orders. After receiving a cease-and-desist order from the county, she continued to keep Salon a la Mode open-even ripping up the judge's order in front of a cheering Open Texas crowd that had gathered in Frisco, TX to support her cause. She was subsequently fined $7,000 by district court Jude Moye and told to apologize or face 7 days in a Dallas jail. Luther chose jail.
RELATED: Who Is Shelley Luther, The Dallas Salon Owner Who Reopened Her Business During A Global Pandemic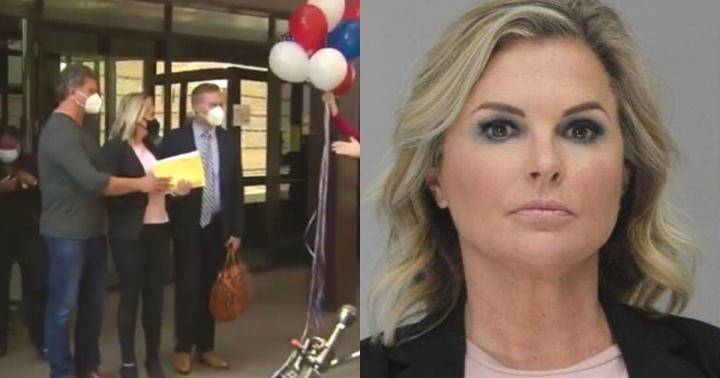 Arrested Dallas Salon Owner's GoFundMe Launched Before She Even Reopened
Luther's Dallas salon has now become the center of attention in Texas stay-at-home order debates. After Luther was arrested and put into the Dallas jail on a contempt of court charge, tensions were raised in the Open Texas movement and public outcry ensued. It was only after the outrage that both Texas Attorney General Ken Paxton and Governor Abbott publicly denounced Luther's jailing, and then Texas Lieutenant Governor Dan Patrick jumped on board and offered himself up as tribute to the Open Texas martyr by offering to stay home for 7 days on house arrest as well as pay her $7,000 court fine. And if any of this surprises you at all, then hold on to your beer because then Gov. Abbott shortly before meeting with President Trump at the White House Thursday declared the punishment in his own executive order unjust and removed it retroactively to April 2 with a signal of approval from Trump himself saying, "Good." The Texas Supreme Court even got involved ordering Luther's release from jail by 4 pm Thursday. Then the very next day on Friday (which just happened to be the new date Gov. Abbott set for hair salons to reopen), Senator Ted Cruz showed up at Salon a la Mode to get a haircut draped in leopard print which was televised live on local media channels.
All this over Luther not wanting to wait to reopen her salon until May 18, the date Gov. Abbott had originally said hair salons could safely reopen during the global coronavirus pandemic.
Oh, and Luther has been able to raise over $500,000 from a GoFundMe campaign that was started April 23–the day before she ever reopened her Dallas salon.
Texas Monthly says, "As far as PR stunts go, this one has been lucrative."
"If all of this feels like a particularly effective PR stunt, well, that certainly seems accurate: the GoFundMe campaign—run by a group calling themselves "Woke Patriots"—was created on April 23, one day before Luther reopened her salon. 'We researched her and her cause,' campaign organizer Rick Hire wrote on the page, 'and decided that we would approach her and offer to support her as our first patriot cause. She accepted our offer.'"
A Fort Worth Star-Telegram article published Saturday is saying "Activists staged Shelley Luther's stunt against Greg Abbott, to the tune of $500,000."
Remember that court hearing in Dallas where district court Judge Moye gave Luther an option to stay out of jail if she would apologize? Well Luther argued at the court hearing that she's doing it because she has to put food on the table to feed her kids and pay her bills.
"I have hairstylists that are going hungry because they'd rather feed their kids," she said. "So, sir, if you think the law is more important than kids getting fed, then please go ahead with your decision, but I am not going to shut the salon."
Except the financial situation for Luther wasn't exactly distressing at that point because just two days earlier she had been approved for a fully funded, taxpayer-backed Paycheck Protection Program loan from the U.S. government that is forgivable if at least 75% of the loan is used to pay employees.
Not to mention that due to all the attention Salon a la Mode is now open, booked to the brim with hair appointments, and Luther is also $500,000 richer.
And if you think this is the biggest Texas tall tale you ever heard…well, meet Shelley Luther: she's the Dallas salon owner, makeup artist, musician, exotic animal owner, pet rescuer, and mother who has been dubbed by the Open Texas movement as "an American Hero."
The GoFundMe campaign manager, Rick Hire? Well, he said he's giving all the money to Luther. "Tons of people want to be sure that Shelley is getting the money. The way we setup the fund, Shelley is the sole beneficiary, and we only have an organizational role," he said on the GoFundMe page. "Not only do we not have control over the money, we do not want that. This is a cause that we support and we need our hero to get every dollar."
Hire explains why he got involved in with Luther, "God plucked me up and said *I have work for you* and I did what he said," Hire's post to an Open Texas Facebook group reads. "The government took away my livelihood, so I am dedicating my time to fighting tyranny now, and in the future. That is the new me. I will not stop, ever. I will plan for coming hoaxes and tyrannical overreaches." The private Facebook group has now reached over 68,000 members in the 3 weeks since it was launched.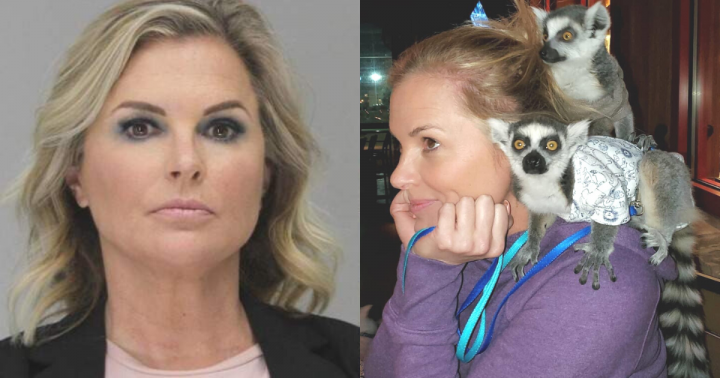 What Is The Open Texas Movement?
The Open Texas private Facebook group which has gained 68,000 members in three weeks describes themselves as "a united group of Texans that stand for the vulnerable and allowing the healthy to get back to work now," it says. "Join this group if you want to be a member of a peaceful, prayerful action to Open Texas businesses and churches today. May God bless our efforts in Jesus name." The group was created April 13 by the political organization Open Texas founded by Grant Bynum who says he lives in Dallas. Rick Hire and Shelley Luther are members of the group.
Group members and leadership frequently posts memes, articles, and rants about what they call hoaxes (i.e. Plandemic), government conspiracies (this is usually tied to lab-grown meat, realID, chip implants, contact tracing, and the number 666), snitches (Mark Cuban is the latest target), #stayhomers, elite freaks (Bill Gates, George Soros, Richard Branson), liberals/Democrats (they don't like Dale Hansen, Judge Moye or former U.S. President Barack Obama right now), coward Republicans (they hated Gov. Abbott until Thursday when he called for Shelley Luther's release from jail), and really, really bad "science" advice (face masks are bad) by fake experts.
They're even advocating for Texans to break Gov. Abbott's executive orders and phased reopening by "[organizing] a day where a massive amount of you open in one day," a post dated May 8 reads. "Lets stop demanding what we want and just f-ing do what we want. Damn the consequences go right at 'em."
We'll be updating this article with more soon.
Here Are Screenshots Of The Shelley Luther GoFundMe Campaign: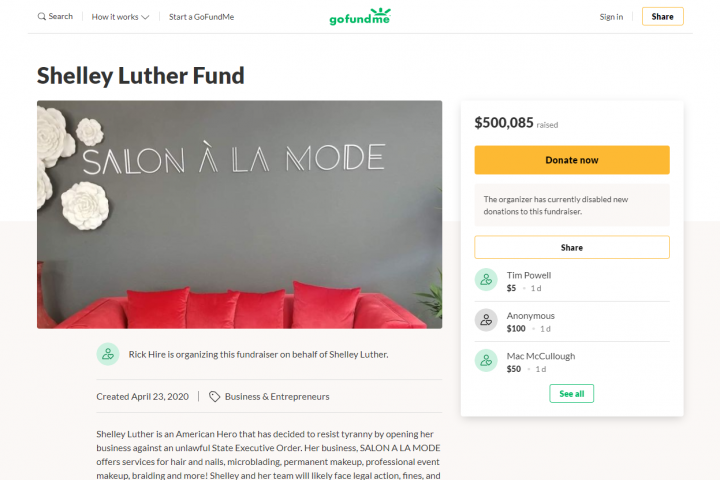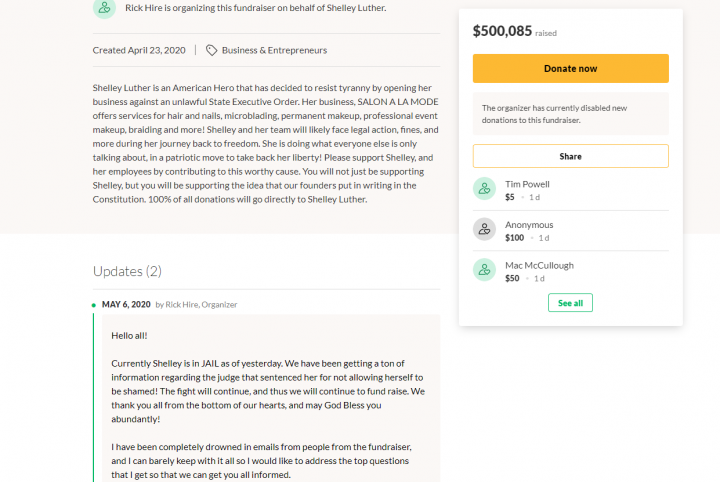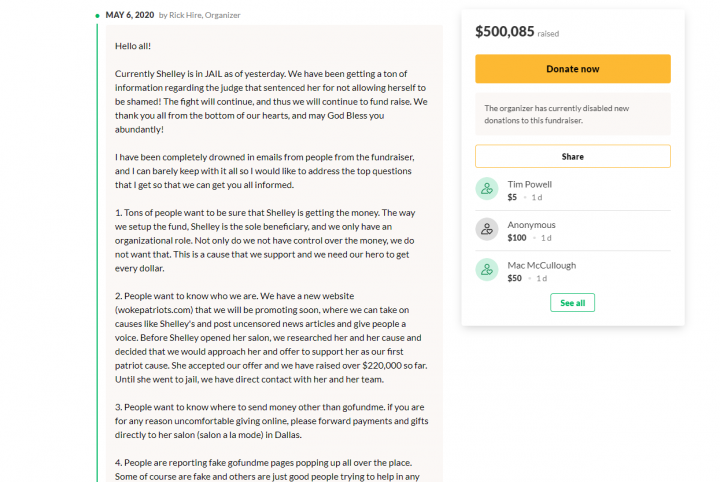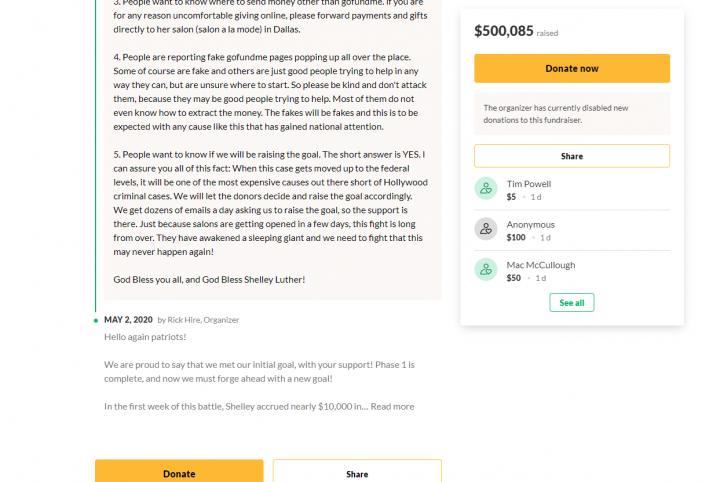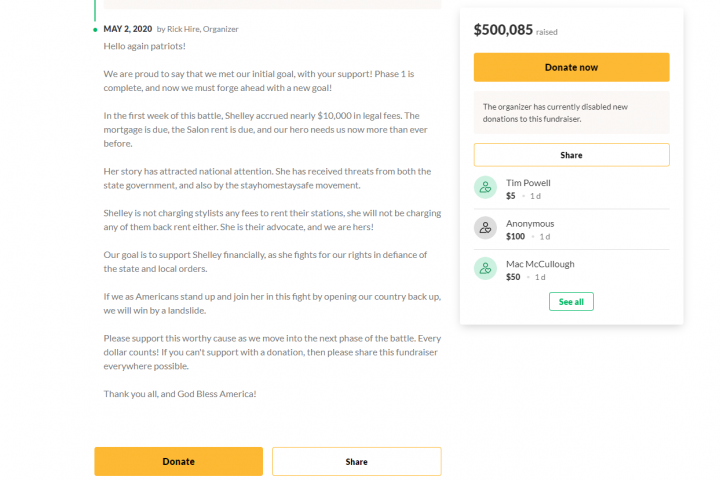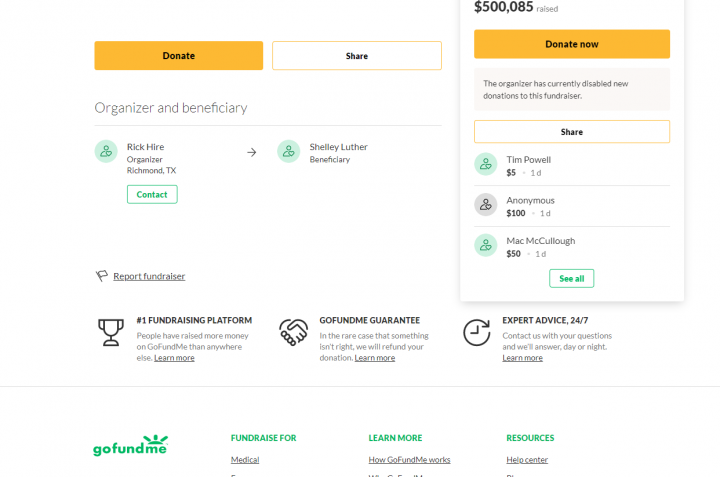 Arrested Dallas Salon Owner's GoFundMe Launched Before She Even Reopened
Shelley Luther's GoFundMe campaign that has now raised more than $500,000 and captured the attention of the world, was actually launched before she even ever reopened her Dallas salon.
More on Metroplex Social:
Got something to say? Leave a comment.