If you like fun, physical activity, and super charged bounce houses then you need to check out The Big Bounce America! The biggest, craziest, and most colorful traveling bounce house world is coming to Dallas this month! Here's Everything You Need To Know About Big Bounce America in Dallas:
If you like high energy fun, then check out when the World's Biggest Nerf Battle is coming to Dallas!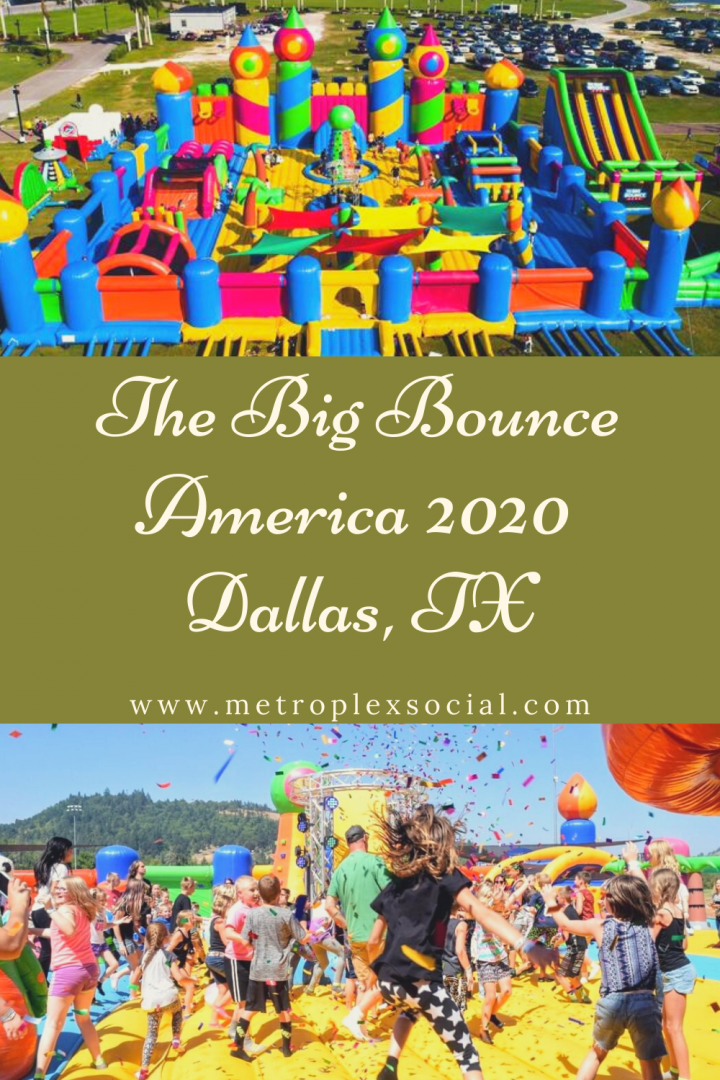 The Big Bounce America is the official Guinness World Record holder for the World's Biggest Bounce House and it just got supersized to over 13,000 square feet for 2020!
What Is Big Bounce America?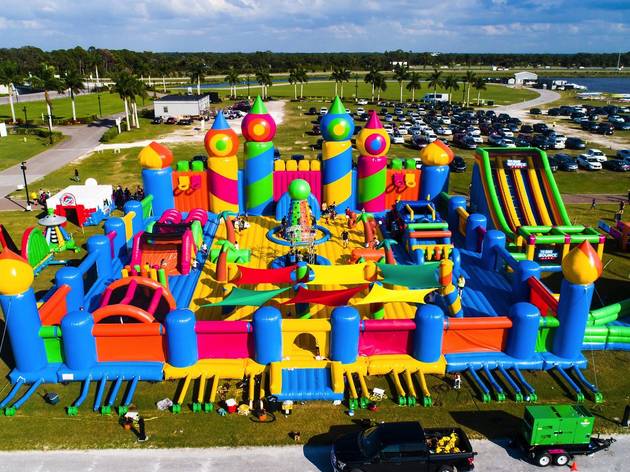 This ginormous traveling bounce house world has climbing towers, obstacle courses, basketball hoops, giant slides, confetti blasts, bubbles, live DJ's, and more!
There are four different bounce house attractions:
The World's Biggest Bounce House is 32ft tall and full of colorful, customized fun. Here you will find basketball hoops for slam dunking, a large slide that ends up in a ball pit, the DJ, lots of bubbles, climbing walls, and over sized couches and chairs to take a break on.
The Giant is over 900 ft in length and a super fun obstacle course with 50 different obstacles! Can you run across the giant red balls? Or crawl through the rainbow spirals? There are even "kid friendly" options on the course for younger kids. You can race each other or take your time enjoying the obstacles.
Air Space is a fun,space themed land of ball pits, a 5 lane slide, giant alien, a 60ft tall maze, and more.
Sport Slam is the brand new attraction this year where you can battle it out with some friendly competition. Dodgeball, basketball, soccer and other bouncy challenges are all run and refereed by the Big Bounce MC. This amazing sports arena is filled with goals, nets, hoops and balls of every kind!
What Is The Age Limit for Big Bounce America?
All ages are welcome! There are age appropriate sessions for toddlers, juniors (ages 7 and under), bigger kids (ages 15 and under) and adults only (ages 16 and up only)! Note: parents and care givers are allowed to go with their children in the sessions and children 3 and under must have a ticket and be accompanied by an adult in any session.
What To Know Before You Go to Big Bounce America
Socks must be worn at all times
Everyone who plans to be on the inflatables including parents with young children must have a ticket. Spectators are allowed on the grounds without a ticket.
All tickets are all access for 3 hour time slots
The cheapest way to purchase tickets is ahead of time online but you can also purchase tickets at the gate if not sold out.
Food vendors will be present but you can also bring your own food and beverages.
When Is Big Bounce America Coming to Dallas?
The Big Bounce America will be in Dallas on the weekends of…
March 21 and 22
March 27, 28, 29
April 3, 4, 5
Where Can I Purchase Tickets?
Get your tickets to Big Bounce America right on The Bounce Americas website here.
Where will Big Bounce America be located?
The Big Bounce will be on the grounds of Southfork Ranch at 3700 Hogge Road, Murphy, TX 75002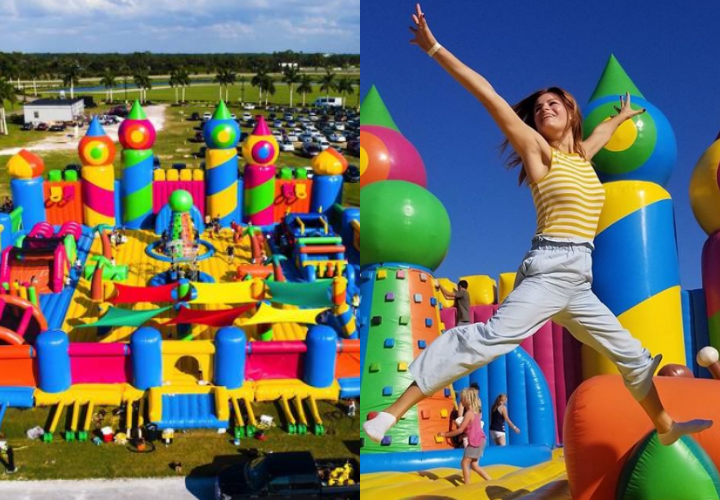 You Can Jump On The Biggest Bounce House in the World Near Dallas This Spring!
Here in Texas, we always say "Go Big or Go Home" and The Big Bounce is bringing it here Big Time! Grab your tickets and get ready for BIG FUN at The Big Bounce America Dallas!
Here more awesome events happening around DFW you'll love:
Do you know of any other BIG events coming to the area we should know about? Share you pics with us by tagging us @metroplexsocial #discoverDFW!