These cute Valentine's Day cookies are so much fun! Everybody loves finding new recipes to make for each holiday. There are so many great ideas here, so for every level of baking experience. Here's 30 Valentine's Day Cookies for You to Bake:
Be sure to get our Valentine's Day Gift Guide for HER. 35 gift ideas she'll LOVE!
Some products displayed may earn us a commission at no extra cost to you. Why Trust Us?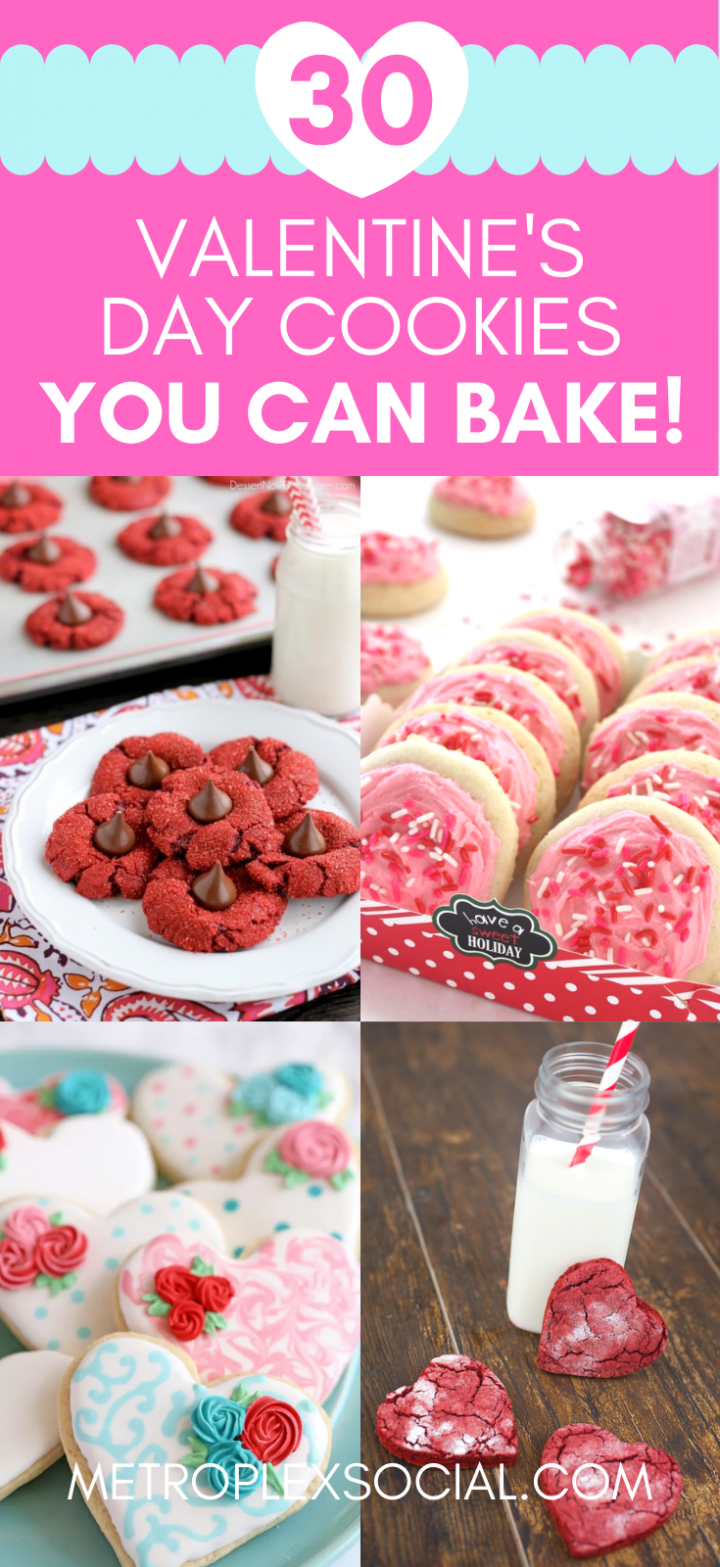 These 30 Festive Valentine's Day Cookies are delicious, and the perfect dish to bring to a Valentine's Day party, or gift to loved ones!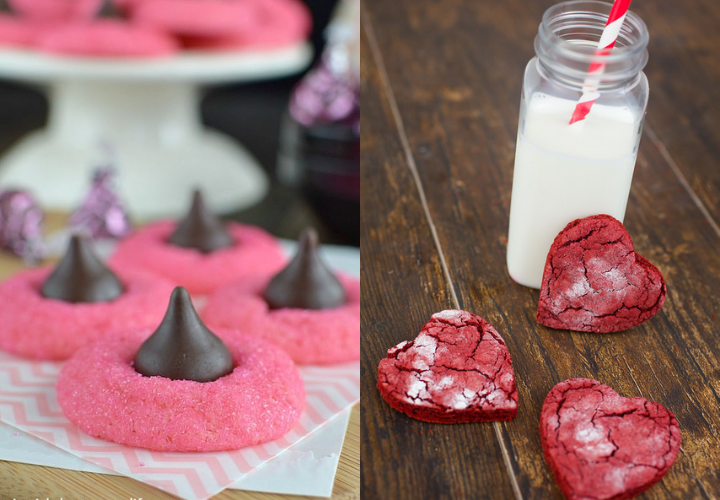 Sugar Cookies
Ummm yum and YES! I love these Valentine's Day sugar cookies bars from Dessert for Two.
Baked by Rachel pink marble sugar cookies are so pretty, yet so simple!
Know someone who loves those store bought cookies with bright colorful frosting and sprinkles? Well, someone made a copycat recipe that you can make at home from Cincy Shopper!
These red velvet sugar cookies, from Dessert for Two, are so cute!
I like these because there's no baking involved, HA! Family Fresh Meal's Valentine's cookies are colorful and super yummy.
Don't forget to use a fork to press these or they just won't be the same! Make these heart-shaped peanut butter cookies, from The Semi Sweet Sisters.
Annie's Eats' Conversation heart cookies are a fun way to start a conversation with your Valentine!
Hello Wonderful's teddy bear graham cookies contain cute and heartwarming messages. I think I'm making these this year!
And just when I thought I had it all figured out I found these adorable shortbread valentine cookies, from Two Peas and Their Pod.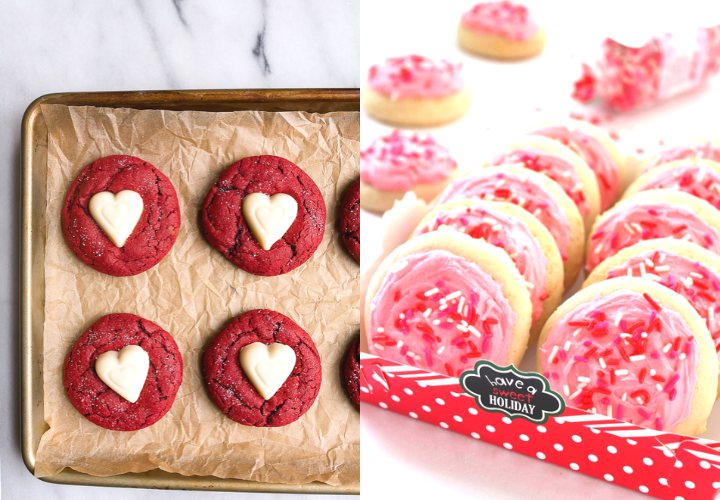 Chocolate Cookies
Valentine's Day M&M cookies are always a fun and colorful hit! Stop by Number 2 Pencil for the recipe.
These Red Velvet Blossoms from Dessert Now, Dinner Later! got me all like WHOA. Anyone can bake these cookies and feel like a star!
I love these Valentine's Day whoopie pie cookies by Sincerely Jean!
These Lovable Kitty Oreo's are so adorable from Kitchen Fun With My 3 Sons.
OMG Chocolate Desserts' chocolate chip cookie dough hearts are so easy to make and irresistible!
These homemade heart brownies with strawberry frosting are the next thing to heaven and you can get the recipe at Simplistically Living. Lets pretend it's a cookie recipe…
I really like these Hershey Kiss cookies! Check out the recipe over on Life is Sweets.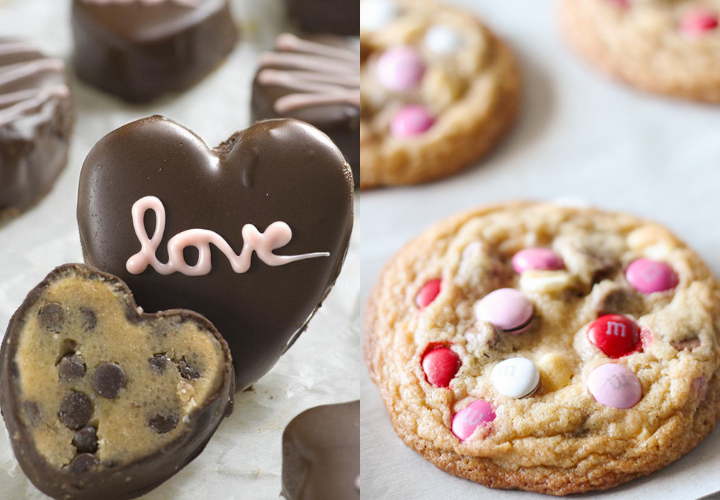 Easy Valentine's Day Cookies Recipes
These Valentine's Oreo cookies from Happy Brown House are super simple to make…no baking required!
Kids will love these One Little Project's gummy bear heart cookies and they're perfect for letting little ones help in the kitchen.
These best thing about these red velvet crinkle cookies, from Foodie Fun, is that they use a box mix!
How sweet are these love bug cookies, from The Decorated Cookie! CUTE!
These strawberry truffle kiss cookies, from Inside Bru Crew Life, are perfect for filling your cookie jar, gifting to friends or making for your Valentine this year.
Cooking Classy's Linzer cookies are classy, pretty, and delicious. Fill these with fresh jam and your good to go.
Mmmmm, strawberry milkshake cookies! Need I say more? Head on over to Southern Made Simple for the recipe.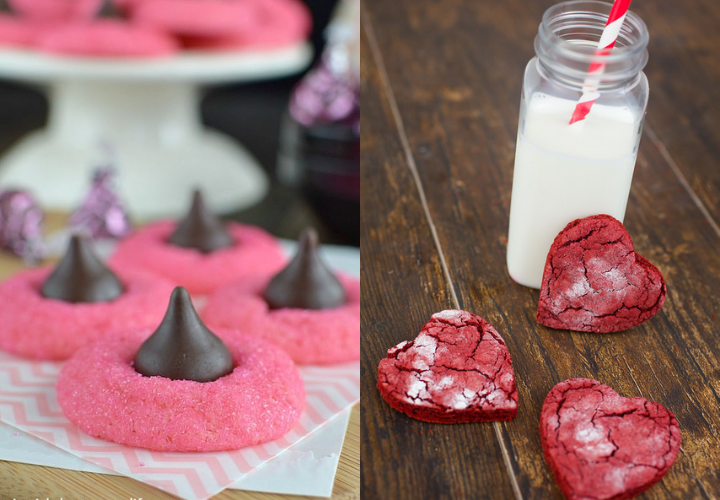 How do I decorate Valentine's Day Cookies?
Some products displayed may earn us a commission at no extra cost to you. Why Trust Us?
The sky is the limit when it comes to decorating Valentine's Day cookies:
Use your imagination, and gather conversation hearts, sprinkles, edible sugar pearls, Valentine's Day M&M's, gel frosting, Twizzlers, and any frosting you want to work with (just add food coloring!). You can stick with a serious theme, or make your Valentine's Day cookies more abstract.
The most important ingredient to decorate with is love!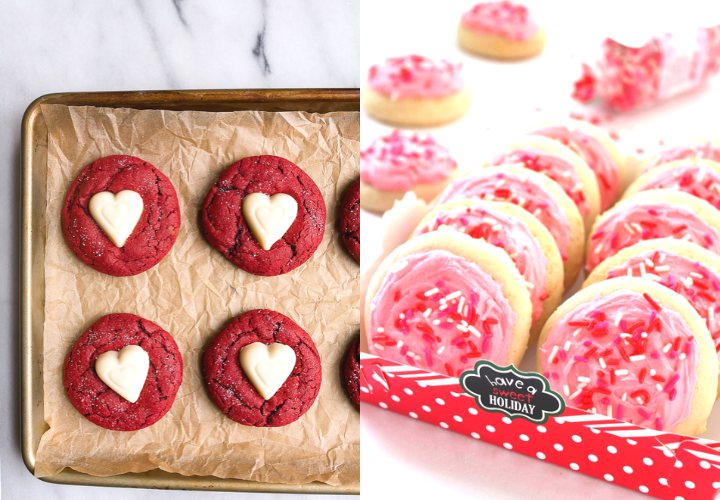 How Do I Give Valentine's Day Cookies as Gifts?
Easy! Whip up some of these yummy treats, place them on a paper doilie-covered, pink or red paper plate, and then wrap with colorful cellophane wrap and ribbon.
For another fun Valentine's Day gift idea, place a kiss cookie cutter, heart cookie cutters, and a rolling pin into a red basket, along with parchment paper, cookie sheets, sprinkles, and a DIY heart apron that your kids can help decorate with fabric markers.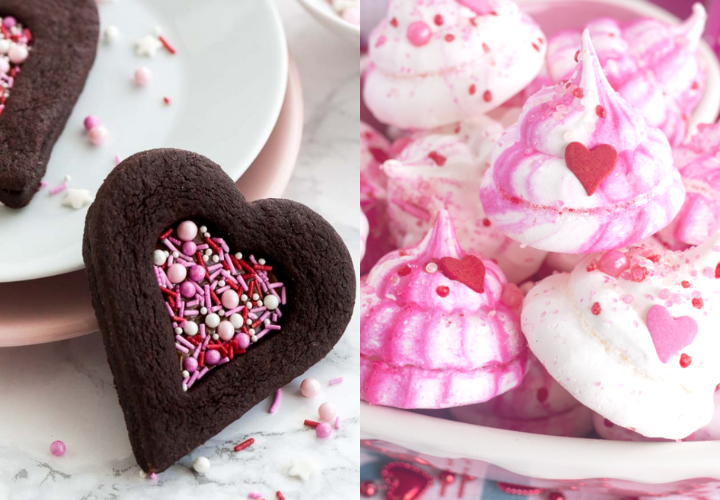 Yummy Valentine's Day Cookies
I'll never be a French baker, but maybe you could try? Head on over to Liv for Cake for Valentine's Day macarons.
Check out these Valentine's Day meringue cookies by Young at Heart Mommy. I love them!
Ooooh! Chocolate Linzer Cookies? I can do this! See the recipe at Plated Cravings.
If you're not quite sure what to make for Valentine's Day, these sweet treats from Kids Activities Blog will give you some inspiration!
Happiness is Homemade created these super easy and pretty Valentine's Day cookie pops that are perfect for a class party!
Sugar Hero gives step-by-step directions for decorating the PRETTIEST Valentine's sugar cookies! Check these ones out NOW.
Try these strawberry shortcake thumbprint cookies from Kids Activities Blog.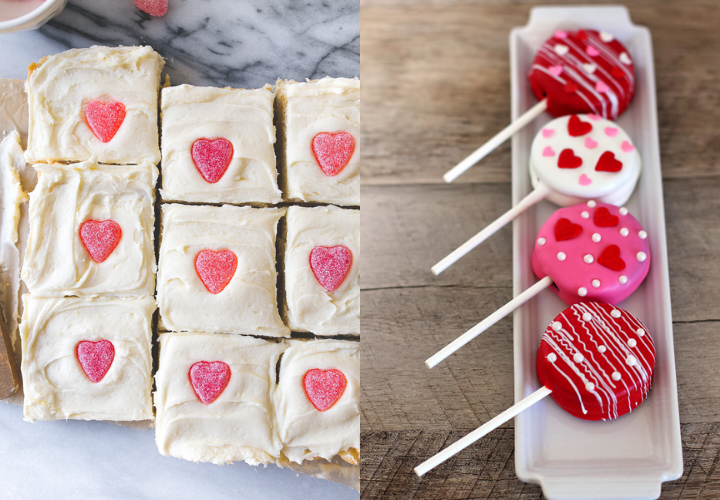 Dallas Fort Worth Valentine's Day Activities
30 Valentine's Day Cookies For You To Bake
With so many ideas you're sure to find the perfect Valentine's Day cookies in this list!
We'd LOVE it if you showed us what you're doing for Valentine's Day this year. Tag us on social media @metroplexsocial #discoverDFW for a chance to be featured.