Accidental tourist attraction – people from all over the DFW metroplex are flocking to the Leaning Tower of Dallas. Forget Italy, Dallas now has its own famous attraction that's tilted.
Be sure to check out these Best Things To Do in Downtown Dallas while you're in the area anyway.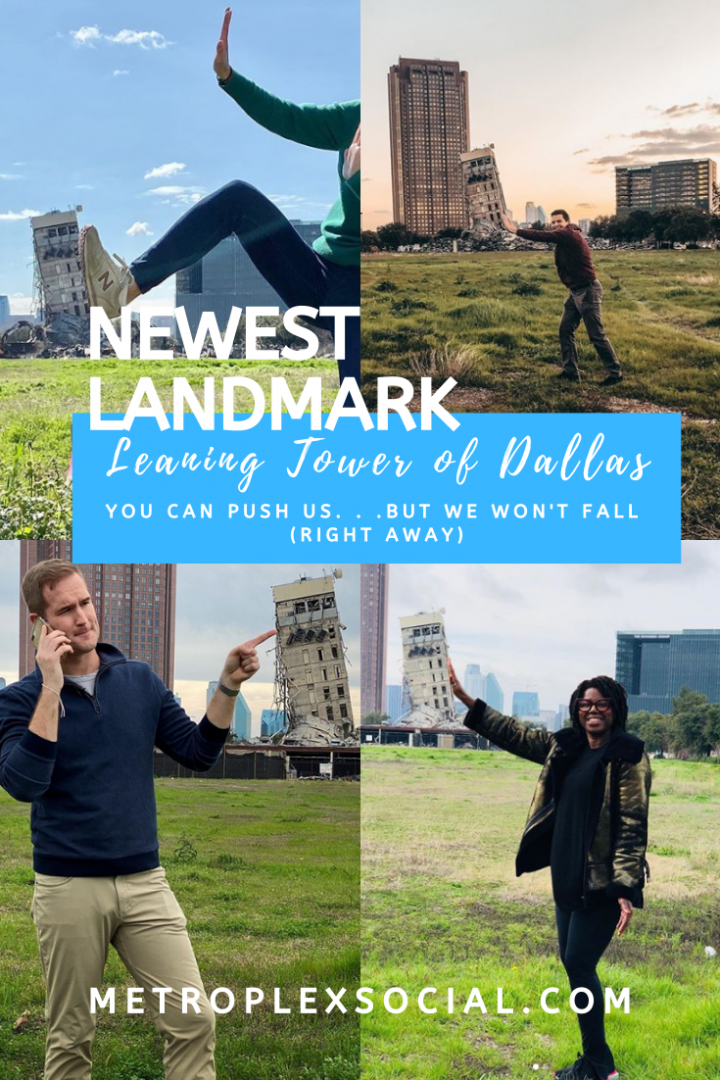 The result of a botched demolition Sunday morning near Downtown Dallas, the failed implosion has created a must-visit location now deemed the Leaning Tower of Dallas. The 11-story building's implosion did not go as planned, but Dallasites are making the most of the (temporary) situation.
Where to See the Leaning Tower of Dallas
The viral tourist attraction can be found near Downtown Dallas and is the location of the former Affiliated Computer Services office building.
The site of the temporary landmark can be found at 2828 North Haskell Avenue.
But you better hurry because this local attraction isn't supposed to last for very much longer…although there is an online petition to keep Dallas' Leaning Tower standing (although tipsy) as a UNESCO World Heritage site and Texas landmark…because dank memes.
At last count, the petition had over 1,100 signatures.
Local artists have even set up shop to capture the temporary landmark.
Where can I get this shirt?! HA!
Legoland Discovery Center has even got in on the fun and created a memorial to Dallas' newest tourist attraction:
The leaning tower even has its own 4.5 star Yelp page with disappointed goers complaining that "they don't serve beer. Everything else is fantastic." After all, "this is not your hoity toity tourist attraction. It's for the everyday American or American tourist. #blessed"
Visit the Newest Temporary DFW Landmark in Downtown Dallas
You can visit DFW's Newest Tourist Attraction, the Leaning Tower of Dallas. But you better hurry, because this temporary landmark won't last very long.
Here's some more Dallas Fort Worth fun:
Do you plan on visiting the leaning tower? Be sure to tag us @metroplexsocial #discoverDFW for a chance to be featured! BTW, the Leaning Tower of Dallas has its own hashtag too – #leaningtowerofdallas.