Everybody has different ideas of what they think makes a house a home. With so many people moving to the Lone Star State from other areas, we thought we'd show some of Texas' most unusual homes. Keep reading to discover some of the most bizarre and unique homes in Texas.
RELATED: Over 25 Stunning Images Of Mansions In Dallas Fort Worth
These listings are for informational purposes only. Some of these unusual houses in Texas are on private property. DO NOT RISK TRESPASSING. You must gain express permission from the owner before visiting private property.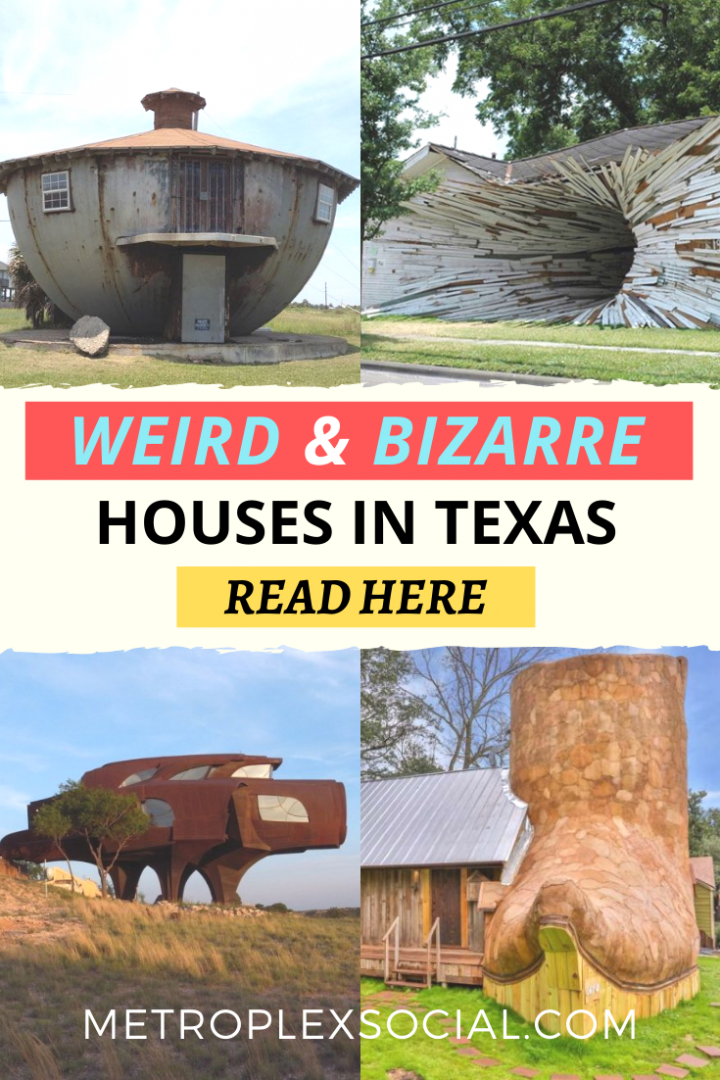 Whether you're looking for a one story house or a two story farm house on 20 acres, chances are you won't be turning to your real estate agent and ask, "Do you got something just really crazy and out-of-this-world?" However, if you did here's the top unique homes in Texas you might find yourself exploring: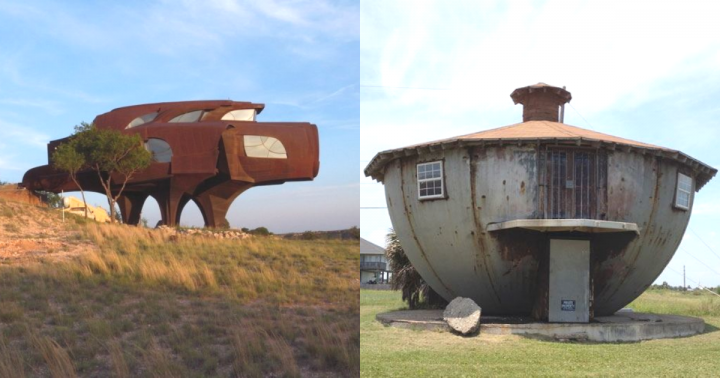 Weird And Bizarre Houses In Texas
1. Beer Can House- Houston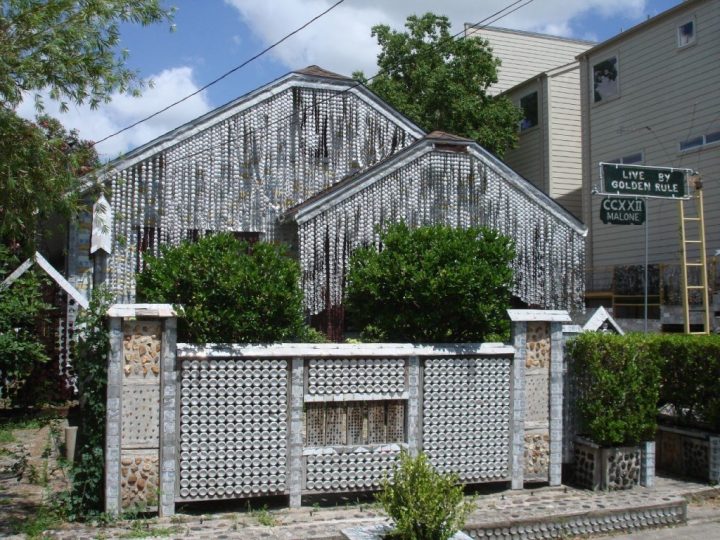 Over 50,000 cans of beer make up this unique home in Houston, Texas. "The Beer Can House" as it is locally known was created by John Milkovisch, a retired upholsterer for the Southern Pacific Railroad.
Milkovisch began drinking the beers for this creative Texas home all the way back in 1968 and drank the beers over the course of 40 years.
When asked if he drank all the beers it took to cover the house, his wife Mary replied, "No, I helped."
Beer Can House, Address: 222 Malone St, Houston, TX 77007, Phone: (713) 926-6368
2. Casa Neverlandia – Downtown Austin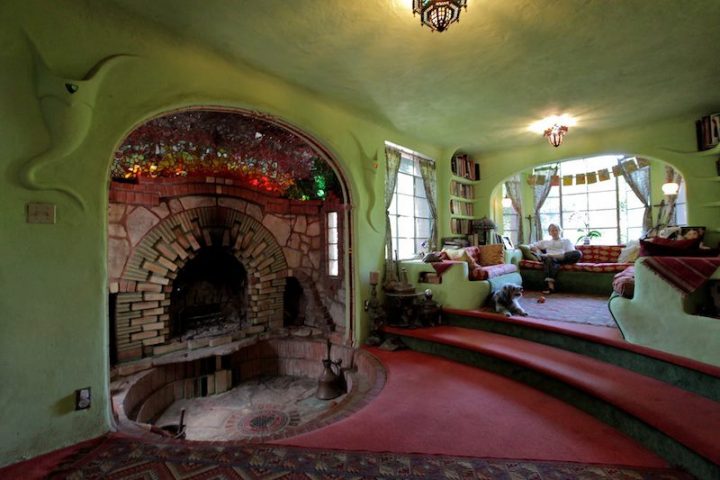 Hidden in a quiet neighborhood near downtown Austin, artist James Edward Talbot transformed a two bedroom bungalow built in 1906 into an adult playhouse.
Several creative features make this Texas house unique. For instance, instead of a doorbell, Casa Neverlandia has a variety of xylophones and bells that guests can ring to gain entry. The home is also outfitted with "talk tubes", PVC pipes laid into the walls that can be used to talk to other people from room to room.
Other weird features you wouldn't expect to find in a house description are fire poles, an elevated footbridge, a music room with a ceiling covered in vinyl records, as well as environmentally conscience features such as a rainwater collection system and solar panels for water and electricity.
Casa Neverlandia, Address: 305 W Milton St, Austin, TX 78704
3. Munster Mansion – Waxahachie
This unusual home in Waxahachie, Texas is a near-perfect replica of the Munster mansion from the 1960's sitcom The Munsters. While its address is not 1313 Mockingbird Lane, you'll think you're on the live set of the iconic television show when you tour the home during Halloween owned by Charles and Sandra McKee.
Munster Mansion, Address: 3636 FM813, Waxahachie, TX 75165, NOTE: tours during October Halloween only
4. Hole House – Houston
Although this weird home no longer exists, the two houses used to create this work of art by sculptors Dan Havel and Dean Ruck of Houston Alternative Art were already slated for demolition.
The masterpiece now exists only through memory and photos, but the Hole House is too bizarre to leave out of this list of unusual homes in Texas.
5. Futuro House – Royse City
In the 60's and 70's a Finnish architect built 100 otherworldly spaceship homes and one still stands near Royse City just outside Dallas, Texas and east of Rockwall. Originally silver, the "Futuro House" has since been painted orange. See more photos of this unique home in Texas here.
Futuro House, 9573 TX-276, Royse City, TX 75189
6. Bloom House – Austin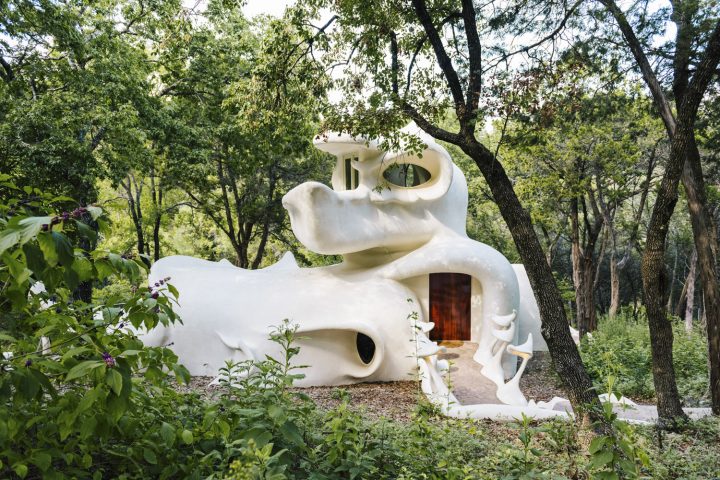 Tucked away in the hills of West Austin neighborhood, sits Bloom House—a home literally like no other. The saying "Keep Austin Weird" is a total understatement when describing this bizarre home located in the West Hills.
In the early 1970's, two friends at the University of Texas decided to do something bold. Dalton Bloom wanted to create an extraordinary place that would last forever. Charles Harker wanted to design something unique. Together, they created the Bloomhouse, the most unusual home in the world.
Rent the Bloom House HERE
7. Cathedral of Junk – Austin
What started off as a few backyard sculptures has now turned into a maze of discarded bicycles, coffee pots, old lams, hubcaps, wheels, surfboards, and more over time.
Vince Hanneman began the project in 1989 when he was in his 20's. Hanneman says it take 20 minutes to read the list of everything the Cathedral of Junk comprises–over 60 tons of junk.
Cathedral of Junk, Address: 4422 Lareina Dr, Austin, TX 78745, Phone: (512) 299-7413
8. Kettle House – Galveston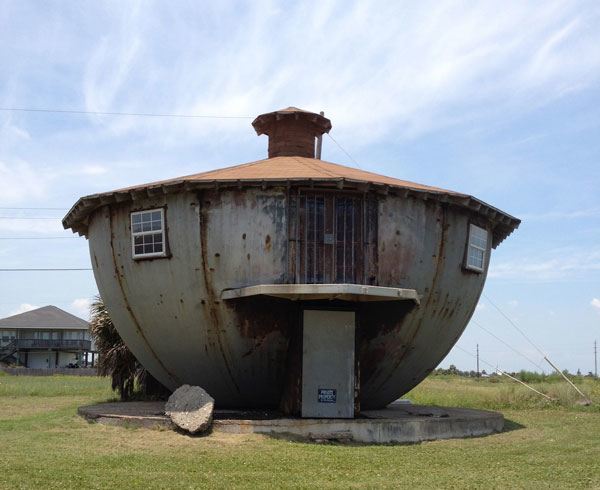 Maintained by a mysterious caretaker, this strange inverted metal dome makes quite the odd beach-front home. Resting on a quiet stretch of Jamaica Beach in Galveston, Texas, the Kettle House is one of the most unique homes in Texas.
When the city of Galveston responded to neighbor complaints of the unsightly nature of the rusty dome, the weird house was promptly spit shined and left alone…to the dismay of annoyed neighbors.
Kettle House, Address: 14106 Miramar Dr, Galveston, TX 77554
Kettle House was recently updated and restored:
9. Texas Cowboy Boot House – Huntsville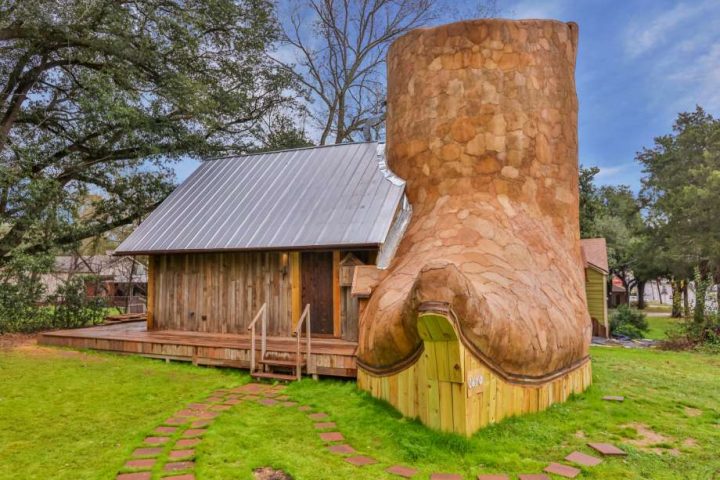 You can rent this Texas Cowboy Boot House located near Huntsville, Texas. The boot-shaped house is 711 square feet, including the annex off back.
This unique house has two bedrooms featuring weird materials such as marble tile, raw wood shelves, mismatched shiplap, and a ceiling covered in album covers. A bright red spiral staircase leads up to the roof deck at the top of the boot.
The home is rented out for $1,200 per month.
Texas Cowboy Boot House, Address: 2640 11th St, Huntsville, TX 77340 (occupied, do not trespass)
10. Bruno Steel House – Lubbock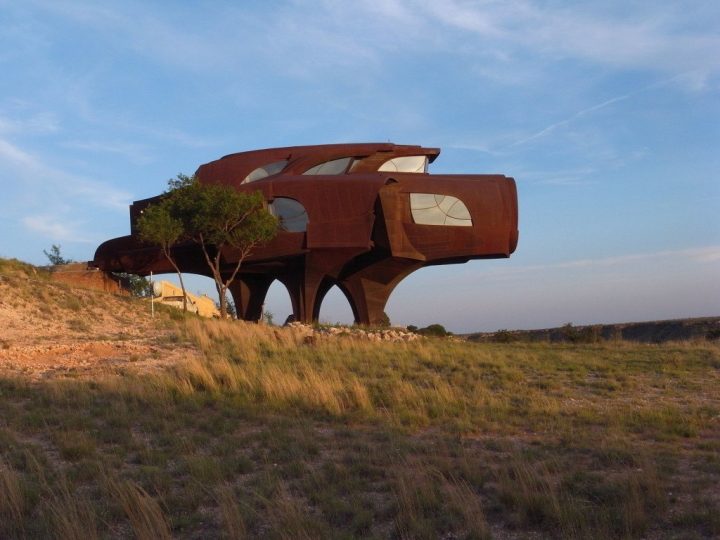 Built by Robert Bruno over the course of 30 years, this weird house in Texas defies all description. Is it a pig? Is it a spaceship? Bruno designed and built the home himself working on sections of the home for months at a time.
Located in a suburb of Lubbock, Texas, Bruno (a professor of architecture at Texas Tech), said that he wasn't really motivated to build a house, but rather something of aesthetic value. "I'm not particularly concerned about having a house, " Bruno said of the home. "I built it because I like doing sculpture." Beauty is in the eye of the beholder?
Standing on four legs, three levels high and made up of 2,200 "space" of feet and 110 tons of steel, the legendary Bruno Steel House was left trusted in the careful hands of Henry Martinez after the designer's death in 2008. Martinez stays busy fielding visitor requests.
Bruno Steel House, 85 E Canyon View Dr, Ransom Canyon, TX 79366
11. Falkenstein Castle – Burnet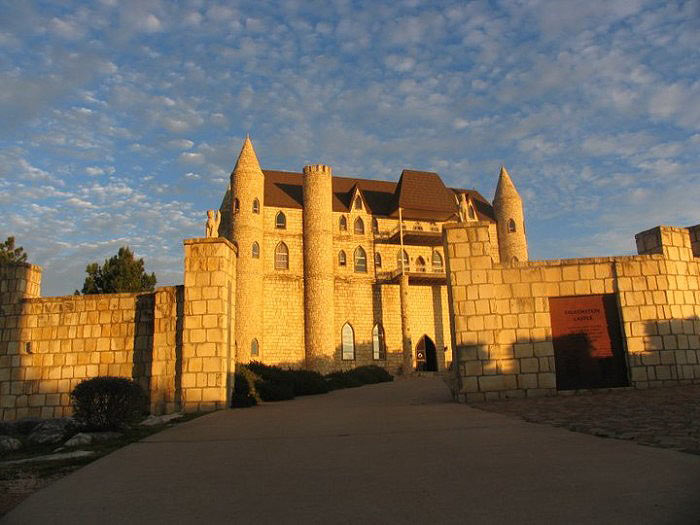 After Terry Young and his wife, Kim, visited Castle Neuschwanstein in Germany they decided they couldn't live without having a castle of their own. So, in 1996 they set out to create their masterpiece, located between Burnet and Marble Falls, about 50 miles west of Austin (you can literally see it from Longhorn Cavern State Park in the Texas Hill Country).
It only took them around 10 years to create one of the most unique homes in Texas, and they now host it for weddings, film shootings, and other special events.
Falkenstein Castle, 7400 Park Rd 4 S, Burnet, TX 78611, Phone: (830) 201-4100
12. Inverness | Castle at Heron Bay – Fort Worth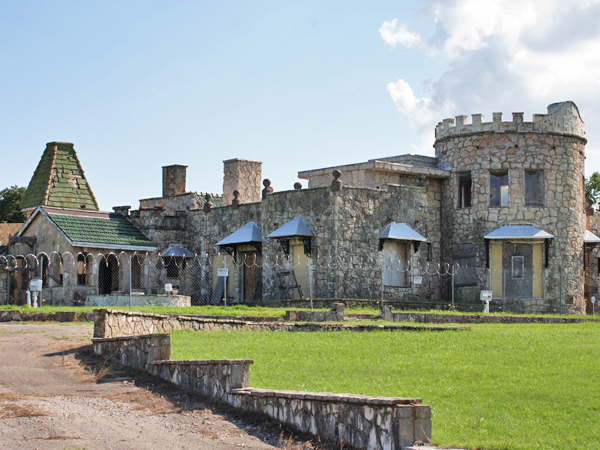 Sit down for this one.
Fort Worth's 1930s Lake Worth Castle, also known as Inverness or the Castle at Heron Bay, is apparently vacant save for a caretaker, falling apart, and not on the market.
Some say it was once an illegal casino, complete with secret tunnels leading from the card tables to the boat docks on nearby Lake Worth. Rumor has it that the property was won in a poker game against a guy named McPherson.
An old stone farmhouse has stood on the site since about 1860 and was incorporated into the existing castle. According to local legend, the farmer who owned that house was engaged to a woman who was found floating face-down in Lake Worth on their wedding day. Legend says in order to assuage their grief, the sister of the dead woman married the farmer a month after the drowning, and they lived happily ever—except for ghostly visitations from the dead woman. People say they've seen a woman in white run from the house down the water's edge, where she disappears.
Even more weird, in the 1970s, this Fort Worth castle was a hub of New Age classes and forums run by space alien abductees, dematerialists, astral projection claimants, and spirit watchers.
And now it's crumbling away, surrounded by razor wire, its windows boarded, its roof peeling in the Texas heat.
Inverness or Castle at Heron Bay, Private property, do not trespass. Address: 9115 Heron Dr., Fort Worth, Texas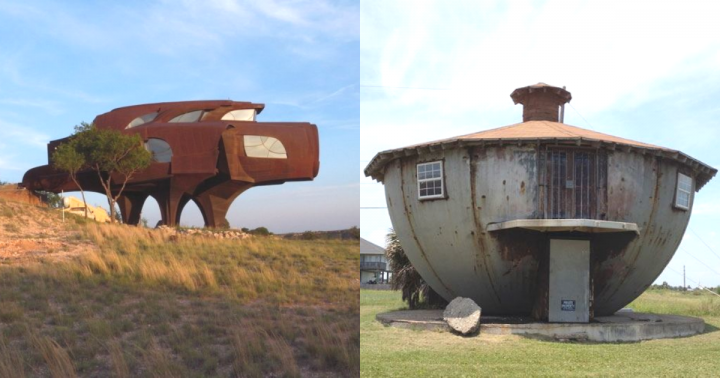 Here's The Weirdest, Most Unusual Homes In Texas
Everybody has different ideas of what they think makes a house a home. With so many people moving to the Lone Star State from other areas, we thought we'd show some of the most unique homes in Texas.
These listings are for informational purposes only. Some of these unusual houses in Texas are on private property. DO NOT RISK TRESPASSING. You must gain express permission from the owner before visiting private property.
More on Metroplex Social:
Got something to say? Leave a comment below.